Basic economy fares are an unfortunate reality of flying today. Want to avoid these no-frills fares, with no ability to pick your seat or change your ticket? You'll have to pay.
We noticed this summer that Delta, United, and American each started charging $70 to upgrade out of basic economy on many round-trip domestic flights – up from the previous norm of $60.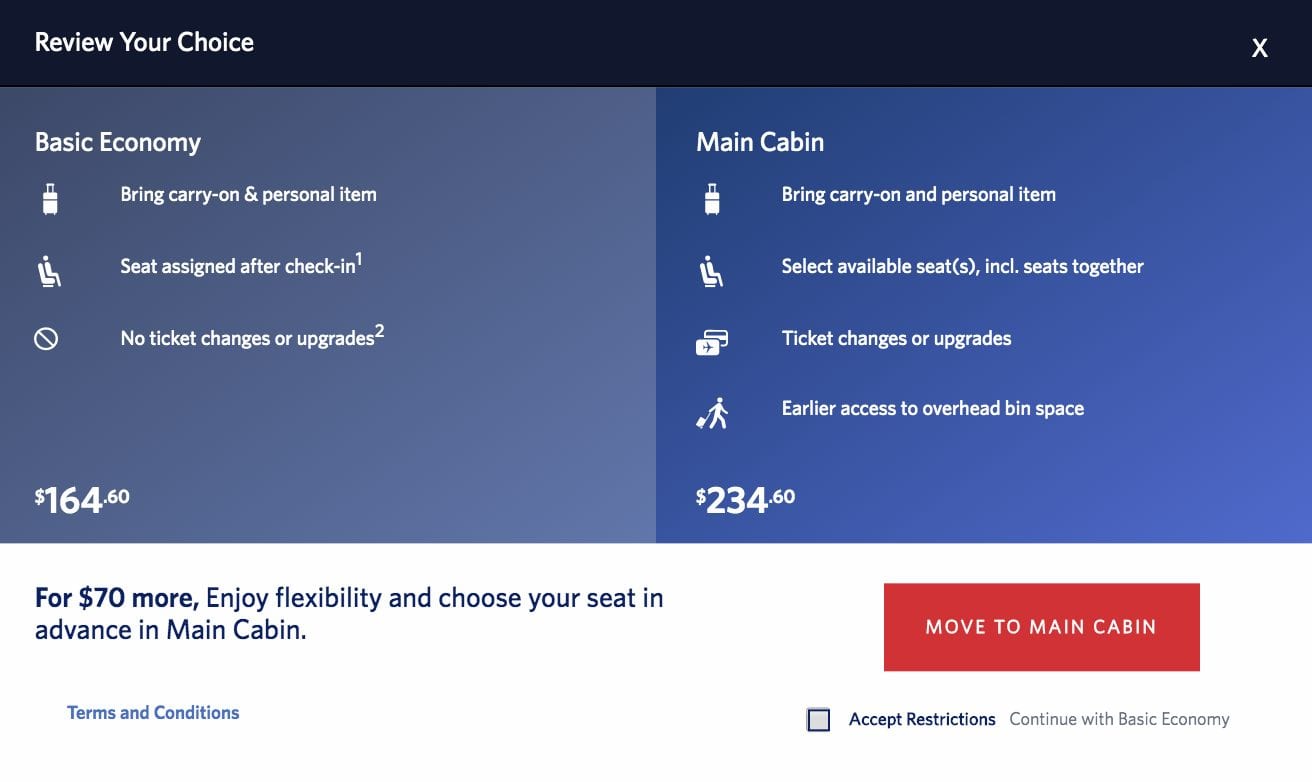 When a reporter asked Delta executives on Thursday about how much the airline charges to move from basic economy to a main cabin fare, they responded that it's a moving target.
"I think what we're testing in many cases is: What are people willing to pay for that?" President Glen Hauenstein said during a quarterly earnings call. "Sometimes in business markets, it's a bigger differential."
Hauenstein stressed that the additional amount travelers will vary by market – as each market (aka airport) is managed individually. That's true, as it's still possible to find main cabin fares that are just $60 more than basic economy – or, in some cases, much more.
"The intent has not been to move up the ladder significantly," he added.
And behind that differential is the hidden truth of basic economy fares: Airlines don't actually want you to buy them. These fares lure you in with the prospect of a cheaper fare, then hit you with all the restrictions in a bid to convince you to pay more for what you once got for free.
In short, basic economy is a mirage – a way to compete with budget airlines on price while still squeezing more money out of travelers. Hauenstein said as much Thursday.
"Basic economy is not something that we want to grow," he said. "As we've outlined before, it's a defensive product against (ultra-low-cost carriers)."

Yet there's no doubt that Delta's spin on basic economy is better than its competitors, thanks to the ability to select seats (including one way to do it for free), beat those pesky fares with co-branded Delta credit cards, and a far better onboard experience. That's why Delta won our battle of basic economy fares.
"For people who only care about the lowest fare possible, I think we have by far the best offering," Hauenstein said. 
Bottom Line
These comments from one of Delta's top executives underscore the real motivation behind basic economy fares. Only time will tell whether it will get more expensive to avoid basic economy.
Lead photo courtesy of Delta