Basic economy has spread like wildfire, and not even long-haul flights to Asia are safe from these no-frills fares.
Delta has begun selling basic economy fares on flights from many U.S. cities to China, especially Shanghai (PVG) and Beijing (PEK/PKX). The airline has not begun selling them on its other flights to Asia like to Tokyo-Haneda (HND) or Seoul-Incheon (ICN), according to Thrifty Traveler's searches.
After spreading to Europe and eventually down to South America, these are the longest flights to get the basic economy treatment yet. Many of these routes are 10-14 hours or more each way.
And that's worth highlighting, as basic economy comes with some major restrictions. Delta's basic fares don't include seat selection, can't be changed or canceled, and aren't eligible for upgrades (by paying or through Delta Medallion status). Read our guide to Delta basic economy.
It's unclear if travelers who buy basic economy will get the same two free checked bags as a standard economy ticket to Asia. While Delta's baggage allowance policy shows that's the case, the warning about basic economy fares at checkout suggests otherwise.
Most importantly, basic economy is not a price cut but a price hike. Across the airline industry, basic economy fares have taken the place of more-inclusive main cabin economy rates, which go up. You're paying the same as you used to, and getting less. In most cases, Delta is charging $60 to $100 more to avoid basic economy on these flights to China.
A Delta spokeswoman confirmed that the airline began selling basic economy fares to China in late 2019 "as part of or continued roll out of basic economy to more international markets."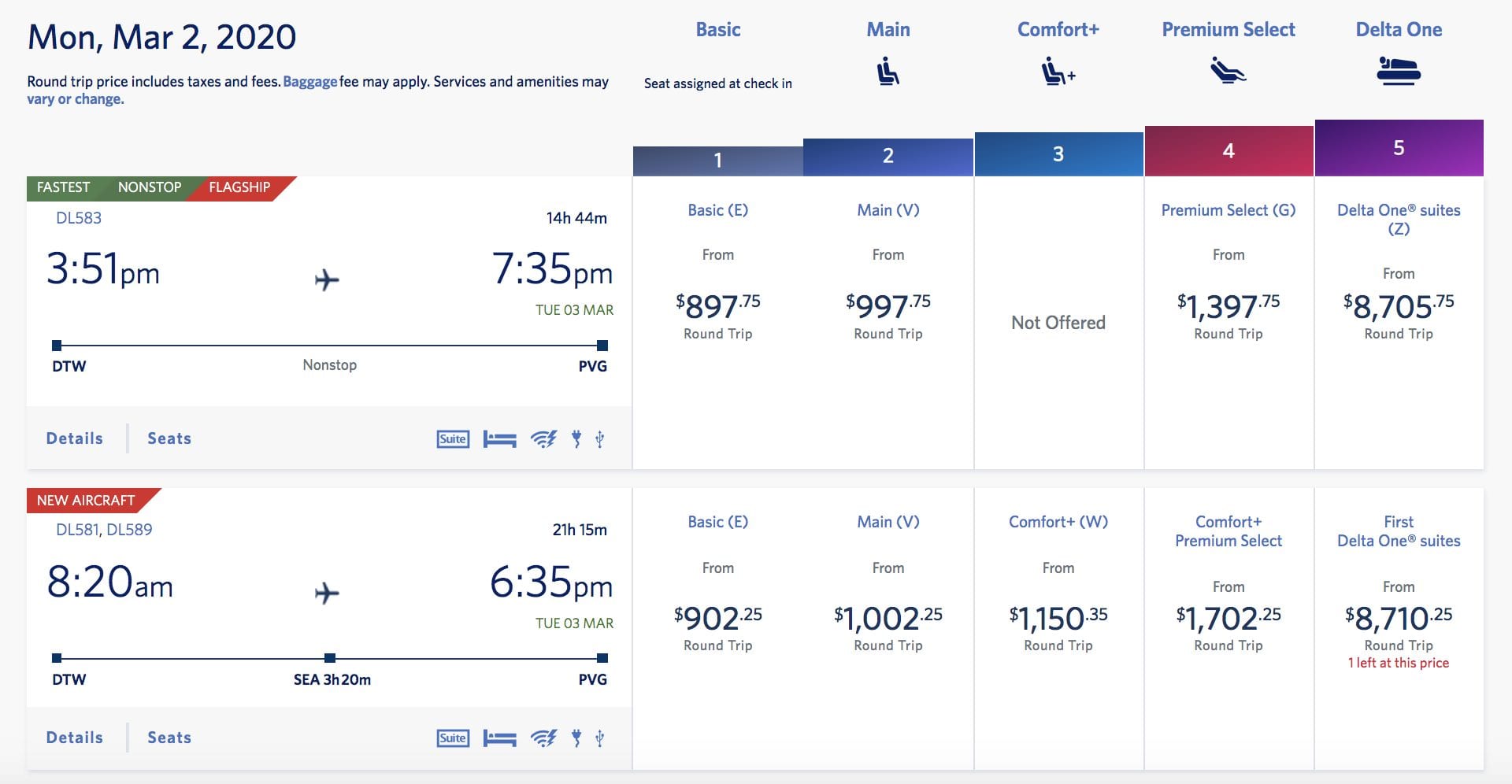 Delta has led the charge with these skimpy fares among U.S. carriers. It was the first major airline to begin selling them domestically way back in 2012. And it was also the first selling basic economy award tickets when booking with SkyMiles.
Thus far, neither United nor American are selling basic economy to Asia, according to our searches.
What This Means for Flying Delta
Basic economy is nearly unavoidable now. And Delta has been particularly relentless in its expansion of these fares.
It started with domestic flights, expanded to the Caribbean, eventually to Europe, and recently to both South America and now China. It's likely only a matter of time before they expand to Delta's flights to Japan and Korea, too.
That would leave Delta's flights to Australia and Africa as some of the only routes without basic economy.
Fortunately, Delta's basic economy fares aren't as punishing as other airlines. You can bring a carry-on for free, and holding one of the airline's co-branded American Express credit cards gets you a free checked bag and priority boarding. Delta also gives basic passengers two ways to pick a seat. Read our full guide to beating Delta basic economy.
Still, the prospect of getting assigned a middle seat stuck between two strangers on a 15-hour flight to China is frightening. But more importantly, this doesn't mean cheaper fares to Asia.
Instead, Delta is selling flights to Asia with fewer perks at the same price it once sold a more-inclusive fare. Delta – and all airlines – hope that basic economy's restrictions are painful enough to convince you to pay up for what you once got for free.
Bottom Line
It was only a matter of time before basic economy spread to flights to Asia, but this is still disheartening to see. We'll see if Delta beings selling more of these fares elsewhere throughout Asia – and if other airlines follow their lead.
Lead photo courtesy of Delta