One of the easiest ways to save some extra cash booking flights on British Airways might also seem like a head-scratcher: Joining the AARP, AKA the American Association of Retired Persons. And it doesn't matter whether you're a boomer, millennial, or Gen Zer – you can easily join to save … for cheaper than ever right now.
It's no big secret, yet it still takes many travelers by surprise. British Airways has had a longstanding partnership with AARP, offering members a discount of between $65 (for economy or premium economy) and $200 (in first or business class) on roundtrip flights from the U.S. to Europe and beyond. Those discounts have changed over the years, but you can get those savings through at least Jan. 31, 2024.
Despite its name and reputation, you don't have to be over 50 or retired to join. No matter your age or employment status, you can join now and start reaping the benefits.
An AARP membership will typically set you back $16 per year, but a current Labor Day sale drops that price to just $9 per year when signing up for a five-year term. It gets better by stacking that Labor Day Sale by click through a shopping portal like Rakuten, which is currently offering a $20 rebate – or even more if you're using Rakuten for the first time!
Add it all up, and you can get signed up for AARP for just $5 a year – or even come out ahead! If you're considering flying British Airways to Europe or another destination overseas this year or next, it may be worth it to join AARP … ASAP.
Signing Up for AARP
With the current Labor Day promotion dropping the price of an AARP membership to $9 per year for five years.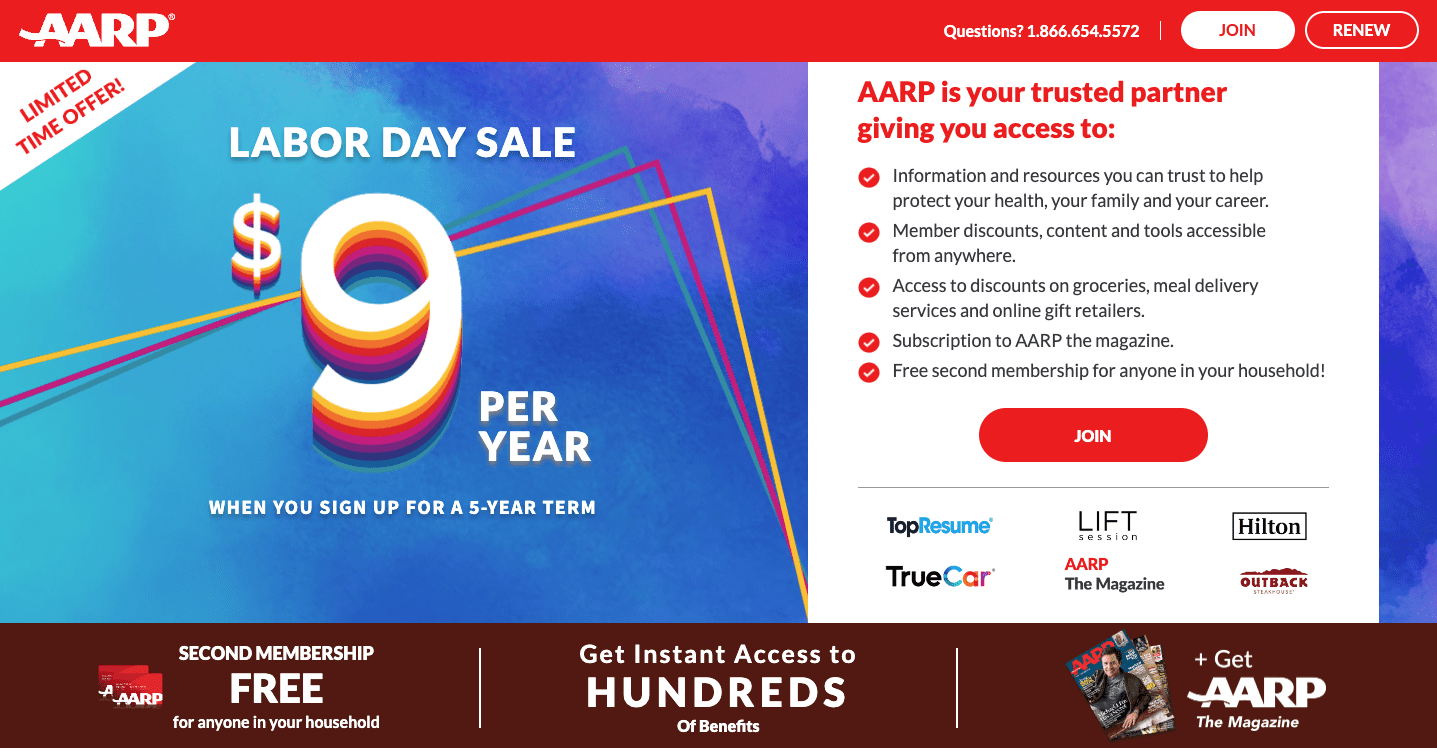 That's a great deal on its own, but it can get even better if you pair it with a shopping portal bonus. And Rakuten is our favorite online shopping portal because it's so easy to earn extra cashback (or even valuable Amex Membership Rewards points) on your purchases.
By signing up for a five-year AARP membership by clicking through Rakuten first, you can currently earn $20 back on top of the already discounted price. Stacking these two promotions, you're effectively getting a five-year membership for just $5 per year!

It gets even better if you've never used Rakuten. You can stack that $20 cashback with another bonus for first-time users: earning an extra $30 after signing up for Rakuten and making your first purchase of at least $30 or more. Considering the cost of a five-year AARP Membership is $45, you'd trigger both the $20 cashback bonus for signing up, along with the $30 Rakuten new-member bonus and actually come out $5 ahead!
Once clicking through Rakuten, you'll need to complete the online form and pay for your membership. At that time, you'll be automatically enrolled in the appropriate membership based on your age.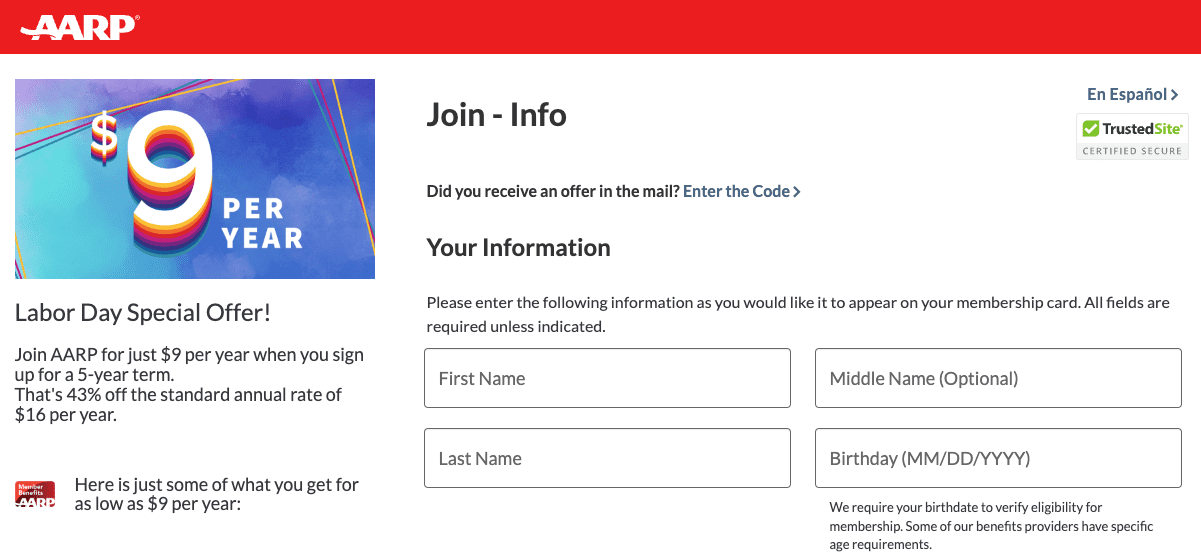 Memberships are automatically set to auto-renew – if you don't plan to keep your membership beyond the initial five-years, you'll want to turn that setting off. The current cost of an annual membership is $16: Still a more-than-solid deal if you take advantage of the many discounts that come with the membership.
How the British Airways AARP Discount Works
Signing up for an AARP membership is easy. Using the British Airways discount is even easier.
So long as you create an online account while signing up, you'll get your AARP number right away. And that means you can use your AARP member discount on British Airways immediately, as many times as you want.
The BA AARP discount can be used to get up to $200 off roundtrip transatlantic flights to over 130 cities worldwide. Whether you want to take a trip to London or Dubai, Barcelona or Nairobi, as long as your travel originates in the U.S., you can save. The discount also works for flights on select partner airlines, like American and Iberia.

How much you can save depends on which fare you book. AARP members get the following discounts on British Airways bookings:
$65 off World Traveller (Economy) roundtrip fares – excluding basic economy
$65 off World Traveller Plus (Premium Economy) roundtrip fares
$200 off Club World (Business Class) roundtrip fares,
Though it's not explicitly advertised, first class fares are reportedly also eligible for a $200 discount. The cheapest basic economy fares, however, will not work.
The current British Airways AARP discount only applies to travel through Jan. 31, 2024, though it's likely we'll see that deadline extended as this has been a longstanding partnership. Here are a few other fine-print items worth keeping in mind:
The British Airways AARP discount is only valid on new travel booked through Jan. 31, 2024; it cannot be retroactively applied to existing bookings
The BA AARP member offer is open to U.S. residents paying in U.S. dollars only, with travel originating in the U.S.
The BA discount does not apply to "open jaw" itineraries, only round-trip flights with same origin and destination
Flyers be an AARP member or must travel with an AARP member to be eligible for the discount
You must book online through the British Airways link for the discount to apply
How to Use Your AARP British Airways Discount
You can start by using Google Flights to find the British Airways flights you want – or wait for a cheap flight alert in your inbox.
After that, getting the discount is simple: Head to British Airways' dedicated page, log into your AARP account, then search and book.
Search for the flights you want, and you should see that the AARP discount is applied automatically to your fare. Keep in mind: The discount is for a roundtrip fare, so it's divided across the price of both your departing and returning flights. One-way fares won't trigger the discount, nor will multi-city flights where you fly into London and home from Paris, for example.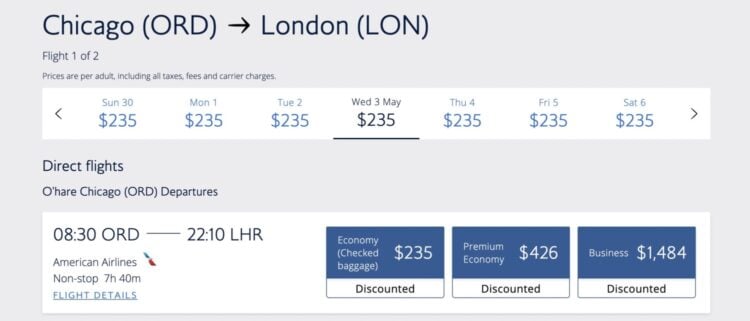 Even with the $45 fee for a five-year membership, that's still enough savings for us to say the membership is easily worth it even for a single economy roundtrip flight. But the $200 discount on premium cabin fares is even better, especially if you pair it with a cheap business class flight deal. Let's put those savings into action.
Take this deal to Spain flying British Airways' new Club World business class suites (complete with closing doors!) from just $1,700 roundtrip we sent to Thrifty Traveler Premium+ members last year. That's a great deal to start with, but why not make it even cheaper with a $200 discount through AARP?

These business class fares are long gone now – get the next alert in your inbox with Thrifty Traveler Premium+!
It's that easy. All you have to do is get an alert for a great deal, head to British Airways' dedicated page, log into your AARP account, search for that flight and book. Boom: instant savings.
Looking for more ways to save on your next international flight? Read our guide to finding cheap international flights!
Bottom Line
AARP isn't just for retirees. And right now, travelers of all ages can sign up for a $9 a year (or less) and reap all kinds of benefits on travel.
The AARP British Airways discount of up to $200 on roundtrip transatlantic flights is almost too easy. Whether you're 65 and up or in your 20s, there's no reason not to sign up for savings.