Basic economy fares are an illusion. These no-frills fares are designed to lure in travelers with cheap prices, then convince them to pay more for the privilege of picking a seat, getting upgrades, and sometimes even bringing a carry-on bag.
But while American and United have largely stopped selling these skimpy fares during the pandemic, Delta is doubling down – charging more than ever to avoid basic economy in the U.S.
For nearly two years, Delta has generally charged a flat $70 fee to upgrade to a more-inclusive Main Cabin economy seat, give or take a few bucks. But now, we're seeing Delta charging $80 to $100 to avoid basic economy on roundtrip domestic flights.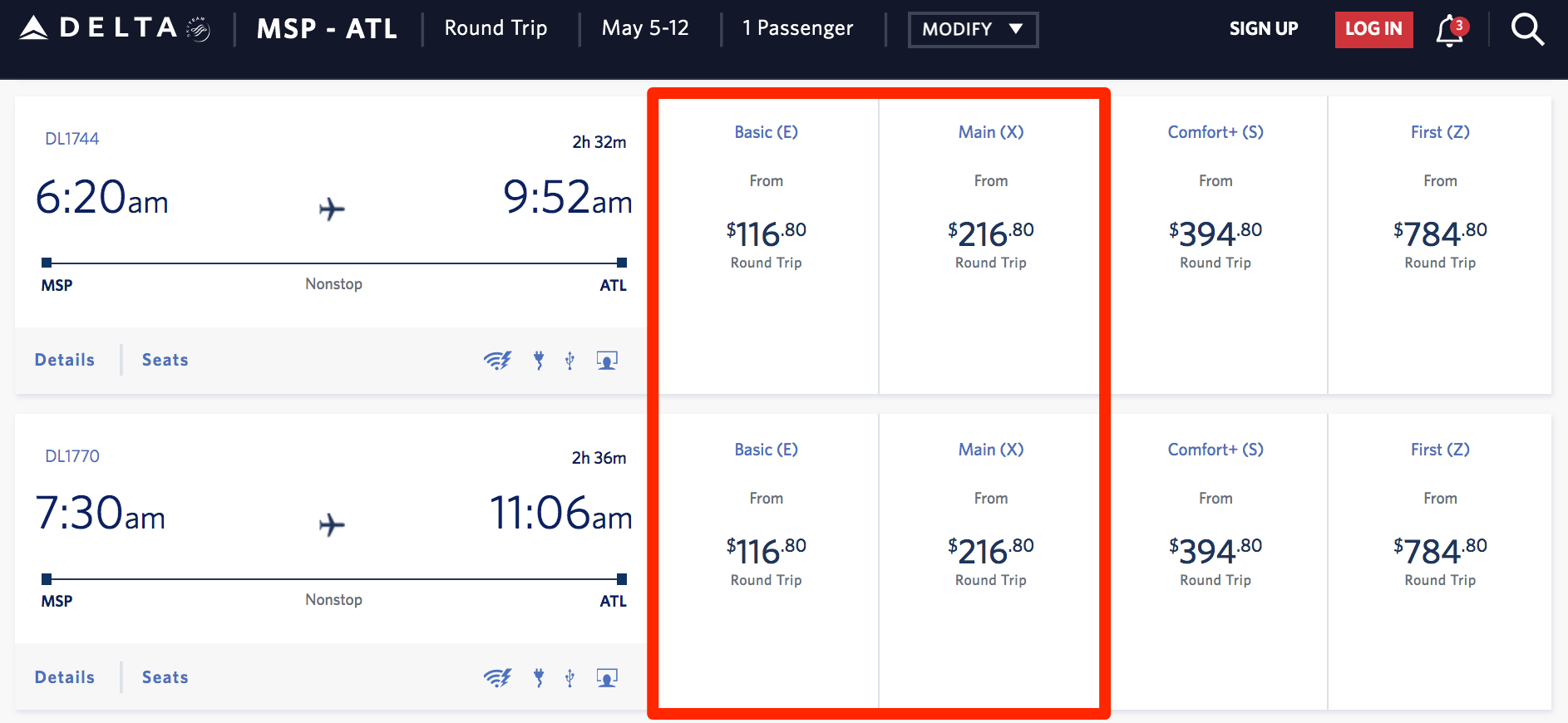 To be clear, tracking the differences in basic economy fares can be like trying to catch lightning in a bottle. These rates can still vary widely based on where you're flying from, where you're heading, which airline you're on, which fare classes are available for purchase, and more. It's even more unpredictable for international flights.
But after gathering dozens of examples, a clear pattern has emerged. While Delta is still charging an extra $70 roundtrip (and sometimes less) to avoid basic economy on some domestic routes, $80 to $100 has become the new norm.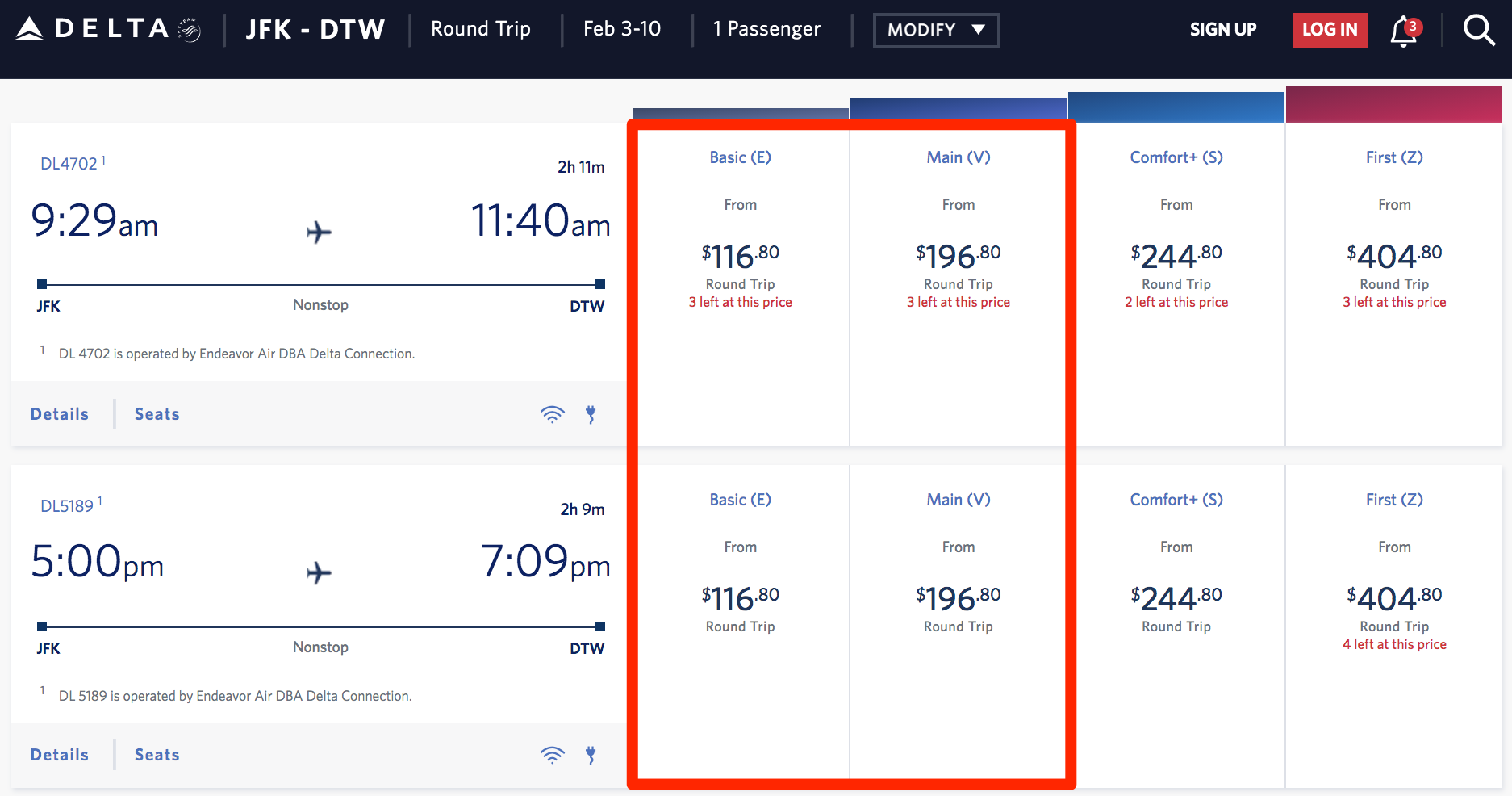 This isn't the first time Delta has raised the price to upgrade to main cabin, where you get free seat selection and will be eligible for upgrades with Delta Medallion status. Delta (and its competitors) raised those rates more than a year ago, from $60 to $70 on a roundtrip domestic fare, on average.
But now Delta is asking many customers to pay even more to escape their most restrictive fares.
Read up on the restrictions of Delta basic economy tickets – and how you can still pick a seat for free.
Why Charge More?
It's all about the upsell. And while an extra $10 to $30 per ticket may not seem like much, every dollar matters to airlines right now.
Major airlines introduced basic economy fares to compete on price with the likes of cheaper budget airlines like Spirit, Frontier, and Sun Country. They lure travelers in the door with a low fare, then hit them with all the restrictions of basic economy in hopes of getting them to pay up for a spendier standard fare. It's not exactly subtle.
American Airlines executives have said in the past that more than 60% of passengers pay to upgrade out of basic economy. On United Airlines – which has the most punitive basic economy restrictions – that number is even higher.

Major airlines have also used these fares to segment the everyday vacationers who might otherwise book a trip with Spirit from the business travelers who never would, those who prize a free seat and the ability to get a free upgrade with elite status.
But that line has grown much blurrier during the pandemic. Airlines have given free change and cancellation to nearly every plane ticket you can buy – even basic economy. That has eliminated one of the biggest disadvantages to basic economy: The inability to change or cancel your flight, even for a fee.
So suddenly,  travelers who might have spent more to avoid basic economy are settling for the cheapest fare – especially as business travelers stay home. This summer, executives from American Airlines said they saw a marked uptick in travelers picking basic economy fares.
Faced with fewer flyers paying up for a main cabin seat, Delta charging more for those upgrades can make up some lost revenue. The higher price tag helps offset the lower sales.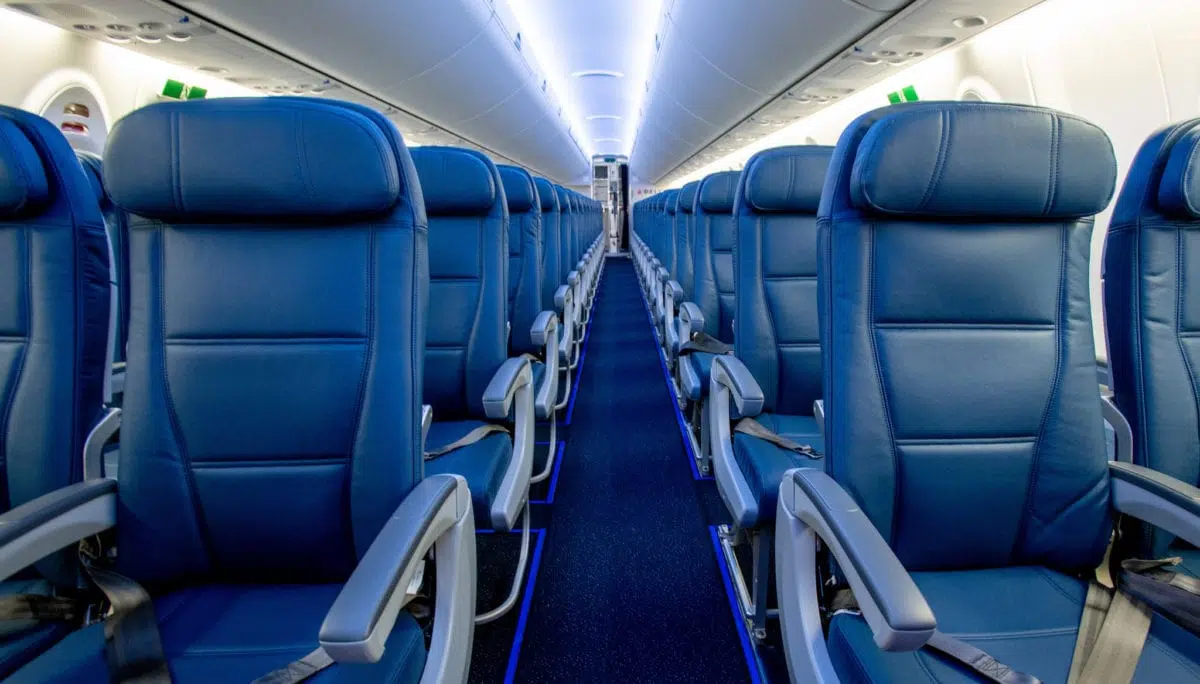 But Delta may also be trying to repeat the formula that helped major airlines compete with budget carriers … this time, deploying it against United and American to pull in more revenue while still competing on price.
For years, Delta has tried to position itself as a premium carrier, worth paying a few or $20 more to get bigger seats, seatback screens, and reliably friendly service. During the pandemic, they've done the same by blocking middle seats through March and emphasizing safety.
Read more: Delta is Making a Big Bet on Safety. Will it Pay Off?
Here's one telling example, with cross-country flights from San Francisco (SFO) to New York City-JFK (JFK). American, Delta, and United are all selling roundtrip fares for roughly the same price next month.

But both United and American are selling standard main cabin fares at those rates. No need to worry about picking a seat, getting an upgrade – that's all included.


But while the first price you see with Delta is on par, you'll actually have to pay $266 for the same fare. It looked like the prices were equal, but Delta is actually charging an $80 premium.

It's a clever way for Delta to drive some of the premium revenue they're after without losing the price-conscious flyers that would immediately flock to the airline with the lowest fares.
Delta gets you in the door, then tries to upsell you. And now it's charging you even more to do so.
Bottom Line
Basic economy fares and these upgrade rates are constantly changing, but the pattern is clear. Delta is charging most passengers more to avoid restrictive basic economy fares than ever before.