It seems nowhere is safe from the spread of basic economy fares. The first major U.S. airline to roll out these skimpy fares way back in 2013 has just started selling them on some of its longest flights.
Delta recently began selling basic economy on all its flights into Tokyo-Haneda (HND) and Nagoya (NGO) as well as select routes to Seoul-Incheon (ICN) – flights that often clock in at 12 hours or more. There's one silver lining: Unlike the standard Delta basic economy tickets you buy domestically or even to Europe, these fares still include one free checked bag. 
But you won't get an automatic seat assignment, meaning you may be automatically assigned to a middle seat for the long flight across the Pacifix. And while Delta and other airlines did away with change fees for good, basic economy fares aren't eligible. That means these newest fares cannot be changed or canceled, period – a big gamble, considering it's unclear when Japan and other countries throughout Asia will resume international travel.
Read our guide to Delta basic economy fares – and how you can still pick a seat flying Delta basic economy!

For once, Delta isn't the first carrier to make this move. American Airlines introduced "basic economy plus bag" fares earlier this year, including on flights to both Asia and throughout Oceania.
But Delta's basic economy fares have spread farther than almost any other airline. After expanding to South America, trying it on some flights to China, launching on flights to Africa, and now to Japan, there's only one Delta destination where you won't find basic economy offerings: Australia. 
With this latest expansion, you'll find basic economy fares on all Delta's flights to Japan, no matter what city you're starting your search from whether it's a nonstop flight or connecting itinerary. Meanwhile, you'll only see basic economy as an option for flights into Seoul starting from select cities like San Diego (SAN). But Delta has a history of rolling these fares out in phases, so it's likely only a matter of time before it expands nationwide.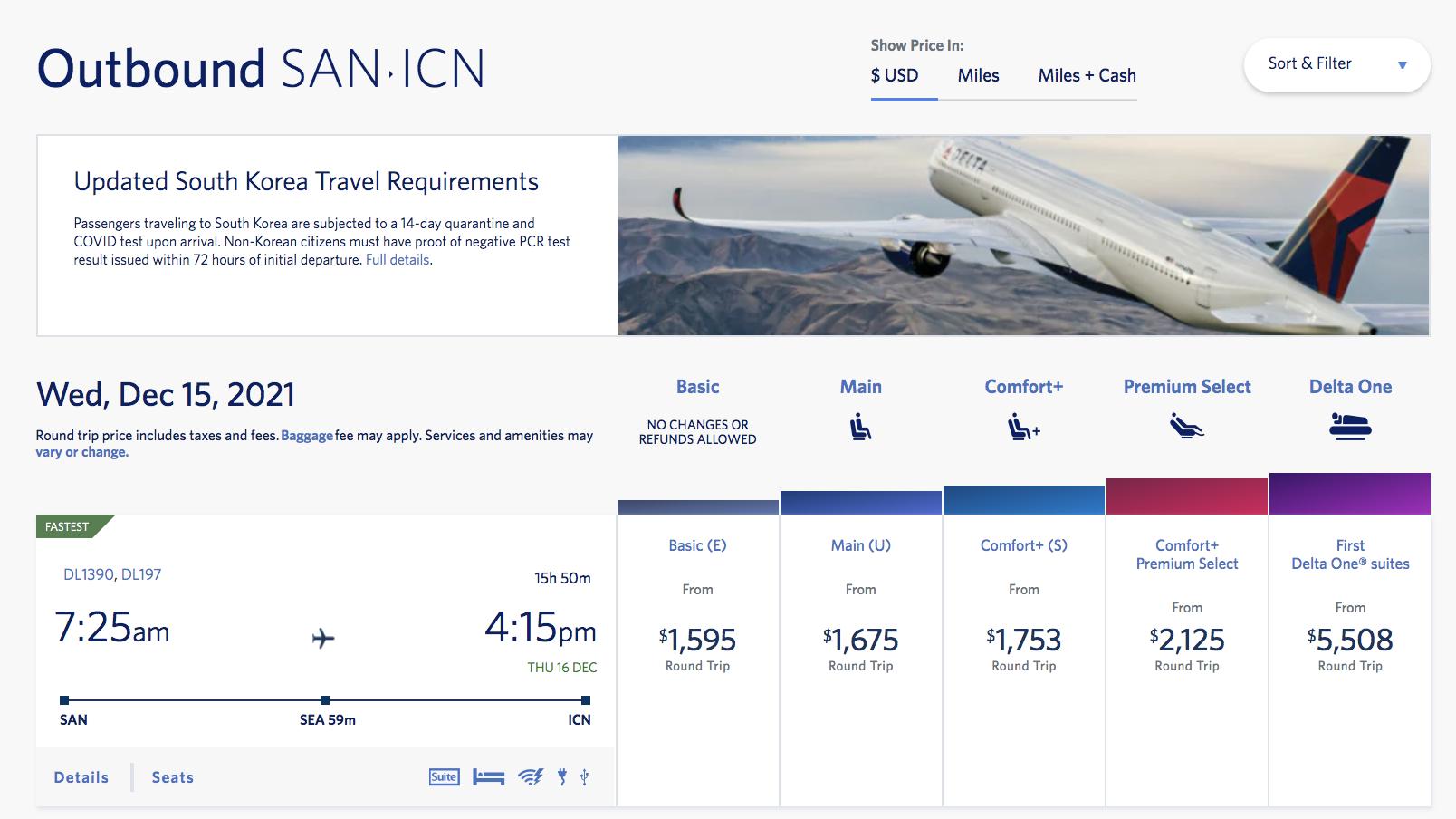 Fortunately, we haven't yet seen this option expand to award tickets booked with SkyMiles on these same routes. Always a pioneer (in good ways and bad), Delta began selling basic economy award fares on domestic tickets back in 2018, steadily expanding them to more and more markets.
Why it Matters
So why does it matter? Aside from the painful restrictions of basic economy fares, you have to realize: Basic economy is a price hike disguised as a good deal.
Across the airline industry, basic economy fares have taken the place of more-inclusive main cabin economy rates, which go up. You're paying the same as you used to, and getting less. In most cases, Delta is charging $80 or more to avoid basic economy on these flights. The entire point is to use restrictions to convince you to pay more.

And with this latest expansion, Delta basic economy is now almost unavoidable. Aside from flights to Australia, you'll find basic economy on almost every Delta route from short domestic flights to long-haul routes to Africa and much of Asia.
Fortunately, Delta's basic economy fares aren't as punishing as other airlines. You can bring a carry-on for free, and these new fares to Japan and Seoul also come with one free checked bag – something you don't get on most other basic economy fares. By holding one of the airline's co-branded American Express credit cards, you also get priority boarding. Finally, Delta also gives basic passengers two ways to pick a seat.
Bottom Line
You'll now find basic economy fares on every Delta flight to Japan – as well as some to Seoul in South Korea. Those are 10-plus hour flights, where a middle seat could make or break your flight. And with the inability to change or cancel flights to destinations where the future of travel is cloudy at best, these fares are particularly punishing.
The trend is clear. It's only a matter of time until Delta basic economy is unavoidable, period.