Earlier this year, we gave an overview of Delta Basic Economy. Over the course of the year, we've seen the basic economy fare spread to more and more Delta markets and as of July it has now spread to most markets nationwide, including several international destinations. Luckily, the only significant drawback of the fare is that it does not include seat assignment until check-in (or more likely at the gate). The fare still includes free carry-on and earns elite credit towards status. Thankfully, Delta Basic Economy has not sunk to the rock bottom offered by United's Basic Economy.
Delta Air Lines Basic Economy
No seat selection
No ticket changes or upgrades
Includes carry-on bag (much better than United)
No same day changes, cancellations, or refunds
Not eligible for elite benefits (early boarding & upgrades)
Will earn elite credit towards Medallion status
Delta started offering the basic economy fare for customers to have more "choice". Similar to United, the reality is the new basic economy fares are now the same price as the old economy fares which included seat assignment. The whole basic economy concept is just a way to squeeze more money out of passengers. You will now have to pay additional fees just to have your seat assigned, which was previously free.
Careful when searching!
If you are searching with Google Flights you will NOT be notified of a Delta basic economy fare. You will have to click through to Delta.com or your favorite OTA (Priceline, etc.) to determine what fare type it is. Generally it will be a Basic Economy (E) fare as depicted above.
Priceline is also not clear. They barely give you any warning at all (except the small highlights below) and I expect many customers will buy their ticket without realizing they are getting a basic economy fare. Seat assignment was previously complimentary and I think many customers will be blindsided by the nationwide rollout. This can be a huge issue for passengers traveling together, especially families.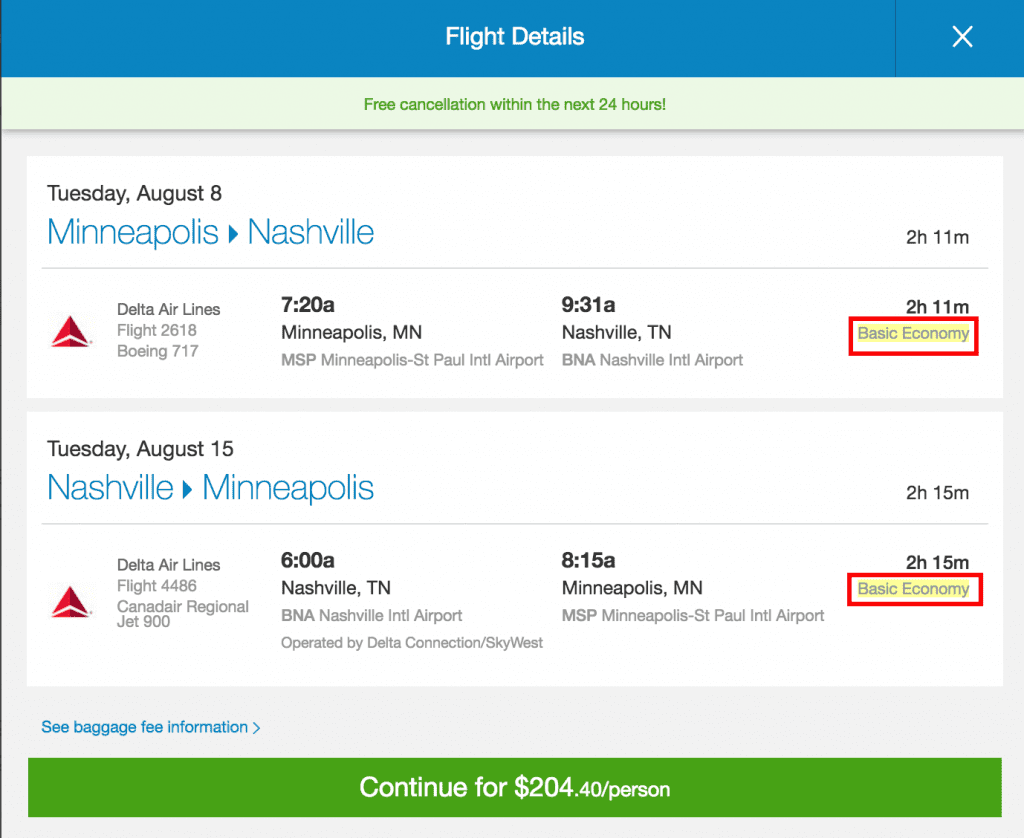 Bottom Line
Unlike United fares, I will continue to post Delta Basic Economy fares to the site, but I will feature a disclaimer about the lack of seat assignment. Mrs. TT flew basic economy recently and other than seat assignment at the gate, it wasn't a big change. You'll still get a beverage onboard and those tasty Biscoff cookies you're used to. Regardless, make sure to watch out for those basic economy fares next time you're searching for a cheap flight.