Yes, you read the headline correctly: A weekend trip to Europe.
In a perfect world, you'd have much more time to explore and relax. But between limited vacation days from work and other real-life considerations, it's not always in the cards. And sometimes you just need a getaway.
While there are plenty of great spots in the U.S. for a weekend trip, don't rule out Europe. With a cheap flight to the right spot – and we've got some recommendations – you'll be able to enjoy an amazing city abroad without burning all that PTO.
Here's how to make it happen.
Pick the Right Cities
Pulling off a successful weekend trip in Europe is all about picking the right spot.
For starters, stick with western Europe, where the flights will be shorter. As much as we love those cheaper spots in eastern Europe like Budapest and all of Croatia, you're better off minimizing your time on the plane to make the most out of your long weekend.
And focus on cities where you can quickly get from the airport into town. That rules out bigger cities like London and Paris.
Here are a few of our favorite candidates that fit the bill:
Amsterdam: You can hitch a ride nonstop from 15 different U.S. cities, hop on a 20-minute train ride into town for just 11 euros into town, and cover a lot of the city in just a few days. See the Anne Frank House, go on a food tour, walk (or ride a boat in) the canals, take a history walking tour, and check out some of our favorite under-the-radar spots of Amsterdam.
Dublin: From the East Coast, a flight to the Irish capital clocks in under six hours. Ireland's flag carrier, Aer Lingus, has started lots of nonstop flights from the U.S. to its hub over the last few years. Once you make it, explore its surprisingly good dining scene, go pub hopping, and take a quick road trip to castles or Cliffs of Moher. Read our guide to Dublin.
Madrid: The Spanish capital is the quintessential place where you can squeeze a lot in a short amount of time. Eat your heart out at the markets, see the museums, walk through Parque del Retiro – and do it all (and more) in just a weekend. Bonus: Flights to Spain have dropped to record lows, so you can get there and back for less than many domestic flights. Check out our guide for a short trip to Madrid for some ideas.
Lisbon: Most travelers skip Portugal for well-worn spots in western Europe, but that's slowly changing. And the proof is in Lisbon. A fast (and beautiful) subway system makes it easy to get in and out of town, while TAP Air Portugal's growth has helped make it easier to fly here. Spend your weekend walking through Lisbon, admiring the beautiful architecture and eating as much pastel de nata as you can fit in your stomach.
Munich: It's a longer flight to southern Germany, but you'll be rewarded with delicious beer and schnitzel. Head straight to the Marienplatz (center square) and then stop nearby at the Hofbrauhaus Munchen, one of the oldest beer halls, for a stein of beer and a plate of sausages. Stroll through the massive English Garden, and if you've got time, make a day trip to Salzburg, Austria.
Fly Direct
It won't be possible for everyone, but flying nonstop to Europe is key. Connecting flights will eat up precious time, leaving you spending much of your long weekend in airports and planes.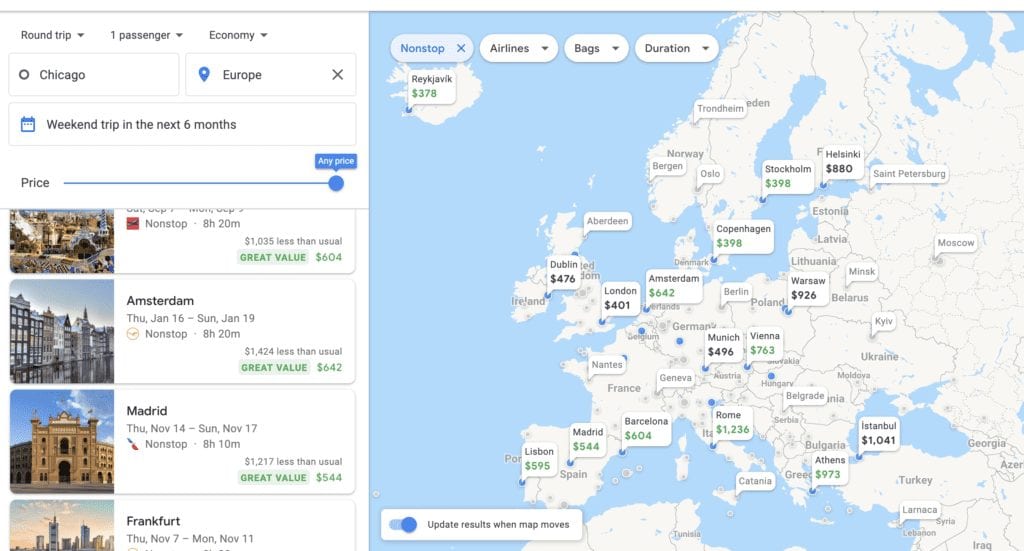 Use Google Flights Explore to figure out what direct flights you can take from your home airport for a weekend – for some cities, it's a lot! Select nonstop and a weekend trip to filter for the flights that work.
If you're signed up for Thrifty Traveler Premium, just watch for the international flight deal alerts you can book for a weekend getaway.
Thrifty Tip: This is all about Europe, but don't forget to look at direct flights south. Little to no time difference (so no jet lag!) and there are some really awesome places, like Mexico City, that make for a perfect weekend getaway.
Go During Off-Peak Season
Avoid June through August and the winter holidays. It will be cheaper, and you'll avoid the crowds.
That means you can see all the sites, stand in fewer lines, and get into all the restaurants and bars you want. Just be sure to check the weather in your destination to make sure you've got the right clothes with you for that fall or early spring trip. And double-check the hours of museums and tourist attractions, as they often change during the off-season.
Maximize Your Weekend with Flight Times
Making the most of a short trip is all about timing.
Fly out in the evening, catch some sleep on the plane overnight, and land at your destination in the morning. It's the perfect setup for a flight to Europe.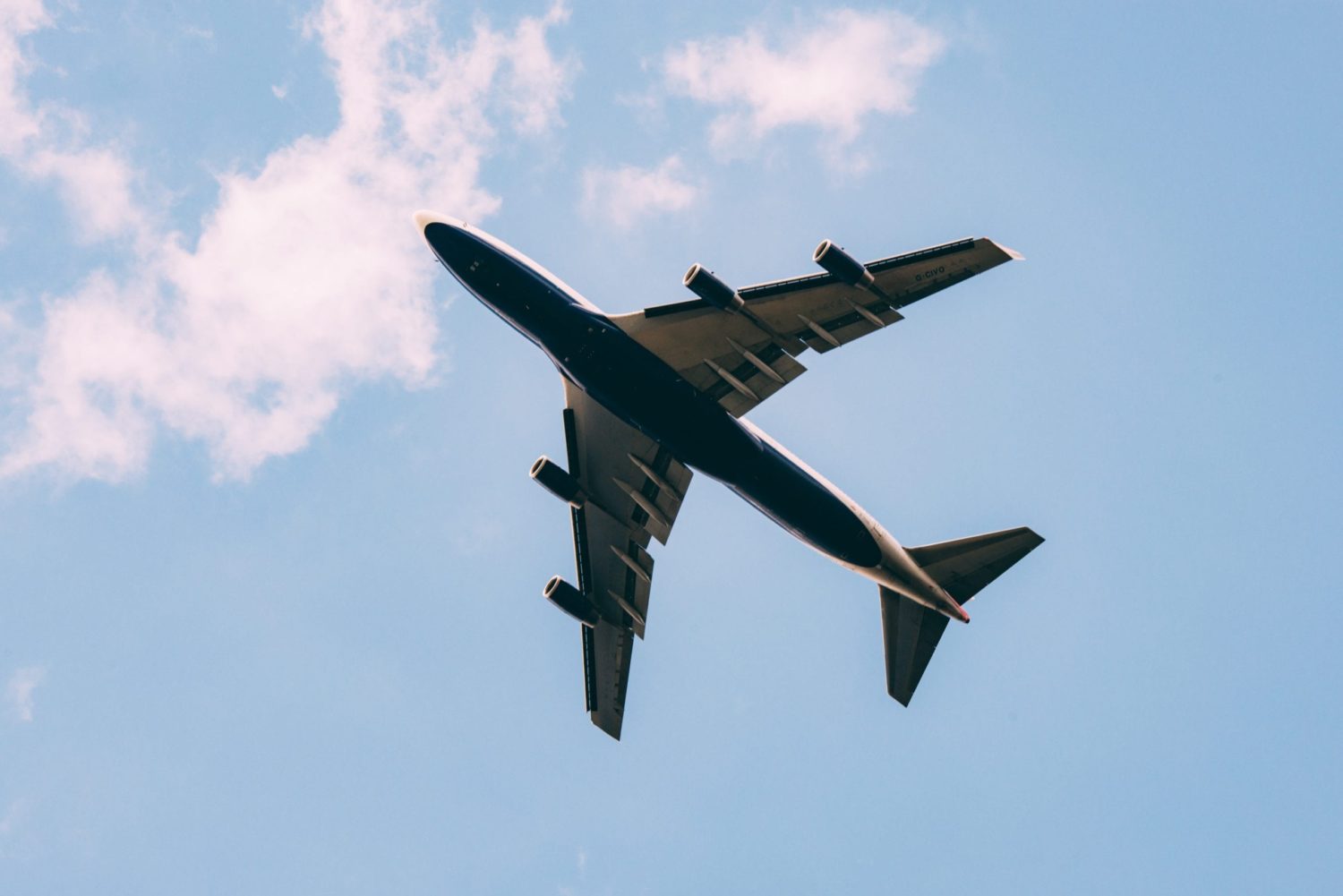 For example, if you fly out Wednesday evening and return Sunday, you can hit the ground running Thursday and only burn two days of vacation on a five-day trip. Or leave Thursday night and use just one vacation day!
Carry-Ons Only
You're only going for a few days – leave the big bags at home.
We promise you can pack in a carry-on bag no problem – at least so long as you've got the right bag. And that means you can cut down at your time at the airport by skipping the baggage carousel and cut down on costs. No more baggage fees!
Minimize Jet Lag
We admit it: This is the hardest part about squeezing an international trip into a weekend. Unless you're headed south, you'll have to cope with jet lag without much time to adjust.
Follow our tips to beat jet lag and you'll make it more manageable. Start mentally adjusting to the time in your destination as soon as you board the plane. Avoid alcohol and drink a lot of water to feel better when you land. Get as much sleep as you can on that overnight flight by bringing an eye mask, earplugs, a good pillow, and a sleep aid like melatonin.
Be Ready to Rock After Landing
If you time your flights right, you'll land in Europe in the morning. But that poses a problem: You might not be able to get into your Airbnb or hotel for hours.
Stop by your accommodations anyway, and see if you can check in early. Check with the hotel or Airbnb host to see if you can store your bags. Worst case scenario, most train stations have bag storage.
Make sure you've got a toothbrush, deodorant, cleansing wipes, a clean change of clothes and make-up easily accessible in your personal item. Take a few minutes to freshen up before (or right after) you land, and get ready to hit the town.
Stay Near the Sights
Do some research and make sure you stay near the sights and restaurants you want to visit – and a train station. While staying outside of city centers may save you some money, your time is critical for such a short weekend.
Being able to easily walk – or take a quick Uber or subway ride or public transit – to all of the places you want to see will help you maximize your stay. And being in the heart of the city will also give you a good feel for the place right away.
Plan Your Activities in Advance
Book tours, buy skip-the-line tickets for the museums, and make a list of where you want to eat and drink in advance. Having every second planned isn't necessary, but you also want to make sure to fit in your must-dos.

Bottom Line
If only unlimited vacation days were a reality. Fight back by getting creative, and you can make a trip to Europe just over a long weekend.
Use just one or two days of PTO to extend a long weekend, or travel internationally over holidays like Thanksgiving. Maximize every minute your employer gives you to travel and see more.
Want the best flight deals and travel tips delivered to your inbox?
Sign up for Thrifty Traveler, and like us on Facebook or follow us on Twitter & Instagram

Editorial Note: Any opinions, analyses, reviews, or recommendations expressed in this article are those of the author's alone, and have not been reviewed, approved, or otherwise endorsed by any card issuer.