There's no better way to dive in and truly experience a place and its culture than through food. And Amsterdam is no different.
Food tours in the Dutch capital are a great way to learn about both the history of Amsterdam and its food. In particular, Amsterdam Food Tours was a great experience.
Here's what you can't miss when exploring Amsterdam, dish by dish.
The Famous Gouda
Around every corner on the main streets of Amsterdam, you'll find touristy-looking cheese shops, with cheese wheels stacked high above your head. While the cheese probably tastes just fine, it's like anything in the tourist area: overpriced and a dime a dozen.
Walk away from the city center to find a cheese store where the locals shop.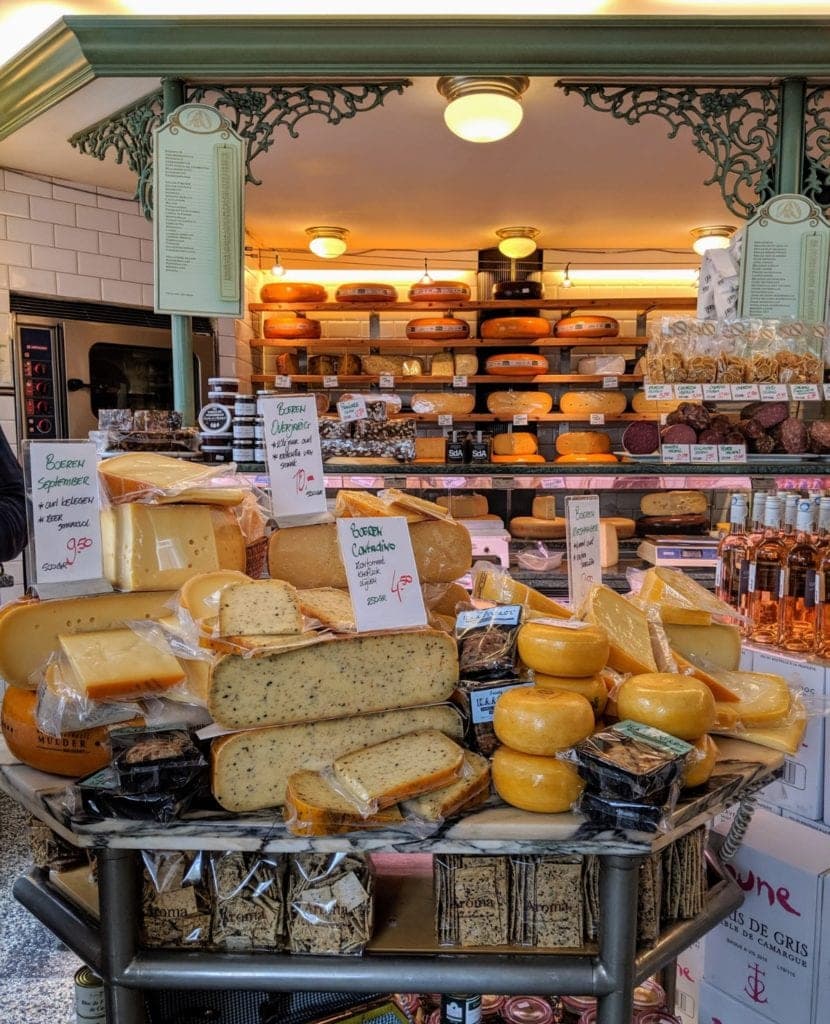 Jwo Lekkernijen is a great deli where you'll find meats, olives, mustard, oils, and, of course, cheese. Here you won't see signs everywhere saying gouda. In fact, you'll be hard-pressed to find "gouda" here at all.
Gouda is a fairly broad term that isn't regulated and is generally used to describe cheeses that come in the large distinctive orange round. That's why you are just as likely to see gouda from Wisconsin as from the Netherlands.
Look for the word boeren at the beginning of the cheese's name. This means farmer/farmed and designates local and smaller production cheeses. Ask for a taste, or two! You won't even miss the "gouda."
Dutch Pancakes
Pannenkoeken, as they are called here in the Netherlands, aren't your traditional breakfast food.
The pancakes here are a cross between a French crepe and an American pancake. They taste like a crepe, but are thicker and much larger. And unlike the stacks you get in the U.S., you only get one. Meant for lunch, dinner, or dessert, they come with dozens of toppings and flavors.
Check out the popular Pancake Bakery. To avoid long lines, go in the mid-afternoon, after the lunch rush and before the dinner rush.
Fish to Go
Do as the locals do and stop in at a fish shop for a quick lunch or a snack.
Unlike our own fish markets, the majority of what you can buy in Amsterdam is ready to eat on the spot. The fish shops are counter service only with just a few spots outside to eat.
Get plate of fried fish (and chips, only for the tourists) called kibbling. Or if you're feeling adventurous order the haring (herring) which is fermented and served with raw onions and pickles. Take a piece of fish and dip it in the onions and then eat a pickle!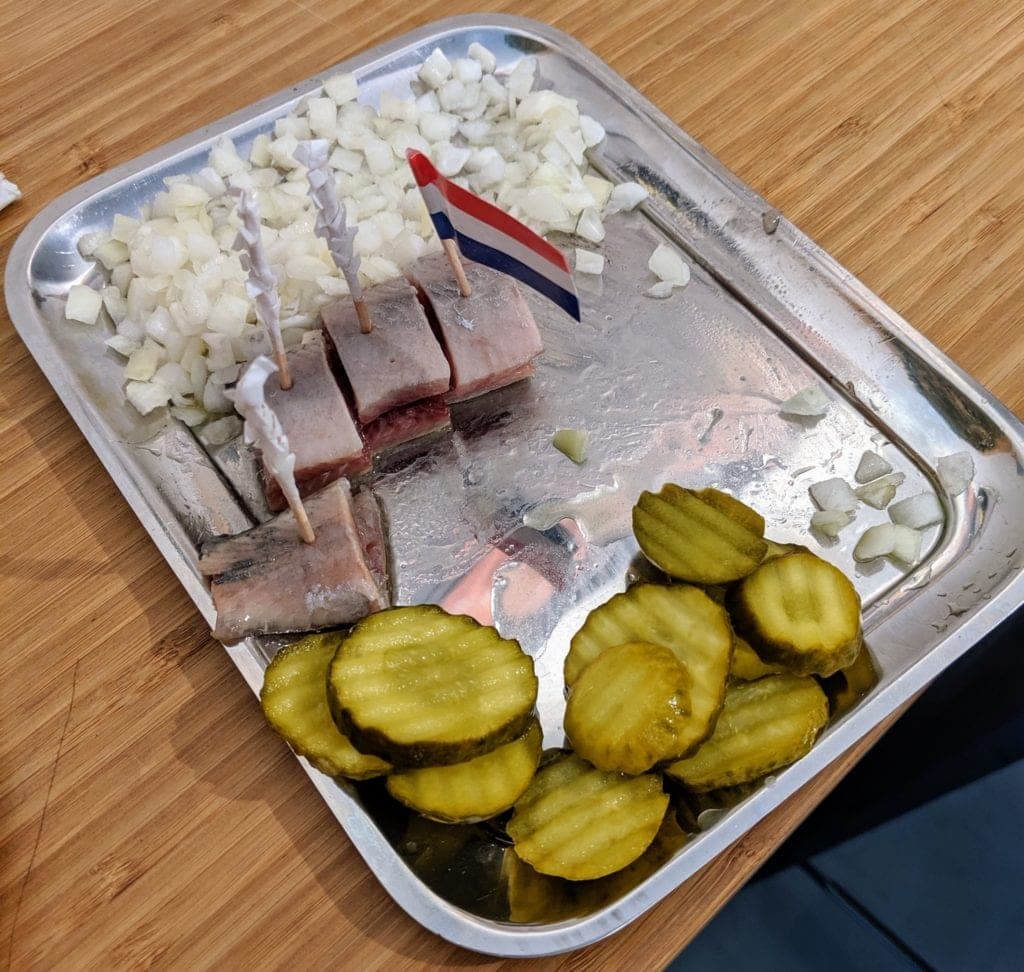 If you really want to do as the locals do, order a whole herring, pick up the tail, lean your head back and chomp the fish down whole, bite by bite! Or just enjoy watching the locals do it.
Surinamese and Indonesian Cuisine
Amsterdam is a melting pot, and the variety of food from across the world you can eat here is overwhelming. It can be hard to tell what is local and traditional fare and what's not.
Case in point: You can grab great food from Suriname, a tiny country in South America, and Indonesia in Amsterdam. Both were once colonies of the Netherlands, which has adopted some of those countries' cuisine as its own.
Suriname is a very diverse place, and its food reflects it. You'll taste the Thai, Indian, Chinese, Portuguese, and Dutch influences in the food. Think Chicken satay with peanut sauce, beans and rice, fried plantains, and masala. You can find almost anything you want at a Surinamese restaurant.
Head to an Indonesian restaurant for grilled meat and fish, with tons of fresh spices, herbs, and rice.
Apple Tarts
Nothing is more American than apple pie! Think again.
Apple pie or appeltaart, as it's called here, has been around for centuries. It differs in a few ways from the traditional American pie. Instead of a pie tin, the appletaart is made in a spring-form pan (like cheesecake) and the crust is thicker and more cake-like.
Appeltaart is on most menus at the traditional cafe-bars around town. Order a slice at Cafe Papeneiland (it comes twice the size as pictured!) and order a cup of tea or get a local beer – not Heiniken or Amstel – to pair with it.
Stroopwafels
Get one or two (or five) of these thin cookies. You won't be able to stop yourself!
The stories have it that these two thin cookie-like waffles with a caramel middle were first made using leftover dough a few hundred years ago. We salute the thrifty baker who made this delicious treat possible.
They are sold in shops, markets, and street stands. Try to find a place that serves them warm at least once.
Thrifty Tip: Stroopwafels are sold in tins (better than the plastic bags because the cookies won't break) at the airport. They are fresh and delicious and make a great souvenir or gift. At home lay your stroopwafel on top of a hot cup of coffee or tea to warm it up while your drink cools.
Jenever
After all this food, you will want something to drink! Try out a small glass or two of jenever or genever, which is the original gin.
There are two different styles, young (jonge) and old (oude) which has nothing to do with their ages and everything to do with the production. The oude is darker in color and a little richer in taste, thanks to more malt wine in the batch. But give both a try! You can find a list at most bars for glasses from 4 euro to 12-plus euro ($4.50 USD to $13.50 USD and up).
Thrifty Tip: Check out De Drei Fleschjes (Three Little Bottles) and try their genever made from a recipe dating back to the origins of the bar.
Bottom Line
Eat! Eat all of the things in Amsterdam. You can learn so much about a place and the people that live there by immersing yourself into the food and drink scene.