Trip planning is one of my favorite parts of travel. Having sunny, warm weather is an important component of my trip planning process. I personally want the warmest weather and the longest days, so I can maximize my time outdoors. Let me show show you an easy trick on how to find the best weather for your next trip.
Before I plan a trip anywhere I always consult the Wikipedia climate section of the the city I'm about to visit. I know this sounds nerdy but it provides incredibly useful knowledge. Most major cities around the world have a climate component to their Wikipedia page.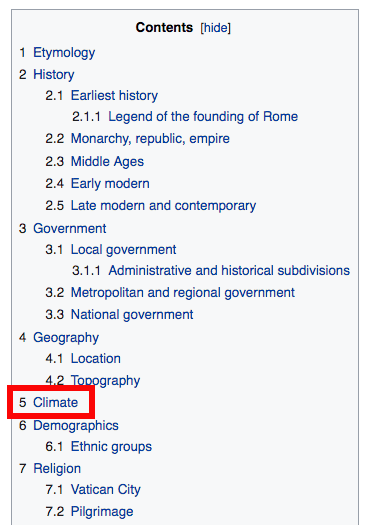 Once you navigate to the climate section of a major city's Wikipedia page, you'll be presented with a table of information including average high temp, precipitation, and mean monthly sunshine hours. Wikipedia makes it easy to pinpoint the warmest months with the most sunshine or whatever your travel preferences are.
As you can see from the table above, the highest temperatures in Rome, Italy are in August, and the most sunshine is in July. I'd try to plan my trip around those months, or to save cash on flights, I'd try to avoid peak summer in June-July and fly the shoulder seasons (May & August).
The most extreme example I've come across is Reykjavik, Iceland, which only receives 12 hours of sunshine in December for the whole month! If you were looking for a place to get your dose of Vitamin D, then you should probably avoid Iceland in December.
Bottom Line
The climate information provided by Wikipedia is easy to use and best of all it's free. While there are plenty of ways to save on travel, there are few ways to cheat mother nature.