It's time to head north into Canada. And dust off your French book to say "Bonjour!" to Montreal.
This urban heart of French-speaking Quebec province may not be Canada's largest metropolis, but it's certainly its best – and most cosmopolitan. Montreal has a seemingly endless supply of sights and food, spanning from cheap eats like poutine to high-class dining. And it's all packed into a city that will make you swear you've crossed the Atlantic Ocean into Paris – not just a few hours from home.
With exchange rates between the Canadian dollar and U.S. currency near historic lows that favor U.S. travelers, now's the time to make your move to Montreal. It's cheaper than ever.
All About Montreal
I could be a smarty-pants and tell you to approach Montreal via plane, train, or automobile. But more importantly, you need to approach this city with respectful anticipation. Be ready to be pleasantly surprised.
With a population above 1.7 million, Montreal is Canada's second-largest city. You could call it the cultural capital of Canada. And in my mind, it's easily the most cosmopolitan city in North America – and one of the most sophisticated places in the world.
Having visited both Paris and Montreal, let me say this: The comparison between these cities is no exaggeration. Montreal is classy without being snooty. The locals know their city is far from ordinary, yet their pride shows without sneering down their noses at visitors.
It can feel truly Parisian without having to cross the ocean – or even fly. So let the city's magic envelop you from the time you either drive into the city on the six-lane divided Laurentian Autoroute (freeway) or leave Montreal's airport (YUL).
And then there's the exchange rate: Every $1 USD gets you more than $1.30 CAD, as of the time of publication. And while that pays off for U.S. travelers venturing into any part of Canada, it's an important perk for what might otherwise be considered a pricey city.
Talk about a place for thrifty travelers!
Getting around Montreal is a delight in itself, thanks to the city's outstanding subway system. Modeled after the Paris subway, the trains move along on solid rubber wheels, eliminating the noise one hears in, for instance, New York City. The subway cars are clean and the individual stations showcase different aspects of the city's (and province's) culture. Those various subway station stops are truly artistic showplaces reflecting the city's perpetual wonder and history.
The Vieux et La Grande Roue
Start with a taste of Montreal's European flavor.
Hop in a horse-drawn carriage and ride through the cobblestone streets and grand buildings of Vieux-Montreal (Old Montreal). Head to the Basilique Notre-Dame (Basilica of Our Lady) providing a thrilling collection of stained glass. The Plateau-Mont-Royal district is headquarters for the city's quaint boutiques and cafes.
But for me, the most exciting attraction is Canada's largest observation wheel, similar to the London Eye, called La Grande Roue de Montreal. Ride up for spectacular views of the city and environs, from Mount Royal Park to the St. Lawrence River and everything in between.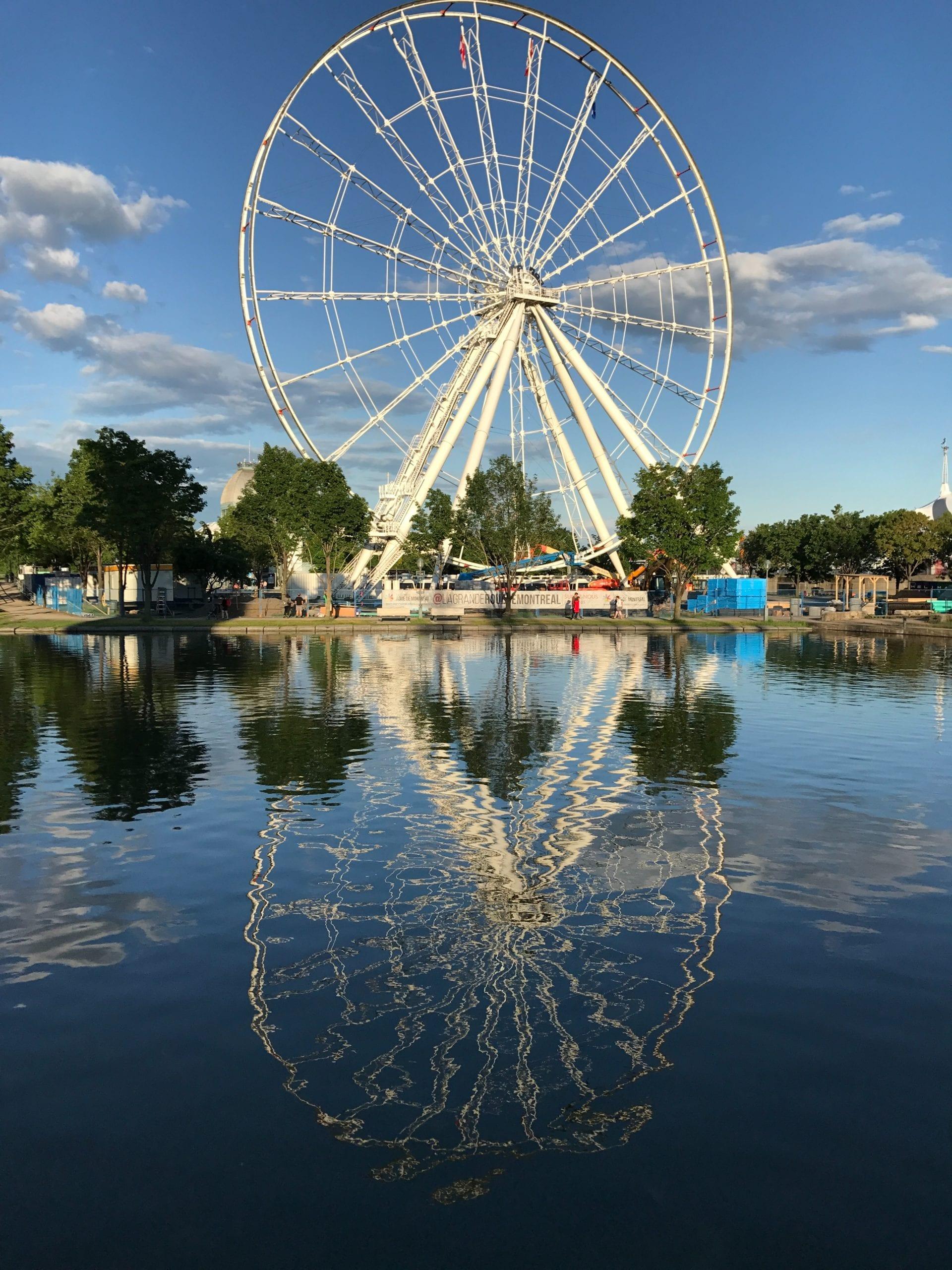 If you're here for music from classical to pop, Montreal's primary concert hall is the Maison Symphonique de Montreal, with ticket prices ranging from 60 to 220 Canadian dollars. In USD, you're saving at least 10%!
French is my second language, as my father was born in Marseilles, France. So if speaking French also appeals to you, too, practice away: French is the primary language in Montreal and throughout Quebec. It's far from mandatory, but if you attempt speaking in the native tongue just once, Quebecers will appreciate it.
But don't worry: English is, of course, also spoken fluently. Directional signs all across the province are posted in both French and English, whether you're walking around Montreal or hitting the highway toward Quebec City and beyond.
Eating in Montreal
You won't go hungry in Montreal. Especially if you're looking for authentic French-Canadian cuisine.
There are nearly 7,000 restaurants scattered across the city, consistently serving above-average meals. And just as in France, Quebecers have made food preparation an art form.
It starts with delightful cafes like my personal favorite, Olive & Gourmando. While it may seem pedestrian, their Mac and Cheese is one of my favorite dishes at 22 Canadian dollars a pop (roughly $15.50 USD). Olive & Gourmando is known for being vegan and vegetarian-friendly, with salads of unrivaled quality. Whatever you order, pair it with an Elixir iced tea.
Espace Cafe & Espresso Bar is another must-stop, especially for their breakfast-friendly baked goods, along with Cafe Chat l'Heureux (Happy Cat, in English). All these cafes are small and quaint, but worth the wait if crowded. And the price tags won't break the bank either – grab a tasty pastry and a coffee or hot chocolate for well under $10 USD total.
For lunch, you can't beat Brasserie 701. Stash Cafe and Restaurant de l'ITHQ are also great spots for a light bite at lunchtime. But although it's somewhat pricier (by only a couple U.S. dollars), Brasserie 701 is still my favorite among the three.
Their flagship dish, if you ask me, is the Angus Beef tartare (at roughly 19 Canadian Dollars) served with fries or salad. And their Falafel Healthy Bowl is replete with tabbouleh, falafel, garlic sauce, spiced roasted chickpeas and tons of veggies with a lemon tahini dressing. All for $14 USD, and all c'est magnifique!
For a mid-priced meal that's truly outstanding, try La Campagnola Italian Steakhouse. It's considered among the best among Montreal's thousands of restaurants, and for good reason. Though the food is Sicilian, their steaks are their crowning achievement. Try the filet mignon, my favorite, at 48 Canadian dollars ($36 USD). Bar a Tapas Sorocco and Fenetre Sur Kaboul are also excellent.
Leave Montreal in the Rearview
Montreal could easily keep you busy for days, if not weeks. But there's plenty outside of the city limits to see.
If you're visiting in the winter, grab your skis or snowboard and head for Mont Tremblant or Grey Rocks. These resorts are less than two hours north of Montreal by car and part of Canada's Laurentian mountain range.
Mont Tremblant is Canada's highest point between Eastern North America and the Canadian Rockies and its Resort Hotels Association has at least 20 excellent motels and hotels in the region – all within 15 minutes drive of the mountain base.
For a deep dive into the most French-oriented city in the province, make a side trip to the City of Quebec. Less than two hour's drive northeast of Montreal, it feels a world apart. And while the locals all speak English, they'll appreciate every attempt to speak French.

The world-famous Chateau Frontenac Hotel rests on the highest elevation in the city, while the "town below" will have you feeling you're visiting a village in France. And the food? Indescribably outstanding, from the cheapest plate to the most expensive dish you can find.
Bottom Line
Ages ago, Quebec tried to lure travelers to Montreal and beyond with the line: "Friendly, familiar, foreign and near."
It still applies. Prepare to be enthralled with Montreal.