I've got a blank space … in my passport for a stamp from any of one of the dozens of countries where Taylor Swift will be performing this year and next.
The singer is taking her record-breaking Eras Tour abroad later this year, with 50 shows in Mexico, South America, Europe, and even Asia and Australia. To me, that's the perfect excuse to take a big international trip.
Of course, you'll need to find tickets for a concert itself. Registration is closed for the Eras Tour European dates and tickets have already gone on sale for several cities. Your best bet now is to sign up to receive alerts for the cities you're interested in, just in case more tickets are released or try to buy them on the secondary market.
I was lucky enough to score tickets to Taylor's concert in Munich, Germany on July 28 next year – and I got them for far less than the eye-popping prices many Swifties saw here in the states. Now, it's time to figure out how I'm going to get to Europe during one of the busiest travel seasons of the year … without blowing up my budget.

Booking travel around a big concert means my dates are locked in, so following the Flight First Rule is (mostly) out of the question. But I have flexibility on what city I fly into, when I fly, and how to pay for it – be it with cash or points and miles – and all that can help me save. While it's too early to actually book most flights over to Europe (most airlines only put flights on sale about 11 months in advance), zeroing in on my options now will help me save when the time comes. For other tour stops, some flights are already bookable.
Here's how I'm planning my trip to Europe to see Taylor Swift perform in Munich, Germany next summer. Are you ready for it?
Read next: Grab Your Passport, Swifties: Best Bets to Catch the Eras Tour Abroad
Wait for a Deal, Then Book the Flight(s) to Go
At Thrifty Traveler, finding cheap flights is what we do. We find cheap flights to Munich (MUC) all the time … yet none of them are from my home airport of Minneapolis-St. Paul (MSP). That doesn't mean I'm out of luck, though.
For example, we recently sent Thrifty Traveler Premium members an alert for cheap fares to Munich and destinations all across Europe from airports like Boston (BOS), Chicago-O'Hare (ORD), New York City (JFK), or Washington, D.C. (IAD). One of my best bets is waiting for a similar alert for next summer, and then book a cheap positioning flight to those gateways from Minneapolis in order to hop on the transatlantic journey.
Because there are plenty of flights from Minneapolis to both Chicago and Boston – and they're regularly quite cheap – those are my top options.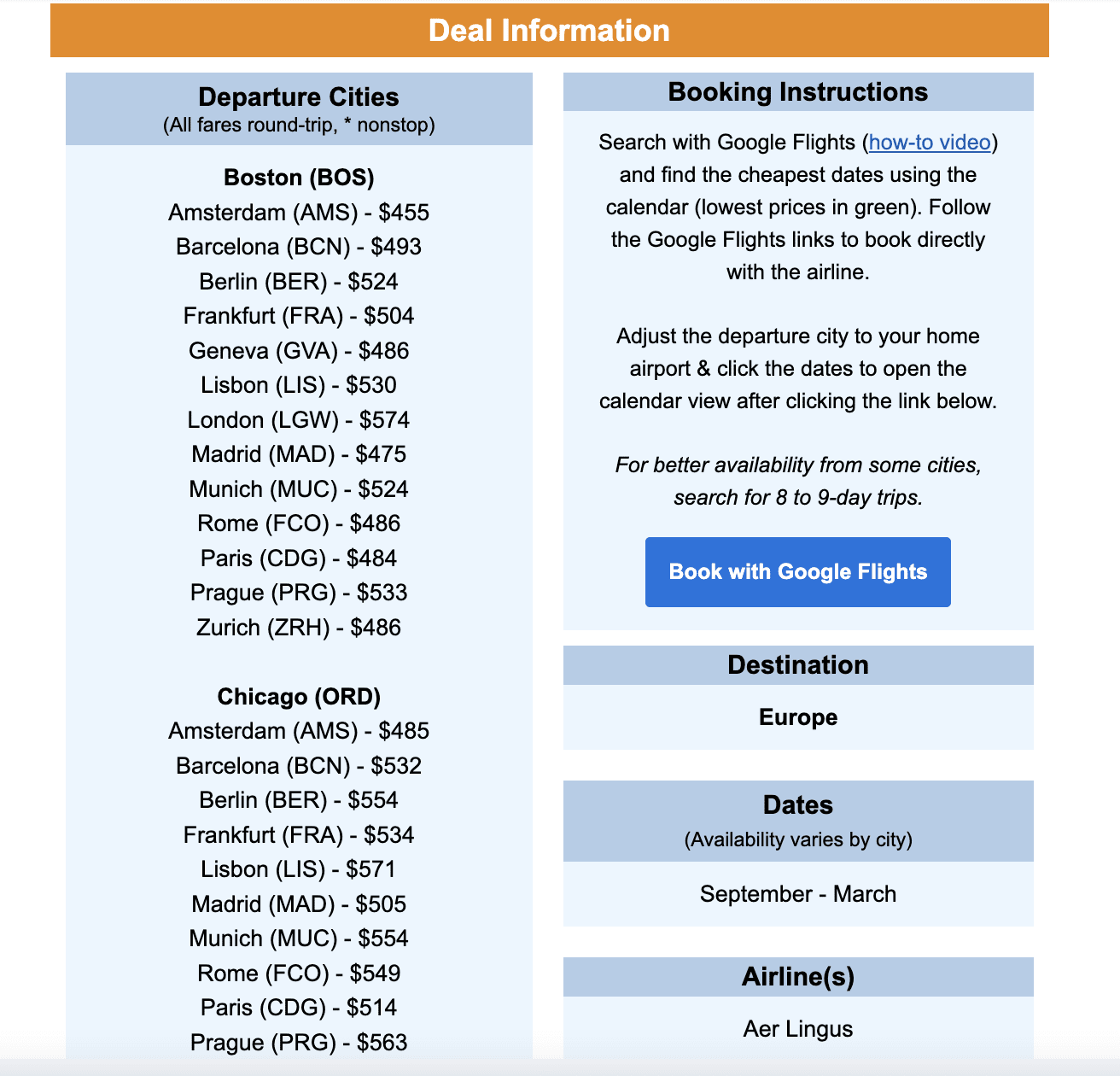 But Taylor's Munich stop falls in the peak summer, which means cheap fares like these may be less likely. That's why I'm thinking about how to use my points and miles instead.
Using My Points & Miles
Most airlines put their flights on sale 11 months in advance, and planning that far ahead can be a great way to find better deals. When it comes to booking flights using points and miles, booking nearly a year in advance can be critical – especially during the peak summer months of June, July, and August.
Booking as far in advance as possible can be the difference between finding award availability to fly overseas in summer … or nothing at all. So I'm already scouting out my options for how to use points to get to Munich next July. KLM and Air France will both operate one-stop flights between Minneapolis and Munich next summer, and that gives me a few options to use my points to book a (nearly) free flight.
Air France and KLM are members of the SkyTeam alliance, as is Virgin Atlantic. That means I could use Virgin Atlantic Flying Club points to book KLM flights to Munich.
I could book these KLM flights through Virgin Atlantic for as low as 38,000 points roundtrip and about $160 in fees.


But because Virgin Atlantic only allows you to book flights 11 months in advance, I can only book flights through mid-June. And once the late July calendar opens, Virgin Atlantic charges more miles for a peak summer flight, which would bring the total to 59,000 miles and $161 in fees. That's a small price to pay to see Taylor in Germany.
And those points are incredibly easy to earn: You can transfer points to Virgin Atlantic from all the major banks like Chase, American Express, Capital One, Bilt Rewards, and Citi. Points from one of my go-to travel cards like the Chase Sapphire Preferred® Card or the Capital One Venture X Rewards Credit Card are all I need. Add in a transfer bonus from any of the major credit card companies and I could book these flights for even fewer points.
Read more: Save Points When Booking Flights by Transferring Them to an Airline Partner
But there may be an even better option: Booking those same flights using Air France/KLM Flying Blue miles. I can't book for late July just yet, but a roundtrip in late June would cost me just 42,000 miles and $288 in taxes and fees.

Critically, I can book these Air France flights using Flying Blue miles almost a full year in advance. That means my window to book flights opens in just a few weeks in early August. And that's exactly when I'll start looking to ensure I can snag flights before others do – paying another $100 or so in fees is well worth it
Since the trip falls during the hectic July and August, it may cost a few thousand more miles … or maybe not: The airline's monthly Flying Blue Promo Rewards could help me snag an even better bargain, if I'm lucky.
Don't have Flying Blue miles? I didn't think I did either. But Air France or KLM miles are some of the easiest miles to earn thanks to transfer partnerships with all the major banks. So if you've got Chase Ultimate Rewards, Capital One Venture Miles, American Express Membership Rewards, or even Bilt points from paying rent, you can instantly turn them into the Flying Blue miles you need for a trip to Europe. And it could get even cheaper if you time it right with a transfer bonus, like the current 20% bonus from Capital One ending July 31.
Focusing on the Cheapest City In Europe to Fly to
Some European cities are regularly cheaper (and I mean much cheaper) to fly into than others. Even if it's not the city where I'll be seeing Taylor, flying in and out of another European airport could be the key to pulling this trip off for less.
I pulled up Google Flights Explore to see what my cheapest options were for getting to Europe.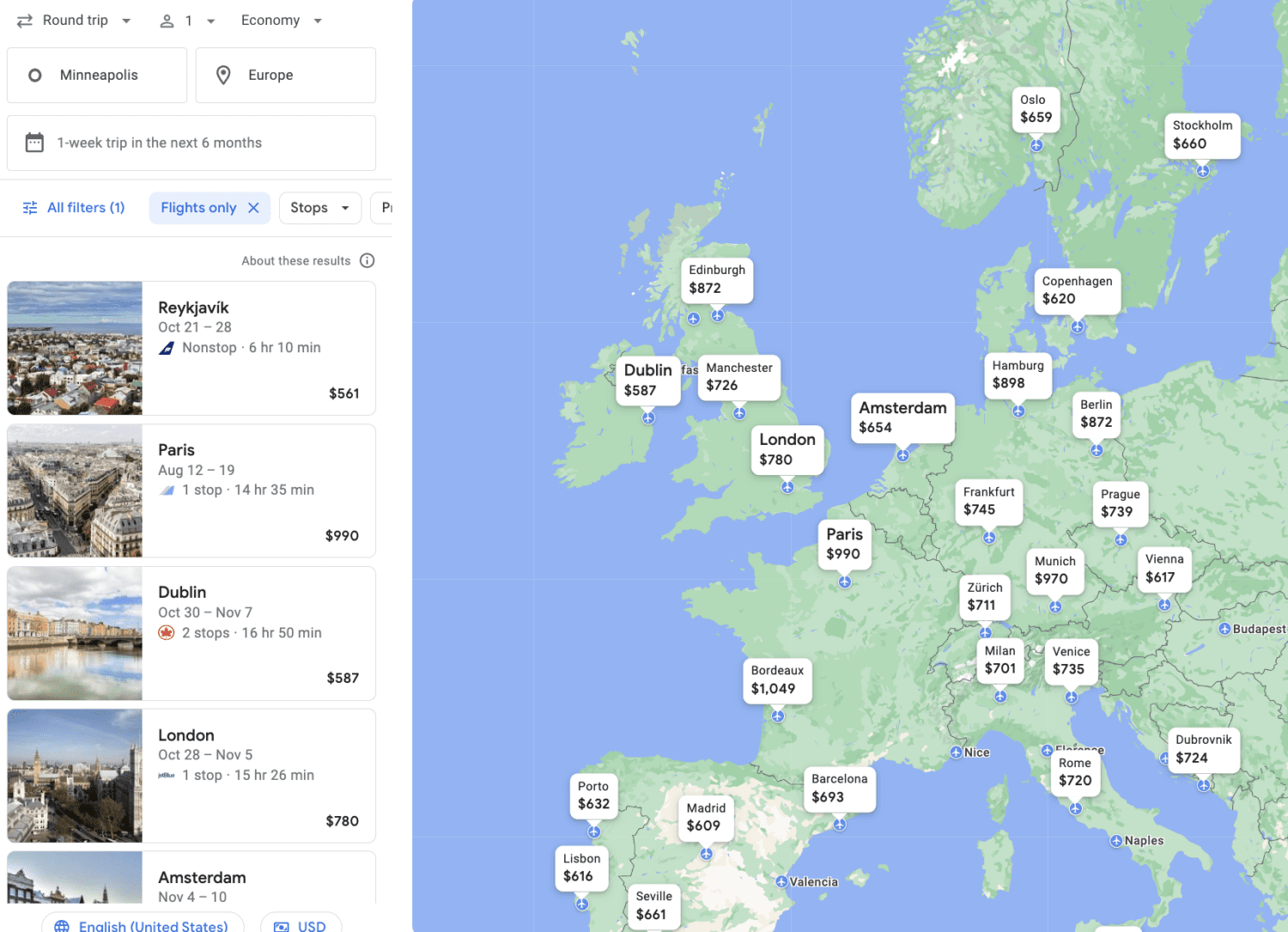 And thanks to a bevy of ultra-low-cost carriers like Ryanair and EasyJet, flights within Europe are crazy cheap. Just look at how low these fares from Madrid (MAD) across the continent can get.

All I have to do is score a cheap long-haul flight (or maybe even a lie-flat business class flight!) to almost anywhere in Europe, then connect onward to Munich, and still come out ahead.
Turn it into a Larger Trip
While I need to be in Munich on July 28 for the Taylor Swift concert, there's no reason I can't travel around Germany – or elsewhere in Europe – in the days before and after the show.
Flights from Minneapolis to Munich might be expensive and no airline offers nonstop routes. But I can wait around for a Thrifty Traveler Premium flight deal from Minneapolis to anywhere else in Europe that includes availability over the last weekend in July and plan my trip around that.
How about starting with this one to Dublin (DUB), for example? I've never been, so this would be a great way to see another new destination while crossing the Atlantic Ocean for as cheap as possible.

Get cheap flights like this one sent straight to your inbox with Thrifty Traveler Premium!
There's also nothing stopping me from flying into one city in Europe and home from another – with a quick pitstop in Munich for the Eras Tour. Booking multi-city flights like this is one of the best ways to get in and out of Europe, seeing more of the continent without paying higher fares.

Read more: Multi-City Flights? Open Jaws? Crafty Ways to Book Even Better Trips
Another option I'm considering: Adding a stopover in Iceland on the way there or back. Icelandair flies between Minneapolis and Munich, with a layover in Iceland. And Icelandair has an amazing and easy-to-use program that lets you build in a multi-day layover – called a stopover – for free. It's a great way to visit two incredible destinations – Iceland and Germany – for the price of one!

I just returned from a trip to Iceland this summer, and I'm already plotting my return. This would be the perfect excuse to see some of the sights I missed the first time around, like the Snaefellsnes Peninsula or Skógafoss waterfall in south Iceland.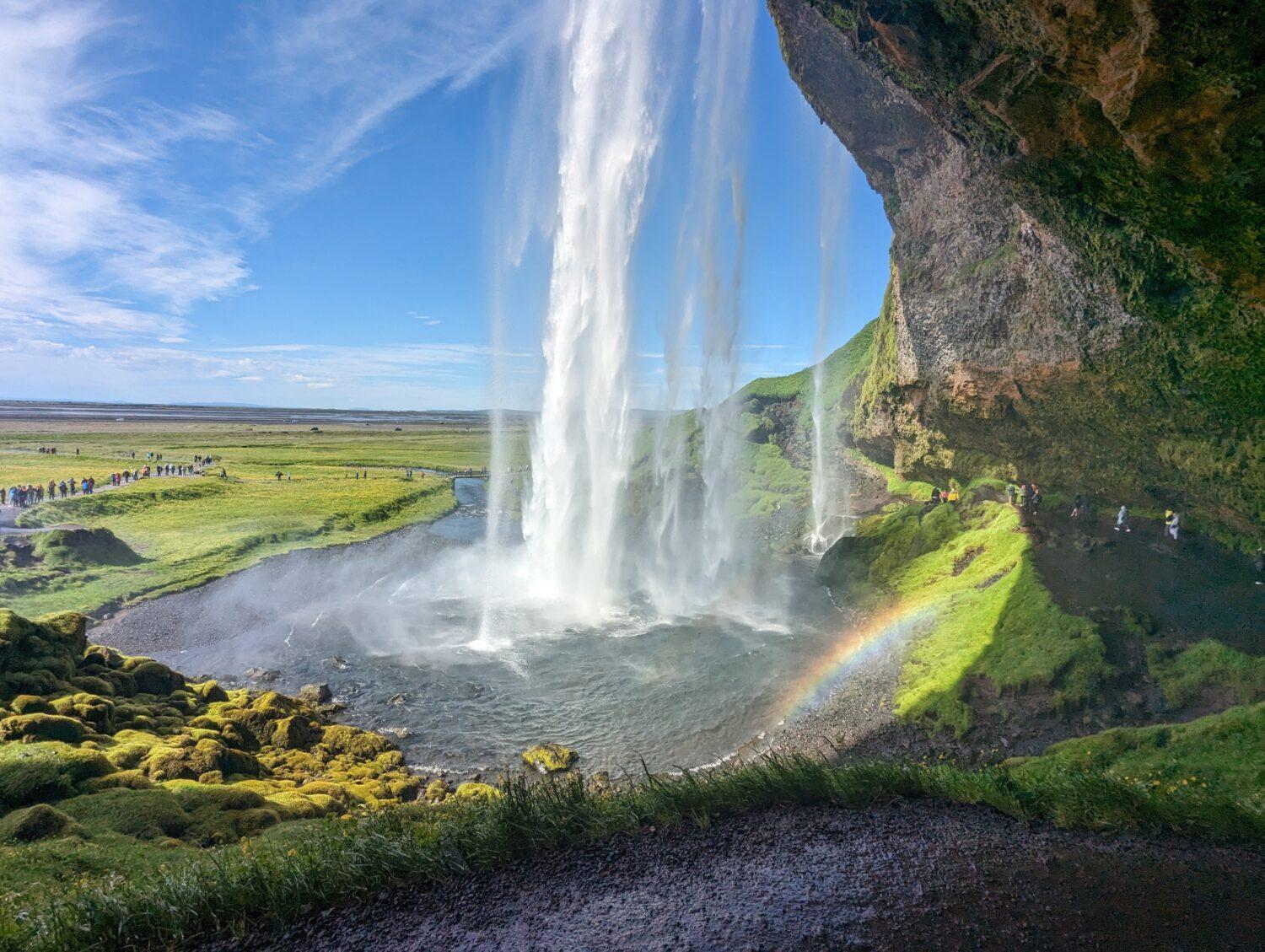 Read our guide to planning the perfect Iceland stopover trip! 
We find cheap fares to Iceland all the time – even for the summer months. The next time I see a deal like this, as long as it includes my Eras Tour concert date, I'll book it.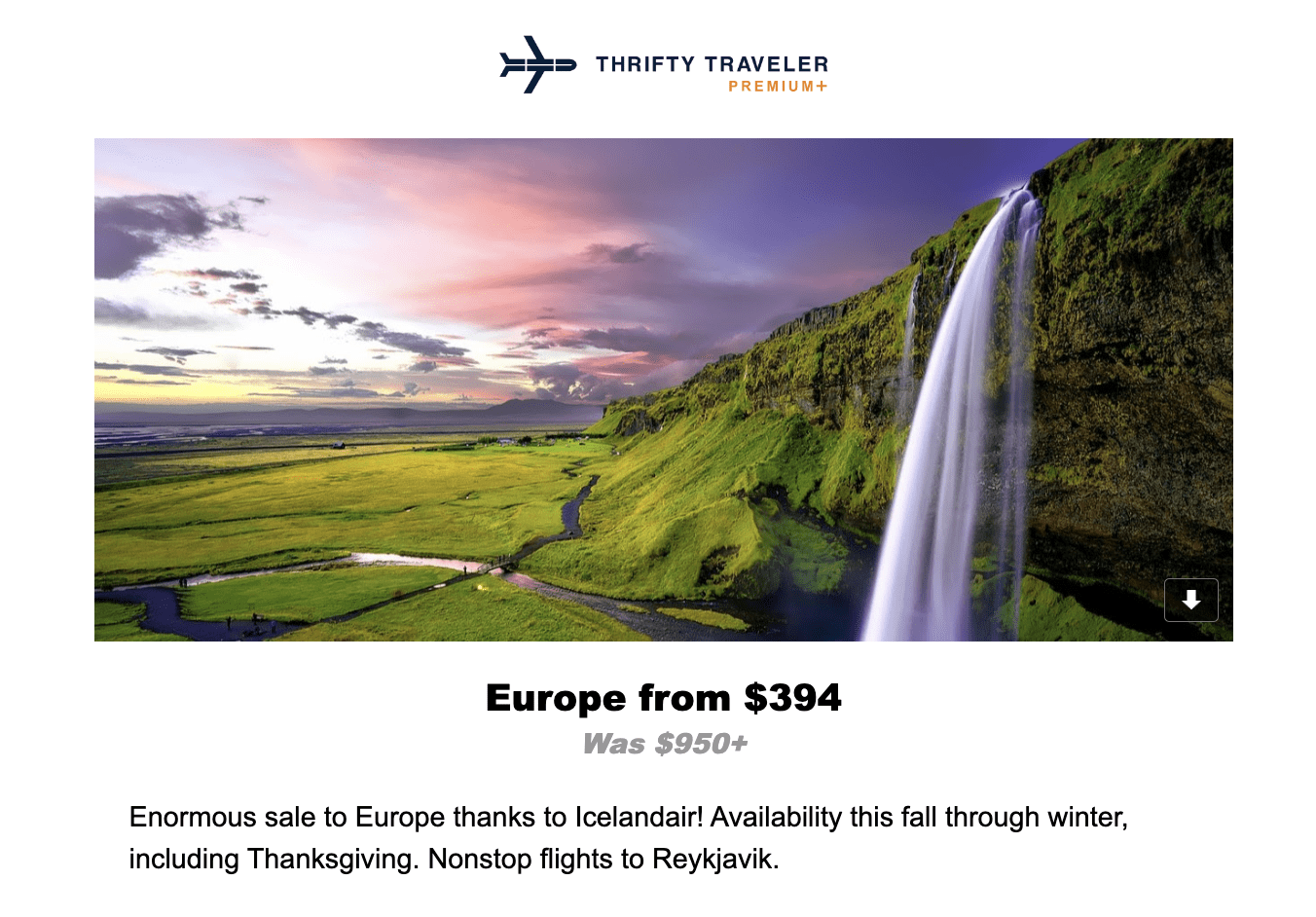 Bottom Line
I'm going to Munich, Germany next summer to see Taylor Swift perform. I still can't believe I'm typing those words.
While the concert tickets were cheap, getting from Munich to Minneapolis during the busy summer tourist season might not be. But from flying into a cheaper city to using points and miles to building a larger trip around a flight deal to Europe, I'm plotting all the ways I can save on seeing The Eras Tour abroad.