Lebanon might not be on your travel wishlist. Perhaps it should be.
This Middle Eastern country is rich with history, great food, local wine, and a lot to see and do. But that doesn't mean it's for everyone.
Before you dive into a trip to Lebanon, there are a few things to keep in mind.
Is Lebanon Safe?
No matter where you're heading, you can ask this question about most destinations around the world.
And while the answer is an emphatic "Yes!" for most major cities around the world, there's always a "… but" – those things you need to keep in mind to stay safe while traveling, like avoiding certain areas or just being aware and mindful. The answer to the question "Is Lebanon safe?" is even more complicated.
That's due in large part to its location. Lebanon borders both Israel and Syria. Syria is in the midst of a civil war, while Israel is frequently on edge due to threats of terrorism and fraught relations with Palestinians.
That instability led the U.S. State Department to issue a Level 3 "Reconsider Travel" advisory in April – its second most severe advisory, behind only a Level 4 which means "Do Not Travel."
But Lebanon is a bucket list destination for many travelers, and there's no guarantee this region won't descend into further instability. So I did a lot of research to find out what local Lebanese and travelers were saying.
People that live in and visit its capital city, Beirut, generally feel very safe – and after our recent visit, I can say we did, too. The entire country is under heightened security, with gun-strapped members of the military almost everywhere. It might seem jarring to an outsider but helps the locals feel safe.
Like any city or country, there are places to avoid. Don't go to the Syrian or Israeli borders. Don't visit refugee resettlement areas. Use common sense and be respectful.
Ultimately, it's a personal decision whether you're up for a visit to Lebanon. As an extra precaution, enroll in the Smart Traveler Enrollment Program with the State Department. You will get notifications if anything happens, and your hotel and passport information was recorded with the U.S. Embassy in Lebanon.
Why You Should Visit Lebanon
Lebanon exemplifies the meeting of the Middle East and the West, with the best of both worlds.
The country is nearly evenly divided between Muslims and Christians, and almost everyone speaks Arabic, French, and English fluently. Unlike much of the Middle East, the Lebanese enjoy drinking, so there's a vibrant nightlife scene, too.
In the '60s and '70s, Beruit was known as the "Paris of the Middle East." And though most of the city was destroyed during the Lebanese Civil War from 1975-1990, it's still easy to see how it got the name. Most of the shop signs are in Arabic and French. You'll find pastry shops, wine stores, high-end boutiques, and great restaurants all around downtown Beirut.
If the great food and drink culture aren't enough to entice you, the long history of the country means there is a ton to see and do as well.
Thrifty Tip: Take some time to read up on the complex history of Lebanon. Knowing a little about this before you go will help you appreciate the people and country more and help you get the most out of your trip.
Bask in Beirut
Beirut is a vibrant city. And while it may no longer resemble the "Paris of the Middle East," it's still a great city to visit.
Whatever you do, stay in downtown Beirut. You will be close to the harbor, with lots of restaurants close by, the Souk, and fun neighborhoods to walk in. It is a bit touristy and flashy but being here made us feel safe and comfortable.
Thrifty Tip:  Get the free "Best of Beirut" guide from your hotel before you head out exploring. It's one of the best city guides I  have seen, which is extra helpful if you don't have cell service.
Take an Uber ride from your hotel to the Raouche Rocks and then go for a walk along the boardwalk next to the Mediterranean. Notice all of the beach clubs along the coast. The boardwalk is a popular spot for locals to run or speed walk throughout the day.
Veer off the boardwalk to wander in the Hamra neighboorhood. Take a stroll through the American Univerisity of Beirut campus and stop at a coffee shop and give Lebanese coffee a try (it is thick as mud!) or stop at a cocktail bar for happy hour.
There is a lot to see in Downtown Beirut including Zaitunay Bay. Sit at a fancy local restaurant and marvel at all of the yachts. Take a walk through the outdoor shopping malls known as Souks or go on Saturday when there is an outdoor market.
Stop by Martyr's Square. It's only a bullet-ridden statue now but has a long and important history for the city. Snap a photo of the beautiful Mohammed Al-Amin Mosque behind it.
Take a Day Trip to Byblos
Beirut is the perfect start for a day trip to Byblos, believed to be the longest inhabited city in the world. Just please don't rent a car.
The driving we witnessed in Lebanon was horrendous, and illogical for all but the locals. Instead, have your hotel concierge call a local taxi company and schedule a driver. We booked a driver for 10 hours of driving for $200, and it was well worth the money. Uber is another cheap option to get you to Byblos.
Have your driver drop you off in Byblos Old Town at the entrance of the Byblos Castle. The entrance fee is 15,000 Lebanese pounds, or $10 USD.
Thrifty Tip: U.S. dollars are accepted everywhere in Lebanon but you will get change in Lebanese pounds. Credit cards are accepted most places but it is helpful to have cash. Get the Charles Schwab debit card and stop paying ATM fees worldwide.
After exploring the Castle, Museum, and ruins, head down the hill to explore the small harbor or head up the hill through the old souks and wander through the old town. There are quaint streets, with lots of bars and restaurants where you can spend a relaxing afternoon.

On your way back to Beirut, stop at the Jeita Grotto – a system of interconnected crystalized limestone caves that's considered one of the must-visit sites of the Middle East. Learn all about the Jeita Grotto and how to visit.
Ruins at Baalbek
Byblos might be the oldest town, but if you're looking for picturesque ruins, you want to go to Baalbek.
The Temples at Baalbek are the largest and most well-preserved Roman ruins in the world. The magnitude of this site is overwhelming and if you like history (even a little bit), you need to go here! Here's everything you need to know about these incredible ruins.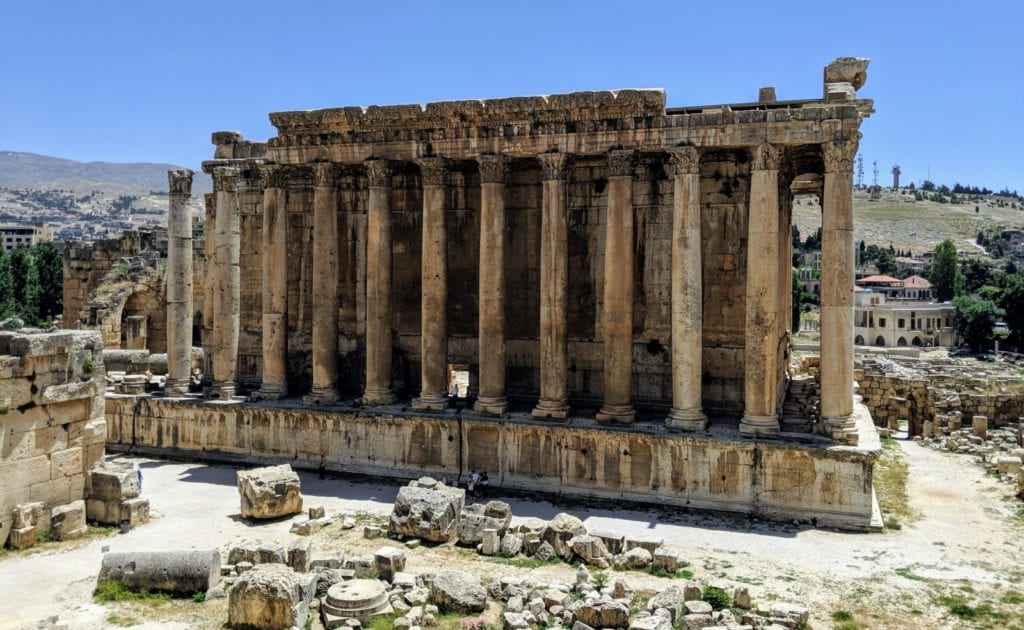 Lebanon + Wine
When you think wine, you probably think of California, France, and Italy. Add Lebanon to that list.
Lebanon is home to one of the oldest wine-growing regions in the world. There is evidence wine has been produced here since 750 B.C. Today, there are over 40 wineries that produce 6 million bottles annually.
Many of these wineries are easy to visit and are the main tourist attraction. Some of the larger ones like Ksara, founded in 1857, have a tasting room you can just show up to. Others, like the inimitable Chateau Musar, require an appointment. Book a tour that includes a winery or book one to take you to multiple wineries in one day.
What to Eat & Drink
Say it with me: mezze and meat. Lebanese meals generally follow that formula.
You'll start with a mezze, a menu of small plates meant for sharing. But the word "small" is relative, and the portions at Lebanese most restaurants can be shared with many people. Order hummus and Babaghanoush (mashed eggplant with spices), and a tabouleh salad (parsley, herbs, and tomatoes) to go with Za'tar (Middle Eastern spice) bread.
But please, wait to order your meat course. You might not even need it after the mezze.
Order a glass of local wine or two to wash down all of the food and finish your meal with some Arrak, a local anise-flavored spirit that is served watered down on ice. It's the perfect way to end your meal.
Thrifty Tip: At many restaurants, you will receive a complimentary dessert along with a giant fruit plate. You are not expected to eat any, let alone all, of the fruit. It is mainly for show and a sign of hospitality.
A Few Things to Know if You Go
First things first: Your cell phone probably won't work here.
No major U.S. carriers have an agreement with the local telecommunications companies, so our favorite ways to stay connected abroad won't work. So it's back to the old-fashioned way: purchase a SIM card. You can do this ahead of time on eBay or Amazon, or just buy one at a phone store once you arrive. Just make sure to bring your passport along.
On the bright side, free WiFi is widely available throughout Beirut and other major cities in Lebanon.
If you won't have cell service, pre-arrange a taxi from the airport. You can prepay online and have a car waiting for you when you arrive. If you don't, have fun negotiating the price to your hotel with a taxi driver – or someone posing as a taxi driver.
Uber is readily available in Beirut. If you choose not to get a SIM card, just order your car when you've got WiFi. With set prices, Uber is easier, cheaper, and hassle-free in Lebanon.
Bottom Line
Lebanon is a fascinating place with awe-inspiring sites, a ton of history, and great food and wine. If you're ready for an adventure, don't be dissuaded. Add it to your bucket list!