Thailand is at the top of many traveler's wish lists for a reason – many reasons, actually: Dirt-cheap prices, unbeatable street food, and some of the best beaches you can find on the planet.
But if you don't play your cards right, flying from the U.S. to Thailand can be expensive. But a big bucket list trip doesn't have to mean a big bucket list budget – especially if you cover your flight to Thailand using points and miles.
Although no U.S. airlines fly directly to the Southeast Asian nation, there are some serious sweet spots and opportunities to get to Thailand for cheap. And that's true whether you're happy flying economy or want to fly business or first class in style.
Getting to Thailand
Before we break down the best ways to use points and miles for travel to Thailand, we need to cover some basics about actually getting there.
To start with, no U.S. airlines actually fly to Thailand. For that matter, no airline flies nonstop from the U.S. to Thailand, period. But thanks to airline alliances, you can still use miles from several U.S.-based airlines to book flights with other carriers. And some other international airline programs open up your options even further.
No matter whether you're heading for the mountains of Chiang Mai or the beaches of Koh Samui, your best bet is typically to start by searching for flights to the capital city of Bangkok (BKK). Even if that's not your final destination, it will give you the most options. From there, you can scope out your options to your final destination in Thailand – or just book a cheap flight from Bangkok to get there.
Wikipedia has a handy list of all the airlines currently flying into Bangkok. Without further ado, here are some of the best ways to get to Thailand using points and miles.
Make a Flight Deal Free Using Chase Points
While there are a lot of good ways to fly to Thailand using credit card points and miles, many of them will still require paying some taxes and fees along with your points – and sometimes a lot of them. There's only one way to fly there for free, and it all starts with a cheap flight.
Using credit card points like Chase Ultimate Rewards to book flights is one of the simplest ways to book travel using points, and it's one of our favorites – plus you'll earn airline miles on your flight, too.
While cheap cash flights from the U.S. to Thailand can be rare, we're always on the hunt to send a great deal to our Thrifty Traveler Premium members. Flights typically cost $1,000 or more round-trip, but we've found flights as low as $534 roundtrip from certain U.S. gateways.
If you've got the Chase Sapphire Preferred Card, you could book those same flights for just 42,720 points through the Chase Ultimate Rewards travel portal. It's even cheaper with the Chase Sapphire Reserve: You could book for 35,600 points total!
Read our guide to booking flights through the Chase Travel Portal!
How to Earn the Points You Need
You can use other credit card points to book flight deals like this, but Chase Ultimate Rewards points should be your go-to here.
That's because of the bonus you get when booking flights directly through Chase. Every point from the Chase Sapphire Preferred Card is worth 1.25 cents toward your flight. That means 50,000-points are worth at least $625 toward airfare.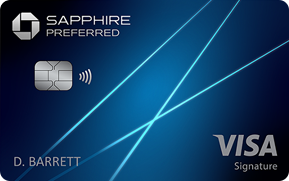 Click Here to get more information about the Chase Sapphire Preferred Card. 
And with the Chase Sapphire Reserve, every point is worth more at 1.5 cents apiece. So 50,000 would be worth $750 toward your flight to Thailand.
Read: Our Master Guide to Earning & Burning Chase Ultimate Rewards Points. 
Fly Japan Airlines Using AA Miles
Flying Japan Airlines is one of our favorite ways to use American AAdvantage miles. That's true whether you are flying economy, business, or even first class. And using AA miles is one of the cheapest and best ways to use airline miles to fly economy to Thailand for a bargain.
American's award chart spells it all out: Since Thailand is considered Asia Region 2, it'll cost you 37,500 miles each way in economy. Plus, because of the way American's award chart works, you can fly from almost any airport in the U.S. to Thailand at that price. Whether it's a one-stop flight from Seattle (SEA) or a two-stop journey from Minneapolis-St. Paul (MSP), you'll pay just 37,500 AAdvantage miles each way in economy.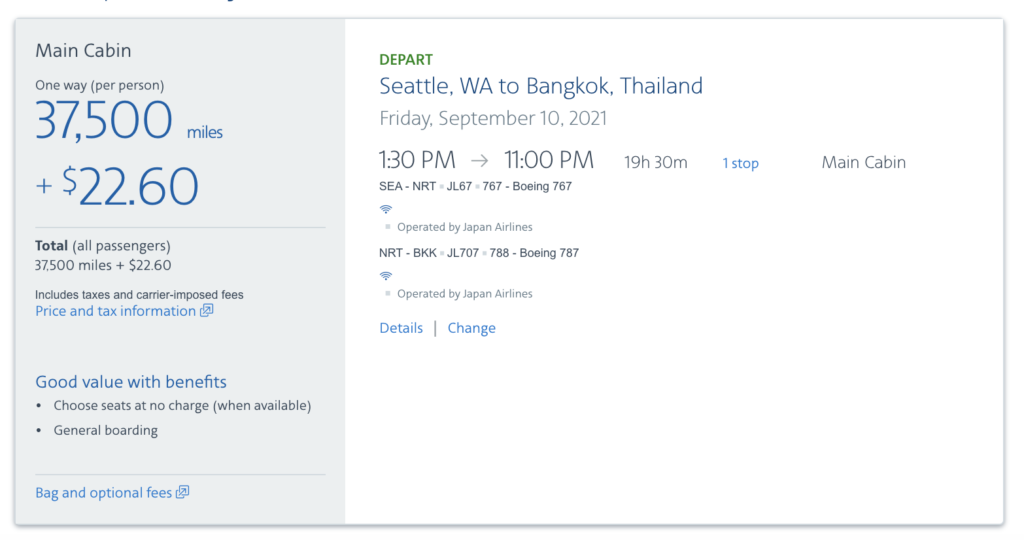 Most importantly, we think Japan Airlines is the best way to fly economy to Asia. Their seats are more spacious than what you'll find on almost any carrier, and the service and food is great, too.
When it comes time to book, it couldn't be easier. You can easily search and book them online at AA.com.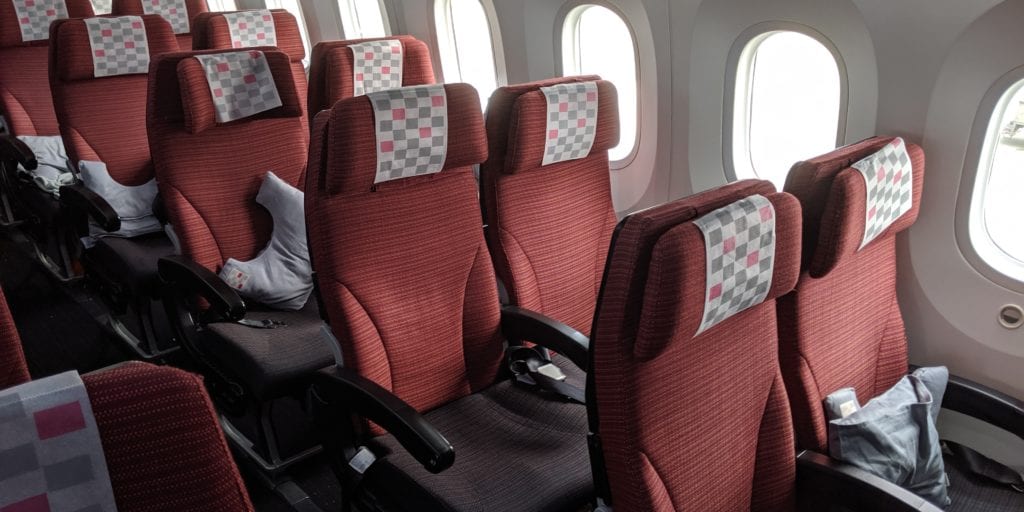 Read our full review of Japan Airlines economy!
But you've got more options than just Japan Airlines. For the same rate, you can also fly Cathay Pacific – another airline considered among the best in the world – via Hong Kong (HKG).
How to Earn the Miles You Need
No airline makes it easier to pile up miles fast than American Airlines. That's part of the reason why this is one of our go-to methods for booking flights to Thailand with points and miles.
American Airlines has two major co-branded credit cards with different banks: Citi and Barclay's. And because you can earn the welcome bonuses on each card, it's an easy one-two punch to quickly earn 100,000 AAdvantage miles (or more).
For starters, there's the Citi® / AAdvantage® Platinum Select® World Elite Mastercard® which is currently offering the ability to earn 50,000 AAdvantage miles after spending just $2,500 in the first three months of card membership.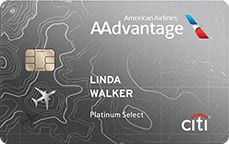 Learn more about the Citi® / AAdvantage® Platinum Select® World Elite Mastercard®
But there's another option, too – and it's even easier. Few credit cards offer a better, more lucrative welcome offer bonus than the AAdvantage Aviator Red World Elite Mastercard. Just for opening the card, making a single purchase, and paying the $99 annual fee, you can earn 50,000 American Airlines AAdvantage miles. These are some of the easiest miles you will ever earn.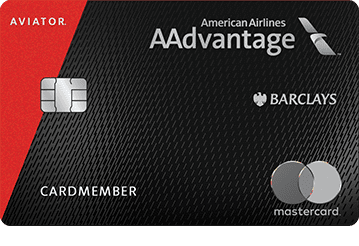 Click Here to apply for the AAdvantage Aviator Red World Elite Mastercard (this is not an affiliate link)
Or Fly Business Class with AA Miles
If you want to fly in style, Japan Airlines business is an amazing option. As is Cathay Pacific. And both are bookable with AAdvantage miles for a bargain.
You can book a business class seat to Thailand with both airlines for 70,000 miles each way, with a pitstop in either Hong Kong or Tokyo on your way.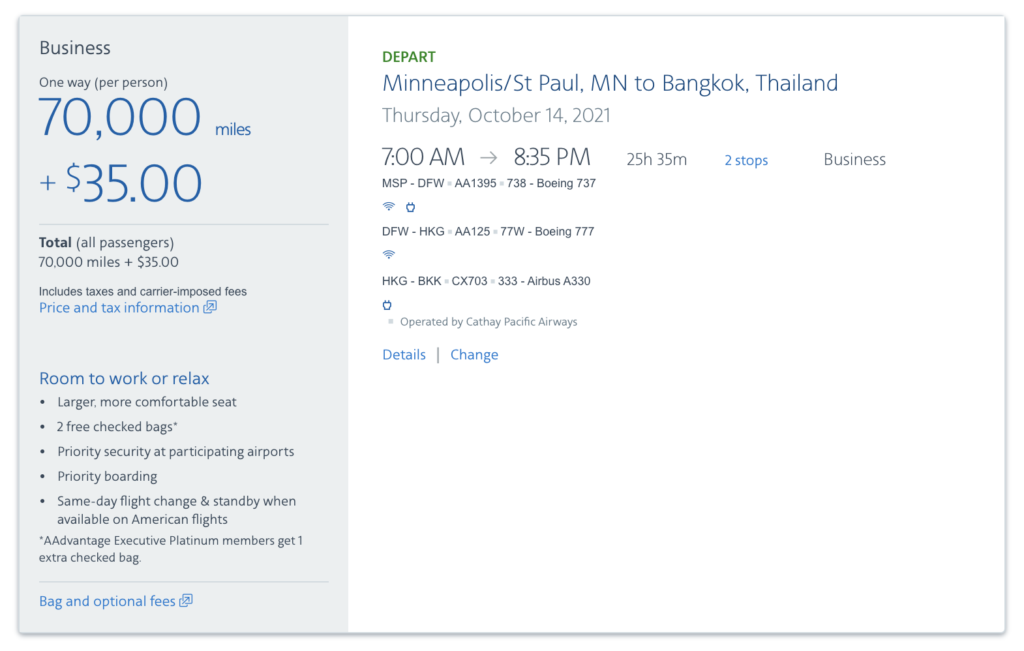 But beware: Booking business class seats to Asia with miles can be much more challenging than economy – especially if you're looking for more than one seat. It all comes down to finding award space. The airline you are actually flying on has to release award availability to American Airlines in order for it to be available to book.
With some flexibility, you shouldn't have much trouble finding seats. Keep your eyes peeled for Japan Airlines, as its business class suites are some of our favorites in the skies.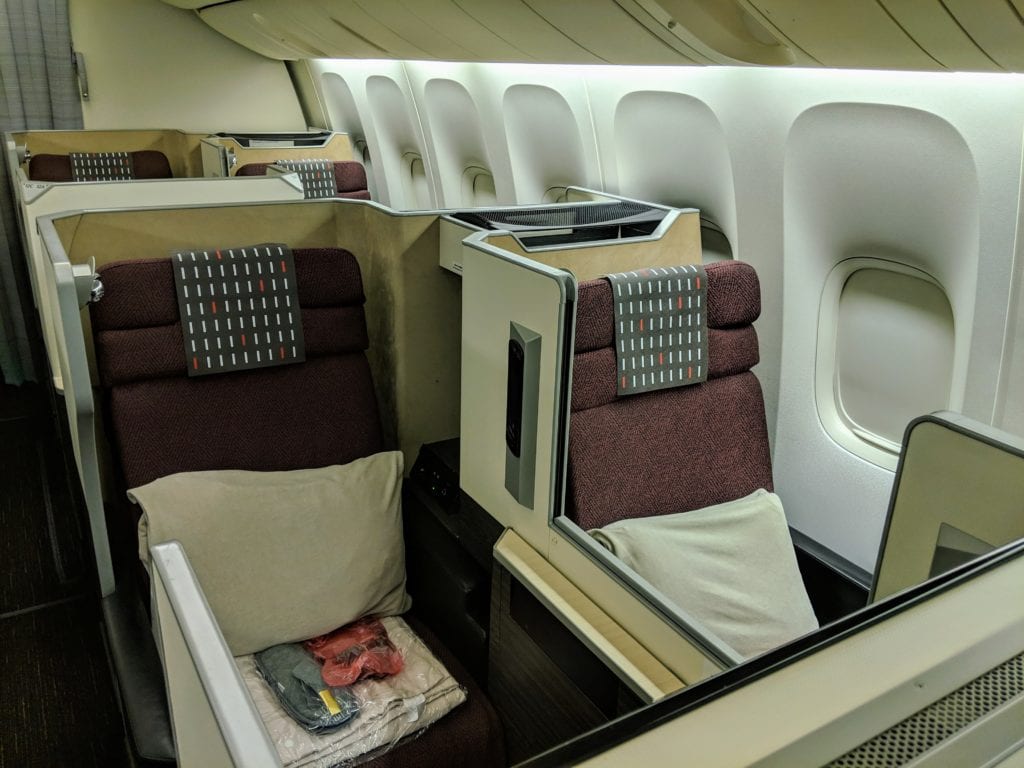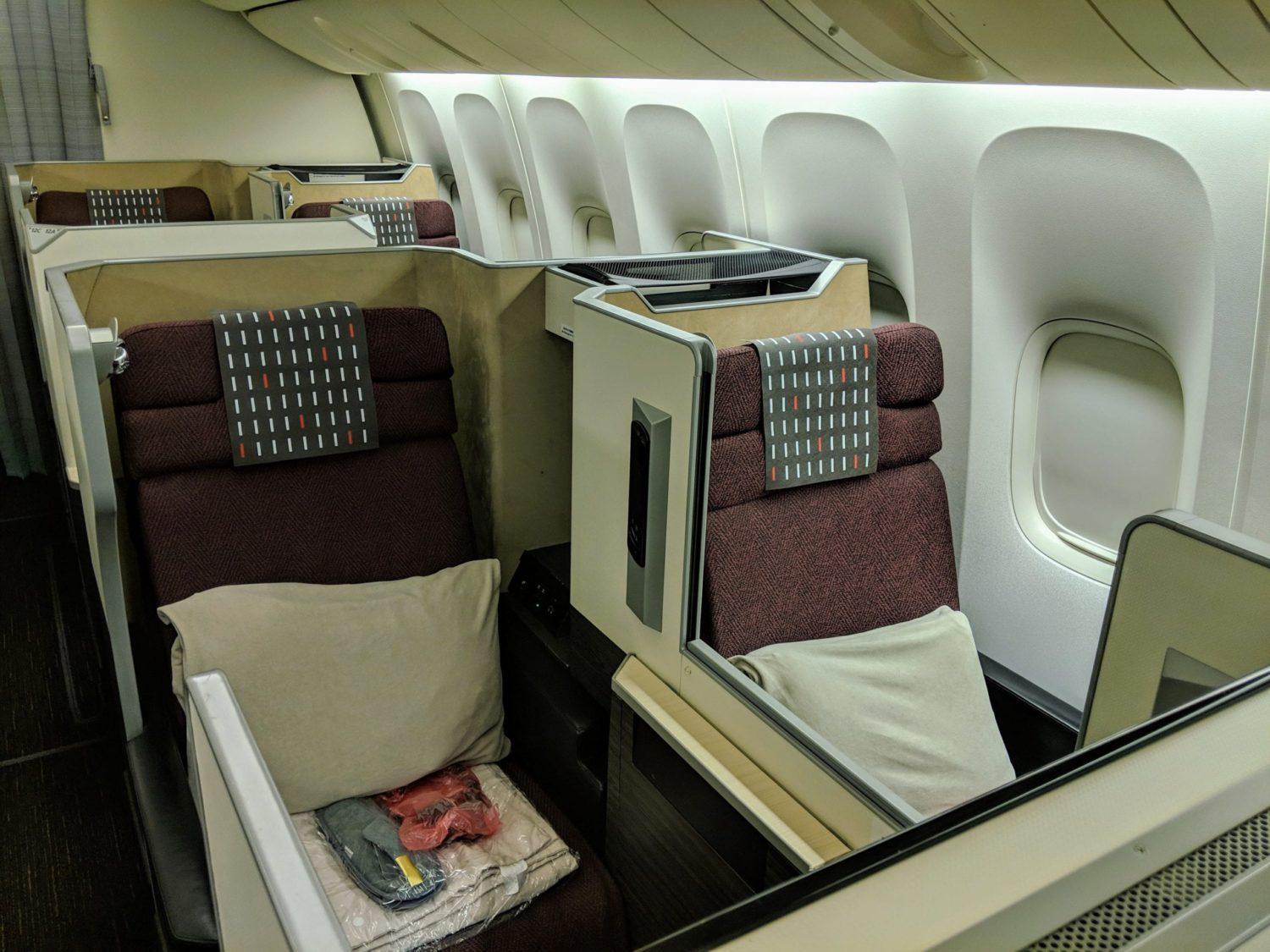 Read our full review of Japan Airlines business class from Chicago to Tokyo-Narita
Cathay Pacific is another fan favorite thanks to great reverse herringbone seating. And the airline's phenomenal lounges in Hong Kong (HKG) will make your layover a treat before heading onward to Thailand.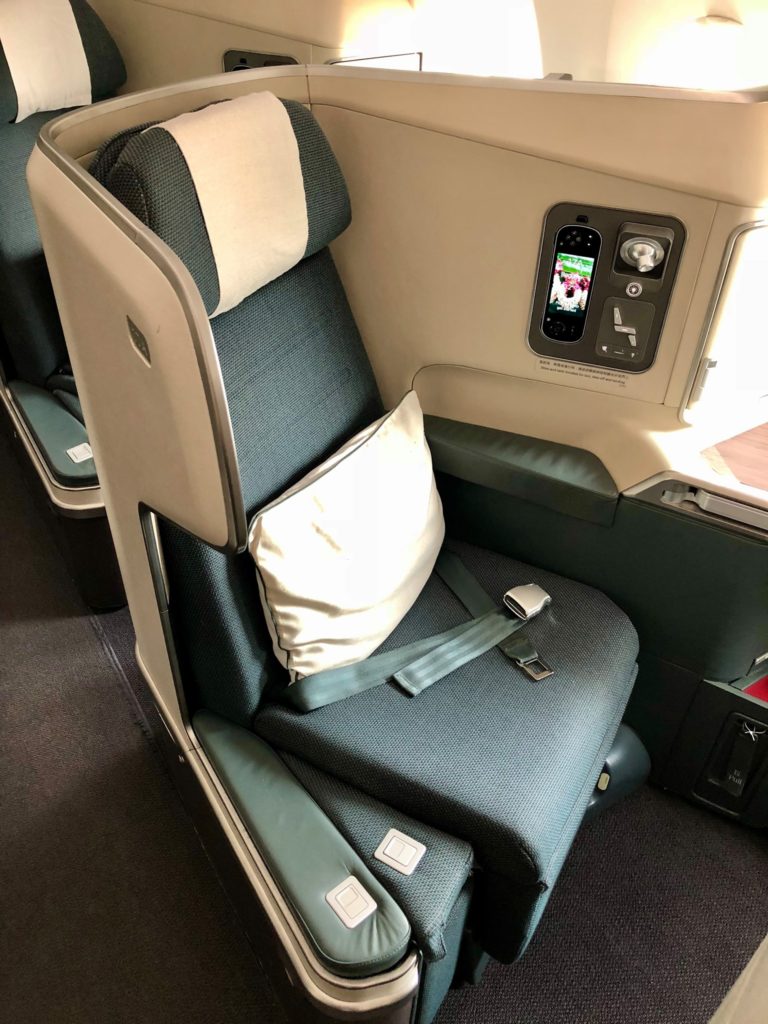 How to Earn the Miles You Need
We're going back to the well for AAdvantage miles.
With the 100,000 AAdvantage miles (or more) you can quickly earn, flying business class to Thailand should be a cinch. That's almost enough to book a flight to Thailand in business class and a flight home in economy in one fell swoop. Or just keep piling up AA miles and do it roundtrip in business.
Use Aeroplan Miles to Fly EVA, ANA, and More
Another great option for getting to Thailand using credit card points & miles comes from Air Canada's Aeroplan program. While Air Canada doesn't fly to Thailand, many of their Star Alliance airline partners do.
Your best bets are going to be either EVA or All Nippon Airways (ANA) – two of the top-ranked airlines in the world. Booking those flights through Aeroplan is easy to do online.
Read more: How to Maximize Air Canada's Aeroplan Program
Thanks to the way the Aeroplan award chart works, the cost of your flights to Thailand is based on the distance of the flights – the longer the flight, the more miles it may take. From almost anywhere in the U.S. those flights will cost you 85,000 Aeroplan points each way to fly business class. At 60,000 one-way, economy isn't worth it.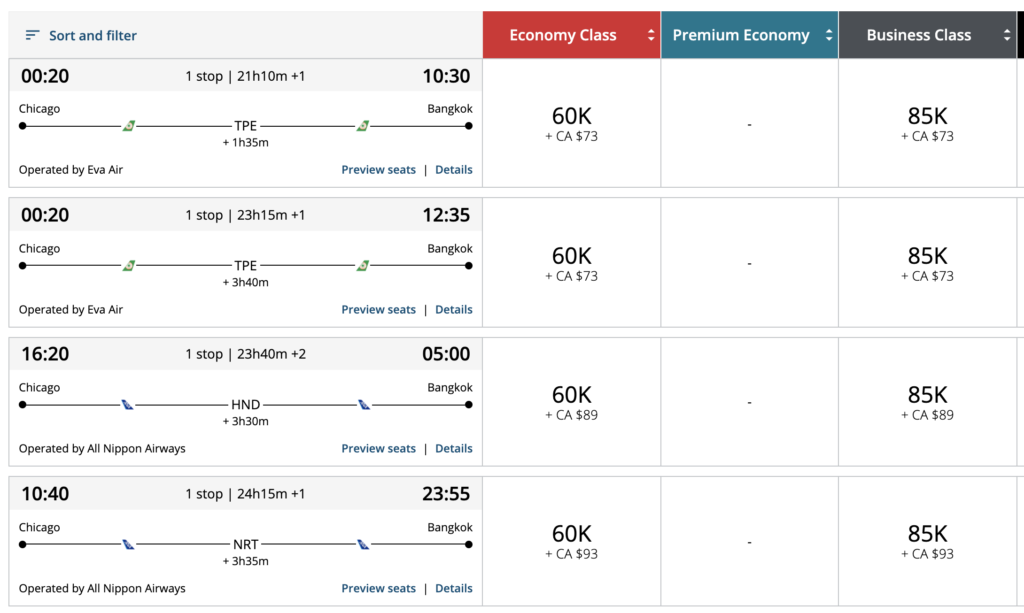 After some quick searching from Chicago-O'Hare (ORD), it was easy to find flights on both EVA and ANA. Both our strong options, but we've got a soft spot for EVA – thanks in part to its Hello Kitty-branded flights.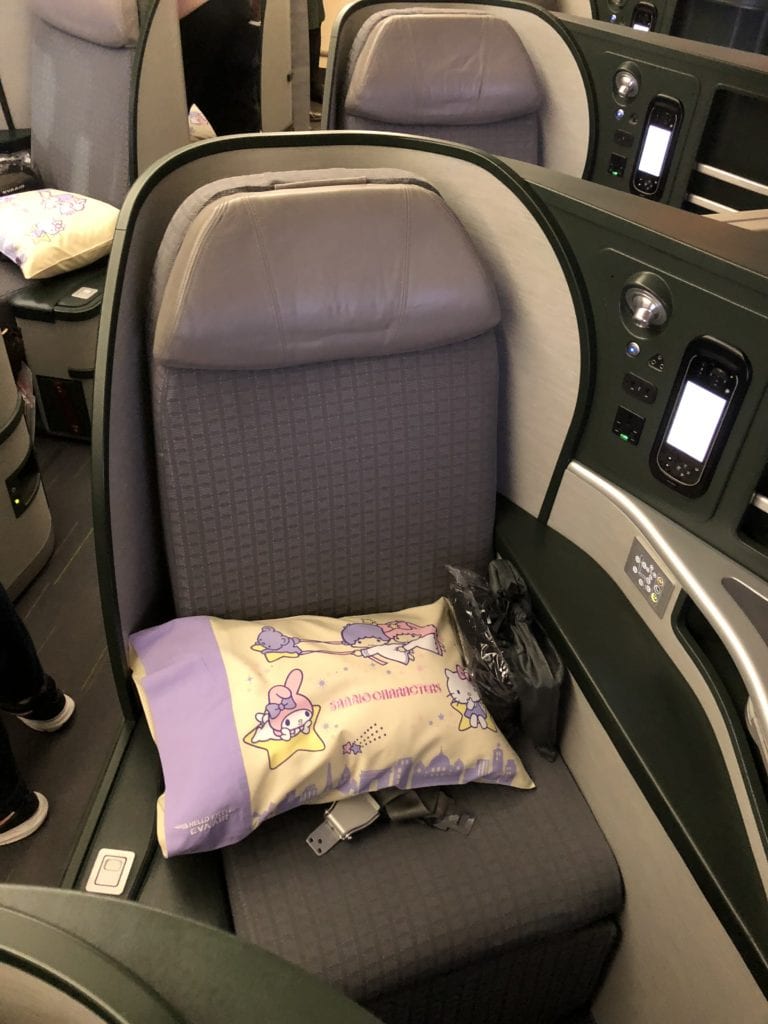 Read our full review of EVA Air Business Class from Chicago to Taipei!
How to Earn the Miles You Need
First things first: To redeem Aeroplan points, you need some points first. And thanks to flexible credit card points, they are very easy to earn.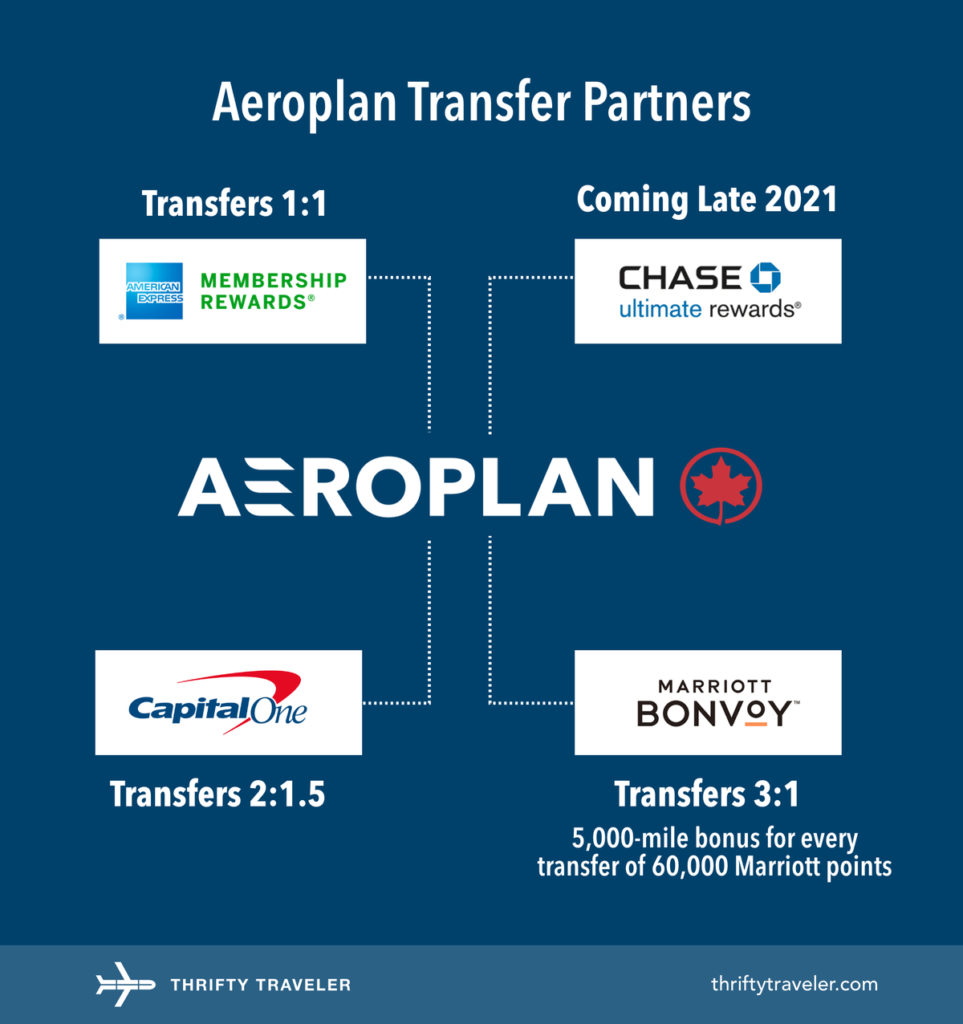 You can transfer American Express Membership Rewards points, the points you earn from cards like the Platinum Card® from American Express or the American Express® Gold Card to Aeroplan on a 1:1 basis. That means 1 Amex point gets you 1 Aeroplan point.
Have Capital One Venture Miles? They to can be transferred to Aeroplan – but it's not as beneficial. For every 2 Capital One Venture Miles you transfer, you'll receive 1.5 Aeroplan points. So if you transfer 50,000 Capital One Venture miles to Aeroplan, you would end up with 33,333 Aeroplan points.
But another option will soon join the fold. Sometime in late 2021, Chase Ultimate Rewards will add Aeroplan as a transfer partner – again, with points transferring on a 1:1 basis. That means you can turn the points you earn from cards like the Chase Sapphire Preferred® Card or the Chase Sapphire Reserve® into Aeroplan points.
As a part of that announcement, the bank also announced they will launch a new co-branded credit card for U.S.-based travelers – again, sometime in late 2021. Air Canada did not shed any light on what benefits or bonuses that card may offer. Unlike most Chase cards, it will be a Mastercard – not a Visa.
Finally, if you have Marriott Bonvoy points, they can also be turned into Air Canada Aeroplan miles at a ratio of 3:1 (3 Marriott Bonvoy points equals 1 Aeroplan mile). But Marriott goes a bit further by adding a 5,000-mile bonus for every transfer of 60,000 Marriott points (20,000 Aeroplan miles).
Or Book EVA & ANA Using LifeMiles
Want to book those same flights for even less? Turn to LifeMiles.
LifeMiles are the frequent flyer program of South America's Avianca. But first, a word of warning: LifeMiles can be a bit of a pain. While the award rates are great and the taxes and fees are low, the LifeMiles program is notorious for its shoddy customer service. If your plans change, calling in to change your reservation can be like pulling teeth.
But if you're willing to risk it, it may be worth it: A business class flight from the U.S. to Thailand (or anywhere in Southeast Asia) will run you just 78,000 miles each way. You can also book flights in economy for 39,000 miles each way.

If you're extra flexible, look for flights out of New York City (JFK) on ANA's brand new business class dubbed "The Room." Finding award space on these flights can be torture – especially when booking with partner airline programs like LifeMiles – but it's worth it to fly this across the Pacific Ocean.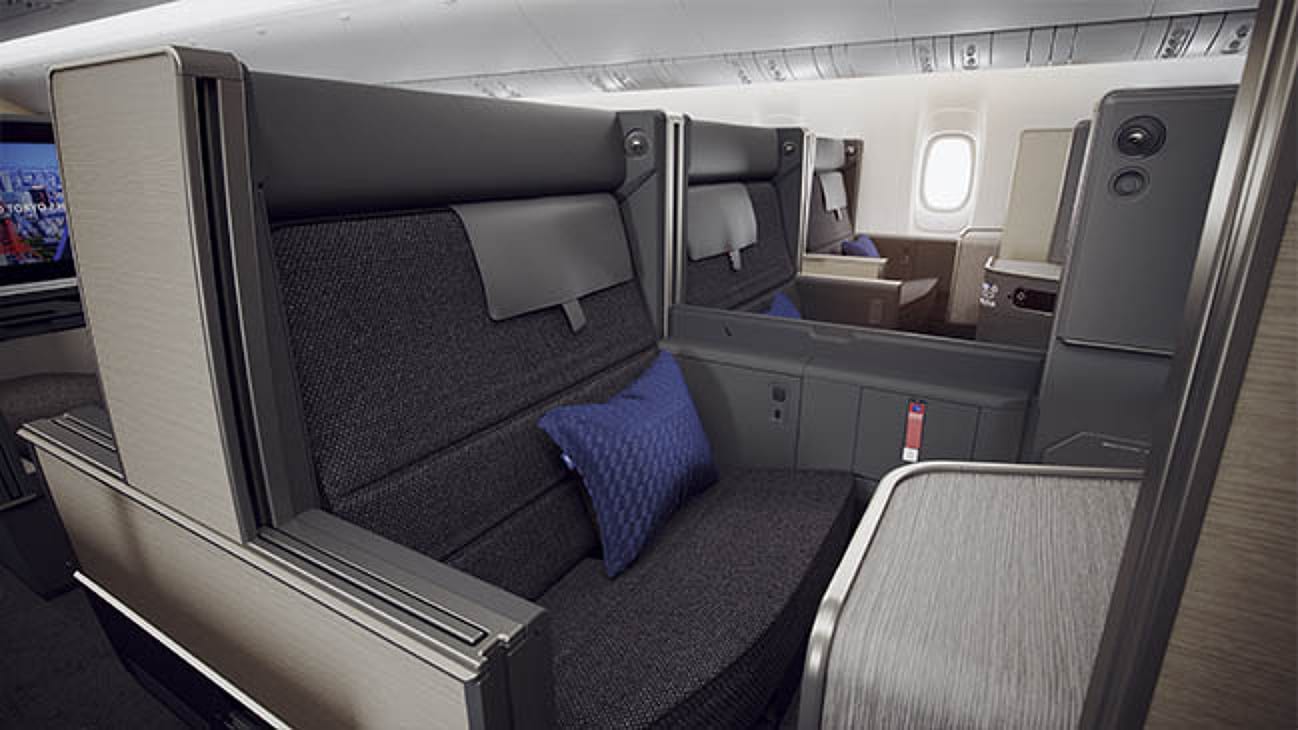 How to Earn the Miles You Need
It's gotten much easier to earn the LifeMiles you need to book these flights.
You can transfer points to LifeMiles from Citi, American Express, and even Capital One – though your Venture Miles don't transfer on a 1:1 basis.
The best place to start is with the Platinum Card® from American Express.
Use Alaska Miles to Fly Emirates, JAL, Cathay Pacific, and More
They're harder to earn, but the possibilities are even greater.
Alaska Mileage Plan miles are another great way to get to Thailand using points and miles. Your best bets are using your Alaska miles to fly Japan Airlines, Cathay Pacific, or even Emirates.
With Japan Airlines, it will cost you just 65,000 miles each way in business class. And if you can find the award space, Japan Airlines' amazing first class will run you 75,000 miles each way – 35,000 miles less than the exact same flights would cost with American AAdvantage miles.
But the bargain play here is booking Cathay Pacific First Class, as the flights from the U.S. to Bangkok (BKK) or elsewhere in Thailand will cost just 70,000 miles each way. You can also book Cathay's business class for only 50,000 miles each way. But just look at this seat…
Unfortunately, you can't book Cathay flights online with Alaska – you'll have to call in to get ticketed. So you'll want to search through another site like American Airlines or British Airways to ensure the award space you're looking for is available first.
With Emirates, the price is substantial: You'll need 105,000 miles each way in business class and 52,500 in economy. Emirates first-class tickets will be bookable for 180,000 miles each way. But Emirates will no longer allow first-class award redemptions with Alaska Airlines miles starting April 1, 2021.

How to Earn the Miles You Need
There's no doubt about it: Earning a bunch of Alaska miles has gotten tough.
On the bright side, Alaska Airlines is one of the few that still bases mileage accrual on the distance you fly. That's an insanely lucrative setup for Alaska flyers, and it makes it fairly easy to rack up miles based on your flights. You can also credit miles from flights on partner airlines like American and Emirates, among others.
But if you're not a frequent Alaska flyer, it's trickier. There's the Alaska Airlines Visa Signature card, which currently offers 40,000 (or 50,000) Mileage Plan miles after spending $2,000 within the first three months. That card comes with a $75 annual fee, though that's waived in the first year.
Beyond that, Alaska runs regular sales when purchasing miles, with bonuses of up to 50%. It's one of the few airlines where it could make sense to buy miles – especially if you're splurging for first or business class flights.
Bottom Line
When it comes to booking flights to Thailand using points and miles, there are quite a few options – this list isn't exhaustive. But for every good way to book, there are another five or six poor redemptions.
Finding the right way to book will hinge on your travel dates, where you're flying from, and where you want to sit. Use this guide to help you narrow down your possibilities to the best of the best.