It's always been possible to pay to upgrade to first class or Comfort Plus when flying Delta – even when the prices are exorbitant. But Delta started rolling out the ability to upgrade seats online using SkyMiles on Friday.
Delta CEO Ed Bastian hinted at this development a few months ago during a quarterly earnings call. A few members of the Thrifty Traveler team now see this option under existing bookings in their Delta accounts. This comes just a day after Delta rolling out Basic Economy award tickets.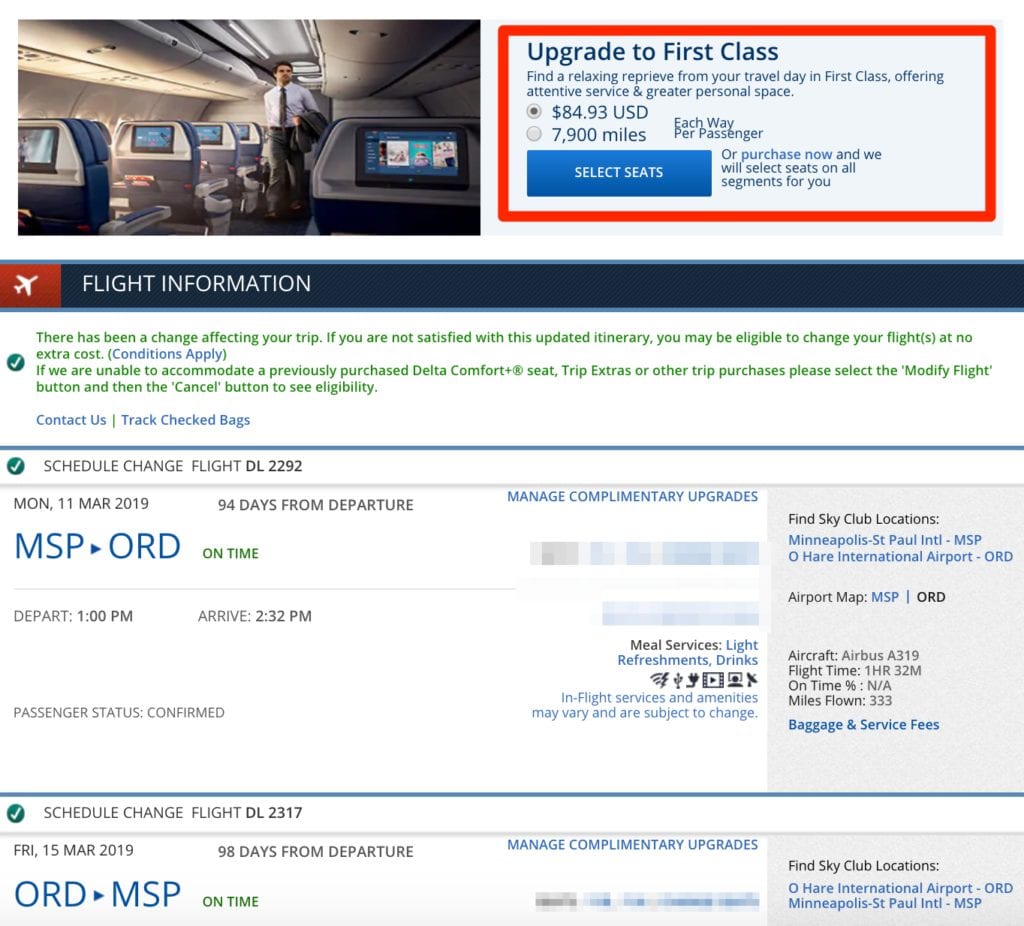 There are a few things to note about this feature. First, both paid cash fares and award tickets booked with SkyMiles are eligible to be upgraded with SkyMiles. Just as with cash upgrades, it appears that basic economy fares cannot be upgraded with SkyMiles. And it could be that other fare classes aren't eligible, either. My upcoming trip to Puerto Vallarta, Mexico (PVR) is not upgradeable. It's unclear why, but it could have something to do with the fact that I booked it with one of my favorite benefits of the Amex Business Platinum card and paid with Membership Rewards points.
Delta just launched this feature today, so there could certainly be some IT kinks to work out. Check back later to see if some of your trips can be upgraded with SkyMiles.
Our Analysis
This will appeal to many Delta flyers, but is it a good deal? In our opinion, it's a bad deal. In almost every case, you'll get exactly 1 cent for each SkyMile you use.
The price in SkyMiles is clearly tied directly to the same cash price you'd pay. This is the clearest example yet of the control Delta has over SkyMiles and how much value travelers get out of them. 
You'll get much better bang for your buck by saving these SkyMiles for another trip. For example, you can currently fly round trip to China for just 30,000 SkyMiles. These tickets typically cost $1,000 or more when paying cash, meaning you're getting three times as much value out of your SkyMiles. 
And odds are, it'd have been a better deal to just use those SkyMiles to book a first class award upfront rather than upgrade an economy fare. Take a look at the upgrade offer from Los Angeles (LAX) to Las Vegas (LAS).

You could book get into First Class by buying an economy ticket for $90 – or 5,500 SkyMiles – then use an additional 12,900 SkyMiles to upgrade. Or just book into First Class with 14,500 SkyMiles to start with. That's an easy choice.
Thrifty Tip: Read our guide on Understanding SkyMiles and how to make them work for you.
Delta flyers with Medallion Status may not love this news either. As flyers upgrade into premium cabin seats with cash or SkyMiles, it hurts the chances of scoring a seat upgrade.
Bottom Line
Delta keeps finding more ways for travelers to use their SkyMiles, but they're not always good. In this case, using SkyMiles to upgrade seats is not a good value. You're likely better off paying cash and saving your SkyMiles for a better redemption.
But Delta understands the allure of flying first class, and it will tempt some flyers. And at the end of the day, the best use of points and miles is for travel experiences you couldn't otherwise afford.
Lead Photo (CC BY 2.0):  Delta News Hub via Flickr