For years, the Chase travel portal has been one of our go-to ways for travelers with cards like the Chase Sapphire Preferred® Card and Chase Sapphire Reserve® to book travel using points. That portal got a facelift just last year … but now, Chase has plans for a much more sweeping overhaul.
Executives from Chase have started sketching out plans to expand that portal by launching ChaseTravel.com for both cardholders and everyday bank customers later this year, according to the bank's investor day presentations first reported by Skift. Plus, the bank said it has secured locations for nine Chase Sapphire Lounges – three more than the six branches we've already reported.
Chase officials didn't provide many details about what's in store for their travel portal. But it's another step on the path Chase began down last year with the acquisition of Frosch and another company called cxLoyalty, replacing Expedia to run its travel portal in-house once again.
Rather than simply allowing travel cardholders to book flights or redeem points for travel, the new ChaseTravel.com will likely become a one-stop shop: an online travel agency to compete against the likes of Expedia and other similar sites. From its Sapphire cards to co-branded relationships with United, Marriott, and others, Chase has become a big name in travel in the last decade – with an expanded travel portal, it aims to get even bigger.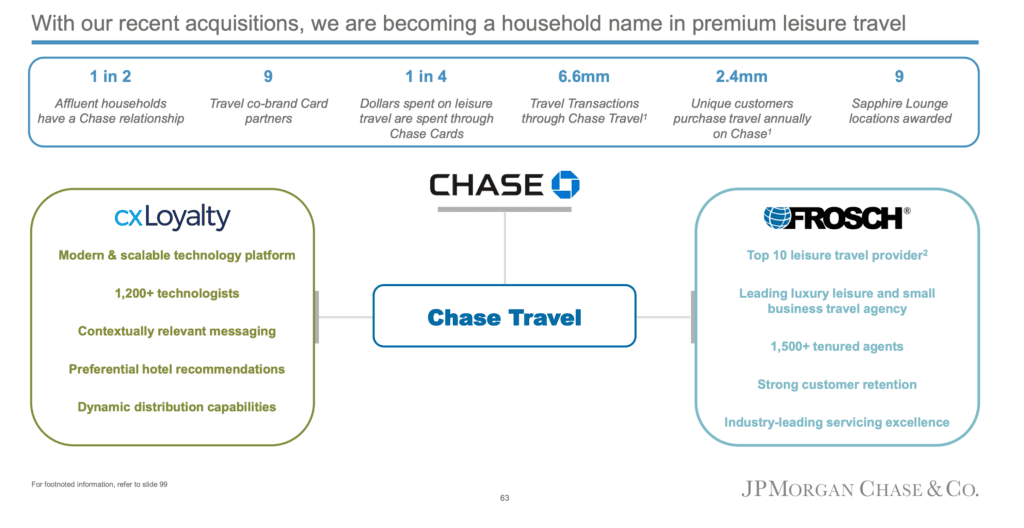 "We will launch ChaseTravel.com with Card customers later this year and then we're going to open it up to all of our Chase customers. We will deliver distinctive content and experiences and become a full-service travel agency to our small business and premium leisure travelers," Marianne Lake, Chase's co-CEO for consumer & community banking, said during the presentation. "And we will introduce those important customers to our strategic partners."
Chase told investors that $1 in every $4 spent on U.S. leisure travel is spent on a Chase credit card – and $1 in every $3 is spend by a Chase customer. Chase expects to reach about $8 billion in sales volume from the revamped booking portal this year and aims for $15 billion by 2025.
The Scoop on ChaseTravel.com
So how does Chase plan to capture more of the U.S. leisure travel market, doubling revenue by 2025? It's all about giving consumers a reason to book travel through their third-party booking service instead of booking directly with airlines, hotels, or with another favored online travel agency site.
You don't have to look far for an example. Chase might be trying to take a page out of Capital One's playbook: Just last year, Chase's competitor partnered with Hopper to launch a fully revamped Capital One Travel portal.
The new Capital One portal was designed to counter the stress and concern of booking travel through the pandemic. It's got a handful of additional bells and whistles like automatic refunds if prices drop, the ability to freeze flight prices if you are not ready to book, price alerts and price matching, and even the ability to purchase a "cancel for any reason" insurance policy directly through the portal. At its core, it removes friction from the travel booking process.
We don't yet know the specifics of what the ChaseTravel.com experience will look like, and whether it will offer additional features like these. It seems safe to assume that the bonus that Chase cardholders get when using their Ultimate Rewards through the portal – you get 1.25 cents per point towards travel with the Chase Sapphire Preferred® Card while Chase Sapphire Reserve® get 1.5 cents per point – isn't going anywhere.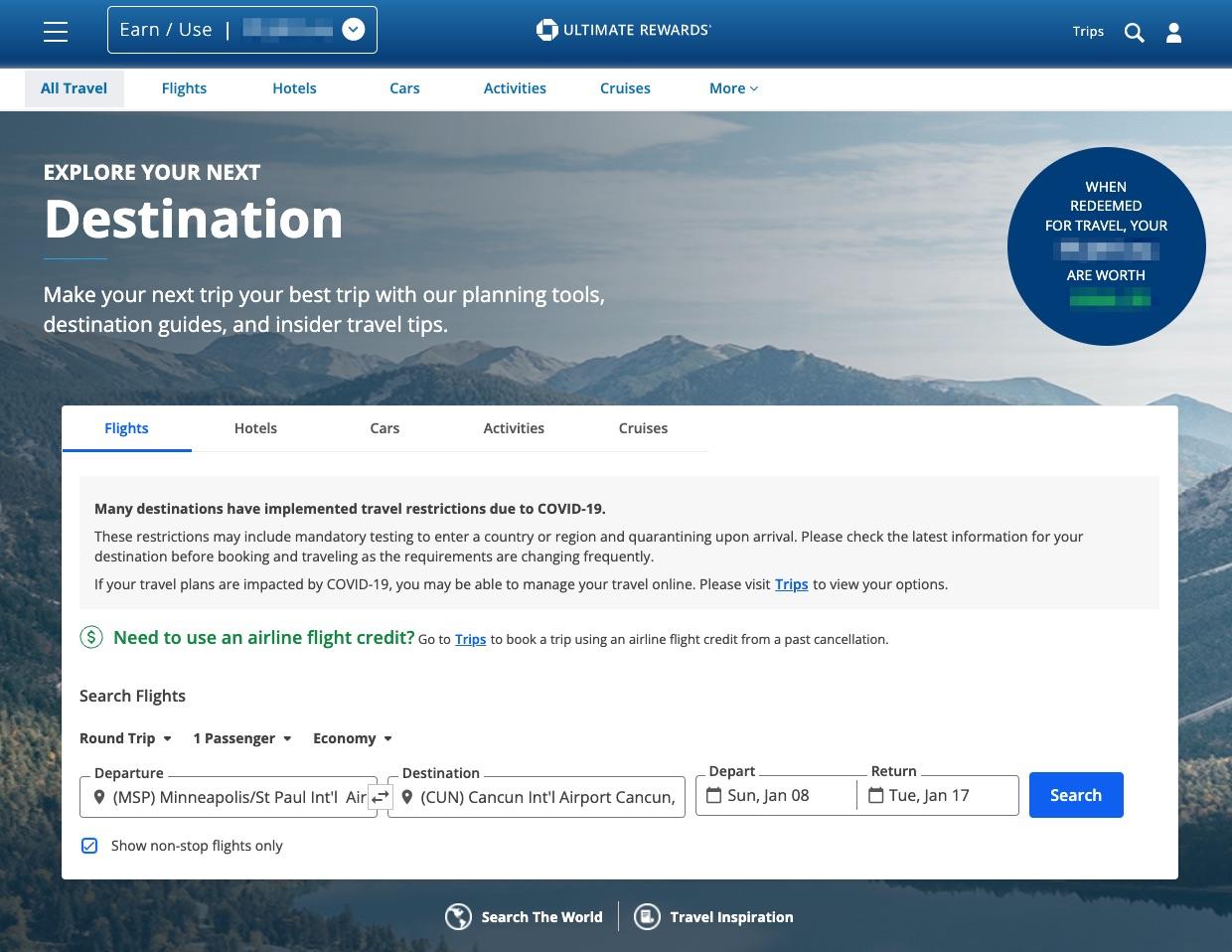 But the motivation here is obvious: Travel portals like these are an attractive option as they earn commissions. That's exactly why Chase has brought its travel portal back in-house … and why Chase wants to expand it even more.
"The acquisitions pay back within six years on strong revenue margins," Lake said of acquiring cxLoyalty and Frosch. "And for context here, industry commissions mix dependent are about 10%. And now we're getting all of that, whereas previously we were not."
"The business will require little marketing expense as we leverage our existing customers and channels reinforced by our loyalty program Ultimate Rewards," Lake continued.
But will the new Chase Travel portal provide enough reason for consumers to book more of their travel through Chase? Will Chase provide even more incentive for Chase Sapphire Preferred® Card and Chase Sapphire Reserve® cardholders to book through their portal?
Only time will tell.
Chase Has Plans for 9 Sapphire Airport Lounges
Chase is planning to compete directly with American Express and Capital One by entering the airport lounge wars.
For months, Chase has been building out a portfolio of upcoming Chase Sapphire Lounges through a collaboration with Airport Dimensions, the same company that operates the existing airport lounge group "The Club." Though none are open yet, we've learned about six locations thus far – including a recent addition in Las Vegas (LAS).
But Chase's investor presentation clearly stated that nine Sapphire Lounge locations are in the works. Other websites, including Skift, have stated Chase only has a total of eight upcoming lounge locations. The reason for that discrepancy is unclear.
It's also unclear where else Chase is looking to build out the other three lounges – the bank didn't provide additional details. Here's what we know about the six locations that have been formally approved or announced.
Boston (BOS) between Terminals B and C
San Diego (SAN) in Terminal 2
Phoenix (PHX) in Terminal 4
New York LaGuardia (LGA) in Terminal B
Las Vegas (LAS) in the C Concourse
Hong Kong (HKG) in Terminal 1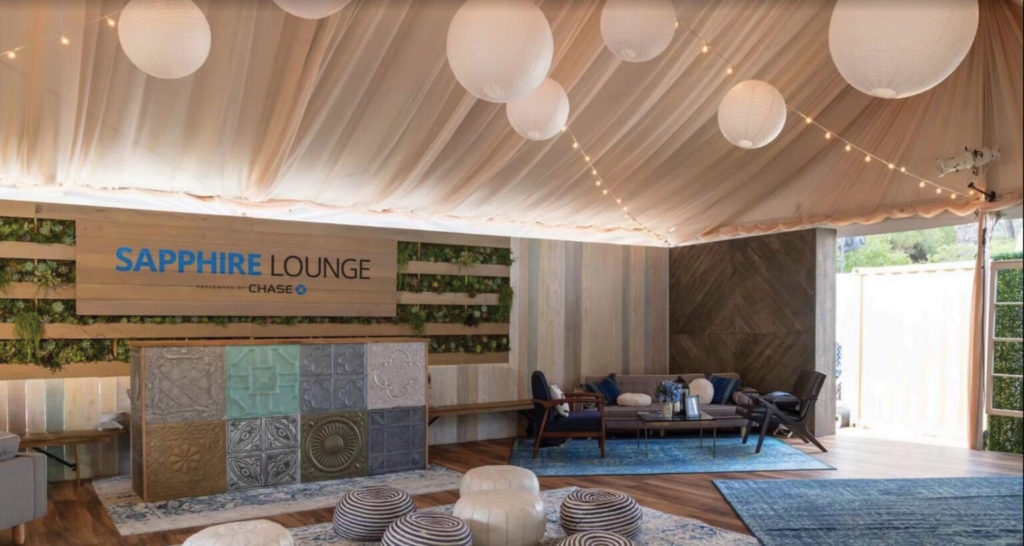 No expected opening dates have been announced yet, but both the Boston (BOS) and Phoenix (PHX) lounges are expected to open later this year. The San Diego (SAN) location is expected to open its doors next year.
These lounges are bound to be incredibly busy, as many are fairly small spaces at under 5,000 square feet or less. Not only are Chase Sapphire Reserve® cardholders expected to get complimentary access, but they'll also be accessible via Priority Pass, opening the door to cardholders from competing banks, too.
Read more: Chase is Planning to Open Sapphire Airport Lounges Starting in 2022
Bottom Line
Chase has big plans to revamp the travel experience this year by rolling out a new travel booking portal, ChaseTravel.com.
The bank also shared that they have been awarded contracts to operate nine Sapphire airport lounges. That's three more than were previously known, but location details have not yet been released.