Qatar Qsuites is one of the best ways to fly, period. And booking it with American AAdvantage miles is one of the best ways to make it happen, whether you're looking to fly the world's best business class to Doha (DOH) for 70,000 miles, continue elsewhere in the Middle East or Maldives for the same price, or paying just 75,000 AAdvantage miles to head all the way down to South Africa.
But after regularly seeing waves and waves of award availability to easily book Qsuites this year or next, that's become a tall task lately. It's not just that award availability to fly Qsuites has dried up with the World Cup in Doha approaching next month – though that's not helping. It's that you can no longer see almost any Qatar business class awards online via American and other partner airlines.
So when trying to book your own cozy suite with Qatar Airways using AA miles used to look like this …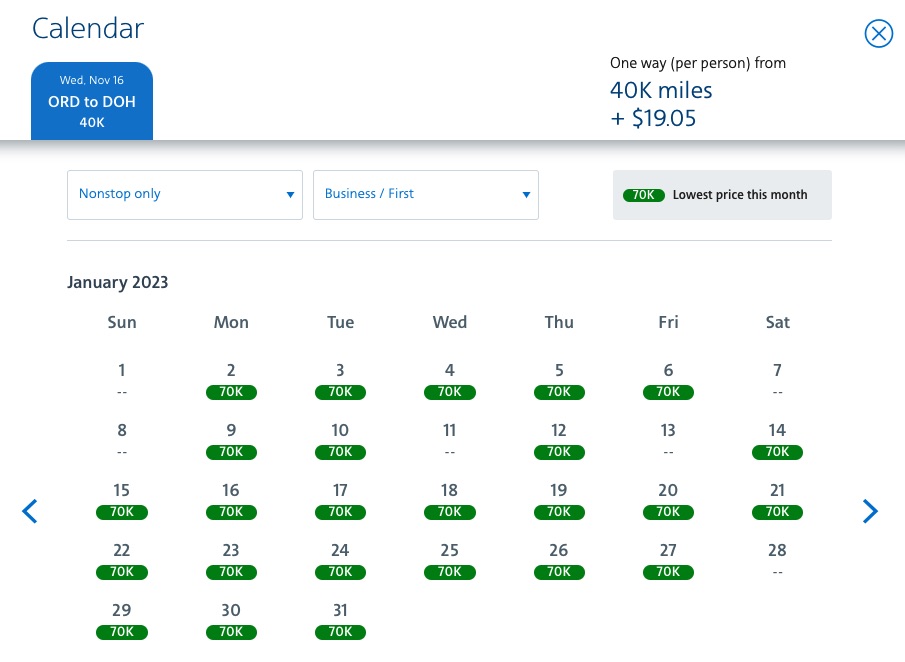 These days, this is almost always what you'll see…

Don't fret: These amazing business class flights are still bookable with AA miles – and flights in Qatar Airways economy are still easy to find and book online. It'll just require some more digging to find the flights you want, then a phone call to American Airlines (at 800-433-7300) to book it.
We've tested and confirmed repeatedly with American Airlines that Qsuites awards are still available and bookable by phone. Kudos to our friends at Adventure_Parks for flagging this quirk.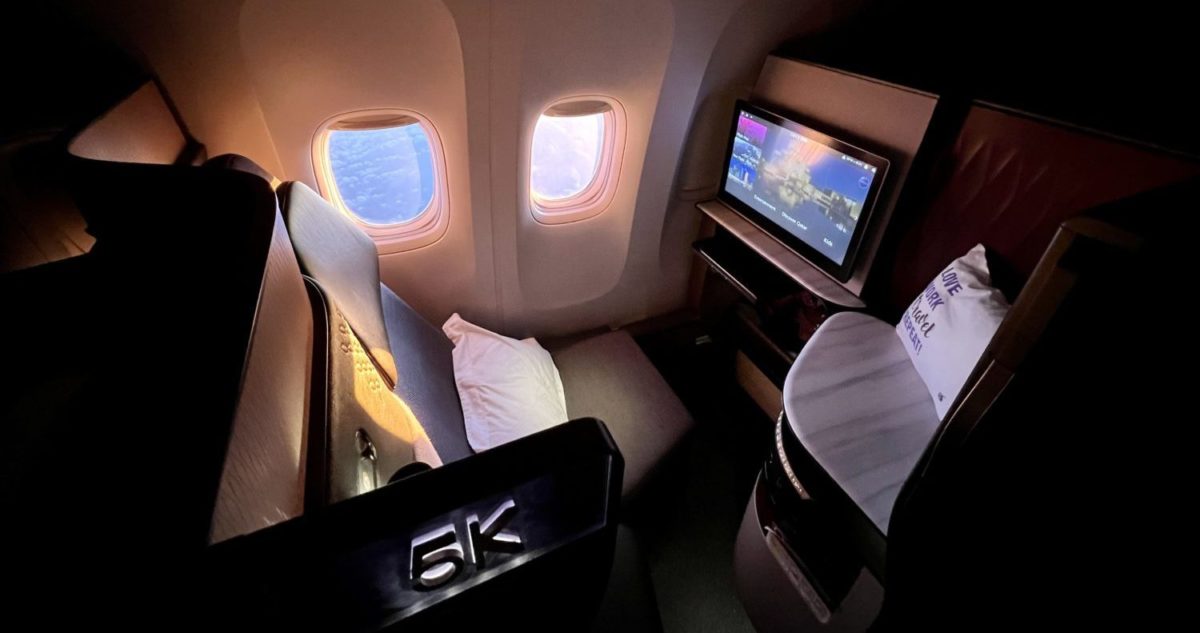 Read our full review of flying Qatar Qsuites business class from Dallas-Fort Worth (DFW) to Doha (DOH)!

What Happened?
It seems that Qatar is no longer allowing its partner airlines to display business and first class award availability online … except for British Airways.
It's hard not to think that this change is related to Qatar's deepening ties with British Airways earlier this year, when Qatar adopted the Avios name as its loyalty currency. That was a windfall for travelers with Qatar business class on their wishlists, as it made it much easier to book Qsuites with points from cards like the Chase Sapphire Preferred® Card, or The Platinum Card® from American Express.
But now, it's clear that comes at a cost. Finding Qsuites award space is now much harder.
No matter which airline miles you planned to book with, American's site was easily the best website to find award availability with Qatar. Its handy filter for nonstop, business class flights and a monthly calendar view made it easy to zero in on routes where Qsuites were available.
Now, finding your Qsuites flight will require searching day-by-day through either British Airways or Qatar's website itself. Depending on when and where you're looking, that could require a lot of trial and error.
But once you find this via British Airways…

… you can call up American (once again, at 800-433-7300) and book that same flight for 70,000 AAdvantage miles and just $7 or so in taxes and fees. Connecting onward to the Middle East or Maldives, the power of booking with AA miles is even clearer: It's still just 70,000 miles and typically under $50 in fees total – much better than the 75,000 to 85,000 Avios and $200-plus you'd pay booking through Qatar itself.
Plus, American even allows you to put these awards on hold for up to five days. Decide you can't go before calling back to finalize the ticket – or book it then need to reconsider? You can easily cancel your ticket online for a full refund, mileage and money. The one downside is that booking by phone or online, American users can only book 330 days in advance – Qatar and British Airways get a full 360-day booking window.
Just pass on your route and dates to the agent (or automated prompts) and they should have no problem pulling it up. If they can't see these flights, hang up, call back, and try again with a different agent.
The one exception? American Airlines (and Alaska, too) can still pull up Qatar business class availability online if you're looking within 30 days of departure, whether you're looking for a Qsuite from the U.S. to the Middle East or a flight from Doha to Muscat (MCT). Beyond that, searching through AA won't do you any good.

This is all a bit strange but by no means unprecedented. Notably, finding award availability on almost any Etihad flight using AA.com between the U.S. and Middle East is next-to-impossible – even when it's a cinch using other airline programs like Air Canada Aeroplan.
Tips to Find a Flight in Qsuites
We're still hoping that this is a temporary development. Our fingers are crossed that American Airlines can soon search and book a flight in Qsuites once more.
But just in case that doesn't happen, here's how you can expedite your search for Qatar business class award space.
Get Thrifty Traveler Premium Award Alerts
Let us do the work for you.
In addition to cheap domestic and international cash fares, we send Thrifty Traveler Premium members award alerts to put their points and miles to use. Finding flights for two-plus passengers to fly Qsuites is at the very top of the list.
Compared to the golden days of wide-open award space for the last three years, these last two months have been much harder to find availability in Qatar business class … but not impossible. Just today, we sent our members an award alert for wide-open Qsuites award space from many U.S. cities, along with in-depth instructions on how to find and book it.

Get award alerts like this one with Thrifty Traveler Premium!
That's just one of more than a half-dozen alerts we've sent to Premium members this year to fly Qsuites alone!
Use British Airways
With American Airlines (mostly) out of the game, it's all about turning to the right tools.
Now, British Airways will almost always be your best bet for finding nonstop Qatar business class awards. British Airways' site works well, but only lets you see one day of results at a time. From the British Airways homepage, hover over "Book" and click "Book with Avios." Or, just follow this link. You'll need to log in to search and you'll only be able to see award space flying Qatar when searching nonstop routes to or from Doha (DOH). This means you'll need to search each segment individually if you are looking for connecting flights beyond Doha.

You can also use Qatar's own website, though it can be quite finicky with an unreliable "flexible calendar search" option. You'll also need to ensure you've got some Avios in your Qatar account in order to search for awards.
Read our full, in-depth walkthrough on how to book Qatar Airways flights!
Use Award Nexus to Narrow Your Search
Going day-by-day in hopes of finding random award space to fly Qsuites could be time-consuming. One tool can help you find that needle in the haystack.
It's Award Nexus, a little-known but underrated platform for finding award space. While it's user interface is a bit clunky, it could help you speed up the process because you can…
Search up to four routes at one time
Search for up to eight days at once
These bigger searches can take a few minutes to run, but that still saves significant time over searching day-by-day through British Airways. So if you know you want a flight in Qsuites sometime in mid-February, you could search from several different U.S. gateways over a week-long span to see if anything pops up.

Award Nexus technically requires a subscription, but you can get in and start searching for free if you have a FlyerTalk.com account.
Bottom Line
Qsuites award tickets haven't disappeared … they're just hiding. Whew.
We're hopeful American Airlines will eventually be able to see and book these amazing flights online once more. But if not, you can still find and book Qsuites … whether you're using American AAdvantage miles or miles from another airline. It'll just take some extra legwork.