I hate to break it to you, but travel this summer is almost over. Don't cry because it's ending, though. Smile about your summer 2024 trips instead.
Why? Because it's prime time to start thinking about – and maybe even book – some trips for next summer.
I know I know: It's hard to think that far ahead. But airlines sell flights at least 11 months in advance, meaning you can book flights right now for next July – and they're adding more flights every single day. You might be able to score a cheap cash fare with some advance planning, but especially if you're hoping to use points and miles to fly to Europe, Asia, or elsewhere next summer, searching for award space right when the schedule opens will give you the best shot.
Here's a closer look at why it's time to start thinking about your travel plans for next summer.
Airfare Savings & Flexibility
Almost every airline sells flights at least 11 months in advance – and some go out as far as a full calendar year. And while there is no best day to book flights, it can pay to book as early as you can … sometimes. 
There's no ironclad rule on how far in advance you should book to get the best deal. We search for cheap flights and deals for our Thrifty Traveler Premium members every single day, and great fares can pop up at almost any time. But here's what we can tell you with absolute certainty:
You should follow the Flight First Rule: Book your flights before you do any other travel planning to give yourself the flexibility to jump on the cheapest flights.
The longer you give yourself to find a good deal, the higher your odds are of scoring a cheap flight. That's just logic.
If your plans are already set in stone, set a Google Flights price alert for your dates and route ASAP to track prices and book when you see a fare you like.
There's no guarantee you'll find the best deal by booking a June flight today versus waiting a few months. But it never hurts to start monitoring flight prices now.
And even if flight prices decrease after you book, you don't have to kick yourself. Most U.S. airlines no longer charge fees to change your flight – so long as you booked at least a main cabin economy fare. That means with Delta, for example, you can rebook your flight after a price drop and get a Delta eCredit for the difference.
Look at how our editor Kyle got $38 back on his Delta fare when the price went down on his flight to Dallas.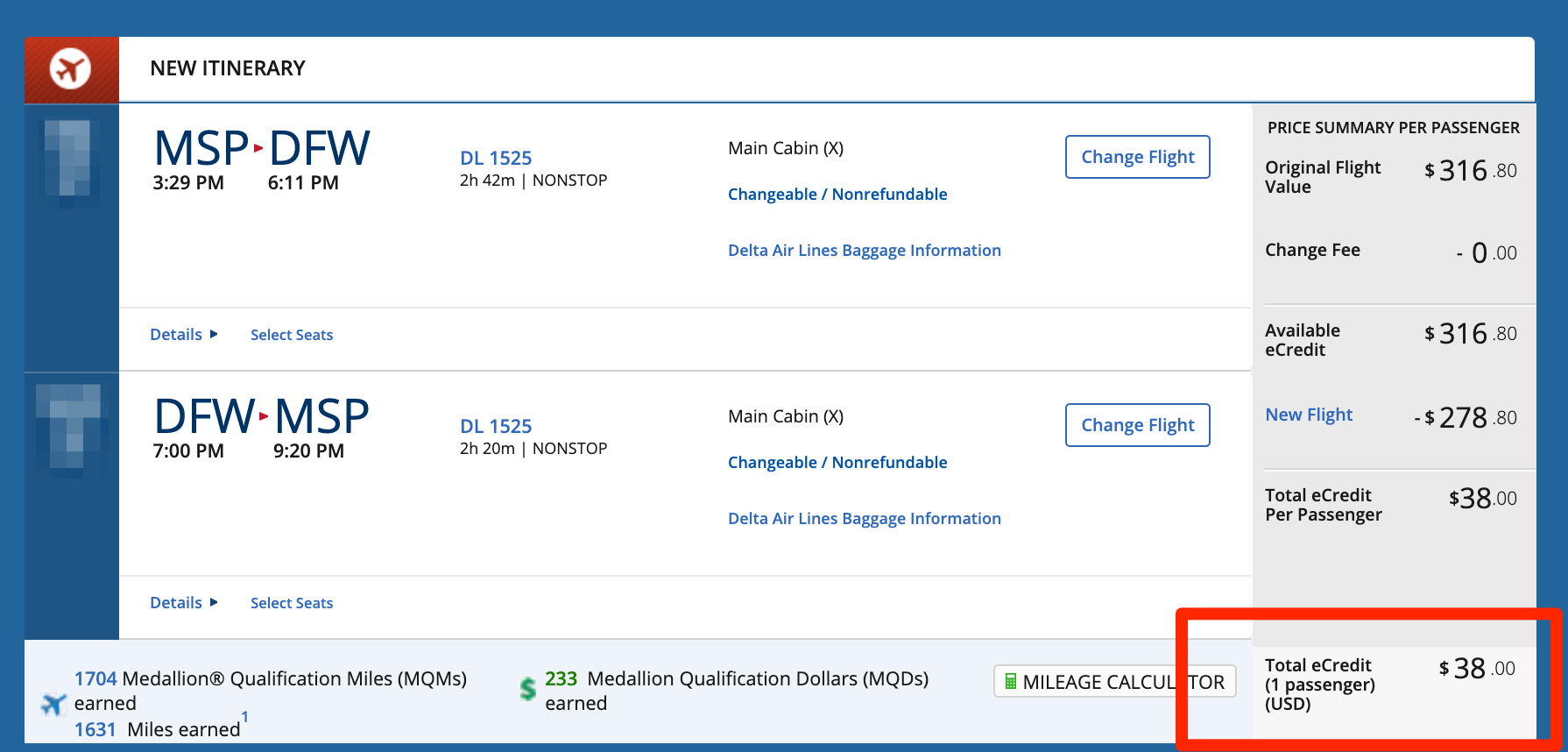 But fair warning: Don't book basic economy fares if you're planning this far out. There's too much uncertainty, and you can't change or cancel these fares without a sizable fee – and some airlines don't allow it, period.
Finally, although it's a small perk, it's definitely something to be among the first to make your seat selections. Being one of the first fares booked on the plane allows you a clear map to choose from when making your seat choice. Want an aisle or window seat? Need to be closer to the front? Want a shot at the exit row? Traveling with family members, kids, or friends? Book early.
So long as you're booking Main Cabin fares, booking (or at least searching) 11 months out is always a good strategy.
Our Best Summer 2024 Flight Deals So Far
Here are some example fares of cheap flights we've already found for summer 2024!
Just last week, we sent this flight deal to our Thrifty Traveler Premium subscribers highlighting an unadvertised sale on fares to Vancouver!
I was really excited by this deal, and not just because Vancouver is one of my favorite cities on Earth. The best part about this flight deal was that it included late summer 2023 availability, fall colors availability, peak ski season availability, and June 2024 dates, too!
Just when you need to escape the desert sun the most, you can jump on a nonstop WestJet flight from Las Vegas (LAS) to Vancouver (YVR) and get your summer started right.
A little closer to home, you can take advantage of low fares on domestic flights too.
This flight deal to New York City featured some amazingly cheap fares for late this summer, but also some wide, wide (and I mean wide) open availability for next June, too. Look at these example fares from Orlando to New York City. You can pretty much pick whatever hour of the day you want to fly and whatever seat on the plane you'd like with this availability.
And remember, if that price drops even further, you can cancel and rebook at the lower fare for free and Delta will give you a voucher for the difference.
It's not just economy flights – you can find some lie-flat seats for a bargain, too! Like these low business class fares we found to London (LHR) from Boston (BOS) recently.
We loved this deal for its Thanksgiving, Christmas, and New Year's availability, but the most underrated part might be the June 2024 dates sneaking onto the calendar. Nonstop flights to London in peak summer shouldn't be this cheap!
Get flight deals like this one in your inbox with Thrifty Traveler Premium!
Better Premium Cabin Award Space
Speaking of business class, when it comes to using your points and miles to book flights, looking nearly a year out can be crucial.
Award space is fickle, especially if you're looking to fly lie-flat in business or first class. There aren't that many of those seats on every flight, so securing a lie-flat ride across the Atlantic can be tough. Airlines constantly re-evaluate when to release more seats bookable with miles as planes fill up or seats stay empty. But there are two clear sweet spots:
If you're a serious procrastinator, many airlines tend to release award seats within the last two to four weeks before departure
But many airlines also release a handful of award tickets on every flight right when the calendar opens, 11-plus months out.
Read more about the best ways to book business class!
See where I'm going with this? If you're aiming to fly somewhere next summer, I would have my finger on the trigger, ready to book as soon as those dates are open.
These seats tend to go quickly – especially if you're booking a partner airline award using another program's miles (like flying Delta One Suites using Virgin Atlantic points, for example) because even fewer seats are made available. Booking way out gives you the first kick at the can.
Our Best Business Class Award Deals for Summer 2024 So Far
Here are a few examples of award availability we sent in the last few weeks to our Thrifty Traveler Premium subscribers.
While not every June date is available from every one of these British Airways gateway cities, your absolute best bet at booking one of these swanky seats is to start on your summer 2024 trip right now!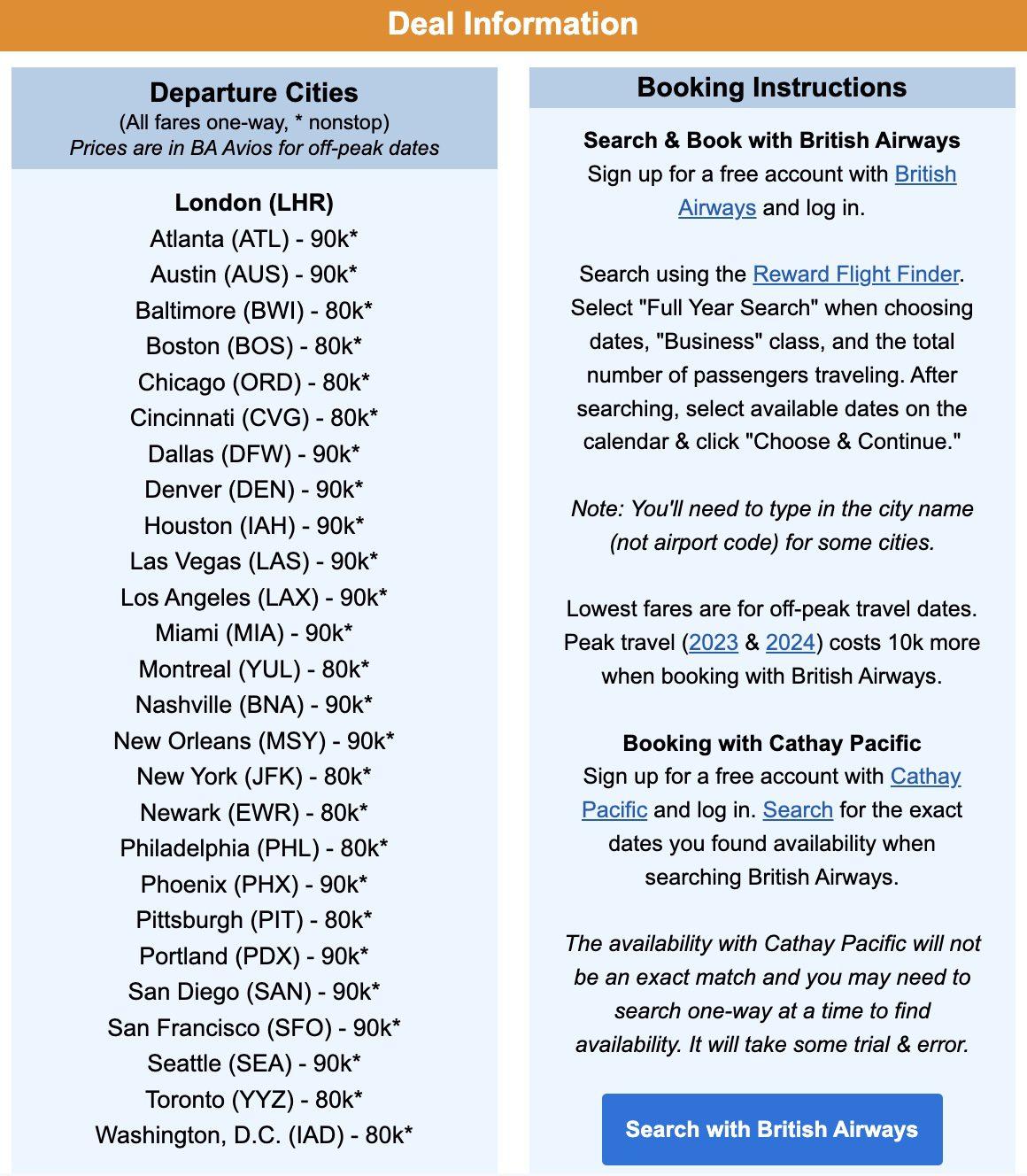 The seat you want is most likely to be available many, many months ahead of time if you're planning to book with points and miles.
Lodging is Wide-Open, Too
When you're booking almost a year out, that incredible treehouse-style Airbnb, swanky hotel suite, or glamping tent you've been eyeing are all still available.
Like the business or first class airplane seat you wanted first dibs on, the same goes for hotel and lodging availability. If you book far in advance, you're more likely to get your first pick.
This is especially useful for Airbnbs. A year (or more!) out, the map of Airbnbs in almost every city is going to be full of options, including the best ones. Plus, many Airbnb hosts offer early bird discounts to try and get their homes locked in way ahead of time – and more and more offer generous Airbnb cancellation policies that allow you to lock something in now and cancel free later on if plans change. It helps you book a cheaper rate and gives them a little cost certainty.
Take, for example, Airbnb's new "OMG!" category of homes. These strange mega mansions, treehouses, train cars, boats, underground bunkers, and…well…oddities, are some of the most sought-after destinations on Airbnb. But my search for June 2024 showed hundreds and hundreds of options across the world.
The prices are lower and the dates of availability are wide open. You can have almost any day (or days) you want!
A More Relaxed Planning Process
The logistical reasons to book your 2024 summer travel are obvious. You're getting first shot at the best flight deals, the best award space, and the best hotel availability, too.
Once you've booked your summer 2024 flights, your travel dates are locked in. And that makes the rest of the travel planning process that much easier.
You can be the first one to go to your boss or coworkers to request time off. And just like that, your vacation is on the calendar in the peak summer months before anyone else's. And now you have 10 more months to plan the rest of your trip. No more hurried planning, getting stuck with crappy accommodations, or picking through the scraps of tours, Airbnb Experiences, or sought-after dinner reservations.
Take your time and plan the trip you want, not the trip you end up with when you have to rush.
Keys to Booking Long-Range Trips
If you've read everything here and are itching to start booking your summer 2024 travel … well, just be careful. I have a few tips as you get going.
Book Flexibly
Three words: Main. Cabin. Fares.
The days of free changes on every single flight you can buy are long gone, and summer is a long time away. But major U.S. airlines (and many big international carriers) are still offering free changes so long as you book at least a main cabin ticket – not basic economy.
That's important for a few reasons. One, the airline might change your flight – in fact, it's reasonable to assume that the airline will change your flight at least a little bit. Buying a flexible fare is key to making sure you can adjust if an airline schedule change throws your travel out of whack.
And need I remind you … life happens! What if you land that dream job and have to move? You're not going to want that flight from your old hub. You can change your main cabin fare to your new departure city and the trip endures!
You have to protect yourself when you travel, whether that's tomorrow or in June 2024.
Book Your Flight First
I said it before and I'll say it again: Book your flights first.
This is so, so important. It could save you thousands on your next trip.
Don't book your hotel and then plan flights around it. The same goes for tours, experiences, dinner reservations, or other on-the-ground activities. The flights getting you to and from your destination should be the priority. If saving on flights is paramount – and it is – everything comes after that.
Track Your Flights for Changes
Once your flight is booked, you should go set up Google Flights price alerts on the fare you booked … immediately.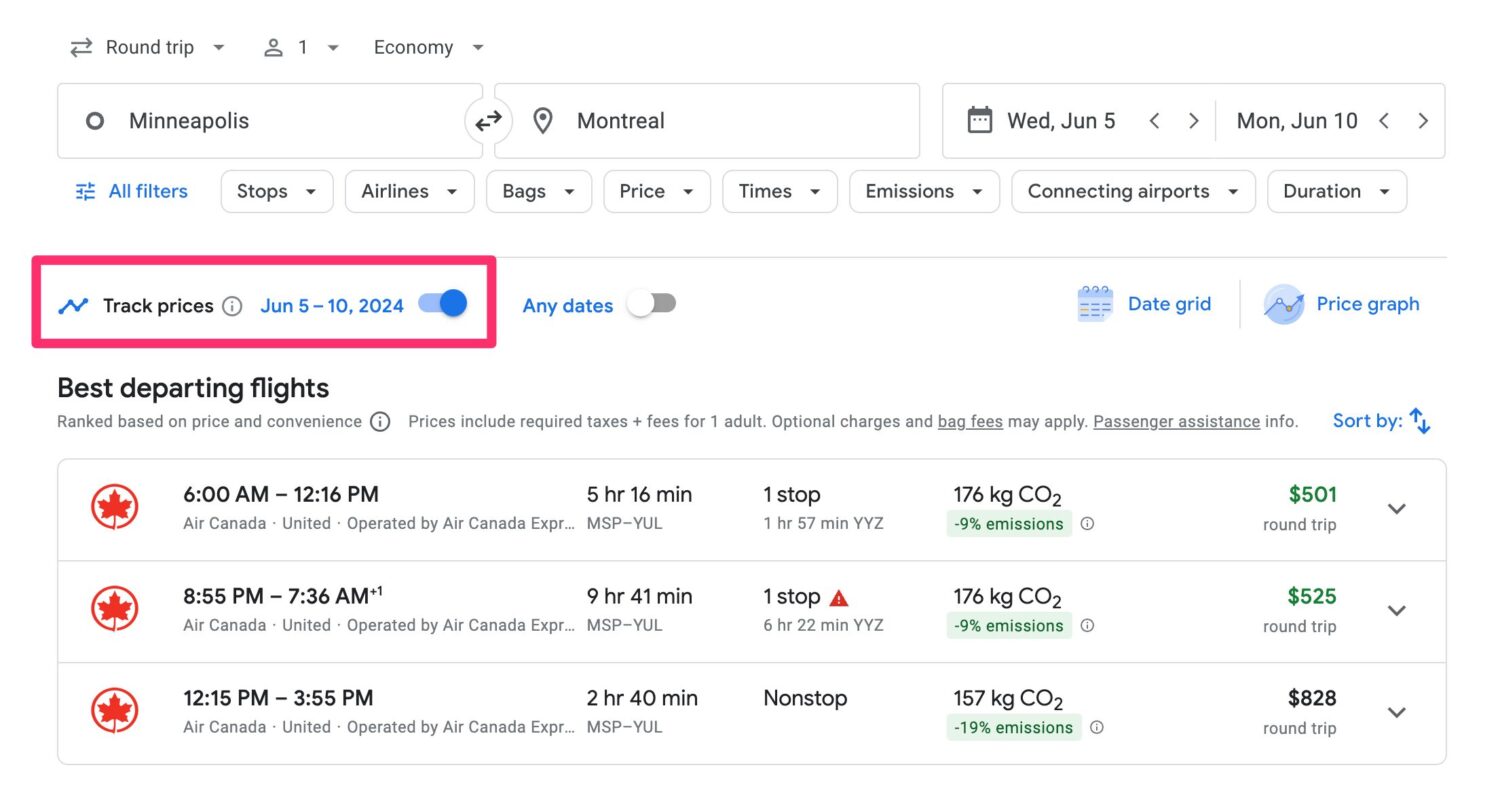 Why? If the cost of your changeable flight goes down and you get a Google Flights price alert about it in your email, you can re-book it and save some cash! In some cases, like with Delta. It won't put cash back in your pocket, but you can get the difference as a voucher or credit to use toward your next trip.
If the fare goes up, you'll at least get to laugh at what the other suckers on your plane will be paying for the same flight you booked at its cheapest months ago.
Bottom Line
This summer is coming to a close, but summer 2024 flights are coming onto the calendar.
From flexible pricing to maximum award space to lodging availability and more, there are tons of reasons you should be eyeing your 2024 summer trip even before summer 2023 comes to an end.
It's hard to think that far ahead, I know. But that's exactly why you'll get the best value and the peace of mind knowing your summer trip is ready to go!