Travel may be bouncing back, but uncertainty still clouds travel – especially with the fast-spreading Omicron variant of COVID-19. Fortunately, over the past few years, airlines and hotels have given travelers some additional flexibility to change or cancel their travel without losing money. But what about booking an Airbnb? Is there an Airbnb cancellation policy to protect you if your plans change?
Yes and no. Unfortunately, there's not a cut-and-dry answer about Airbnb's cancellation policies. Unlike the big hotel chains that guarantee free cancellation within 24 hours of check-in, the home-sharing platform's model means what you get varies from property to property. There's a wide range of different cancellation policies.
On the plus side, Airbnb has made it much easier to find refundable Airbnb stays. So keep reading to learn what to watch for, how the Airbnb cancellation policy works, and how to find listings with more flexibility in case plans change.
Related reading: Airbnb vs. Hotel: Which is Better during COVID-19?
Overview of Airbnb Cancellation Policy
Before we take a deep dive into Airbnb's policies, here's a quick rundown of the basics:
You can filter for flexible bookings when searching for an Airbnb.
But you should always double-check the cancellation policy at your property before booking.
Each and every listing offers one of three cancellation policy types: flexible, moderate, or strict.
You can get a refund for extenuating circumstances – more on this later.
If your reservation is canceled by your host, you'll get a refund.
Additionally, Airbnb recently launched a new COVID Support Program that applies retroactively to certain bookings. Thanks to $20 million in funding, this new option will help guests whose travel plans were ruined by surprise changes to travel restrictions, including:
Border closures, lockdowns, or shelter-in-place orders in the destination
Border closures, lockdowns, or shelter-in-place orders in the travelers' home country
New or extended travel restrictions that would require a traveler to quarantine upon arrival in their destination
Read More: Airbnb Adds More Cancelation Flexibility, Will Add Travel Insurance in 2022
Now, what are the different types of cancellation policies to look out for? Let's take a look.
Types of Cancellation Policies for Airbnb Listings
There are three main types of cancellation policies: flexible, moderate, and strict. Airbnb hosts can choose which policy they would like to offer for their listing. These three options apply to stays under 28 days.
Airbnb listings with a flexible cancellation policy can be canceled for free until 24 hours before check-in to receive a full refund. Cancel within 24 hours of check-in, and guests can still get a refund minus the first night's cost and service fee.
A listing with a moderate cancellation policy allows free cancellation up to five days before check-in for a refund. A cancellation four or fewer days before check-in will get you a 50% refund, minus the first night and service fee.
Finally, listings with a strict cancellation policy only get you a full refund if the reservation is canceled within 48 hours of booking – and at least 14 days before check-in. Past that window, guests can cancel up to seven days before check-in for a 50% refund of the nightly rate and the cleaning fee back. The service fee is nonrefundable.
Bottom line: If you're looking to protect your travel plans with Airbnb, you'll want to look for the "flexible" cancellation policy listings.
Eyeing a long-term stay? A separate cancellation policy applies for long-term stays over 28 days.
These cancellation and refund policies apply to the base cost of the stay. But what about the fees? You will receive a full refund for the cleaning fee if you cancel before check-in.
Airbnb service fees will be refunded if you cancel during the free cancellation period. But there is one major caveat: if the canceled reservation overlaps with another of your reservations or if you've already received 3 service fee refunds in the last 12 months, your Airbnb service fee won't be refunded.
How to Find Refundable Airbnb Stays
In the past year, Airbnb has made it easier for users to search only for properties that offer refundable cancellation policies. This is the rental platform's way of incentivizing hosts to offer more flexible policies as COVID-19 upended travel while throwing travelers a bone, too.
Unfortunately, it's not as simple as it may seem.
To see listings with refundable cancellation policies, use Airbnb's new filter available when searching for listings on their site. Once you've entered your destination and dates, all listings available will populate on the search results page. From there, you can click the "Free Cancellation" button on the top navigation bar.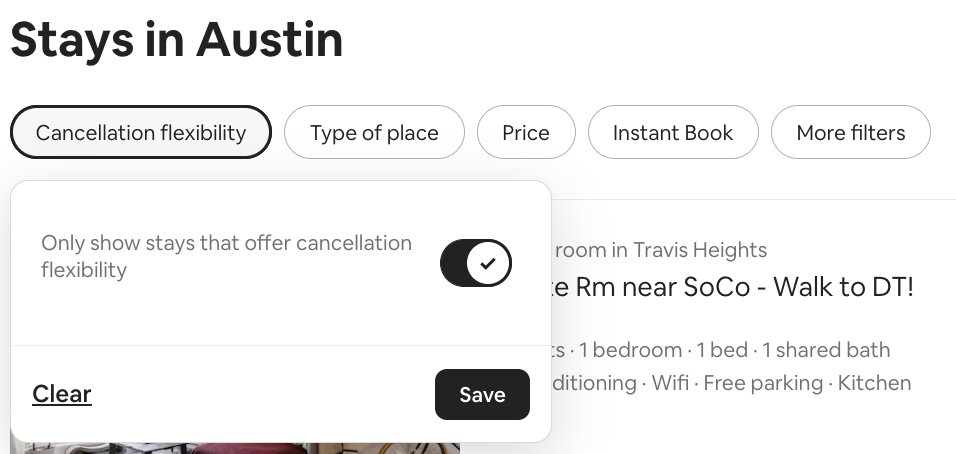 But beware: This doesn't mean every single home or apartment you see will have a "flexible cancellation policy" that will get you a full refund if you need to cancel within 24 hours of check-in.
Any property with one of the three cancellation policies will show up – even a strict cancellation policy that only gets you a refund if you cancel within 48 hours of booking. And unfortunately, you can't currently filter further to see only flexible or moderate policies. 
And that means you'll still need to take a look at the individual listing's policies to make sure it works for you.
Where to Find an Airbnb Listing's Cancellation Policy
Because each listing sets its own cancellation policy, you'll need to check that policy with each property you're eyeing to make sure you're getting as much flexibility as you need.
Now more than ever, you need to read the fine print. 
To find a property's cancellation policy, look at the top of the listing's page with a calendar icon. Click "Get details" for the full details of that host's cancellation policy – and what date you'd need to cancel by to get a refund, based on your travel dates.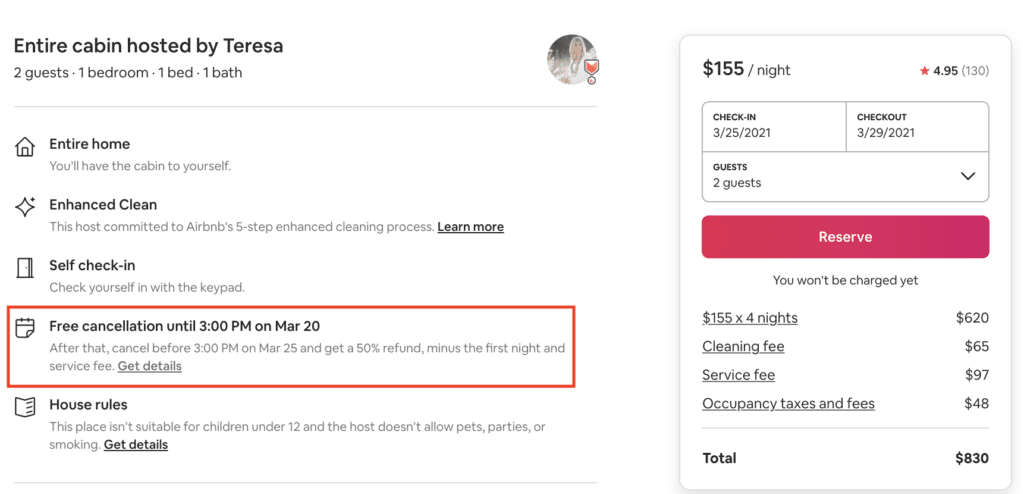 The "Get details" popup provides more info on when you can cancel for a full refund, including dates and times based on that listing's check-in time and your travel dates.
Cancellation policies will differ from listing to listing, so make sure to read the cancellation policy on each individual listing when searching on Airbnb.
How to Cancel an Airbnb Reservation
Need to cancel a booking? Once you've found the right listing with the right cancellation policy it's easy:
Log in to your Airbnb profile
Go to Trips and find the trip you want to cancel
Click "Show trip details"
From the overview, click "Show details"
Click "Change or cancel"
Click "Cancel reservation"
The next page will show you how much money you'll get back and the cancellation policy stage based on the time frame. (*Note that all cancellation times are based on the local listing's time zone – not your own.)
Canceling Under Airbnb's "Extenuating Circumstances" Policy
Since the COVID-19 pandemic has affected Airbnb stays across the globe over the past year, Airbnb has branched out with some additional flexibility beyond hosts' own cancellation policies.
With Airbnb's "extenuating circumstances" cancellation policy, you have another option if something outside your control comes up. You will always have these options:
Cancel according to your host's cancellation policy outlined above
Cancel by submitting official documentation of an "extenuating circumstance" for review by Airbnb.
Extenuating circumstances include changes to entry requirements, travel restrictions, or emergencies in the location you're staying. But it also includes if you've been infected with COVID-19 and are unable to travel.
If you have to cancel because of an extenuating circumstance, take these steps:
Read Airbnb's Extenuating Circumstances Policy to see if your situation applies
Make sure you have any required documentation ready
Cancel your booking by selecting "I have an extenuating circumstance"
Contact Airbnb to file a claim and submit documentation within 14 days of cancellation
Wait for the Airbnb team to review your case
What Counts as an Extenuating Circumstance?
Not sure if your situation applies? Directly from the source, here's Airbnb's description of everything that's considered an extenuating circumstance:
Changes to government travel requirements: Unexpected changes to visa or passport requirements imposed by a governmental agency that prevent travel to the destination. This doesn't include lost or expired travel documents or other personal circumstances relating to a guest's authorization to travel.
Declared emergencies and epidemics: Government-declared local or national emergencies, epidemics, pandemics, and public health emergencies. This does not include diseases that are endemic or commonly associated with an area—for example, malaria in Thailand or dengue fever in Hawaii.
Government travel restrictions: Travel restrictions imposed by a governmental agency that prevent or prohibit traveling to, staying at, or returning from the Listing location. This does not include non-binding travel advisories and similar government guidance.
Military actions and other hostilities: Acts of war, hostilities, invasions, civil war, terrorism, explosions, bombings, rebellions, riots, insurrection, civil disorder, and civil unrest.
Natural disasters: Natural disasters, acts of God, large-scale outages of essential utilities, volcanic eruptions, tsunamis, and other severe and abnormal weather events. This does not include weather or natural conditions that are common enough to be foreseeable in that location—for example, hurricanes occurring during hurricane season in Florida.
COVID-19 infection: If you are sick due to a COVID-19 infection, this is always covered under our standard Extenuating Circumstances Policy, and you can choose "I have an extenuating circumstance" when you cancel.
How to Book the Best Airbnb
Our standards for what makes the best Airbnb have changed. Now, one of the most important factors is finding a stay with a flexible, and not strict, cancellation policy.
But what else should you consider when choosing a stay for your next trip? These are our best tips for booking the best Airbnb, every time.
Pick a Neighborhood
The area where you start and end your days on vacation has a huge impact on your overall experience, after all. Stay far out and you'll need to take an Uber or use the metro system to get to the city center. Stay in the city center and you may hear cars all night. Certain neighborhoods may have more dining and public transportation options than others. These are all things to consider when deciding which area of a city you'd like to stay in during your trip.
Take a look at a map of the city you are visiting and get to know the city. Google which neighborhoods are the safest, liveliest, have the most boutique shops, have the best foodie restaurants, and so on. Only you can decide what fits the bill for your trip.
It can be helpful to decide on some activities and attractions you want to visit before booking accommodations. Easy accessibility to awesome restaurants and main attractions is a key component to picking the best Airbnb. Typically, homes that are closer to the city center will cost more. If you're looking for a cheaper Airbnb outside of the city center, take into consideration the cost of an Uber or public transportation to get into town.
For some major cities, Airbnb will suggest some neighborhoods to give you a feel for the neighborhoods in a city and help you choose the best one for you. For all other cities, using the map feature can come in very handy for selecting the best area of town for your stay.
Filter for Price & Essentials
Be a filter fanatic: Your results will be the best homes that are most your style – and ditch those that aren't.
First up, filter for the dates you're staying. Don't waste your time looking at amazing homes only to find out they're not available on the days you want to stay. Next, filter for the number of guests. I like to filter by the number of beds when traveling with friends or coworkers (under the "More filters" button).
Third, filter by home type. This is often an overlooked step. I personally prefer to have the entire place to myself when booking an Airbnb. However, you can save a lot and often meet kind locals by booking a private room in someone's home.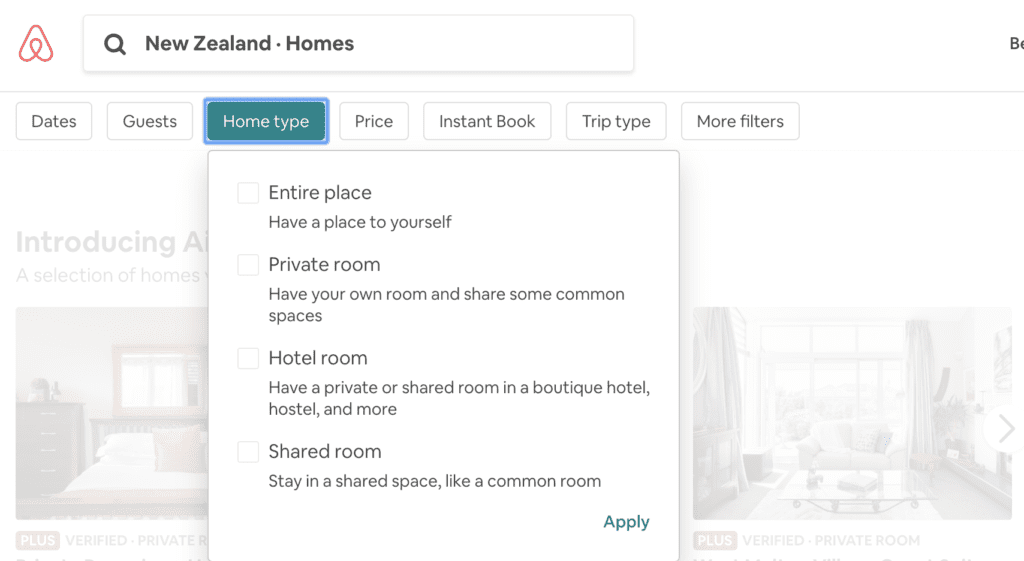 I also like to set a maximum price that I'm willing to pay per night. While it's fun to look at the expensive ones, it can bog you down and take extra time to search.
Finally, select the "More Filters" button and further customize your search. This button is the key to making sure you are only searching homes that fit your criteria. Start by selecting the must-have amenities you'll need during your stay. Headed somewhere tropical? If air conditioning is a must, make sure you've got it selected. Planning to do some laundry during a long trip through Europe? Filter for homes with a washer.
Under the Facilities option, be sure to select "Free Parking" if you'll be renting a car, or "Hot tub" if that's a must for your family (it is for mine!)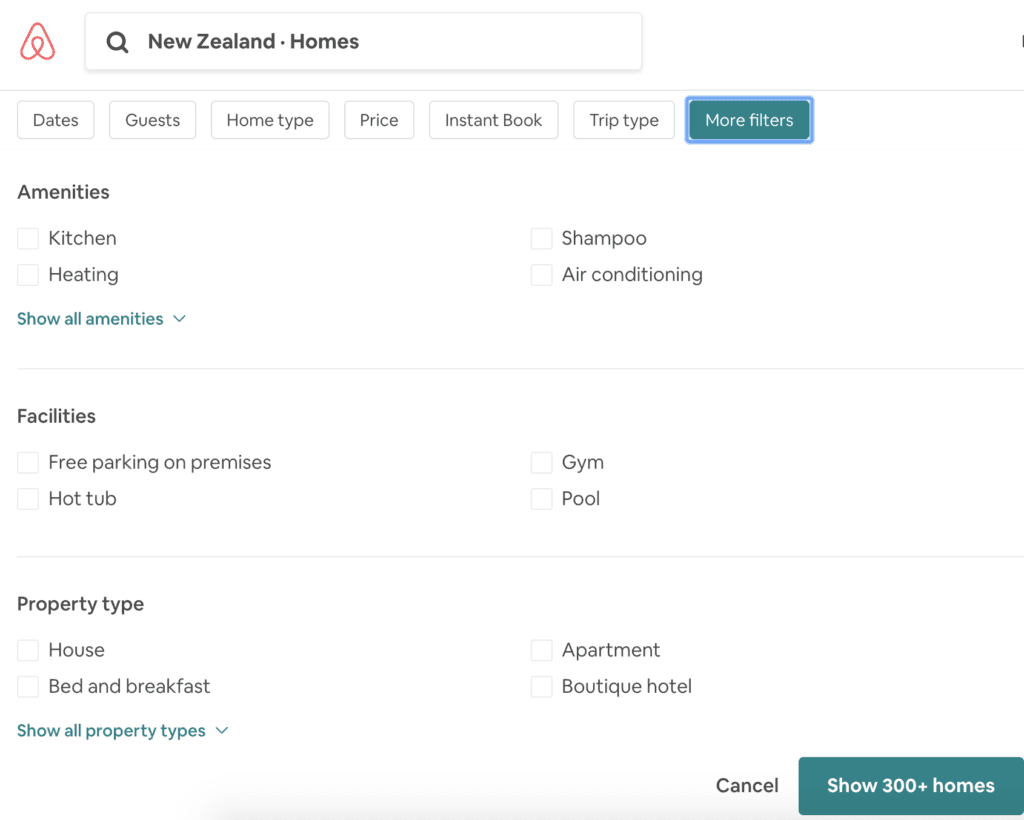 Filter for Home Style
Okay, this is my favorite part! And it's the key to finding some out-of-this-world and unique Airbnbs.
Under the "More filters" button, there is a section specifically for unique homes. Read more about unique home options and glamping, then browse these Airbnb homes when searching for your next stay.
Don't Skip Reading the Reviews
By now you should have a compilation of the homes that best fit your needs. This last step in searching for the best Airbnb possible is the most important: read the reviews. Like, a lot of them.
As a general rule, I look at Airbnb listings that have no less than an overall average of 4.5 stars out of 5. With so many options, it's not usually worth it to take a chance with lower-rated homes to save a few bucks.
Typically, I choose eight to 10 homes with 4.5 to 5-star ratings to dig into. Before diving into the reviews, be sure to take a look through all of the photos (I mean ALL of them) and make sure the home looks like what you're looking for.
Some things to keep an eye out for when reading reviews:
Take all reviews seriously but with a grain of salt. Something that might not have been a big deal to someone else might be a game-changer for you – and vice versa.
Read reviews up to 12 months back. Beyond 12 months, the Airbnb homeowner may have since made changes and updates to take care of past issues.
Pay special attention to longer reviews. Those who take the time to write a paragraph or more tend often provide a critical review of what could be better, rather than just writing "Great stay!" Often, reviewers will sandwich a critique or issue in between positive first and last sentences. Read the middle.
Look for reviews denoting loud noises, cold showers, lots of stairs to get to the flat, and other similar complaints.
Search for Airbnb Plus Homes
If you're new to Airbnb or have been burned by a bad stay in the past, you may want to check out Airbnb Plus.
Airbnb Plus homes are inspected personally by Airbnb staff and rated to ensure the highest quality of these select homes. Not only have these Airbnb Plus homes been reviewed and visited to ensure quality and comfort standards, these homes generally have gorgeous decor. These hosts are also known for having perfect ratings, stellar reviews, and attention to detail. And most are surprisingly affordable.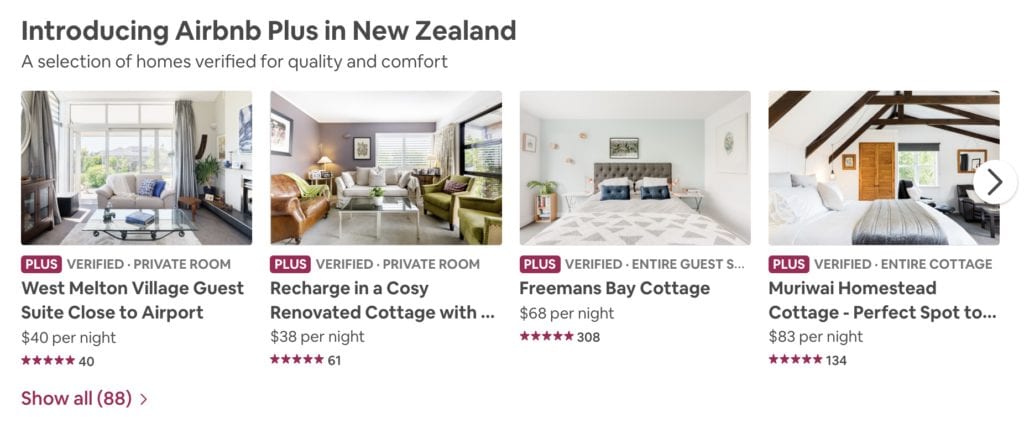 Looking for tips to save on your Airbnb booking? Check out our 5 favorite ways to save on Airbnb, and the best credit cards to use for Airbnb stays.
Bottom Line About Airbnb's Cancellation Policy
Now more than ever, travelers are looking for accommodations with flexible cancellation policies. If you're looking on Airbnb, it's not as simple as it may seem. But it can be done.
Be sure to check the individual listing's cancellation policy to be certain it works for your situation. Use Airbnb's flexible cancellation filter to see listings that offer flexibility. Make sure you know how – and when – to cancel for a refund. And know what's included in Airbnb's "extenuating circumstances" policy, in case of emergency.
Equipped with this knowledge, you're ready to book a flexible Airbnb stay for your next trip – whether that's next month or next year.