After nearly a year on pause, travelers have returned to the skies in near-record numbers. And they're planning for the future again, capitalizing on cheap prices and flexible change and cancellation policies to lock in a trip late this summer, fall, or even well into 2022.
But beware: Just because you book a flight today doesn't mean that's the flight you'll actually take. In fact, if you're booking a trip for September or later, those flights are almost guaranteed to change by the time your trips comes around – and they may change a lot. 
It's yet another downside of the pandemic and how it's turned airlines and the travel world upside down. Though travel may be healing, airlines' schedules have not. And with COVID-19 cases on the rise again, even uncertainty is creeping back into travel.
Why the Flight You Book Will Change
Before the pandemic, airlines had a ton of great data and knowledge about how people traveled that allowed them to set their schedules months in advance. People flock to the beach and desert in the winter, so they add some flights to Phoenix (PHX) or Miami (MIA) over the cold months. They'd add an extra daily flight to London-Heathrow (LHR) or Paris-Charles de Gaulle (CDG) over the summer for the same reason.
You can typically buy flights 11 months in advance. That flight may eventually change, but typically just by a few hours or so. Whether you planned just a month in advance or nearly a year, you could buy a ticket and be reasonably certain that's the flight you'd take.
Then the pandemic struck, and that all changed. Airlines across the globe were forced to pull hundreds of planes out of the sky and cut thousands of flights from their schedules to match the lower travel demand. A route that used to have 10 flights a day may have just one or two – leaving you with far fewer times to pick from.
That's starting to pick up. But with travel still so unpredictable, airlines aren't adjusting their schedules more than a month or two in advance. They're selling flights for September 2021 as if it's still September 2019. And that means you may get hit with a big change to your flights as it draws near.
Take a look at United's flights from Newark (EWR) to San Francisco (SFO) in September, for example. The airline is selling eight nonstop flights a day. That's a lot of flights – and as you look out to November, it increases to 15 daily frequencies, with flights departing every single hour from 6 a.m. to 9 p.m.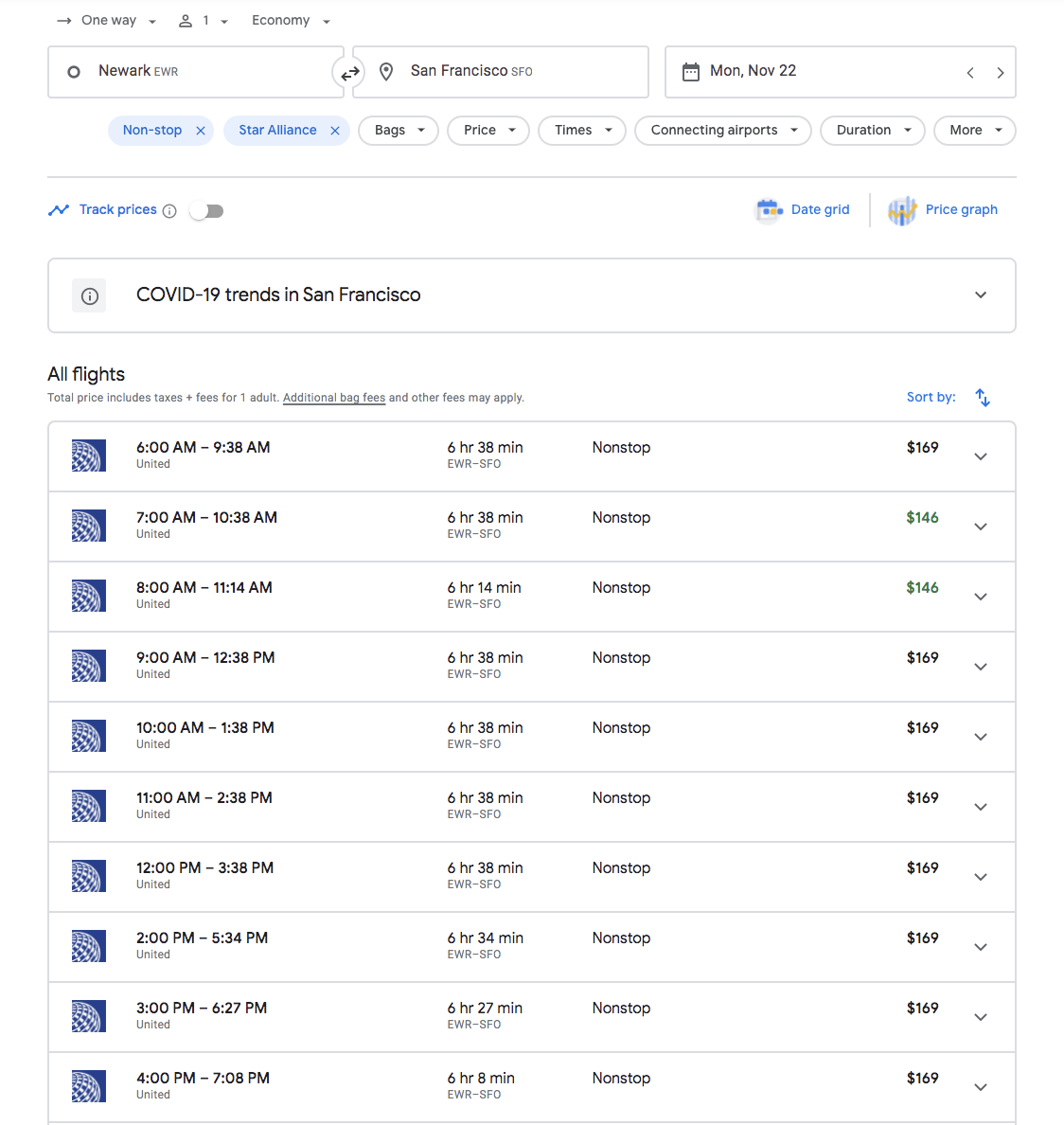 But you can bet that United will actually operate less than half of those flights – or even fewer. Why? Because this month, United is running just four flights a day on that route.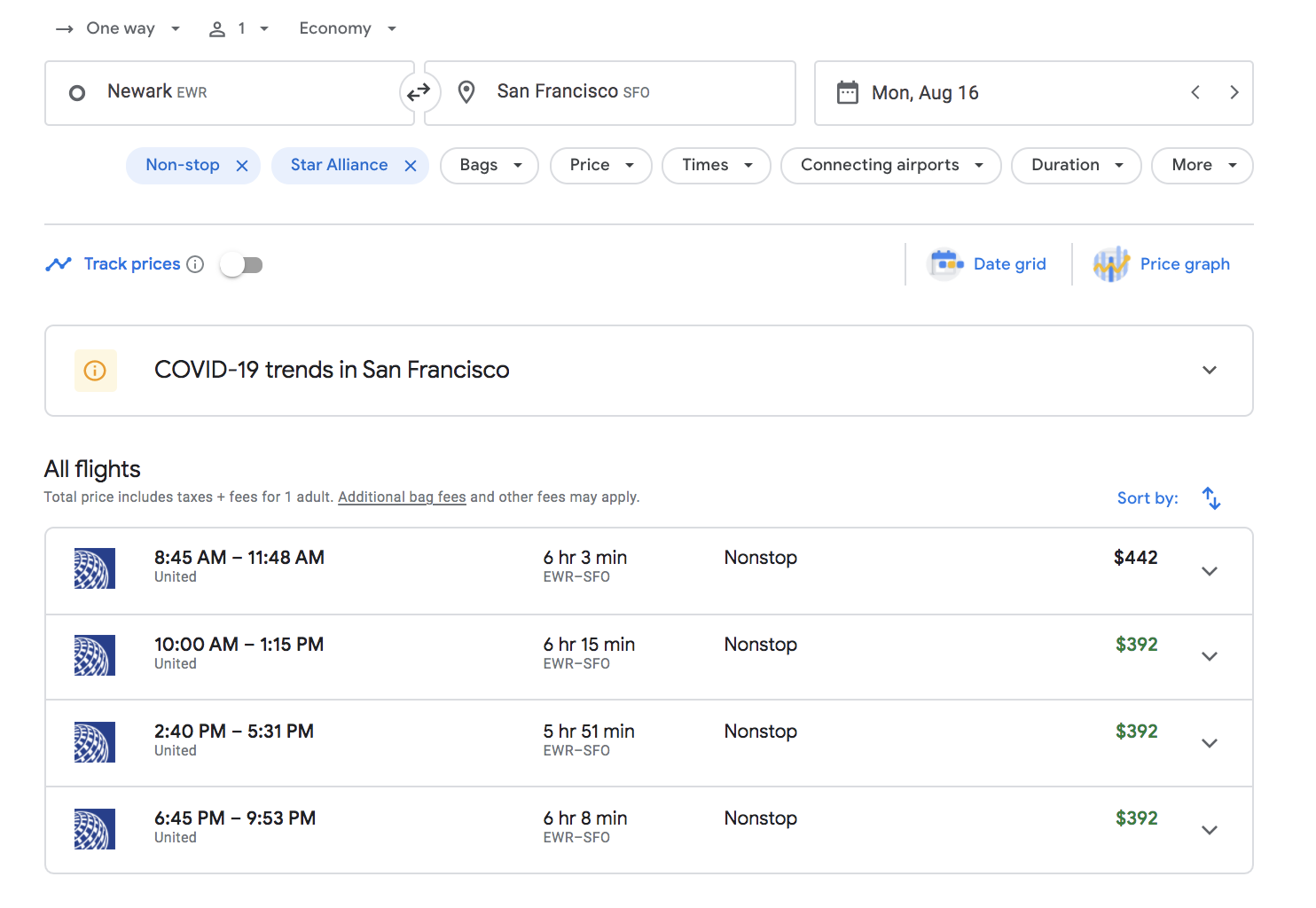 United has already reworked its August schedule to adjust to the new realities of travel demand. It has clearly adjusted it's flying plans for September and October … but not enough: There's no way United will double the frequency of these flights starting next month. And up to 15 flights a day in November? No way.
So if you book a trip more than a month or two in the future, you'll almost certainly be switched to a different flight as that trip draws closer when the airline finally retools its schedule.
This same pattern plays out across almost every major airline across the country – and even internationally. Here are American Airlines' nonstop flights from Minneapolis-St. Paul (MSP) to Chicago-O'Hare (ORD) you can book midweek in November, for instance.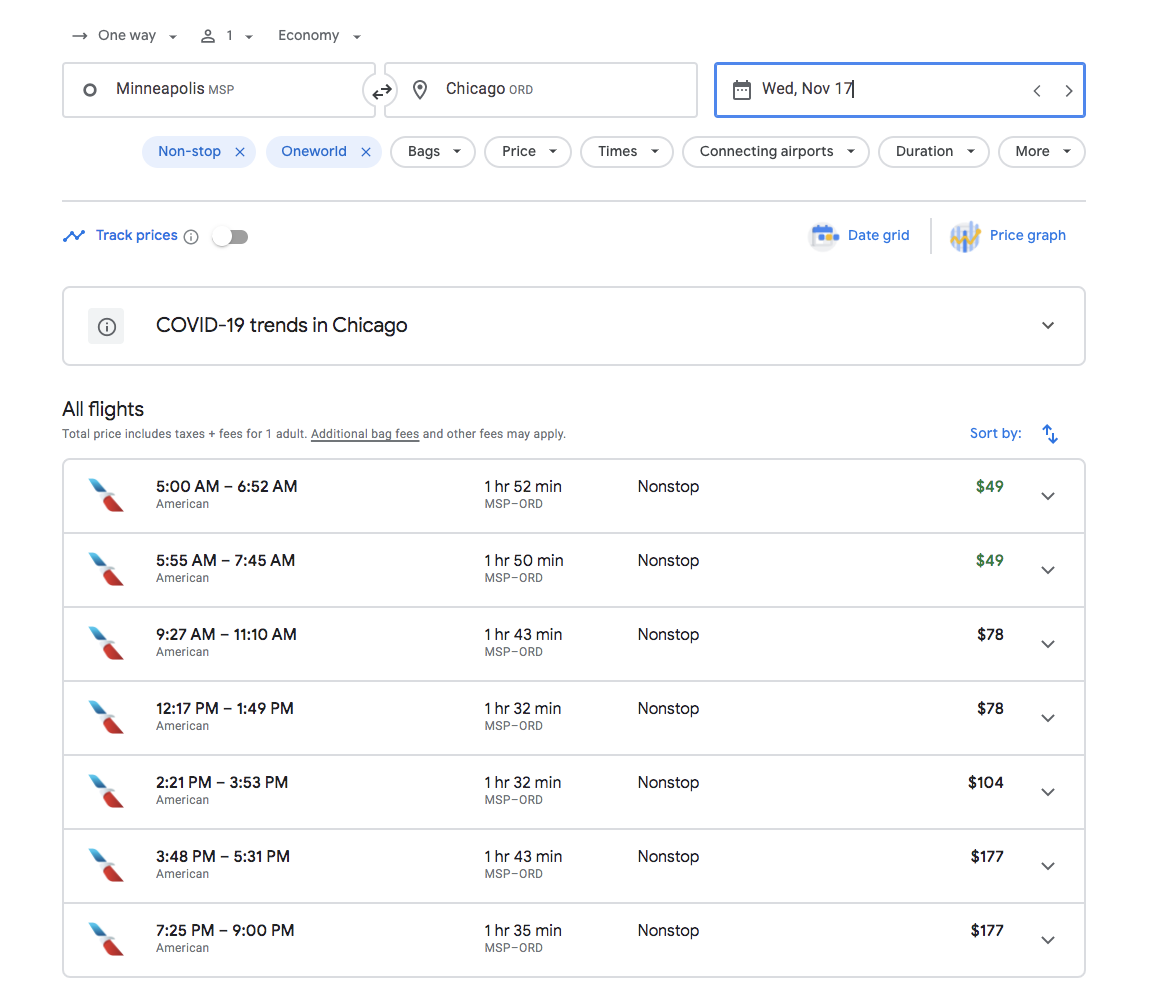 But American may not have seven different departure times this fall … because the airline is scheduled to operate just five flights a day this month.
So why sell flights they have no intention of operating? It allows airlines to buy some time to work out their schedules and get better insights into where travelers want to go. Most importantly, it also gets more money in the door: More flights on the schedule means more sales. And if one airline only lets you pick from a 6 a.m. departure or a 6 p.m. departure while a competitor allows you to fly almost any hour of the day, it's an obvious choice.
Read more: How Airlines are Generating Revenue on Flights that Will Never Take Off, from Skift
But that comes at a cost: Confusion and a constant barrage of flight changes. If you're booking a flight for this month or next, you're probably safe from massive changes. Planning a trip two months or more in the future? Brace for changes.
What You Can Do
Getting hit with a huge flight change is frustrating, we know. Changes of four to six hours – or more – have become the norm for many travelers booking more than a month or two in advance.
Here's what travelers can do to protect themselves:
Monitor your reservations like a hawk. Airlines don't always do a great job of informing travelers of schedule changes, so be sure to watch your trip in case the airline changes your flights.
Be nimble. Mentally prepare to make changes to your trip in case of a schedule change to your flights. And don't load up on big, nonrefundable expenses that could get wrecked by a schedule change.
Compare what you're booking to what the airline is selling this month and next. Depending on how far in advance you're booking, you can be nearly certain that whatever options your airline has in March or April is much closer to reality
Book closer to departure. You won't get hit with nearly as many nasty schedule changes planning a month or two in advance. And unlike before the pandemic, airlines won't penalize you with much higher fares by planning last-minute.
Know your rights. If an airline cancels your flight, they owe you a refund. If they significantly change your flight – typically by two hours or more – they owe you a refund. If you booked nonstop but they put you on a connection, they owe you a refund. Not happy with the changes to your flight? Get your money back and start over.
Bottom Line
Travel is climbing back. But until it comes all the way back to the pre-pandemic normal, this guessing game and constant schedule changes will be part of the new normal.