Savannah is known as the "hospitality city of the South." And it certainly lives up to that name.
The people in Savannah are kind and welcoming, and the atmosphere is laid back and pleasant. With a burgeoning food scene and vibrant cocktail culture, Savannah has everything you want from a U.S. city in a small package – less than 150,000 live inside the city limits.
The historic district is built around 22 squares filled with beautiful mossy oaks that offer shade on hot days – and there will be hot days. The squares are surrounded by beautiful houses and mansions, some going back to the late 1700s. Many of the mansions are restored to their full glory and house museums of all kinds. This is a perfect place for a long weekend getaway.
Thrifty Tip #1: Before you go, read Midnight in the Garden of Good and Evil. This true story makes Savannah and the locals come alive, with a little scandal and murder to keep it interesting.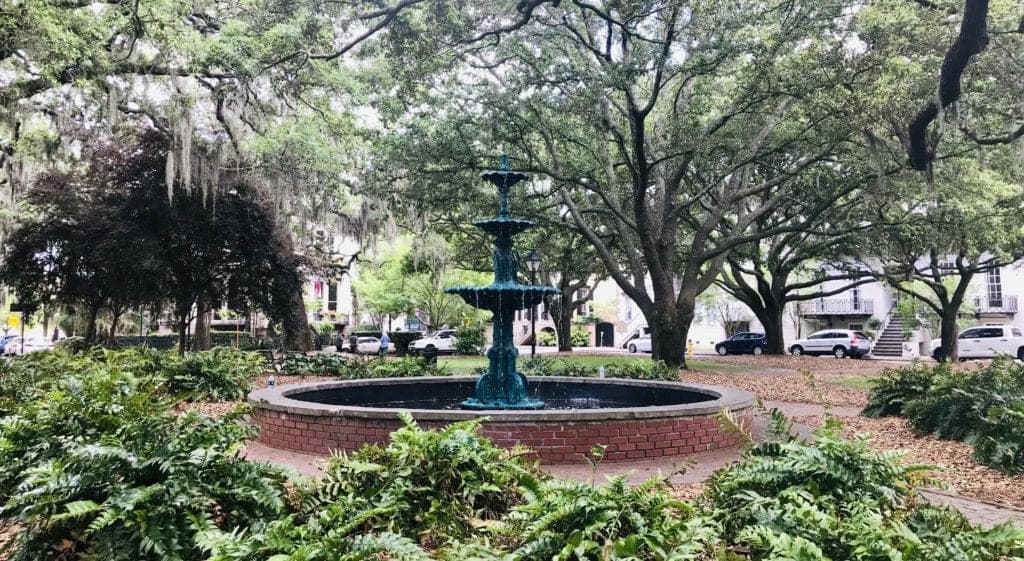 When to Go to Savannah
First, when is the best time to go? It depends on what kind of trip you want. The quietest time is early fall. Head to Savannah in September to early November to avoid crowds. The peak time to travel, and perhaps the best because of the blooming chrysanthemums, and is during the mild-weather period from March through May.
Go for at least three days to soak in most of the sights. But don't worry, there is plenty to do if you wanted to spend a whole week. 
Thrifty Tip #2: Savannah hosts the fourth largest St. Patrick's day festival in the country that lasts weeks. Avoid a large influx of tourists and stay away the weeks leading up to March 17. In October, they host an event called Wag-o-Ween: a parade of dozens of dogs in costumes that brings hundreds of people downtown to watch. You might want to go just for that!
Getting There
You can fly directly into Savannah (SAV) from many major airports across the U.S., though it's certainly easiest if you're on the East Coast or Midwest. Just beware that many of these flights only run seasonally.
One of the easiest ways to get there is on American Airlines. And you could use miles from the Citi AAdvantage cards or the AAdvantage Aviator Red World Elite Mastercard to book it for nearly free! Flights will typically cost 25,000 AAdvantage miles round-trip, per person. But check to see if you can snag an even better deal through American's new Economy Web Specials program! 
Getting into town from the airport is easy. Take Uber or Lyft from the airport which costs around $20 and takes 20 minutes to get into town. Or hop on the CAT (Chatham Area Transit) that costs only $8 for a round trip ticket. However, it only runs from the airport once every 90 minutes. Look at the schedule and location of the bus before you land to make the best plan.
Where to Stay in Savannah
You'll want to stay near the Riverwalk or in the Historic District itself. If you've got a free night certificate with Hyatt, one of the best ways to use it is at the Hyatt Andaz Savannah. Or use Hilton Honors points to stay at the Hilton Doubletree. 
But there are also plenty of Airbnbs throughout Savannah – and many are in beautiful historic buildings close to the squares. New To Airbnb? Sign up using our link and you will receive $40 toward your first stay (we'll get $20 too!)
Thrifty Tip # 3: Get the American Express Hilton card and you automatically get Gold Status which gives you free breakfast at any Hilton! On top of using points to stay for free, this will save you a ton of money.
What to Do in Savannah
Savannah is steeped in history, museums, art, and culture. No matter where you wander, you'll find something.
Luckily, almost everything to see is within walking distance in the historic district. Don't want to walk the whole day? Ride The Dot. The Dot is Savannah's free visitor shuttle and it will take you to a lot of the main museums and major sites. Get a different view of the city by taking a free ferry ride on the Savannah Belles.
Most of the main museums are situated on the squares and easy to locate. Map out your day with a walk towards Forsyth Park, stopping at museums on the way.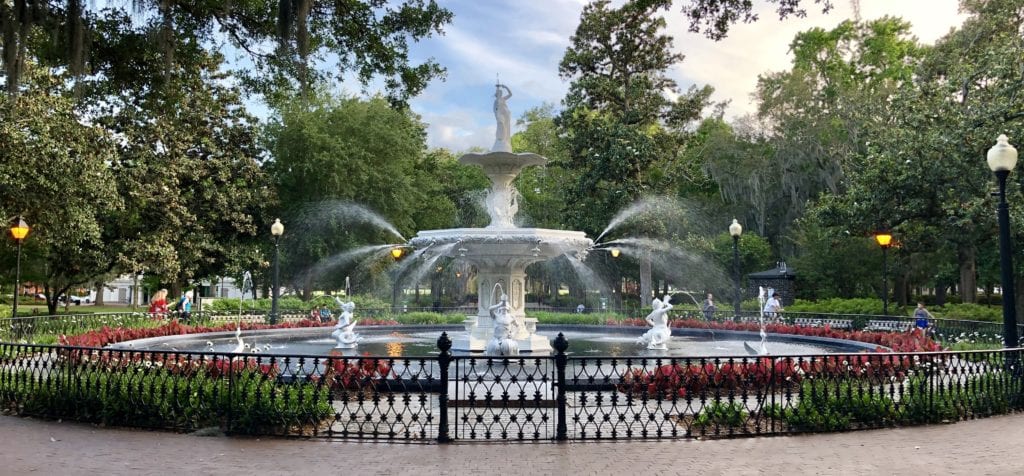 Thrifty Tip #4: Book a historic walk, bike ride, or bus tour your first day. Get the lay of the land, some great history, as well as guidance on what to see, eat and drink for the rest of your trip. There are plenty of options through Airbnb Experiences, Tours by Locals, or Old Savannah Tours. Savannah also claims to be one of the most haunted cities in the country. So if you love ghost tours, this is the place to do it.
Start your walk through the squares and stop by St. John the Baptist Cathedral. Step inside to view the intricate detail of the sanctuary. Built in 1876, the church has a rich history, and it is very beautiful.
Next, head to The Owens-Thomas House, built in 1816. The tour is a little pricey at $20 per adult, but it also gets you into two other museums: Telfair Academy and the Jepson Center. Take the one-hour tour through one of the first mansions in Savannah. Learn the history of the family and the slaves that lived in the house, along with an insight into old Savannah.
Just a five-minute walk from the Owens-Thomas House is the Juliette Gordon Lowe Birthplace. Girl Scouts flock to Savannah to visit the birthplace of their founder and the Juliet Gordon Lowe House. Tickets are $15 for adults, $12 for students, and $10 for girl scouts.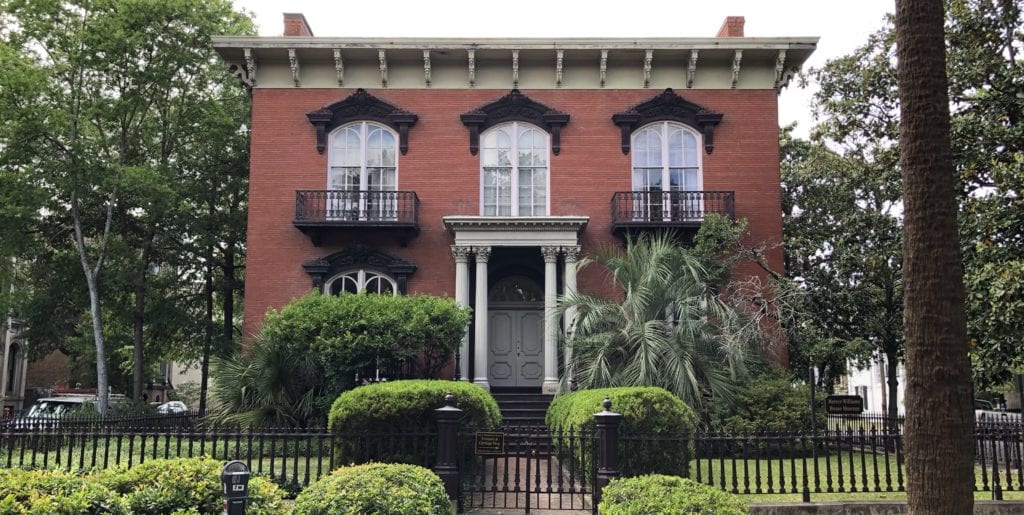 Finally, make sure you have time to tour the Mercer-Williams House on the last square before Forsyth park. This is the setting of the most salacious parts of Midnight in the Garden of Good and Evil. Tours happen daily from 10:30 a.m. to 4 p.m. and cost $12.50 per adult. Be aware that the Mercer house can be closed with little notice because the current owner lives there.
Thrifty Tip #5: Drinking in public is legal in Savannah! Stop by any bar on your way to the park and grab a cocktail or beer to go. Enjoy a stroll in the park just like the locals.
Finally, don't miss Bonaventure Cemetery. Featured prominently in Midnight in the Garden of Good and Evil, this cemetery is located outside of the historic district. Use Uber or Lyft to get there and visit the grave of songwriter Johnny Mercer. 
Day Trips
We didn't have enough time for a day trip, but it's worth noting that there are a lot of great places to visit nearby. Rent a car for a day and explore! 
Tybee Island is only 20 miles away and perfect for a day at the beach. Shop along the boardwalk, eat some crab and take some pictures by the lighthouse. There are a handful of other islands to visit. Drive or take a ferry to nearby Hilton Head for beaches, golf, bike riding and more.
If you love the outdoors, the Savannah National Wildlife Refuge is only 10 minutes from town. Stop at the visitors center for a map and go for a scenic drive or a hike through the park.
Restaurants
There are loads of restaurants to try in Savannah. We'll give you just a few recommendations
Treylor Park is a great place for lunch and happy hour. Southern comfort food with a modern twist and a comfortable gastro pub feel makes this a great spot. Go for Happy Hour from 5 p.m. to 6 p.m. and take advantage of the daily specials including a free beer with an order of tacos. Try the shrimp and fried grits tacos.
Get a great South African style sandwich at Zunzi's, a Georgia staple, for $13. We got the Godfather: crusty french bread, with chicken, smoked sausage, boerewors, provolone, tomato, marinara, parmesan, something aptly named "Shit Yeah sauce," Zunzi's Dressing, and Romaine lettuce to hold it all in. It sounds like a lot but somehow it all works and tastes delicious!
Thrifty Tip #6: There is a seating area on the side of Zunzi's by the parking lot, but the better way to enjoy your sandwich is with a beer on a bench at Oglethorpe Square.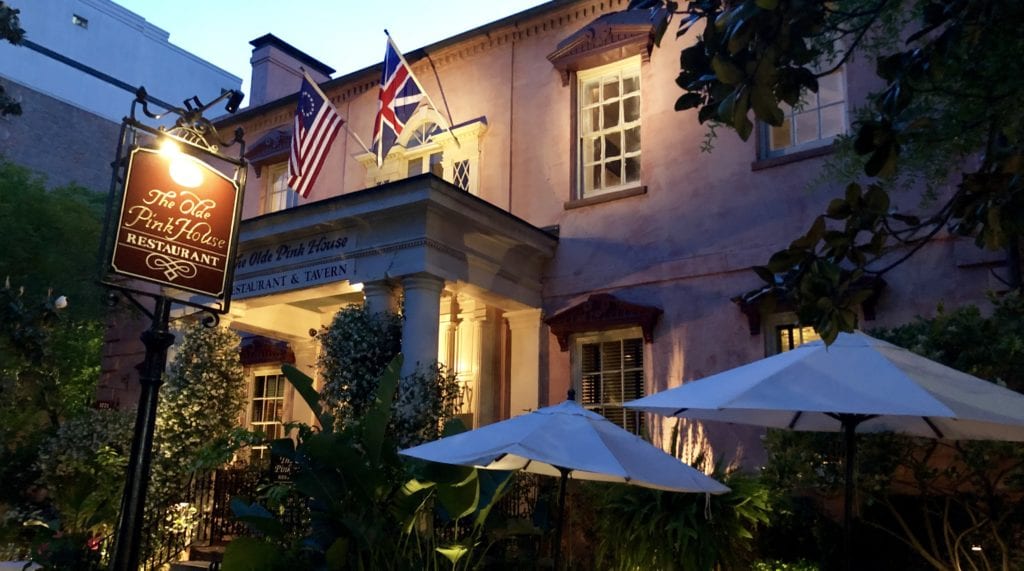 Classic "low country" food and Southern charm are the specialties of The Olde Pink House. The biscuits and cornbread alone make the stop worthwhile. Entrees are pricey but the portions are huge and shareable. Order the fried chicken and get half of a bird with a pile of mac n cheese. 
Thrifty Tip #7: Avoid the restaurants on the Riverwalk. This area is extra touristy so the restaurants have higher prices for less quality food.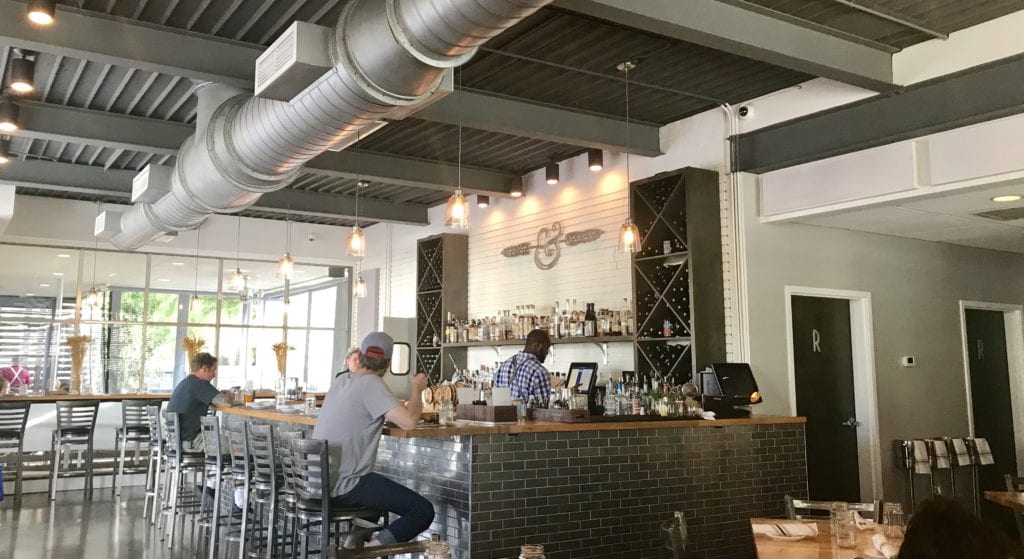 A bartender at a nearby spot recommended Cotton & Rye, and we were so happy we went! Cotton & Rye is a modern take on classic southern food with great cocktails in a relaxed atmosphere. 
Thrifty Tip #8: Happy Hour at Cotton & Rye is 5 p.m. to 6: 30 p.m. during the week with great drink specials and snacks. Get the chicken wings! Just do it. They say they are award-winning and they aren't lying. I would fly back to Savannah just for those wings.
A few blocks from the historic district is Savannah's oldest restaurant, the Crystal Beer Parlor. Serving burgers and beers since 1933, Crystal Beer Parlor is a favorite of both locals and visitors. They have over 30 beers on tap and more by the bottle. The food is simple and good, ranging from crab dip, nachos, burgers, and their famous peach cobbler. Get there early because the place gets packed quickly.
Drinks
If you haven't already been drinking all day while walking around the city, go to a rooftop to grab a drink at the end of a long day. Or just do it anyway.
Rocks on the Roof at the Bohemian Hotel has a great view of the river.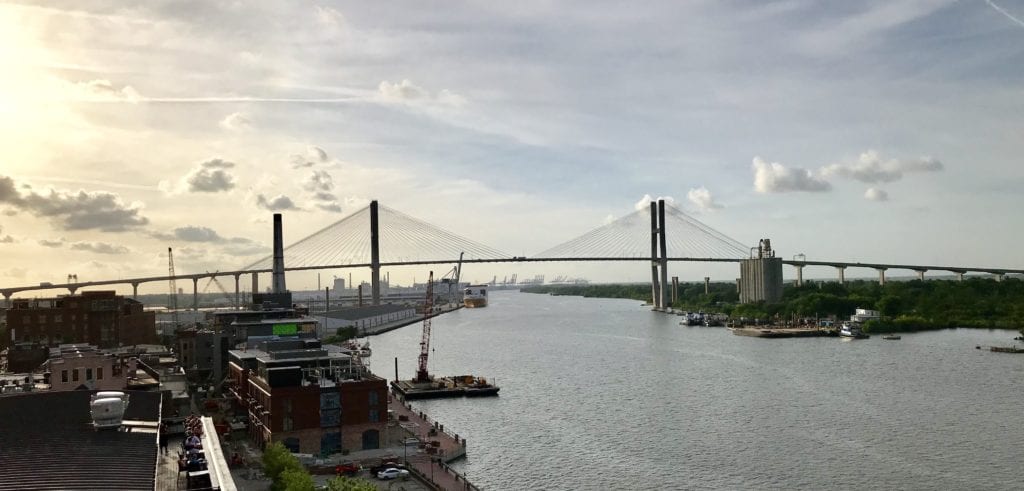 Peregrine, at the brand new Perry Hotel, has a great view of the historic district. But like Rocks on the Roof, this place has some pricey cocktails. Grab a beer at half the price and enjoy the views.
Before dinner, make a stop at Artillery. This is a little fancier spot and has a suggested dress code. Enjoy a cocktail or sip on a glass of wine.
Alley Cat has one of the most extensive and entertaining cocktail menus around. After sunset, head down the stairs to this basement bar and have a cocktail or two.
Thrifty Tip #9: Find a bar with great drinks and a friendly bartender and ask them for recommendations for your stay. This is a great way to find things to do or places to eat that might not be on your radar.
Bottom Line
If you're not sold yet: Get to Savannah! It is full of amazing things to see, do, eat, and drink and everyone is welcoming and super friendly. What more could you want from a weekend getaway?