There's a lot that goes into planning a trip, from finding your flights to figuring out where to stay to narrowing down what you want to do once you get to your destination. Arming yourself with the right tools can make the travel-planning process easier – and more affordable, too.
We're always experimenting with the latest websites and apps to make our (and your) travels better. Plus, there are some we turn to time and time again whenever we're charting out our next trip, whether we're staying in the U.S. or flying overseas.
Here are our favorite tools and apps to help you plan your trip from start to finish.

Finding & Booking Flights
First things first, you need to book your flights. At Thrifty Traveler, we adhere to the Flight First Rule: You start every trip by searching for and booking the cheap flight first, and only then start putting together the other pieces of your trip.
A few sites stand out for making your flight as cheap and pleasant as possible.
Google Flights
When it comes to finding the cheapest flights, there's one tool we always turn to every single time: Google Flights.
Google Flights is a powerful search engine tool that helps you narrow in on the flights you want, and avoid the ones you don't. Nearly every airline lists its fares directly on the platform, allowing you to sort through flight schedules and prices on hundreds of thousands of tickets – including taxes. It also pulls in information on additional charges to avoid stingy basic economy fares and what you'll pay for baggage fees.
You can use filters to see only the flights you want to book, and you can even set Google Flights price alerts to track fares and book when prices drop. If you're not sure where you want to go, Google Flights Explore map will show you the cheapest places to fly from your home airport.
Read our master guide to using Google Flights!
Google Flights should always be your first stop for every flight search. And once you book and get that flight confirmation email, do as we do and add it to TripIt. More on that later…
SeatGuru
You found the flights you want, now you have to pick your seats. And trust us, not all seats are created equally.
Want to make sure your window seat actually has a window? Looking for a little bit of extra legroom? Don't want to get stuck in another seat that doesn't allow you to recline or sit right next to the lavatory? That's where SeatGuru comes in.
SeatGuru is a website that displays aircraft seating charts and even provides airline seat reviews. You can plug in the details of your upcoming flight or one you're considering booking, it will pull up the seating chart on the exact plane you're flying and help guide you to the best seat available – whether you're sitting in first class or all the way in the back of the plane.

The easy-to-use, color-coded system quickly shows you the best seats, the seats to avoid, and the seats that have mixed reviews.
SeatGuru pulls the information from your airline to make sure it shows you the right seating chart on the exact plane you'll be flying. Just keep in mind that airlines can (and frequently do) change flight plans and swap planes around, so the seating chart you pull up a week before your flight may not be what you actually board. And these days, SeatGuru is less and less reliable after Tripadvisor (which owns the site) stopped updating it in 2020.
aeroLOPA
If you want to really dig into the finer details of your aircraft, there's another tool you can use. Let us introduce you to aeroLOPA.
AeroLOPA is an invaluable online resource for finding beautiful, detailed seat maps of many of the biggest airlines on the planet. This way, you can scope out what the inside of the cabin looks like and zero in on the best seats – whether you're sitting in first class or all the way in the back of the plane.


AeroLOPA also does a great job displaying where you'll find bulkheads, bathrooms, bassinets, galleys, and more. And if you want to really nerd out, some planes have an abundance of additional information about the seats and equipment onboard from nose to tail… all the way down to the manufacturer of the seats.
There are some limitations: For starters, you need to know exactly which type of plane you're flying to pull up the right seat map, for instance. But, you'll get far more information out of the aeroLOPA seat maps than you would from similar tools like SeatGuru or the airline itself.
Hotels & Lodging
Your flights are booked and your dates are locked in, now it's time to figure out where you're going to rest your head at night once you've arrived at your destination. Back to Google…
We've already touted the benefits of Google Flights, but Google can do so much more for your travels than just finding your flights. Enter Google Hotels.
Google Hotels is a great place to start your search when you are looking for lodging for your upcoming trip. Like Google Flights, Google Hotels similarly allows users to filter for the exact accommodations they want, exactly when they want them while seeing nearly every option available. It's integrated with Google Maps, so you can see exactly where each property is located throughout the city, which can be extremely helpful if you know you want to stay in a certain area or by a landmark for a specific event.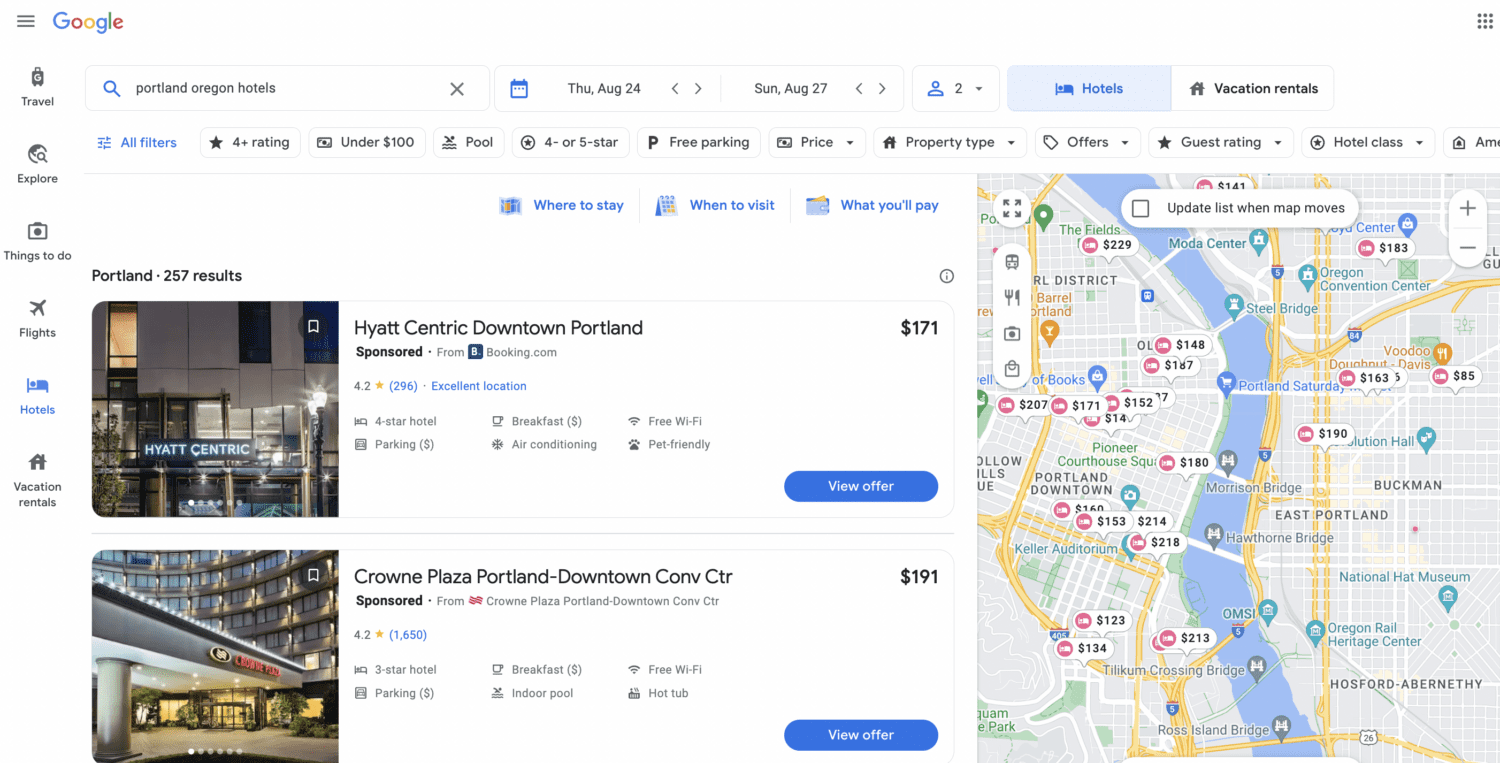 Google Hotels allows you to filter for either hotels or vacation rentals – in fact, it's one of the few that allows you to search for both. From there, you can filter for hotel star ratings, price, special offers, pools and other amenities, class, brands, and much more. You can even check the box for hotels that offer free cancellation, allow dogs, are wheelchair accessible, have beach access, or much, much more.
There's no shortage of hotel booking sites you could use when looking for lodging for your next trip, but Google Hotels is the one we always pull up first.
See our full list of the 17 best hotel booking sites to book lodging at cheaper prices! 
Transportation & Getting Around
Flights? Check. Lodging? Check. But what's your plan to get around while you're traveling?
Depending on what type of transportation you're going to rely upon (be it rental cars, trains, or public transit), there are three main tools we always use.
Google Maps
Google Maps isn't just for finding your way to that new restaurant.
It's one of the most powerful travel tools out there, period. It has a mind-blowing treasure trove of travel information and is among our first stops as soon as we book flights.
Read Next: The 6 Best Ways to Use Google Maps to Plan Your Trip
Google Maps takes all the information from Google and displays it on a map – but it's much more than that. It has step-by-step walking directions, live public transit information, hotel data, location photos from street level, and 3D satellite images of nearly every inch of the planet.
Street view and 3D satellite imaging are both terrific for that, because the 2D maps can't give you the whole story.

There are more ways to use Google Maps than we could possibly put into a few paragraphs. Check out our full guide to Google Maps to see its full potential. But it's a must-use tool to plan your next trip, whether you need directions or just want to save all your must-visit places in one, handy spot.
Rome2Rio
Can't figure out whether to take a plane, train, or automobile? Rome2rio is what you need.
Rome2rio is a search tool that aggregates any and all of your travel options when you're trying to get from nearly any point on the globe to another. It can help you figure out your options to get between two points, with an estimated price and travel time for each.

When you enter a departure and destination, Rome2rio will show you the car rentals, carpool, Uber or rideshare apps, bus, train, ferry, and plane options between those destinations.
Rome2rio partners with transportation companies including Amtrak, Virgin Trains, National Express, Trenitalia, Skyscanner, Booking.com, and Rentalcars.com to aggregate and provide pricing and booking options for all modes of transportation. It recognizes nearly 600,000 bus routes from over 3,000 operators, over 12,000 ferries on more than 500 ferry operators, and over 45,000 flight paths on 670 airlines.

We've used the tool for all kinds of bookings, including bus and train routes from Milan (MXP) to the Alps, and ferry rides between Croatian islands. Rome2Rio flexes its vast network to give you options and, most importantly, links to book transportation directly with the operator.
After we do a Google Maps search, our next stop is Rome2Rio to make sure we're seeing all the options. If you are unfamiliar with a place, you should surely use this tool to see all of your options for navigating a country.
Read next: A Full Guide to Using Rome2Rio on Your Next Trip
Autoslash
For some trips, booking a rental car is a requirement. Public transportation and train service can't get you everywhere you want to go. Sometimes you need a set of wheels.
When it comes to booking a rental car, you need to start your search with Autoslash.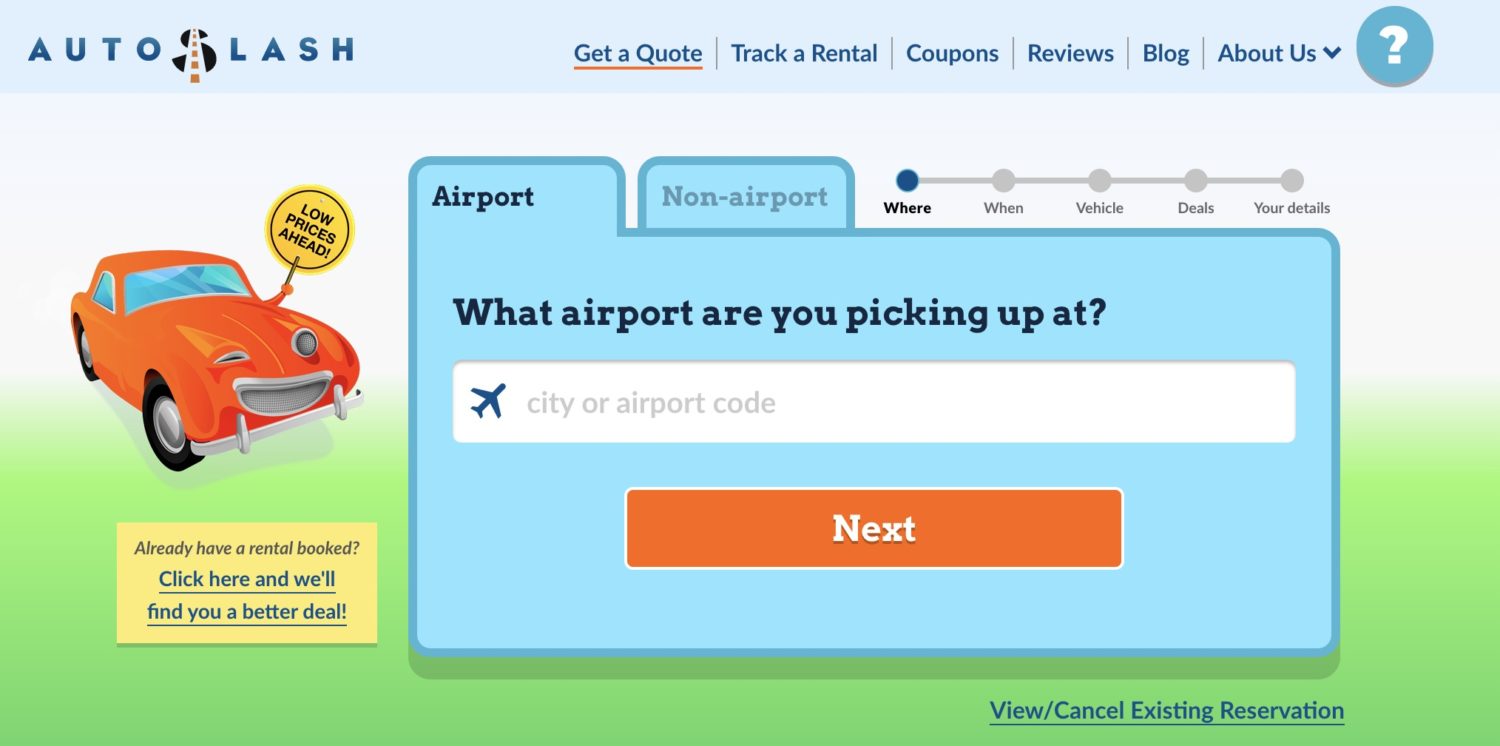 Autoslash is a lesser-known car rental search engine that definitely should be far more popular. It finds the best coupons for your rental based on credit card benefits and various membership discounts.
But most importantly, it will track your car reservation after booking and alert you to rebook if the rate drops! The hype about Autoslash is real. These alerts can help you save a ton of money on your next rental car.
Read more about why Autoslash is the #1 Tool f0r Booking Rental Cars
Creating (& Organizing) Your Itinerary
We've been over all the tips and tricks to finding and booking your travels. But trips don't work if you're unorganized. How are you going to keep track of everything you want to do and see on your trip?
Keeping a detailed itinerary and organizing your bookings is crucial, especially if you're traveling with a family or a group. Here are our favorite ways to create an itinerary and staying organized.
TripIt
A clean, organized, chronological itinerary: That's what TripIt does for you.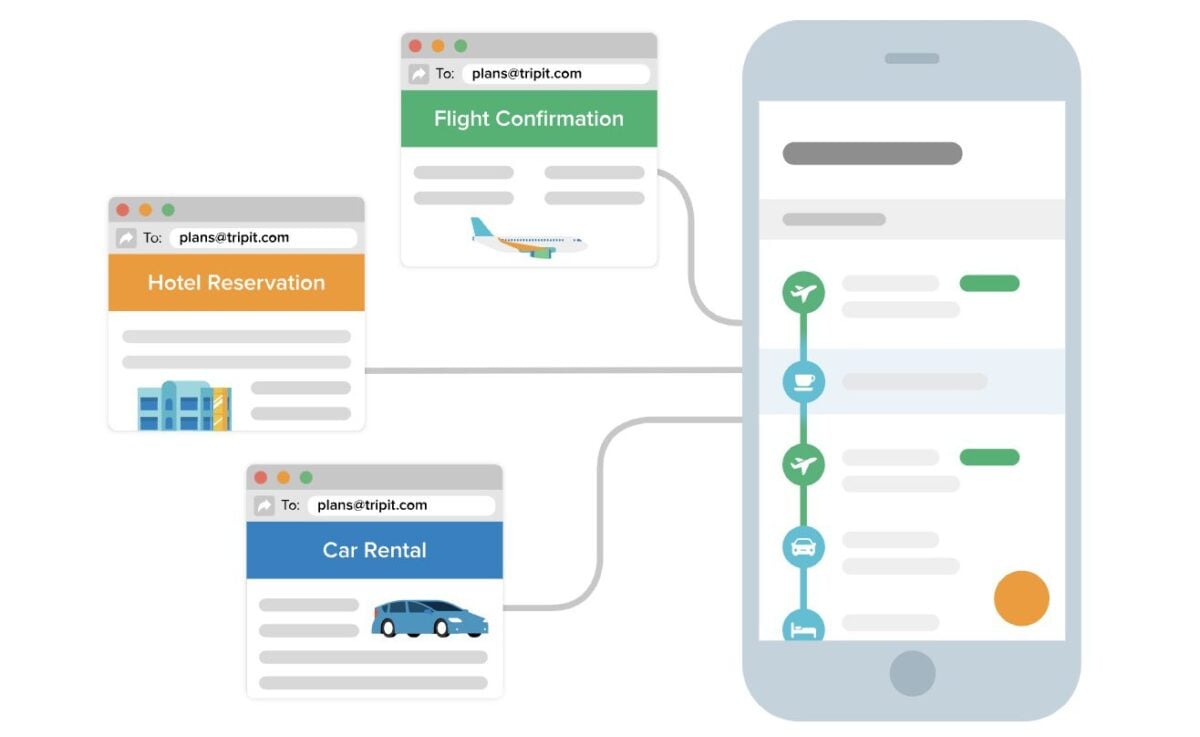 TripIt is an invaluable travel planning tool that takes all of your information for each trip and puts it onto a single chronological timeline. Whether it's flights, buses, taxis, hotels, restaurant reservations, tours, ferry rides, or anything else you could get up to on your journey, TripIt has a home for it on the timeline for each trip.
Most of us use the free version, although there's another tier called TripIt Pro you can upgrade to for an additional cost.
When you sign up for TripIt, you attach your email address to your TripIt account. Whenever you get a confirmation email for your flight, you just forward that email to "[email protected]." TripIt then analyzes the email and puts all the necessary information right into your trip itinerary for you.
This also works for hotels, public transportation, restaurant reservations, tours, excursions, and almost any other kind travel activity. It's slick – and saves us tons of time. The first thing we do after we get a confirmation email is forward it to TripIt.
Read more: Why TripIt is the Tool Every Traveler Needs
Google My Maps
You can see almost anything on Google Maps, and once you find it, Google Maps can also help you organize everything you're interested in seeing on your trip.
That's where Google My Maps comes in. Think of it as a visual itinerary. My Maps lets you create, save, and share custom maps for your trip. For us, the second step of planning a trip (after booking a flight deal), is starting a map with My Maps.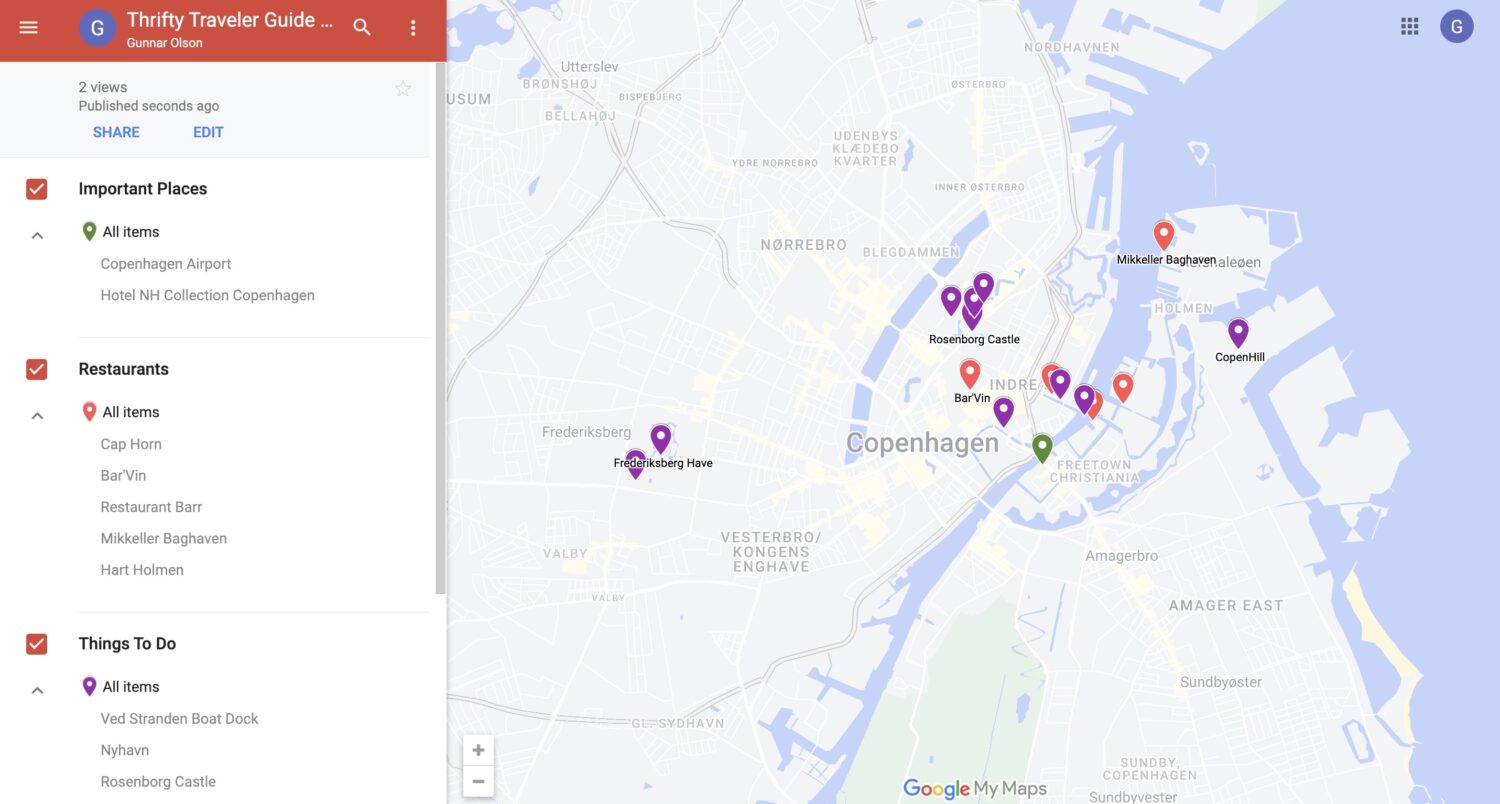 And perhaps best of all, the maps are shareable. Above is the My Map from a recent visit to Copenhagen, Denmark.

Roamaround.io
Artificial intelligence, really? Look, we get your skepticism. We are skeptical, too. You cannot and should not rely on AI to book and plan your travels.
But the new AI tool Roamaround.io is useful as a starting point for making your itinerary. Here's how.

Roamaround.io will spit out a detailed itinerary for what to see and do on your next trip – and in our initial experience, some of its ideas are pretty darn good. Just plug in your destination, when you'll be visiting, and how long you're staying. Fifteen seconds or so after hitting enter, you've got a day-by-day itinerary filled with where to go when, places to eat, and more.
Here's what it came up with for a three-day trip to Tokyo, for example.

The itineraries aren't perfect, by any means, and you should dig into what Roamaround.io is recommending before blindly following it. Sometimes the restaurants it recommends are closed, or otherwise impossible to get into, for instance.
But as a form of trip inspiration, this AI itinerary-making tool is pretty amazing. Members of our team have already used it a few times and it's given us some great ideas for upcoming trips we're excited to test out.
Wikipedia (for Weather)
As you're piecing together your itinerary, there are some other tools that we swear by for gathering intel, particularly when it comes to finding out what the weather is going to be like for your trip.
You already know about Wikipedia. But,this search tool has a very specific use that we employ all the time when we're sending when Thrifty Traveler Premium flight deals and planning our own trips. We use it to find out the weather in a specific destination, specifically looking at historical, long-term weather data.
It starts by searching the city you're visiting, and then clicking the "Climate" button.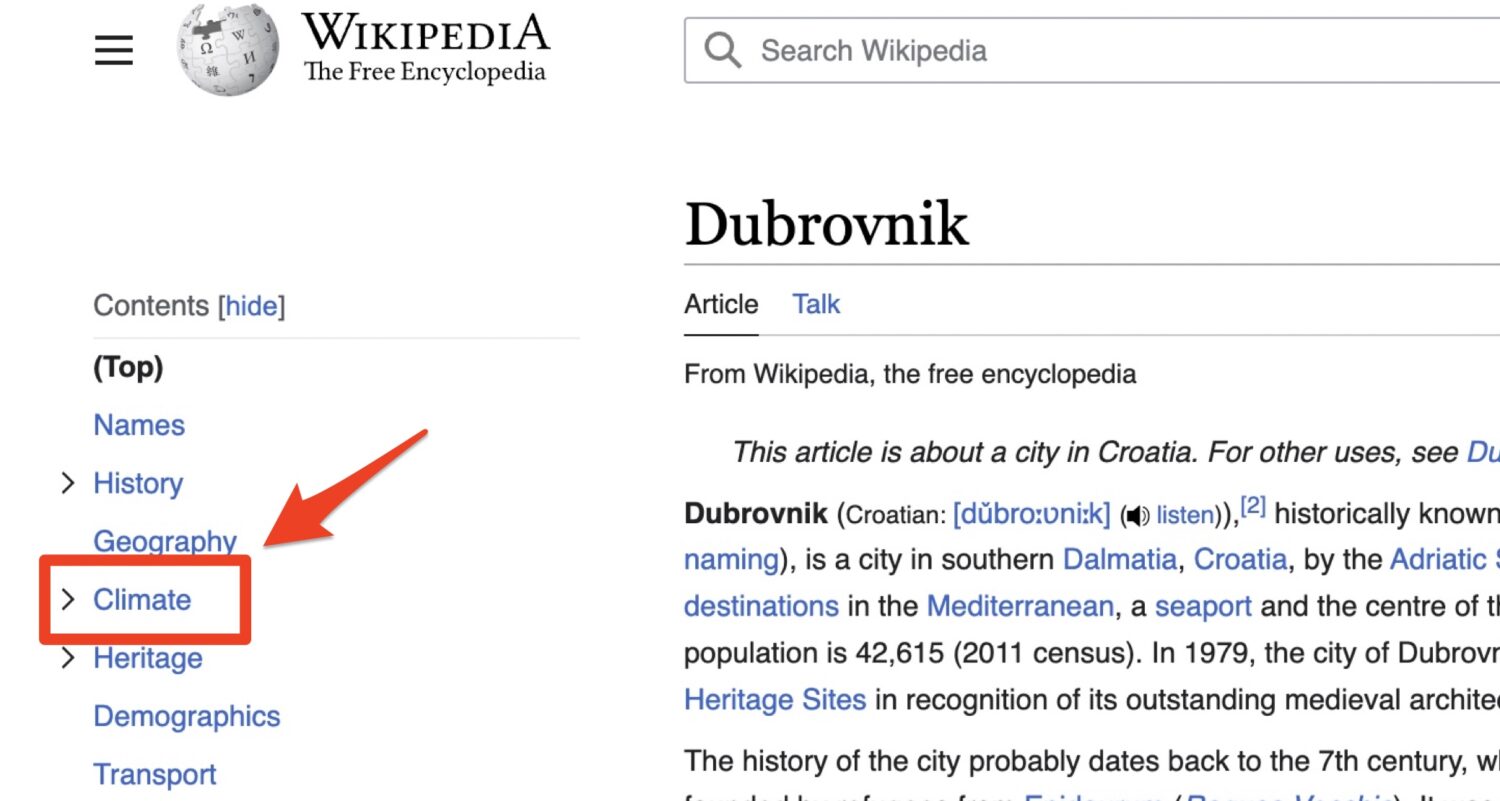 There, you'll find a section that looks exactly like this for almost every major city in the world.

Let's say you booked or are looking to book a great flight deal to Dubrovnik (DBV) in Croatia for a trip is in October. It's not peak summer, so you want to know if the weather is OK that time of year. You can scan over to October, and then look down the chart to see the average temperatures, average precipitation (rain), and even the water temperature in the graph below.
We love this tool, for obvious reasons. It can help you avoid the rainy season in the Maldives or the cloudiest months in Denmark. And it's almost completely global. You can pull this kind of data for every mid-to-large city on the planet.
Weather Underground
If you're looking for closer-in weather data, however, we can't recommend Weather Underground enough.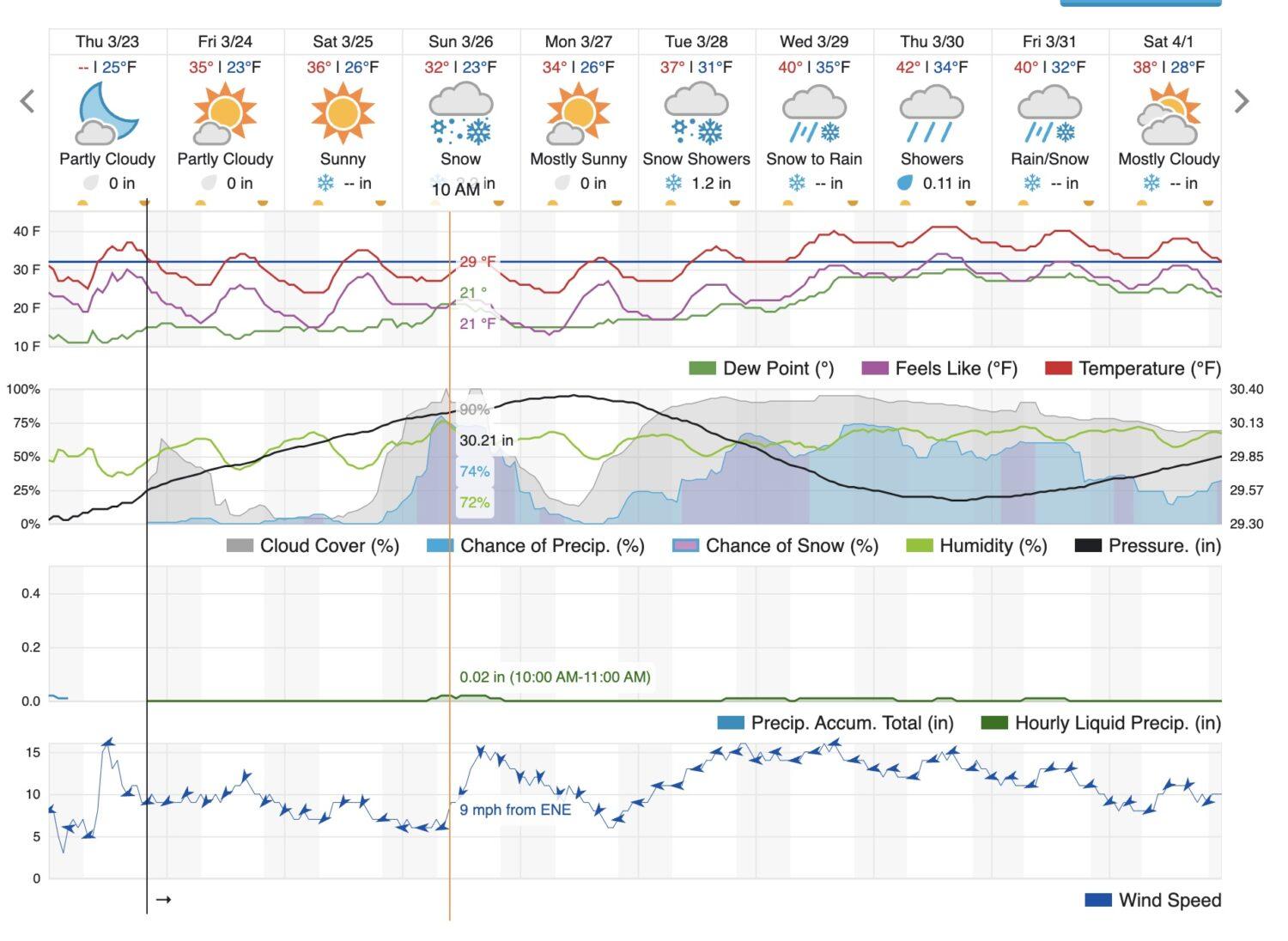 Look at this search for Reykjavik in Iceland. It's a super detailed, 10-day forecast that includes snowfall amounts, temperatures, wind chills, dew points, wind speeds, and so much more. Plus it shows, on a chronological graph, how the temperature and sun ebb and flow throughout the day.
This is helpful when you're planning your days. Don't book a sightseeing expedition at 7 a.m. if the sun doesn't rise until 8:30 a.m. The same goes for sunset seekers. Don't book a 7 p.m. sunset tour if the sun goes down at 5:45 p.m.
You can also use the app to look at long-term weather trends in the "Calendar" tab. It's not forecast data, but it's a good way to get a general idea of what your weather will be like on your trip.

Weather Underground also has a really sleek smartphone app that lets you take this information on the go. In our opinion, the app is far superior to the generic iPhone and Android weather apps and is better than apps like The Weather Channel and WeatherBug, too.
AllTrails
If you're planning to hike, bike, or just do some exploring on foot during your trip, you want to download AllTrails.
AllTrails is a user-powered app (and website) that takes data from hikers all over the world and creates an interactive map of hiking, walking, and bicycling trails that anyone can access. And yes, it's free.
With AllTrails, you can search the trails in your neighborhood's city park, explore Machu Picchu, and literally everything in between. The data is added by individuals who log their hikes into the system, giving users a look at the length, difficulty, rules, and on-the-ground, by-the-minute observations.
Here is a search of Grand Teton National Park in Wyoming and all of its trails – over 100 of them, in fact. But at the top of the page, you can filter for trails you're interested in. It's like Google Flights for finding a hike!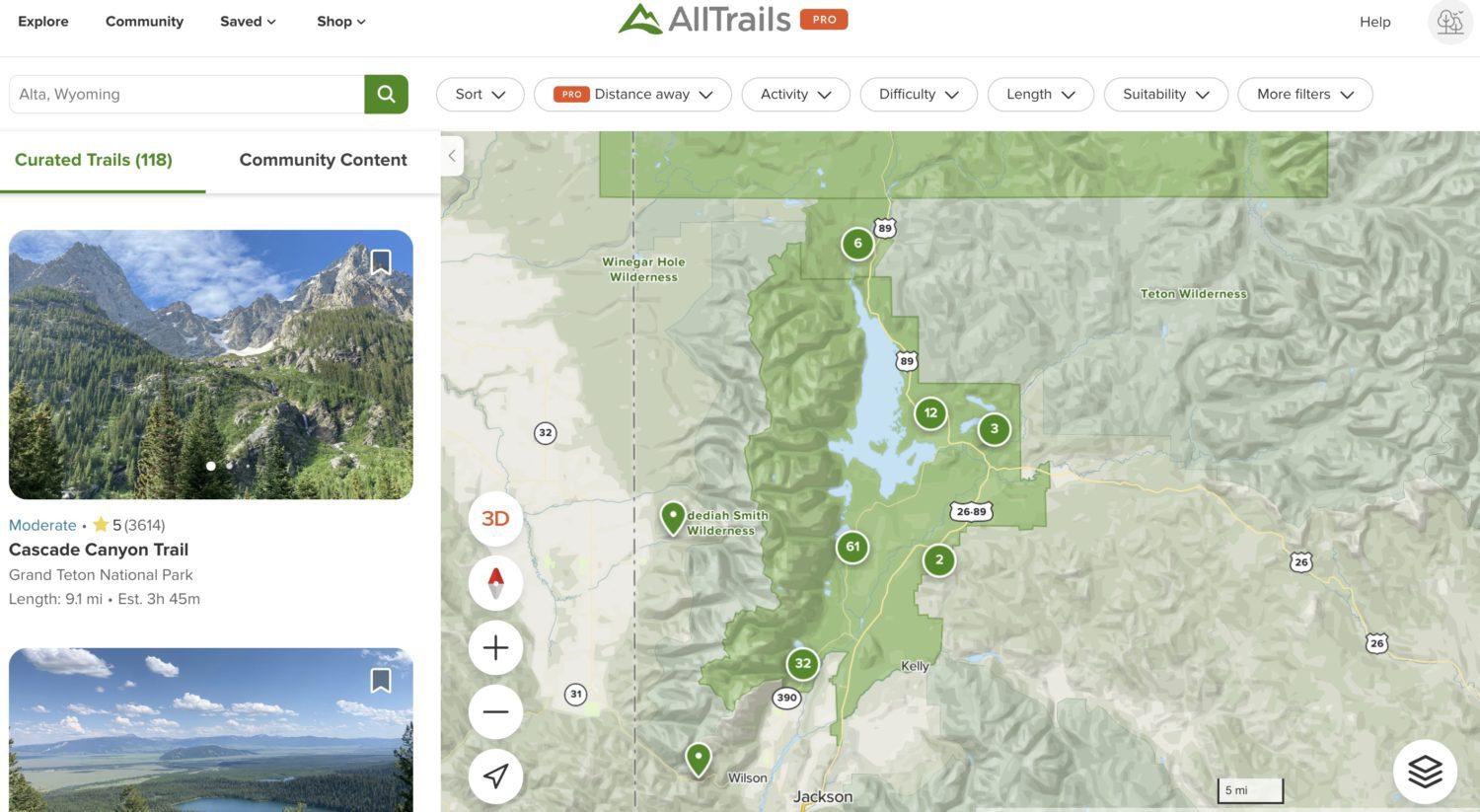 But it's not just for hiking! We always search AllTrails before visiting a new city. In many cases, we've found free walking tour routes on AllTrails in cities like Lisbon and Copenhagen. We love exploring cities on foot, and AllTrails gives you knowledge from locals of the best places to walk or bike for free.
We cannot recommend AllTrails enough if you are looking to plan any kind of trip. If you think you'll use it often, we'd also recommend getting AllTrails Pro. We have it, and at $30 a year (or $100 for a lifetime), you can download maps for offline use, save PDFs of the trails on your device (or print them out if you're worried about battery life, etc.), and you can log your hikes and walks live on the app, too.
At the Airport
Congratulations! You've made it to the airport and you're ready to head out on your trip. Here are the last few tools you need to make your travel day smooth sailing – err, flying.
Flighty
You would have to swipe through five or six different mobile phone apps and websites to get the information Flighty puts all in one place for you when you fly, and that's why the Flighty Pro subscription is our favorite travel tool right now.
Flighty is a flight information tracking app that ingests and distills all of your flight's data into a clean, sleek interface in the palm of your hand on your smartphone. The app is often the first to alert you to critical changes like delays and cancelations and can also help you dig into the minutiae of air travel like how old your aircraft is, your estimated taxi time before and after takeoff, and what the weather looks like at your destination.
Read Next: Why Flighty Pro is Our Favorite Travel App Right Now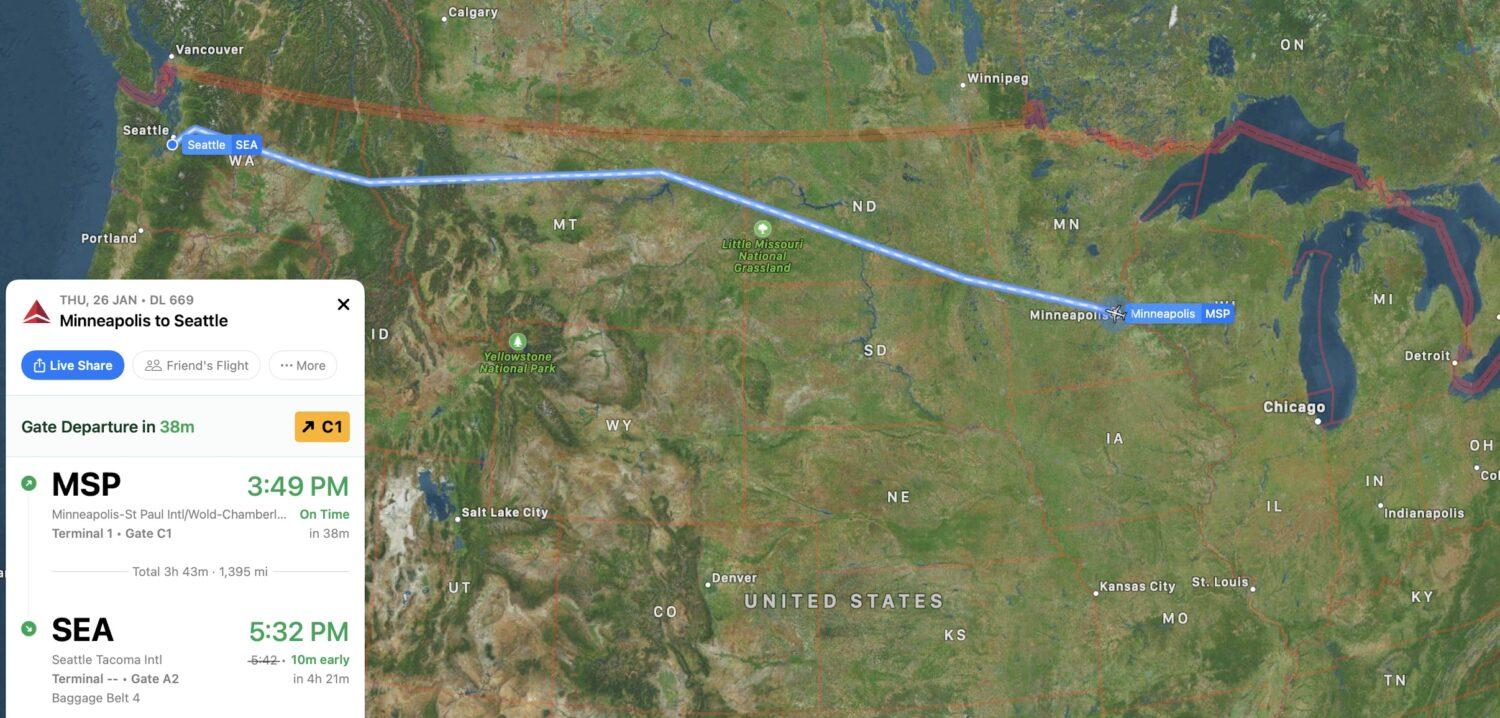 Flighty is a free app, but a Flighty Pro subscription starts at about $50 a year. For me, a relatively frequent flyer and a traveler obsessed with maps and flight data, that $50 is totally worth it all on its own.
The app provides live information about your flight, including giving you a heads-up on delays and cancellations sometimes well before the airlines do. Those alerts have given us a much-needed head-start on rebooking flights amidst cancellations, for example.
The app also gives you detailed plane information and can give you arrival forecasts based on the performance of the same flight over the last 60 days.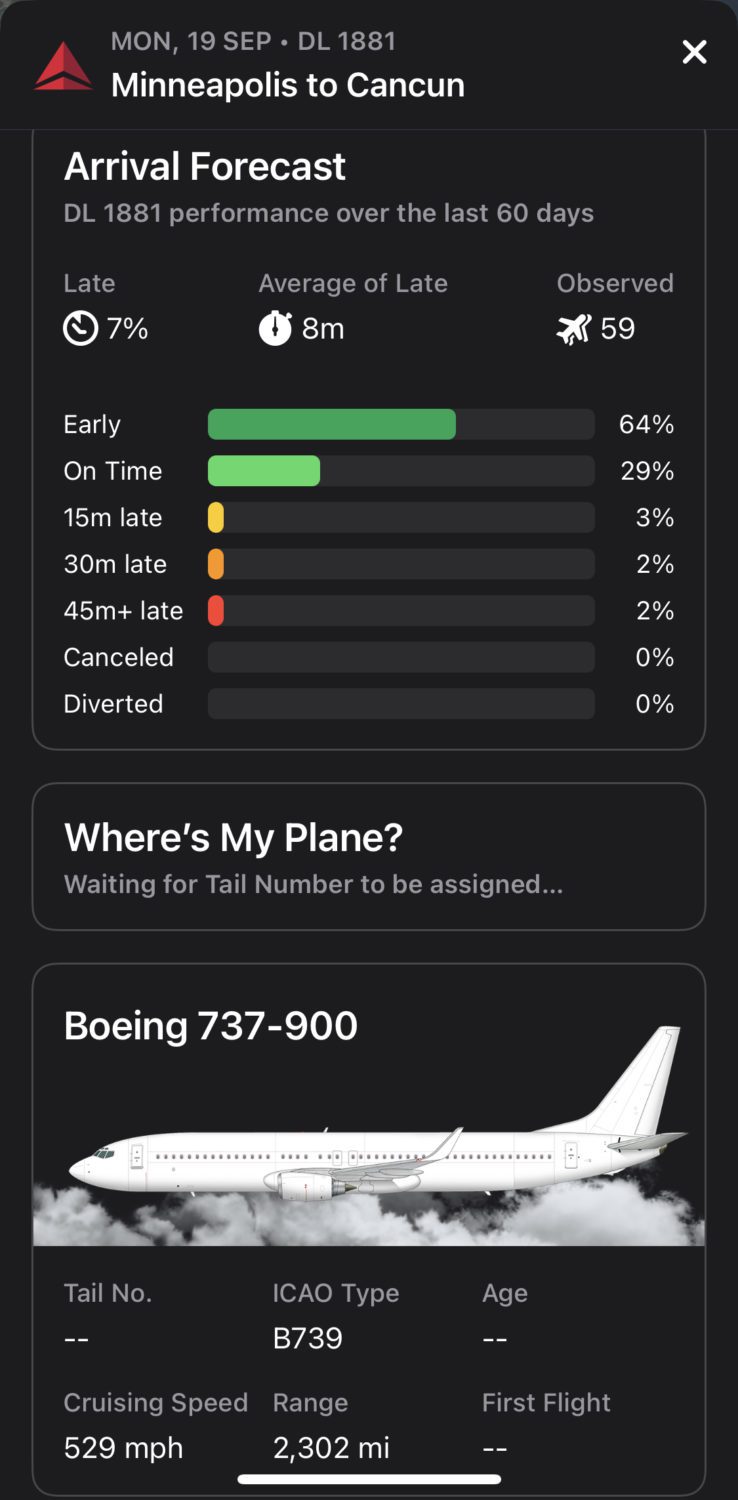 Even if you just use the free version, Flighty is the best flight-tracking tool, period.
LoungeBuddy
No matter where you're flying or why, air travel can be chaotic … and that's where airport lounges come in. Skip the busy terminal and the mediocre $25 airport sandwiches before your flight and get a quiet place to sit with free food and drinks inside the lounge.
There are so many great airport lounge options and ways to get in these days, it can be overwhelming trying to keep track of exactly which lounges you can access.
Read next: Our Complete Guide to LoungeBuddy
And that's where the free LoungeBuddy mobile app comes in handy. Just by downloading the app, and entering a few details about which credit cards you currently have in your wallet, the app will use your phone's location to display the lounge options you can visit, saving you time and a few headaches while you're on the go.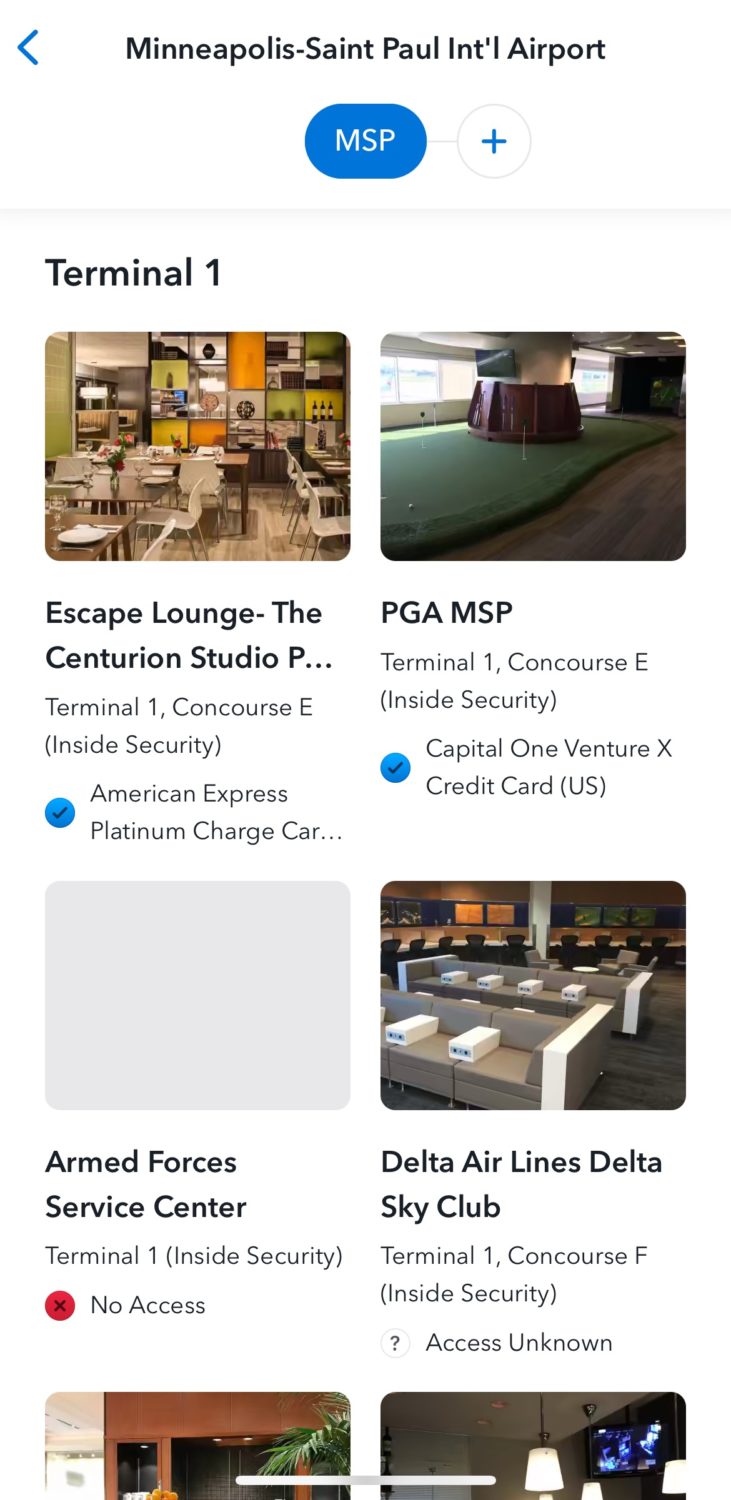 Here's what the app shows you when you're departing from Minneapolis-St. Paul (MSP). The app can tell you if you have access to the lounge or not, plus many more details about what the lounge looks like and its opening hours.
If you don't have a credit card that offers lounge access, you can also buy single-use lounge access through the LoungeBuddy app.
Your Airline's App
Finally, you also need to have your airline's app. Flying Delta? Grab the Delta app. American? Download the American app. You get the picture.
Your airline's app is important to help you select your seat assignment, check your boarding time, and get important flight updates. Plus, it allows you to check in, get a mobile boarding pass, and skip the long lines for check-in at the airport.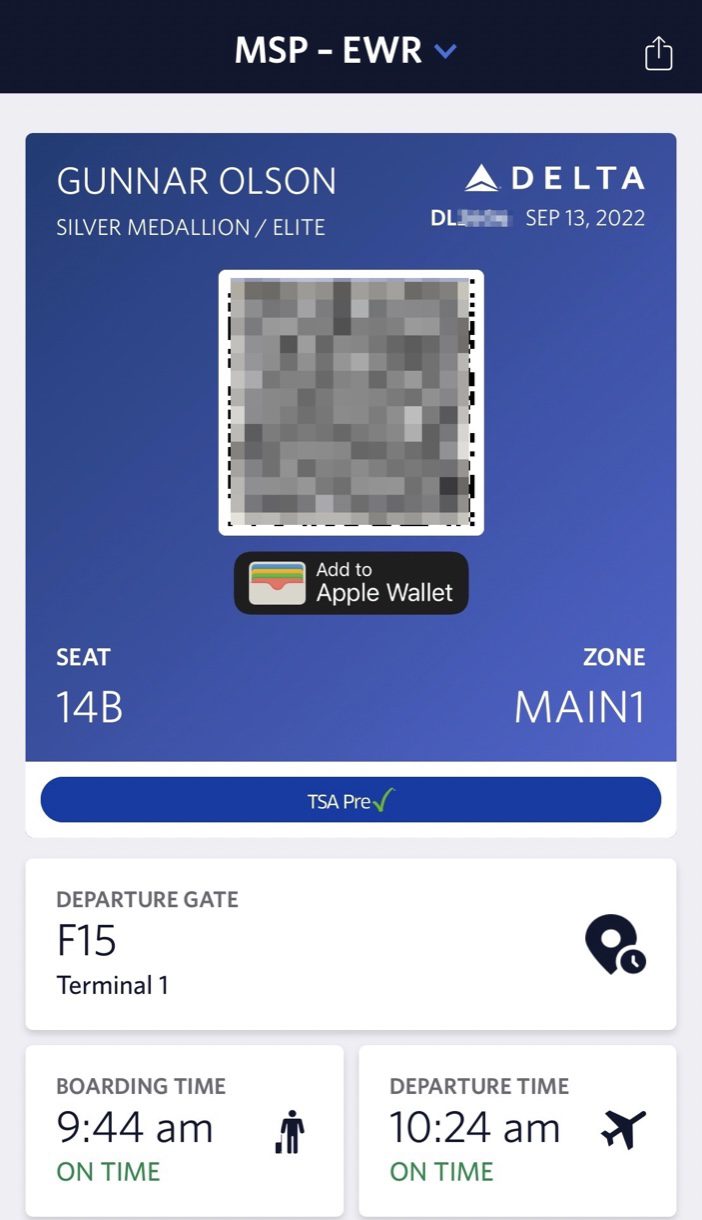 In some cases, airlines will track your checked bags and give you notifications when the bag is onboard, too.
The airline's app will give you the latest, most official information, and is a must-have no matter what airline you're flying.
Bottom Line
Planning a trip is no easy feat.
We've written a lot over the years about our favorite tips and tricks for traveling, especially for cheap. From finding flights to booking lodging to staying organized along the way, these tools and apps are the ones we swear by every aspect of your trip.
Senior Editor Allie Johnson co-wrote this story.