If I was forced to pick one single travel app and delete all the rest, TripIt would the be last one standing on my phone.
From organizing my bookings to laying out my itinerary to helping me keep track of past travels, Tripit is my go-to tool for every single trip I take, and it has been ever since I first started flying on my own.
TripIt has come up big for me many times. When I applied for Global Entry, my past use of TripIt supplied me with a tidy list of all my interational trips to date, including precise travel dates and places visited. Without it, I never would have been able to cobble together all that information. When I downloaded my second favorite travel app, Flighty, my TripIt backlog filled out a lifetime of flights into the app for me, too.
It always pays to be organized when you travel, and TripIt is the single best and easiest-to-use travel organization tool out there. Here's why.
What Is TripIt?
Quite simply, TripIt is a travel planning tool that takes all of your information for each trip and puts it onto a single chronological timeline. Whether it's flights, buses, taxis, hotels, restaurant reservations, tours, ferry rides, or anything else you could get up to on your journey, TripIt has a home for it on the timeline for each trip.
I use the free version, although there's another tier called TripIt Pro you can upgrade to for an additional cost. But, more on that later.
TripIt catalogs all of your past and upcoming trips in an interface that looks like this.
But, up until a few months ago, TripIt had an interface that looked like this. As you can see on the top right of the screen, you can toggle over to the new TripIt whenever you'd like.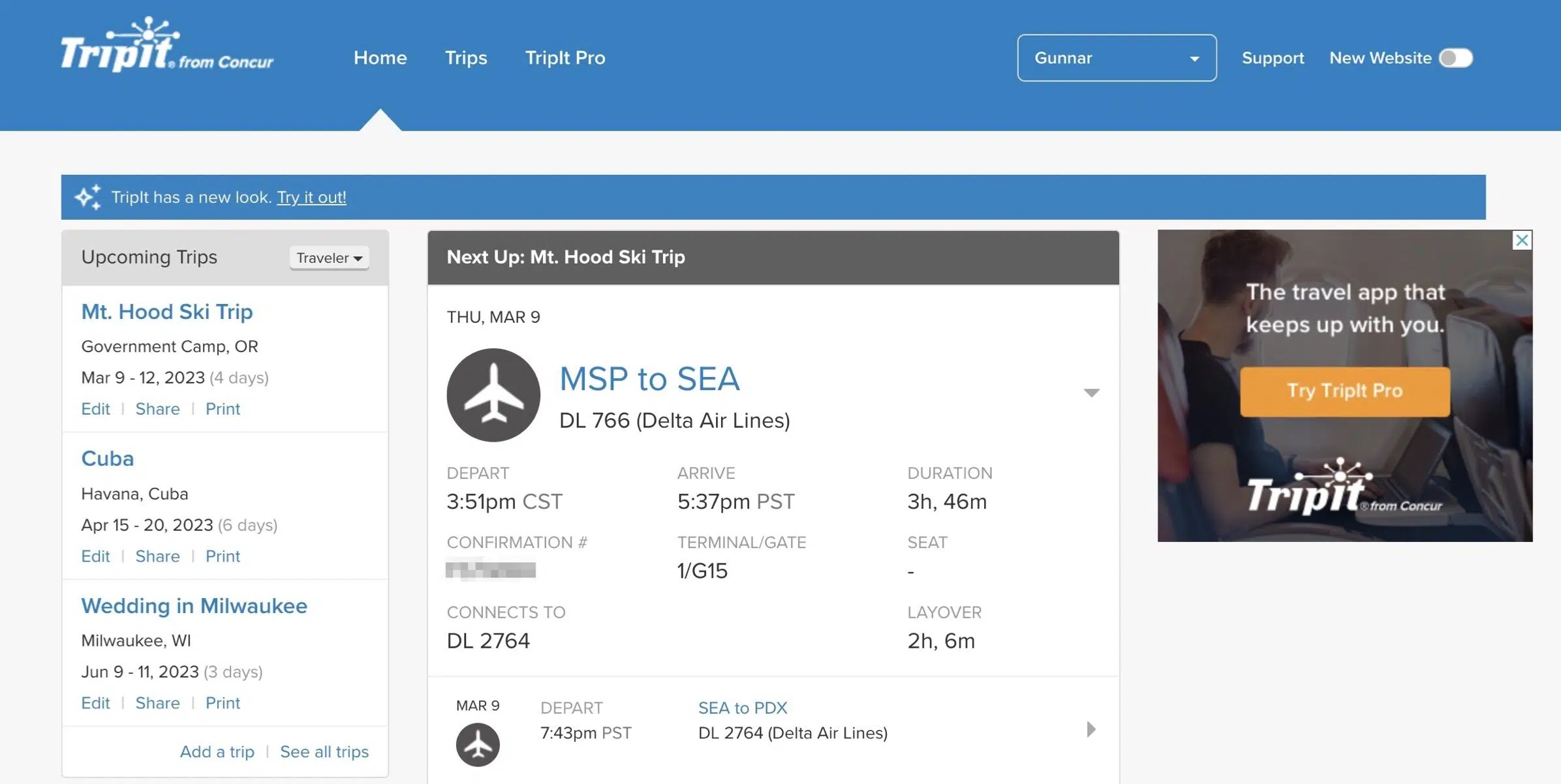 The company must have had some vocal, longtime customers who preferred the old version, so it's still an option for you to use if you prefer it.
What is TripIt Pro?
For $49 a year, you can subscribe to TripIt Pro, which is TripIt's highest tier of service. I can't speak to this tool, but many frequent flyers love the service.
TripIt Pro is geared specifically toward road warriors and business travelers. If your company uses SAP Concur, you can get TripIt Pro for free, too.
Here is what TripIt Pro claims to offer its subscribers:
Seat tracker – lets you know if a better seat becomes available on your flight
Fare tracker – notifies you if your airfare drops
Check-in reminder 24 hours before your flight
Points and miles tracker
Shares travel plans with friends, family, and colleagues
Country-specific travel info
Adds documents, QR codes, and PDFs to your plans
Flight status updates and alerts
Alternate flight alerts
Tells you when to leave for the airport
CLEAR Membership discount
Terminal maps
Terminal and gate reminders
Connecting flight information
Baggage claim info
For me, the free version of TripIt does everything I could possibly need, so I won't be upgrading to TripIt Pro anytime soon. But, it does appear to have a ton of value for just $49 a year. If I were a more frequent business traveler, I'd consider the upgrade.
How to Use TripIt
The best part about using the free version of TripIt is you can pretty much set it and forget it: TripIt does most of the heavy lifting for you.
Let's say you book a flight. You can manually load the flight details into the TripIt website or app, but there's a better way.
When you sign up for TripIt, you attach your email address to your TripIt account. Whenever you get a confirmation email for your flight, you just forward that email to "[email protected]." TripIt then analyzes the email and puts all the necessary information right into your trip itinerary for you.
This also works for hotels, public transportation, restaurant reservations, tours, excursions, and almost any other kind travel activity. It's slick – and saves me tons of time. The first thing I do after I get a confirmation email is forward it to TripIt.
In some cases, if TripIt can't decipher what the forwarded item is, it'll send you an email asking you to input some information manually. This typically happens when you get confirmation emails from very small or independent tour operators that don't have structured email confirmations. Resolving these usually doesn't take much time, though.
You can sync your TripIt account to your personal calendar, too. That puts all of your travels right into your calendar along with everything else going on in your life.
Recently, I also wrote about my love of the app Flighty, which tracks real-time flight information. You can link your TripIt account to Flighty so that when a flight appears in your itinerary, it also appears in the Flighty app automatically.
Once you've forwarded your flight or other bookings to TripIt, it will create a new trip for you. You can then go in and customize the trip information to your liking. Here's an example from my recent trip to Chamonix in France.
You can change the name, the destination city, the dates, and even the photo for your trip. These days, I usually just use the stock city or orange suitcase image, but I used to enjoy tinkering with the photos for my trips.
TripIt puts all the information you provided – flights, transportation from the airport, lodging – into a clean, chronological timeline for you. This is what it looked like for my Chamonix trip in late December.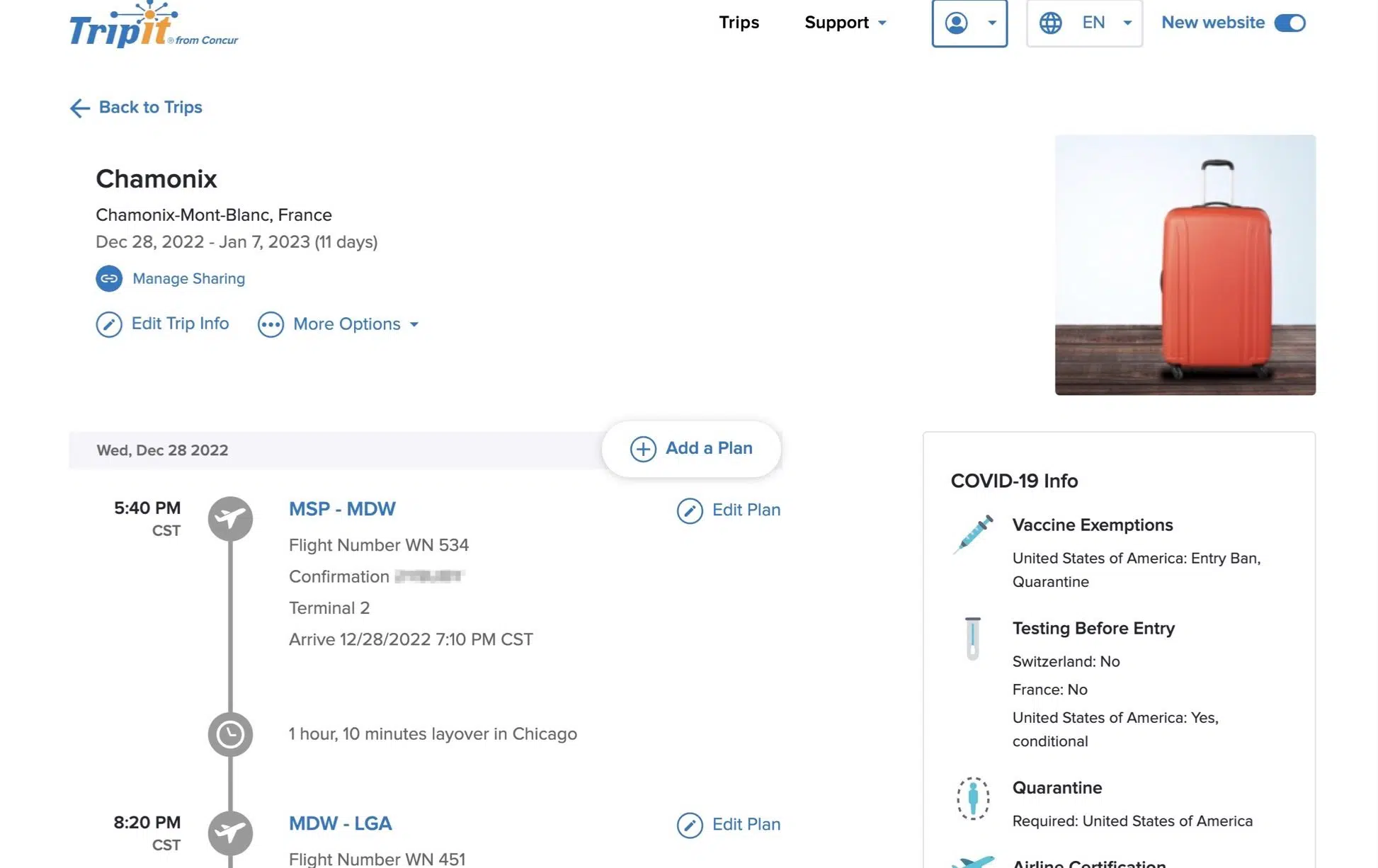 These two Southwest flights I took went seamlessly into the timeline, but TripIt can handle a lot more than just flights, too.
For the same trip, I put in a bus booking and an Airbnb, which all blended seamlessly into the itinerary.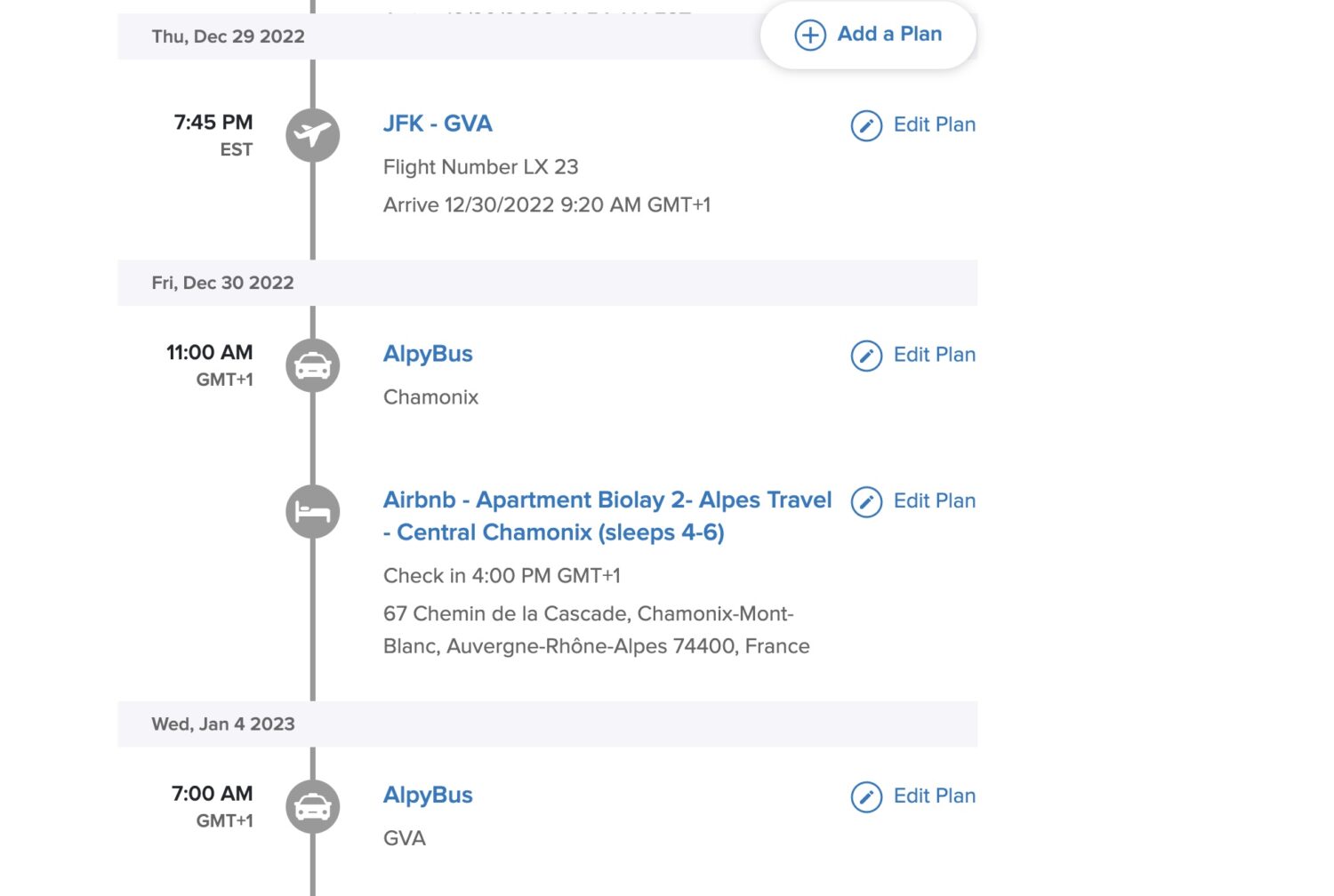 The timeline format has helped me time and time again to avoid scheduling snafus like booking too tight of connections. It also reminds be about Airbnb or hotel check-in times, so I'm not sitting around waiting for my room to become available.
As you can see from a recent itinerary I used in Zanzibar, Tanzania, it logs restaurant reservations, tours, and airport transfers very smoothly, too.
Not to toot my own horn, but I'm pretty good at keeping a travel itinerary. I'm not a tenth as good as TripIt is, though, so I let this tool do all that work for me most of the time.
The TripIt App
I've been using TripIt long before it existed as an app (hipster brag!), so I used to print out physical copies of my TripIt itineraries before heading to the airport. I still do this before international trips to have a hard copy of all my relevant travel information in case I can't get connected abroad, but being able to put TripIt in my pocket has been amazing.
TripIt's app is clean and easy to use. Just like on the website, it creates neat, orderly itineraries with all of your travel plans that you can access offline.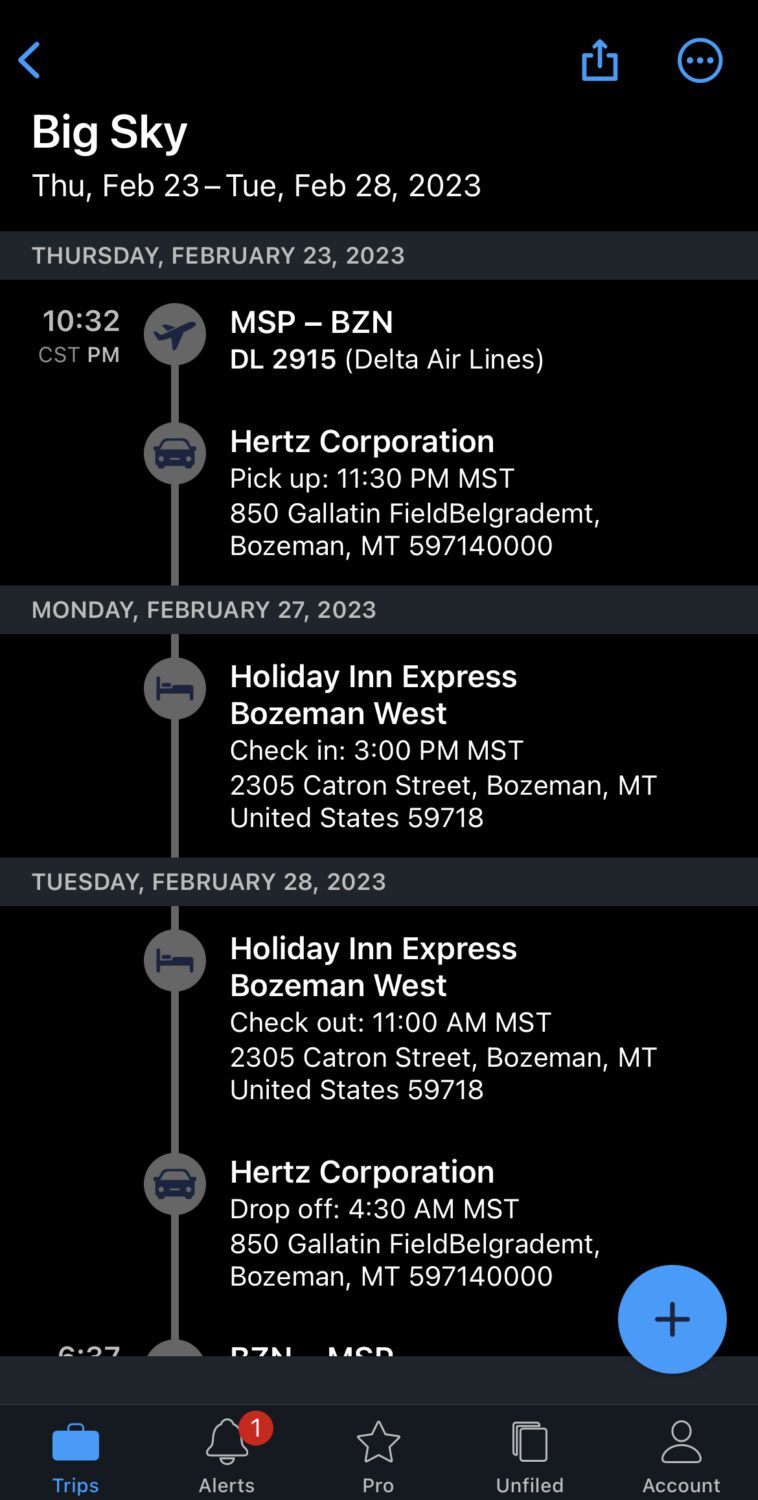 It's especially helpful for getting your lodging information taken care of, so when you land abroad, you can get from the airport to your address without having to pay for cellular service.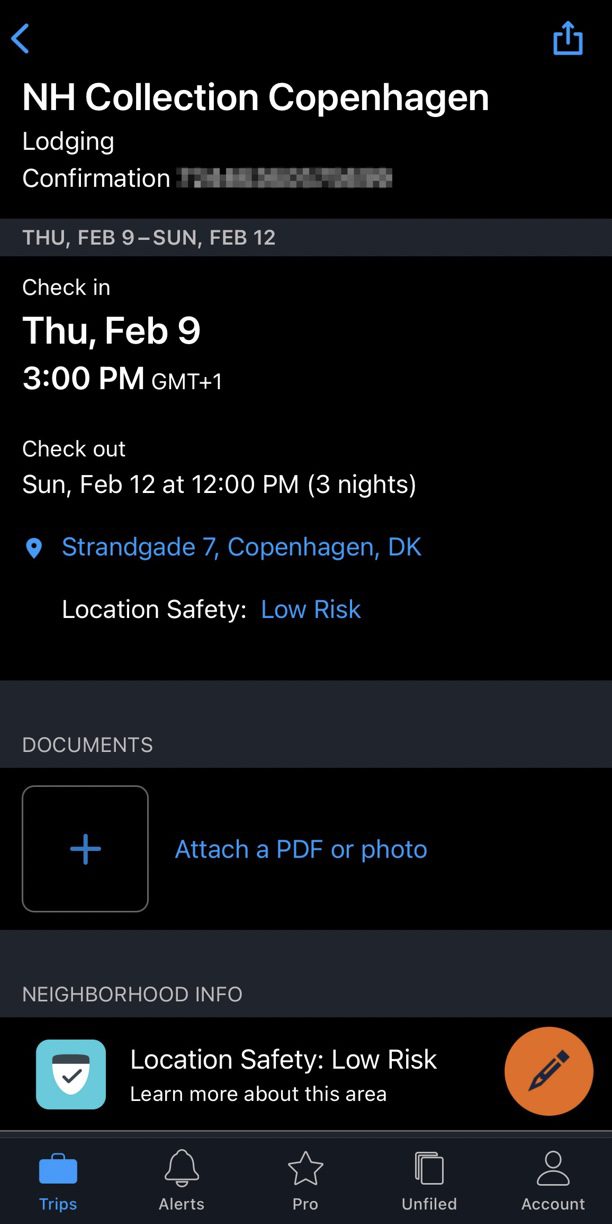 The app also tracks all of your travel stats – one of my favorite features. As a person who love logging and keeping track of things, having TripIt tally up my days, miles, countries, and trips for me is really cool.
The TripIt app is just another reason why TripIt is so powerful and helpful for all kinds of travelers. Be warned: You can waste a lot of time poking around on this app and reminiscing on past travels!
Bottom Line
TripIt was the first travel tool I ever used and if I could only have one travel app forever, TripIt would still be the one.
The free version of TripIt organizes your trips into neat timelines and helps you keep track of everything you need to know before you travel. It should be the first travel app any traveler downloads.
Lead photo courtesy of TripIt.