Picture this: You're planning your trip details from Bangkok to Chiang Mai in Thailand, or a Eurotrip to multiple cities. You're trying to figure out whether you should drive, bus, train, or fly between cities. Which is the cheapest? Which is the fastest?
We've all been there. It can be complicated trying to figure out which travel options are the best for intercity or inter-country travel. Luckily, there's a handy online tool that can help you with this, without opening fifteen browser tabs. Best of all? It's free to use.
Travelers, meet Rome2rio.
How Does Rome2rio Work?
Rome2rio is a search tool that aggregates travel options. It can help you figure out your options to get between two points, with an estimated price for each.
When you enter a departure and destination, Rome2rio will show you the car rentals, carpool, Uber/rideshare, bus, train, ferry, and plane options between point A and B. It gives you a quick glance at your options by travel time and estimated price.
Rome2rio partners with transportation companies including Amtrak, Virgin Trains, National Express, Trenitalia, Skyscanner, Booking.com, and Rentalcars.com to aggregate and provide pricing and booking options for all modes of transportation. They recognize nearly 600,000 bus routes from over 3,000 operators, over 12,000 ferries on more than 500 ferry operators, and over 45,000 flight paths on 670 airlines.
But as with most things, there are perks and drawbacks to using Rome2rio:
Rome2Rio Pros:
It's a great starting point tool. You can search between any city, town, landmark, attraction, or address around the world to find your best transit option.
Your search query can be as small as the Eiffel Tower to your hotel or as large as Warsaw to Berlin.
Rome2Rio Cons:
Prices are more generalized and may not always be the most accurate and up-to-date information. This especially applies to airfare where prices can fluctuate quite often.
There are better tools for searching for specific modes of transportation. Rome2rio is a great starting tool to narrow down what will likely be the cheapest or fastest option. For example, if you decide to fly to a destination, use Google Flights to search for flights instead.
Now, are you ready to learn how to best utilize this search tool? Let's get started.
How to Search on Rome2rio
To start, head to Rome2rio.com. Start by entering your departure and destination. This can be an address, attraction, or city.


Rome2rio will populate all of your travel options between the two points you've selected. On the left side, you'll find the transportation method, estimated travel time, and estimated cost.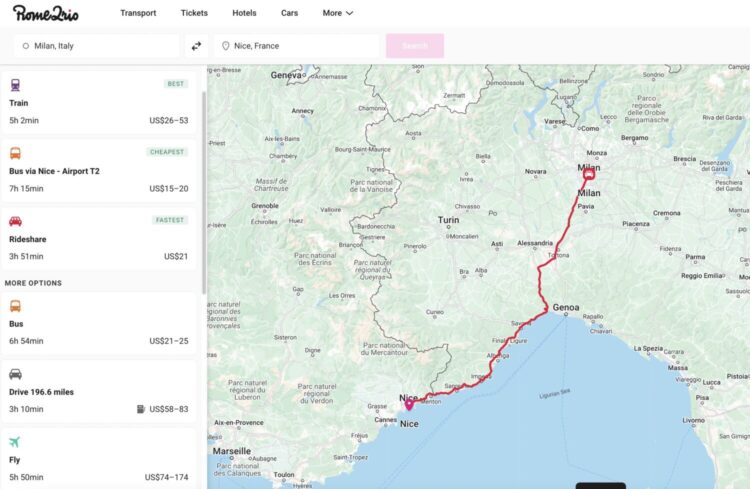 Click on one of the options listed on the left side to see transportation option details. For example, this train option from Milan to Nice requires one train change. Train station names are provided, with time estimates for the stopover and a total cost estimate.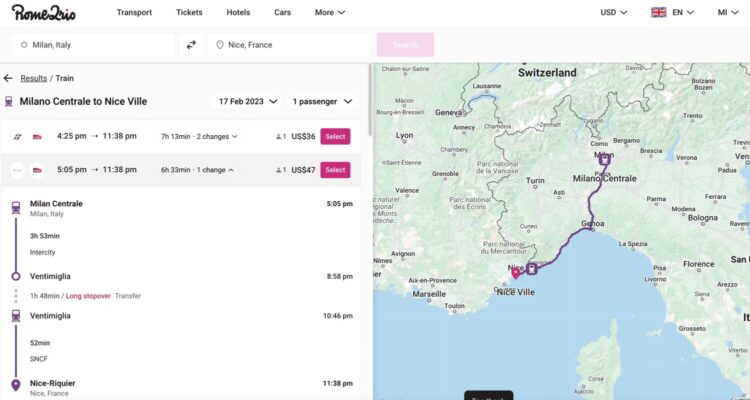 Rome2rio includes transportation information on how to get to train stations or airports and not just tips on how to get from one city to the next.
How to Search for Multiple Stops
Have more than one stop you're hoping to plan? Rome2rio previously had the option to add another stop in your search. That function has been removed from the main search tool, but there's a workaround if you're creating a multi-city itinerary.
Rome2rio has kept a previous version of its website available where the option to search for multiple stops still exists. Here's how to use it.
Simply click the plus sign button to the right of the search bar to add another stop.


Once you've added a new stop on your route, you'll see your trip overview on the left side.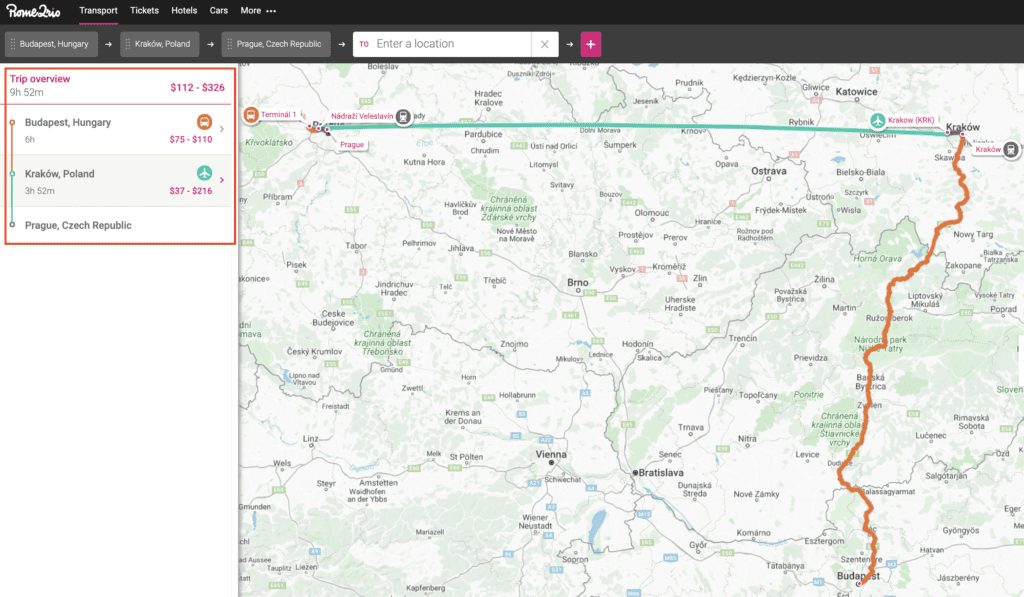 Click on any of the stops to browse or change the transportation options.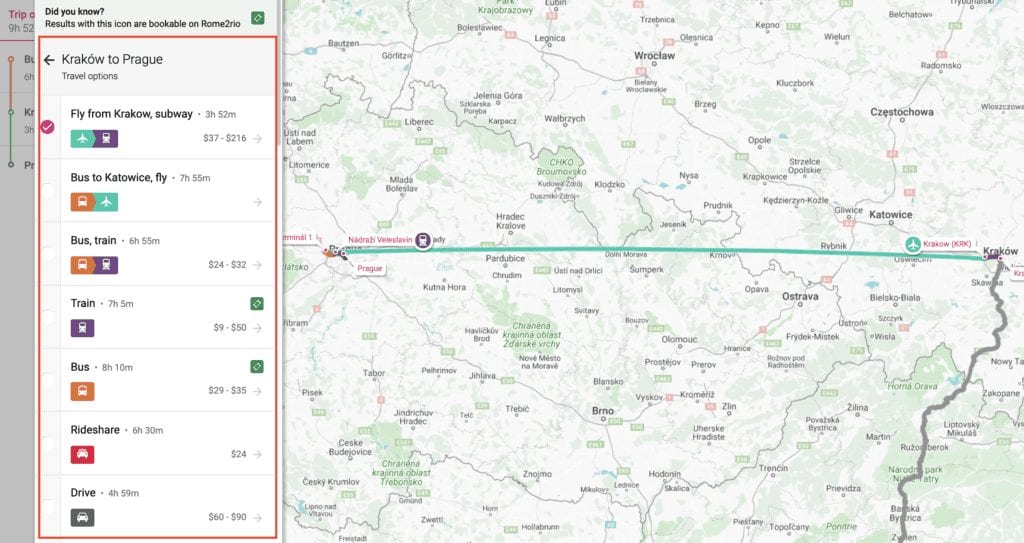 If you're planning a backpacking trip across Europe, Asia, or even the U.S., this is the perfect tool to map out your best route.
How to Book Tickets on Rome2rio
Once you select your transportation option, you can search for tickets within Rome2rio.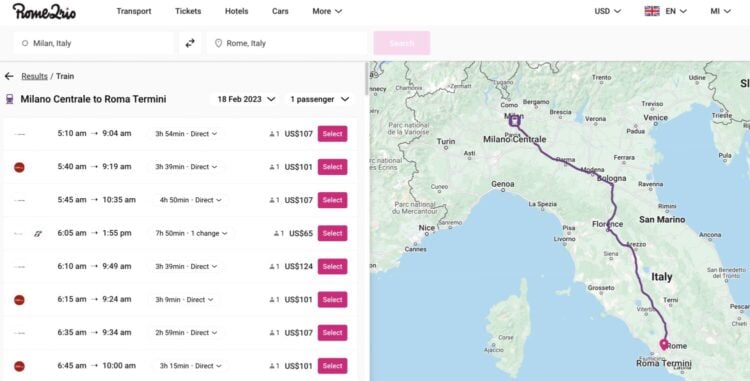 Of course, you can always take the information Rome2rio provides and search directly with a transportation provider's website.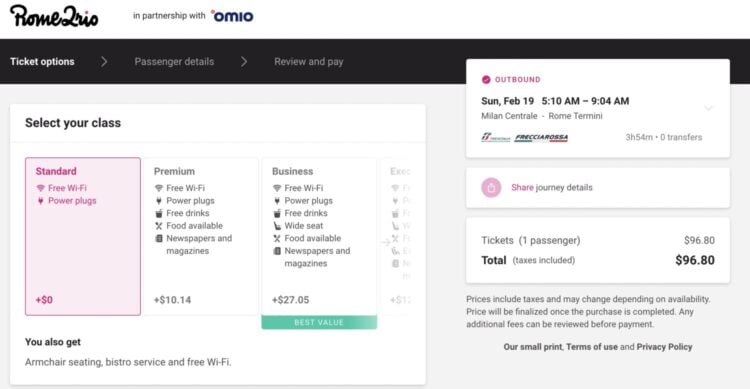 And once you've found the option that works best for you and your travel preferences, it's time to book. You can head to the transportation company you settled on, check out, and thank Rome2rio for being a service that exists.
Bottom Line
If you're like us, you used to spend hours searching multiple websites for the best transportation option from city to city. Rome2rio makes the process of figuring out how to get from point A to point B much easier. We love this search tool and know you will, too!