Artificial intelligence software and the new wave of chatbots that run on it have swiftly taken over everything from stock markets to the national news narrative. Next up: Your vacation planning.
There's a new, AI-backed site called Roamaround.io that will spit out a detailed itinerary for what to see and do on your next trip – and in our initial experience, some of its ideas are pretty darn good. Just plug in your destination, when you'll be visiting, and how long you're staying. Fifteen seconds or so after hitting enter, you've got a day-by-day itinerary filled with where to go when, places to eat, and more.

It's among the first travel-focused applications we've seen using this buzzy new technology. And while it's called Roamaround.io, it's actually powered by ChatGPT – the now-famous chatbot that practically paved the way for this AI explosion.
Who's behind this tool? We don't know. Internet registration records from the website who.is have been redacted for privacy – all we know is that the site was initially created sometime in February 2023.
A word of caution: All these AI tools are a product of what's already on the internet … and we all know that's not perfect. Travelers will want to double-check for errors and off-base suggestions before plowing ahead with a Roamaround.io itinerary. Think of it as a starting point for planning your trip, not a tailored itinerary you should follow to a T.
Here's a closer look at how it works.
How to Use Roamaround.io
Getting started with Roamaround.io couldn't be simpler.
Just head to Roamaround.io and tap in the details of a trip you're planning: Where you're going, when your trip is starting, and how many days you're visiting for. Hit enter and in about 15 to 30 seconds, it will give you a day-by-day itinerary with suggestions on sights to see, restaurants to eat, day trips to make, and more.
But is it any good? To put Roamaround.io to the test, I plugged in a few cities I'm familiar with to see what it came up with. Are the lunch or dinner recommendations any good? Do the suggestions make sense? Is it even identifying the right city?
For example, I recently returned from a brief, two-day stay in Tokyo and saw as much of the city as I could. I figured I might be a decent judge of whether Roamaround's suggested itinerary was solid or silly.
Here's what it came up with:

My verdict? Not bad! Roamaround clearly understands geography, as it isn't recommending you hop from one spot to another that is miles away. For example, it's just a five-minute walk or so from Tokyo Tower to Zozoji Temple and the alleys of Golden Gai are, indeed, in Shinjuku. The assortment of pricey versus modest meal suggestions is a nice touch, though you could argue some of the restaurant recommendations are pretty … basic.
One thing to keep in mind: Every itinerary is littered with links to Viator.com searches for tours, some of which may or may not be helpful. This is almost certainly how the creators of Roamaround.io intend to make money: If you wind up booking a tour, they'd likely get a cut.
What about Istanbul, one of my favorite cities in the world? My wife and I spent a few days there last September, so to compare, I asked Roamaround to plan a three-day trip for me this coming September.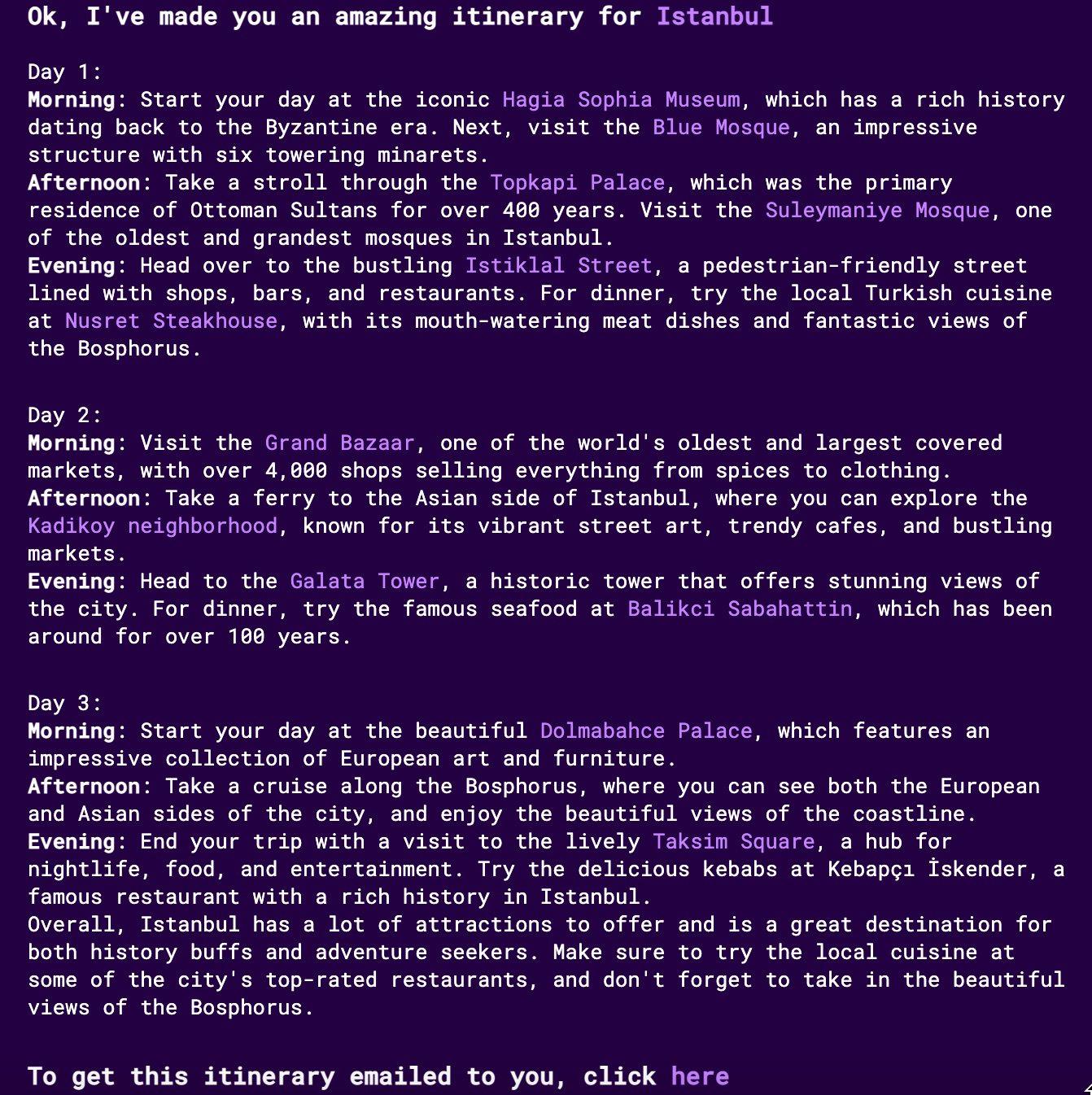 Well … OK. Sure, Hagia Sophia and the Blue Mosque are must-visits, but Hagia Sophia isn't even a museum anymore – it's a mosque. And go to Nusret Steakhouse for some "local Turkish cuisine"? You mean the over-the-top restaurants started by the man better known as "Salt Bae"?
OK, one last try for a city I know all too well: My hometown of Minneapolis. Minnesotans know all too well that two days is plenty for a visitor coming next January.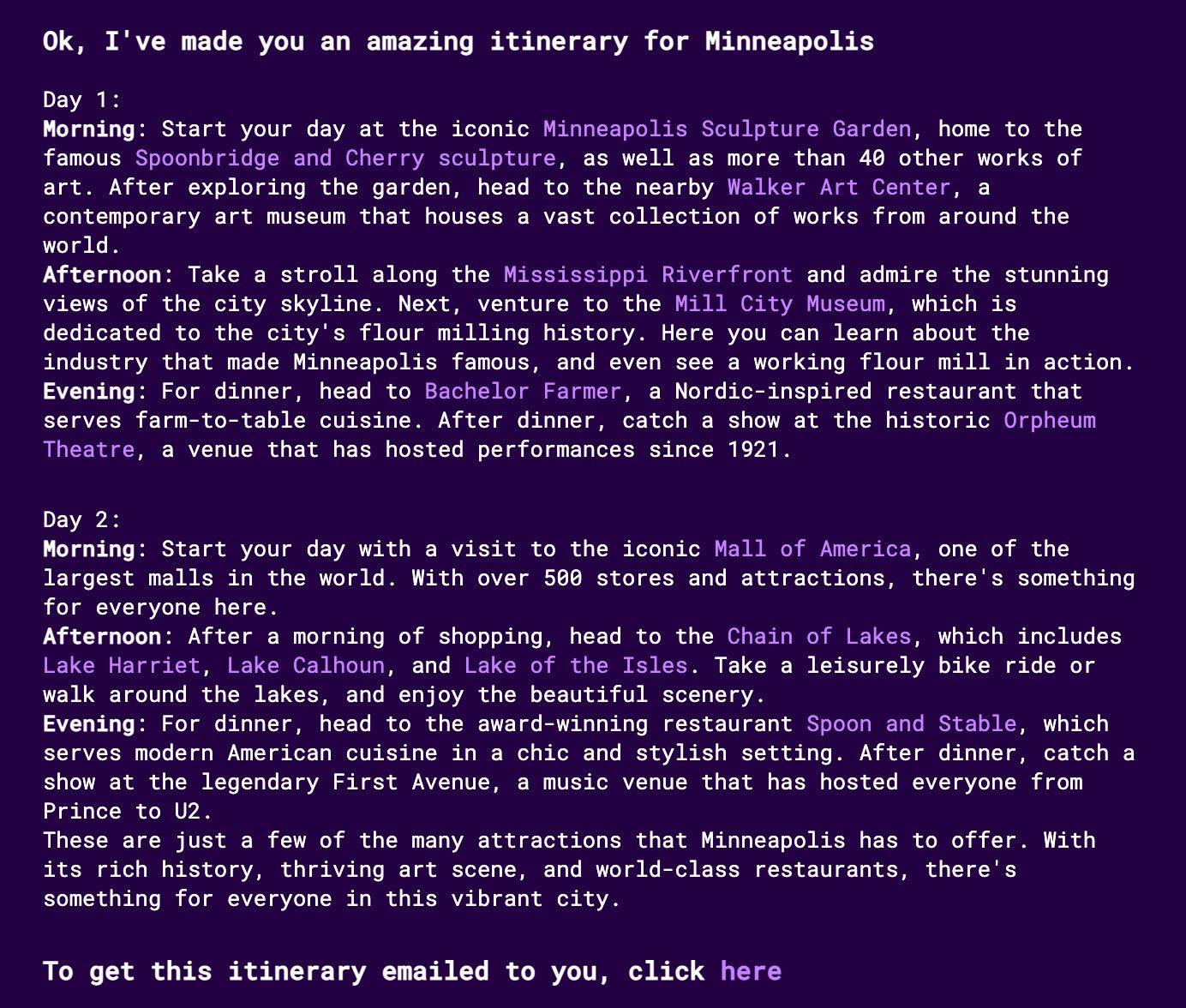 An afternoon stroll along the Mississippi Riverfront is indeed wonderful, but probably not in the middle of winter – it seems Roamaround.io's recommendations may not consider the weather or even the time of year. Oh, and dinner at Bachelor Farmer sounds great … in 2019. That restaurant closed in 2020.
Clearly, some itineraries are going to be much better than others.
What to Watch For When Using Roamaround.io
I'll gladly turn to Roamaround.io for ideas for my next trip. Not to plan the entire trip down to the minute, but for a starting point.
After testing out Roamaround for a few hours, a handful of common problems and limitations have cropped up:
We haven't seen any recommendations for lodging or even areas to stay, which is often one of the hardest parts of travel planning in a new city
It's hard to know exactly how Roamaround (or, more importantly, ChatGPT) decides what and what not to include in these itineraries. But if you're on the hunt for a hole-in-the-wall meal or hidden gem, it seems safe to say that these itineraries won't unearth them – the most well-known spots are often what we're seeing pop up.
Roamaround.io might recommend a top-notch restaurant, but that doesn't mean you can get in during your trip. Clearly, the site doesn't consider how hard it is to secure reservations
Be mindful of the weather at the time of your stay, because it doesn't seem like Roamaround is taking that into account for its recommendations.
Bottom Line
The future is here. Like it or not, AI and tools like this are going to dominate the conversation for the foreseeable future. And that includes the way we travel.
Roamaround.io is a promising new travel planning tool that can spit out fairly detailed itineraries, giving you some ideas to get started on piecing together your trip. But for now, it's best to view these AI-generated travel itineraries as a starting point – and do some of your own research to back it up.
Try out Roamaround.io for an upcoming trip and let us know what you think!