Call it travel hacking or whatever you'd like, but we're all about using the right tools to travel for cheap – even when they're not really "hacks" at all. That means using Google Flights to find the cheapest flights possible, following the Flight First Rule, and maximizing points and miles to make business and first-class fares nearly free.
But there's one controversial method that some travelers swear by to save money… and one that many airlines hate. It's the subject of lawsuits, news headlines, and arguments, and it's making the rounds again after some good (and really bad) press.
You may have heard of hidden-city ticketing or throwaway ticketing … but more likely, you've heard of Skiplagged, the site that popularized this practice. But before you use this method to score cheap flights, there are a few things you should know – including why it may not be the go-to resource for cheap airfare that many websites and influencers have made it out to be.
Related: How to Find Cheap Flights: 10 Tips to Save BIG on Airfare!

What is Skiplagged?
Skiplagged has turned hidden-city ticketing or "throwaway ticketing" into a household name.
Throwaway or hidden-city ticketing is when you book a multi-stop flight but don't take the entire itinerary – i.e. throw away your ticket – in order to save money. Skiplagged has wrapped this method of booking flights into an online flight and travel search engines, which you can use to book cheap flights as well as hotels.
But it's much, much different from other online travel agencies (OTAs) like Priceline and Expedia in how it finds and displays cheap flights.

How Does Skiplagged Work?
Skiplagged takes the concept of skiplagging or throwaway ticketing but makes it easy to find those hidden deals.
This concept is best described with an example:
Let's say you want to fly from Minneapolis-St. Paul (MSP) to Atlanta (ATL), but the prices are sky-high.
However, there's a cheaper flight from Minneapolis to Orlando (MCO) with a stop in Atlanta for much less.
Hidden-city ticketing means you'd buy that ticket with no intention of flying through to the final destination of Orlando. Instead, you'd just get off in Atlanta and skip that second segment altogether.
This hack has been around for a while, but Skiplagged helped popularize it – and made it much easier to find these (potentially) money-saving workarounds.
Skiplagged.com's graphic explains the method well: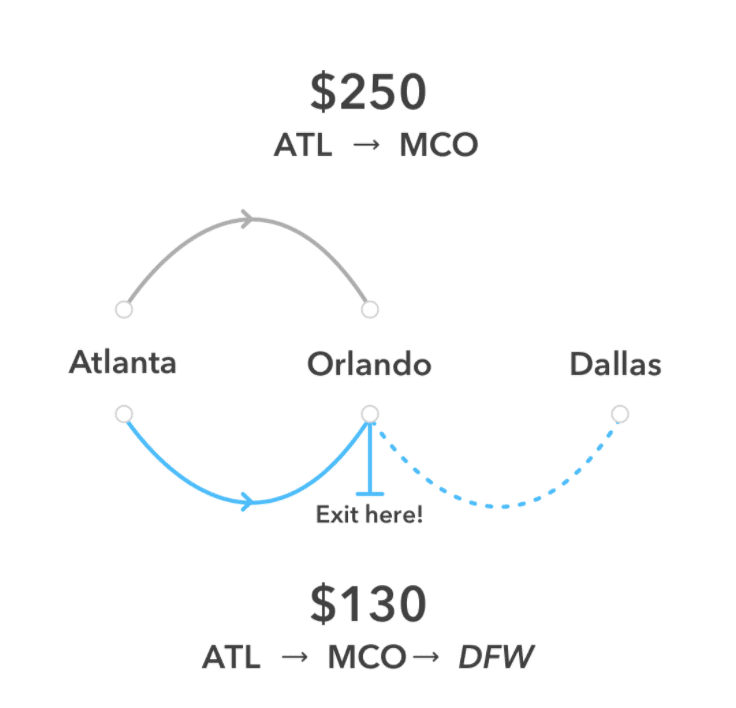 You've probably seen or read of Skiplagged in the news. In the past several years, there's been quite a buzz around airlines coming after travelers who use Skiplagged to ditch part of their itinerary. Just this month, it made headlines again after a teen was "interrogated" and eventually banned by American Airlines for skiplagging.
Yes, even the Skiplagged website itself warns against using this method often. Airlines could suspend your frequent flyer account and seize your miles like United has threatened, or worse. Some travelers who have used and abused this tactic have been sued. So yes, this means you should not attach your frequent flyer account to any flight you skiplag.
As you can imagine, using this method brings some complications. So before you take off to buy a bunch of hidden-city tickets, there are a few things you should know.

Must-Know Tips for Using Skiplagged
You're probably already thinking of all the ways in your head that this could go wrong. Well, there are a few.
Take these "rules of skiplagging" into consideration before using this method on your next trip.
It only works for one-way tickets. This is probably the most important part of hidden-city ticketing. For any flight, the rules are the same: once you skip a segment, the rest of your reservation will be canceled. So if you skip out halfway through on a roundtrip flight, you'll have no flight home. To use this method for a round trip, you'd have to book two, separate one-way tickets.
Don't check a bag. Your checked bag doesn't know it's supposed to get off early. If you skiplag, you can only bring a carry-on. And pack light — if the gate agents require bags to be checked on an overcrowded flight, you'll be SOL.
Don't make it a habit. Airlines despise this tactic, and for good reason. They might worry that you're going to miss that second flight you're purposefully skipping, and call your name out or hold the doors in hopes that you make it. But more importantly, airlines think that passengers who do this are breaking the rules of their "contract of carriage."
Keep in mind that Skiplagged is an online travel agency (OTA) just like Priceline, Expedia, and others. So when you're booking through Skiplagged, you're booking with a third-party agency rather than direct with the airline – they collect a small fee on the flights it sells. And they're not only selling throwaway tickets: They sell normal one-way and round-trip flights, too.
So yes, Skiplagged.com wants to sell you flights. And while there can be savings, it's not a guarantee.
These days, we highly recommend booking directly with the airline to maximize flexible cancellation policies and protect yourself in case of changing travel plans.
Should I Use Skiplagged to Save?
It depends.
There's no denying that hidden-city ticketing can save you money in certain situations. But don't assume that you'll save big bucks each and every time you search through Skiplagged or book a throwaway ticket.
Using Skiplagged can be great for travelers who:
have searched extensively and can't find a better price on flights for a specific trip
know the limitations and challenges of skiplagging
travel with only a carry-on
Skiplagging isn't a good option for travelers who:
want a simple and uncomplicated flight booking
want a roundtrip flight
haven't done extensive searching on Google Flights and other sites
need to check a bag
Sometimes, the savings will be nil – or fares will be higher than just searching on Google Flights and booking directly with the airline.
For example, a flight from Minneapolis-St. Paul (MSP) to Los Angeles (LAX) on Google Flights and booked directly through American is just $93. Meanwhile, the same date and destination search using Skiplagged.com for hidden-city ticketing comes up $20 higher.

In other cases, this could save you a lot on a one-way flight. Instead of booking Minneapolis to Charlotte (CLT) one-way for $216…

You could book the one-stop flight from Minneapolis to Greenville, South Carolina (GSP) and get off in Charlotte for a much lower fare of $81. Just remember – you have to buy a separate one-way flight back if you want to eventually get back home.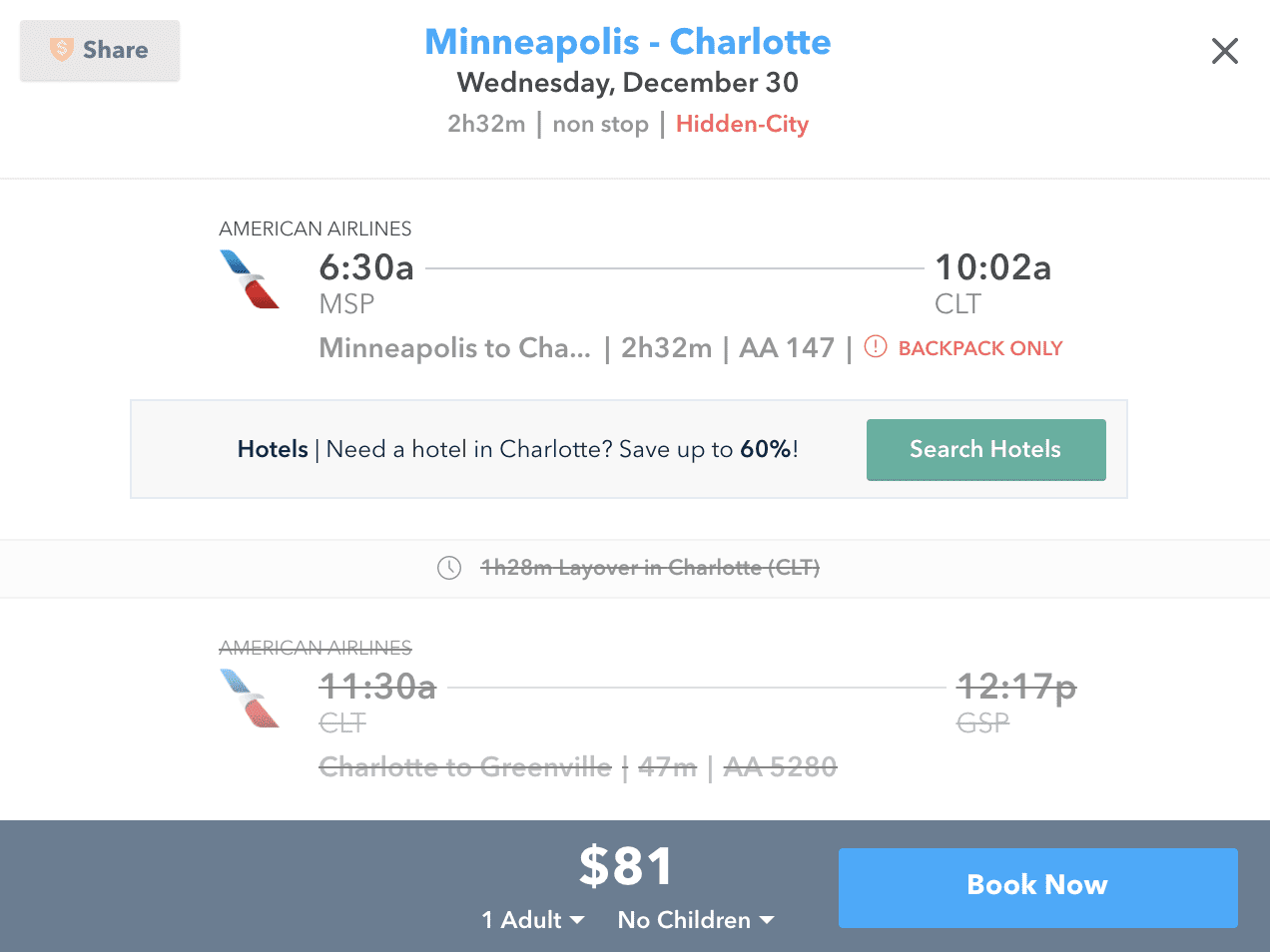 And remember, this method only works for one-way flights, so always compare the cost of two one-way flights to a roundtrip flight booked directly with the airline. For example, a flight via Skiplagged from Minneapolis to New York City (JFK) at $97 might sound like a deal.

But the roundtrip cost for flights booked direct with the airline is only $197.

You could technically book both ways with Skiplagged, but it's a bit more complicated. And given the risks of using this method, it's not worth it unless you're saving a substantial amount of money.
As you can tell, there's some trial and error involved to see if using throwaway ticketing will save you money.
Is Booking Through Skiplagged Safe?
Skiplagged itself is a reputable website. There's no question about that. Booking through the site is safe and secure.
But there's a reason why we urge all travelers to exhaust all their other options to find cheap flights before booking a fare through Skiplagged. It's looked down upon in the travel industry (especially by airlines – surprise, surprise.) That's why we warned early on in this story not to attach your frequent flyer account if you plan to use Skiplagged. Other possible consequences can include invalidation of your airline miles, and even airlines revoking your elite status.
Airlines have cracked down on frequent abusers. Lawsuits have even been filed against Skiplagged and even some of its customers. And although few, if any, have been successful, the fact that it's become a legal matter should tell you: Use Skiplagged at your own risk.
In short, Skiplagged is best used as a last-resort to find a better price – not your first stop for cheap flights.
How to Use Skiplagged
If you've exhausted all other resources for finding an affordable flight and have decided the money you will save using Skiplagged is worth it, we won't stop you. In fact, we'll even walk you through how to use Skiplagged to make it work.
How to Search Flights on Skiplagged.com
Remember: Skiplagged is an online travel agency, not just a search platform.
To start, search one-way flights to compare costs.

Once you've entered your departure city and desired destination, you'll need to filter to only see hidden-city options. This will filter for flights that don't end at your destination but simply have a stop there.

Some searches won't have this hidden-city toggle. In that case, choose to filter by layover cities. This will mean a bit more work on your end: You'll have to work backwards to research routes that often have your desired destination as a layover.

Unfortunately, Skiplagged.com isn't a perfect search engine tool for finding hidden-city flights. But it's by far the best tool for discovering some of the hidden-city options that might be able to drop the costs of your flight. And the keyword there is might.
We always recommend comparing the results to roundtrip fares searched through Google Flights. In our minds, Skiplagged and other services like it are best as a last resort when the airfare you need is high – not as your first stop for finding cheap flights.
Download the Skiplagged App
Prefer using a mobile app. Skiplagged.com also has an app for their airline search engine on the Google Play Store and the Apple App Store.

Bottom Line
If you're feeling more confused than when you started, you're not alone. Hidden-city ticketing is more complicated than it may seem – and often unnecessary.
We recommend simpler methods like using Google Flights for the vast majority of flight searches, using these tactics only when the airfare you want is exorbitantly expensive.
Just please, we're begging you: Be sure you book a way home, don't check a bag, and don't make it a habit.