We bash basic economy fares all the time. They're confusing, with strict regulations meant to convince you to pay up to avoid the pain. It's just an excuse for the airlines to charge us more.
And yet I find myself continually buying and flying basic economy with Delta. Thanks to a series of workarounds and sweet spots, Delta's basic fares aren't as punishing as its major competitors – it won our battle of basic economy, after all. But there's more to it than that.
Here's why I don't follow my own advice and keep flying Delta basic economy.
Substantial Savings
Airlines don't actually want you to buy a basic economy fare.
It's the worst-kept secret in the aviation industry. Between some carry-on restrictions, no seat assignments, boarding last, and other rules, these no-frills fares are meant to do one thing: Convince you to pay more for a main cabin fare to avoid it.
In short, airlines are charging more while giving you less. Case in point: Delta, American, and United all started charging $70 to upgrade to standard economy on many round-trip flights. That's up from the previous norm of $60.

Multiply that by a few times each year, and it's reason enough to consider suffering through basic economy. But when you can beat Delta basic economy fares, it's an even easier sell.
Carry-On Bags? No Problem
Delta isn't alone in allowing basic economy flyers to bring carry-on bags. But it's still noteworthy.
The Atlanta-based airline long offered the least restrictive basic economy fares among the three major U.S. airlines. Eventually, American Airlines relented and began allowing carry ons, too. United basic economy still bans them.
Since I typically only pack in a carry-on bag, it's important. And Delta's basic economy fares fit the bill.
Free Checked Bags & Priority Boarding with the Right Credit Card
Every airline has its own co-branded credit cards that can help you beat basic economy fares. And Delta is no exception.
I carry the Delta SkyMiles Gold American Express Card. And even when I'm flying basic economy, it gets me some important benefits.
For starters, I can check a bag for free if I need it – yes, even with a basic economy fare. And you don't need to pay for your flight with your Delta credit card to get that benefit. Considering Delta – and all airlines – charge $35 for a checked bag each way, it adds up fast.
But Delta's co-branded credit cards also mean I get to board in the Main Cabin 1 group in Delta's new boarding order – far ahead of where most basic economy flyers board. That means I never have to worry about running out of overhead bin space to stow my carry-on bag.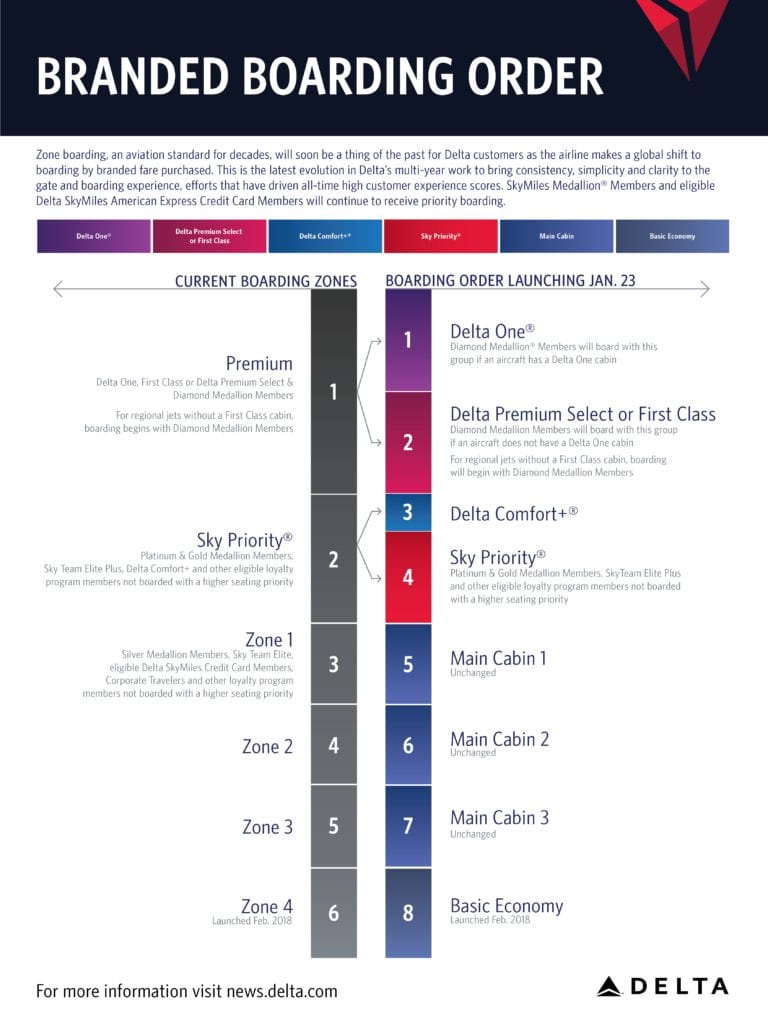 Read up on which Delta credit card is right for you.

No Status? No Problem
One of the downsides of basic economy fares is that they're not eligible for upgrades due to airline status. For me, and 99% of travelers, that's just not a problem.
We warn most travelers to avoid chasing airline status. Loyalty isn't free, and building airline status makes more sense for frequent business travelers who are constantly on the road. For most, free agency is simply more powerful.
And even though I frequently fly Delta – it's the dominant airline at my hometown Minneapolis-St. Paul (MSP) airport – I still don't fly often paid cash fares enough to organically earn Delta Medallion Status.
That means paying the $70 premium on a round-trip fare isn't really worth it. Upgrades aren't a part of the equation.
Picking a Seat in Basic Economy
The prospect of getting stuck in a middle seat, far away from a companion, is one of the biggest downsides of basic economy fares.
On paper, you don't get to pick a seat when flying basic economy with Delta or any other major airline.
But in practice, there are some powerful workarounds you can use that airlines don't loudly publicize to still get your seat. And Delta has two options to pick a seat that make it the best option. It's the single greatest factor in why I don't have a problem buying Delta basic economy fares. 
For starters, you can buy a seat assignment for $29 each way starting seven days before departure. Considering a full-fledged main cabin economy fare typically costs $35 each way, it's not a great deal.
But once the check-in window opens 24 hours before departure, Delta allows even basic economy passengers to pick the best of what seats are left for free. And in my last 10 Delta flights on a basic economy fare, I've used this method to score a good seat (read as: not a middle seat, and not in the back of the plane) on all but one of them. And it's even worked to snag a seat next to a companion.
As an example, my wife and I recently took a weekend trip to San Francisco (SFO). We set calendar notifications to check the Delta seating map as soon as the check-in window opened. And here's what it looked like:

With such a wide-open cabin, it was easy to pick seats next to each other for free – even with our basic economy tickets.
The return flight was a bit more challenging. We forgot to check the seat map right when check-in opened and were automatically assigned middle seats. Despite checking for options regularly, it seemed all hope as lost.
But it pays to be vigilant, as other passengers constantly move about the cabin, change plans, or cancel their flights. So roughly 20 minutes before boarding began, two aisle seats across from each other opened up.

We quickly snagged them, preserving our near-perfect batting average for picking solid seats for free when flying basic economy.
Above all else, this seat-selection strategy helps ease the pain of Delta basic economy. But it won't work for everyone.
Larger families may still be better off going for the full economy fare, as all airlines have a mixed track record of seating minor children with adults. While it's likely the airline will ensure you sit next to your small children with a basic economy fare, it's not a 100% certainty.
Bottom Line
Basic economy fares are still a scourge. But with these factors in mind, I see little reason to play right into the airline's hands and pay up for a main cabin fare.