Thrifty Traveler officially started on April 29, 2015. We're turning seven years old. That's seven years of travel tips, seven years of points and miles breakdowns, and, most importantly, seven years of cheap flight deals.
Over the last seven years, we've probably found close to 7,000 flight deals – posting them online here or sending them to our Thrifty Traveler Premium members' inboxes. There have been countless domestic flights under $100 roundtrip, trips to Europe and back as low as $212, fare alerts for under $200 to Hawaii, and business class mistake fares for the price of economy.
But over the years, some of these deals stand out. To celebrate our seventh birthday, we're looking back on our seven favorite flight deals from the past seven years.
The boarding doors are now closing on our Thrifty Traveler time machine … and we're about to depart for 2015.
1. The Very First Big Thrifty Traveler Flight Deal
The first big flight deal ever posted here broke our website … not just once but twice.
It was Dec. 25, 2015 and our founder Jared was sitting in his aunt's basement in rural North Dakota the day after a family Christmas celebration. And then he saw it…
Roundtrip flights from all of Emirates' U.S. gateways to Dubai (DXB) were on sale for under $600 – a decent deal by today's standards but unheard of at the time. Jared found it, wrote up a story with instructions on how to find and book these fares using Google Flights, and hit publish to put it on the six-month-old ThriftyTraveler.com. It was a sweet price, but would any of his readers care?
As word spread about this incredible deal, the surge in traffic crashed our website … for five whole days.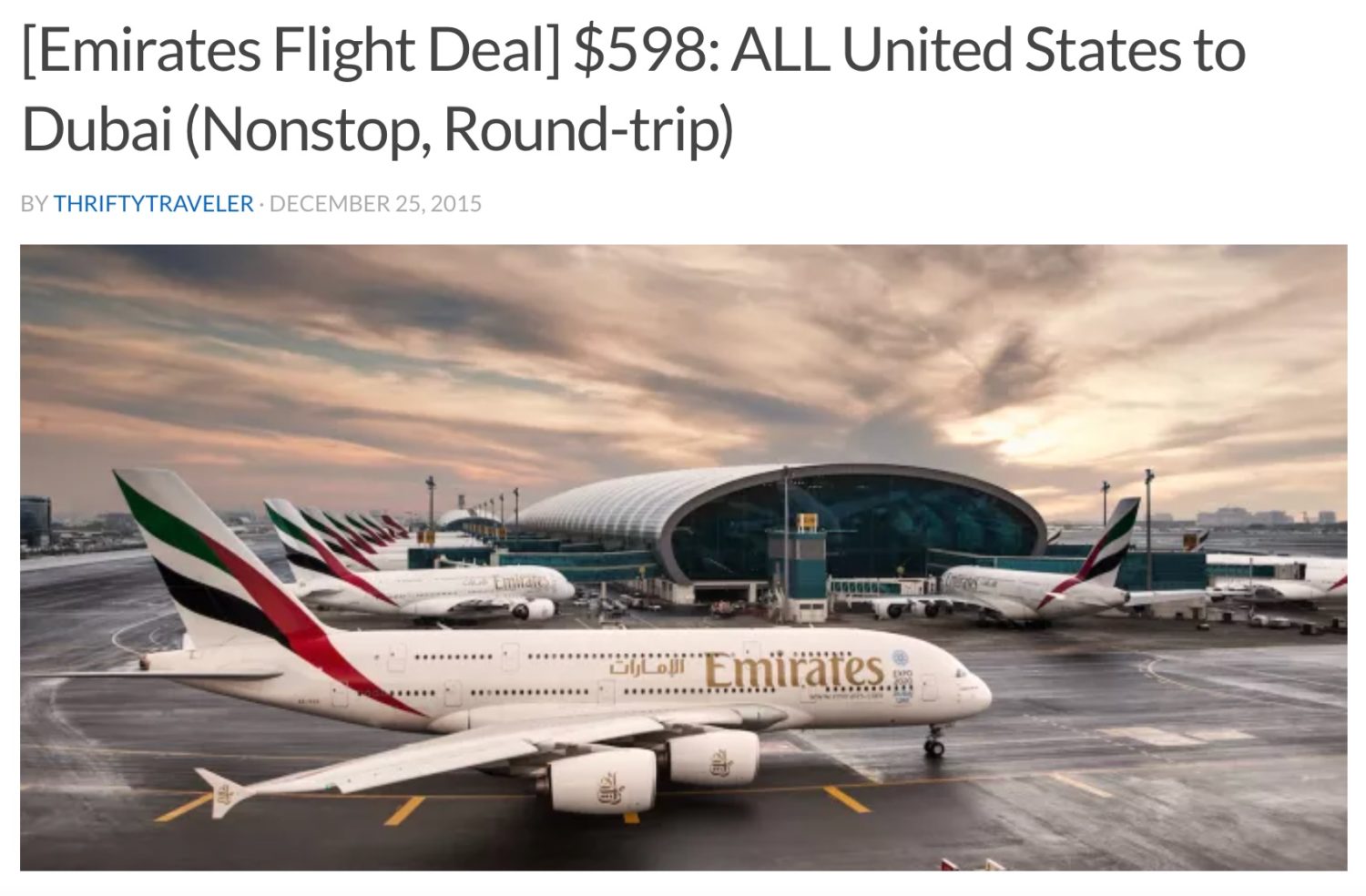 After upgrading the server to handle more users, he posted it again. But after discussing that deal and other cheap travel tips with Minneapolis TV host Jason Matheson on the Jason Show a few months later, the website crashed again.
While it caused some technical woes, that fateful Emirates deal was a turning point for Thrifty Traveler. That's when Thrifty Traveler began transitioning from a website merely focusing on points and miles to a hub for flight deals and all things cheap travel. Jared still has his notebooks from 2016 when he sketched out what would eventually become our Thrifty Traveler Premium alert service.
In 2017, Premium launched and Jared left his old day job, going full-time as TT's first employee. More than five years later, our team is bigger and better than ever, sending flight deal alerts to thousands of travelers from more than 200 cities in the U.S. and Canada.
But our new offices will never have the same charm as Jared's aunt's basement.
2. A Year of Unbelievable Deals to Europe
It might have all started in 2015, but some of the best deals we've ever found are far more recent. Some travelers are benefitting from them as we speak with cheap trips to Europe.
As airlines did their best to emerge from the worst of the pandemic, the emergence of the Omicron variant last fall and winter caught everyone off guard, spurring a wave of tighter COVID-19 entry restrictions. There was a silver lining: It triggered some of the cheapest fares we've ever seen to Europe.
Airlines began slashing prices on transatlantic flights. Nonstop flights that cost $1,200 or more today went on sale for under $400 roundtrip – and occasionally even under $300 total. We can't pick just one of them for this list.
It gave Thrifty Traveler Premium members the chance to gobble up these fares for a fraction of the normal cost, and we know tons of subscribers booked these fares and are traveling on them this year.

This Switzerland deal was among the most memorable. For less than $300 in many cases, you could book your dream trip to the Alps. But it wasn't just Switzerland. Even getting as far as Athens (ATH), Rome (FCO), or elsewhere in 2022 was an absolute bargain.

As you can see, these aren't ultra-low-cost carriers but nonstop and one-stop flights on some of the globes' top airlines.
It was a trend we won't soon forget, and a lot of Thrifty Traveler Premium subscribers booked the trips of their lifetimes as a result!
3. Hawaii for Under $100 Roundtrip
Our chief Thrifty Traveler Premium flight deal analyst Jon had just logged on for his first day at Thrifty Traveler when we found these record-breaking prices to Hawaii. Talk about an icebreaker.
For less than $99 roundtrip, you could get to Hawaii on Southwest – an incredible sale as Southwest Airlines officially launched its brand new routes to the Hawaiian islands in March 2019. We know travelers love Hawaii, so this one was a treat.

The more we dug into it, the better the deal got! It wasn't just Californians who got in on the action. From Chicago-Midway (MDW) to Spokane (GEG), Southwest's new service triggered some of the lowest pricing to Hawaii we've seen from many cities.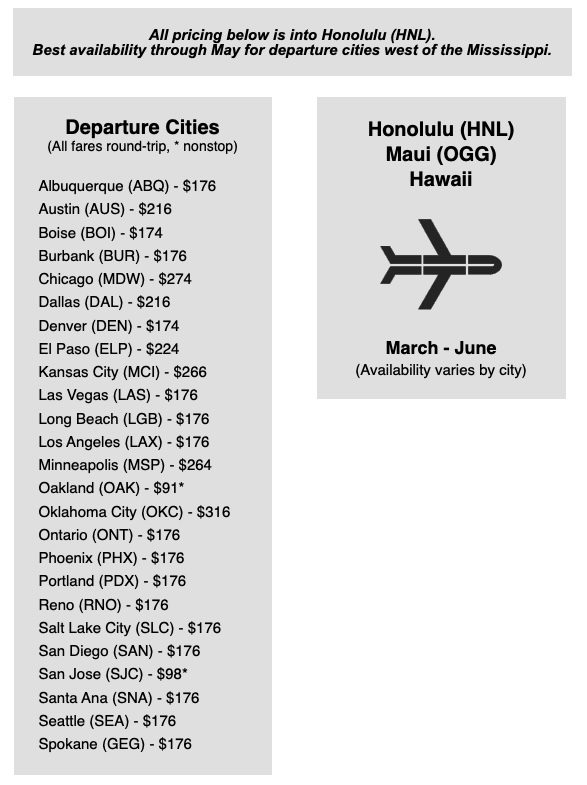 4. A Mistake Fare to Croatia for $238
Mistake fares are the holy grail of flight deals. They're our favorites, and I know they're yours too.
Sometimes, the airlines mess up, and that's how you win…big! Among the many deeply discounted mistake fares we've sent Thrifty Traveler Premium members over the years, this deal to Croatia stands out. Deals to anywhere in Europe at these rates are hard to find, let alone somewhere as far flung as Croatia.

These one-stop flights on American Airlines and British Airways flights would get you to Croatia at about a quarter of the normal price at that time. It was easily $750 off normal prices, if not substantially more.
But the mistake fare action didn't just take you to Europe…
5. Chile for $62 Roundtrip
There are mistake fares, and then there's the Chile mistake fare of 2020. This truly unbelievable flight price flying Delta nonstop to Santiago was one of the strangest and best flight deals we've ever seen.

You're not seeing things. That's $62 flying Delta all the way down to Chile and back. You can't fly anywhere within the U.S. at those prices! One-stop flights were available from other cities at equally shocking rates like Minneapolis-St. Paul (MSP) for $186, Detroit (DTW) for $192, and Orlando (MCO) for $146.
We were able to book this fare and it was honored. A handful of Thrifty Traveler Premium made the trip down to Chile in the short window when the country reopened in late 2020 on $63 flights that typically cost $1,000 or more.

6. Hong Kong Biz Class Mistake Fare
Mistake fares aren't just for economy seats, either. It's one of the best ways to book business class seats at a bargain. And this Hong Kong Airlines business class mistake fare from back in 2018 one of the best.
It included all the usual bells and whistles of business class like lounge access, lie-flat seats, and great meals after departing from the West Coast to cities like Bangkok (BKK), Shanghai (PVG), and Ho Chi Minh (SGN). Fares that typically cost $6,000 or more were available for $600 … or less. 
Someone literally might have forgotten to add another zero to the fare.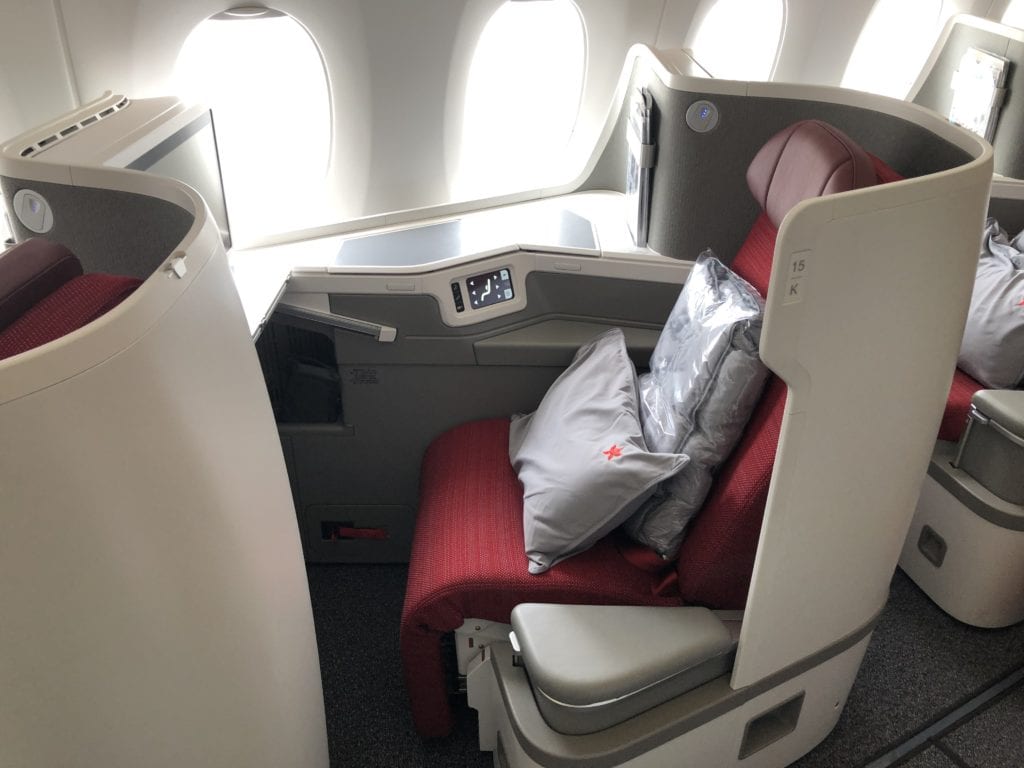 It was nearly $5,000 in savings on an airplane ticket, so we were nervous they weren't going to honor it. But within a few days, the airline gave everyone the most pleasant surprise they could imagine.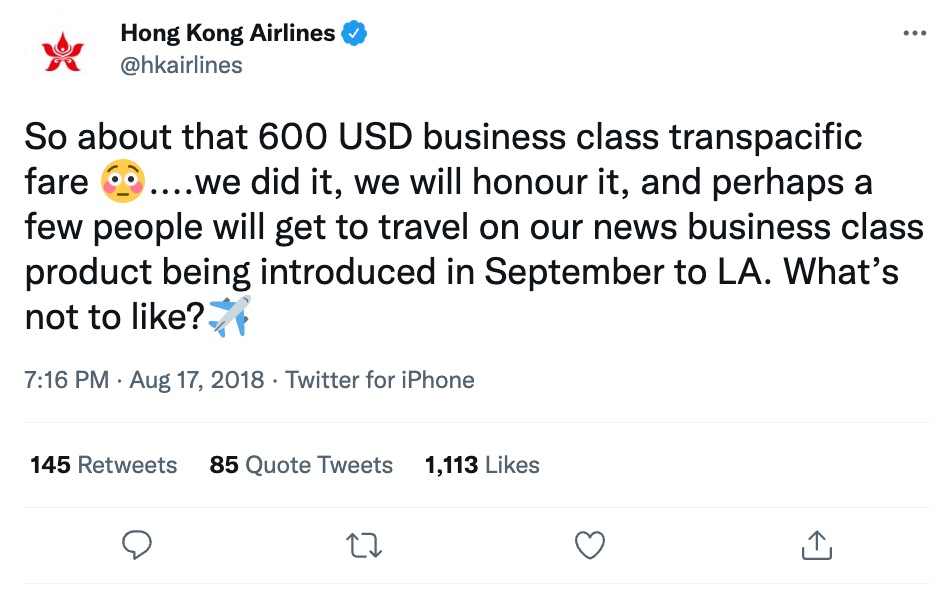 It was truly a deal for the ages.
7. London for 14K SkyMiles
Last but not least, we have a points and miles deal to get us back to our roots. And this was no ordinary deal.
We find tons of Delta SkyMiles flash sales, deeply discounted award fares where you can book with SkyMiles for a fraction of what most other airlines charge. And the discounts don't get too much deeper than this flash sale to London-Heathrow (LHR) a few years ago starting at just 14,000 SkyMiles roundtrip.
On a good day, those fares are usually 60,000 SkyMiles or more. This deal was closer to what you'd typically pay to fly from Minneapolis-St. Paul (MSP) to Phoenix (PHX), not all the way across the pond to London!

We have the receipts, too. The lowest rates were available from San Francisco (SFO), but there were plenty of flights from U.S. cities available for around 20,000 SkyMiles.


We have so many great points and miles deals we are proud of, but this one takes the cake. It doesn't get any better than flying to Europe for just the taxes and fees!
Bottom Line
As Thrifty Traveler turns seven, we spent some time reflecting and looking back through the thousands of flight deals we've found over the years. Narrowing this down to just seven flight deals was no small feat! 
From Jared's first big deal that crashed the website (twice) to the Europe deal bonanza during the omicron wave of COVID-19 and every mistake fare in between, it's been seven great years dedicated to helping travelers see more of the world for less.
Here's to the next seven years of cheap travel!