If you think you don't have enough credit card points or airline miles to book your next vacation, think again.
While many travelers like to hoard points and miles in an effort to save up for business or first-class seats, with just a few points and miles, you could book some really great economy award fares to fly to some of our favorite destinations around the world.
Whether it's a 9,000-mile roundtrip flight to Las Vegas (LAS) or a 50,000-mile roundtrip flight to Buenos Aires (EZE), Rio de Janeiro (GIG), or Tahiti (PPT), there are no shortage of ways to squeeze every possible cent out of the points and miles you do have when you fly economy.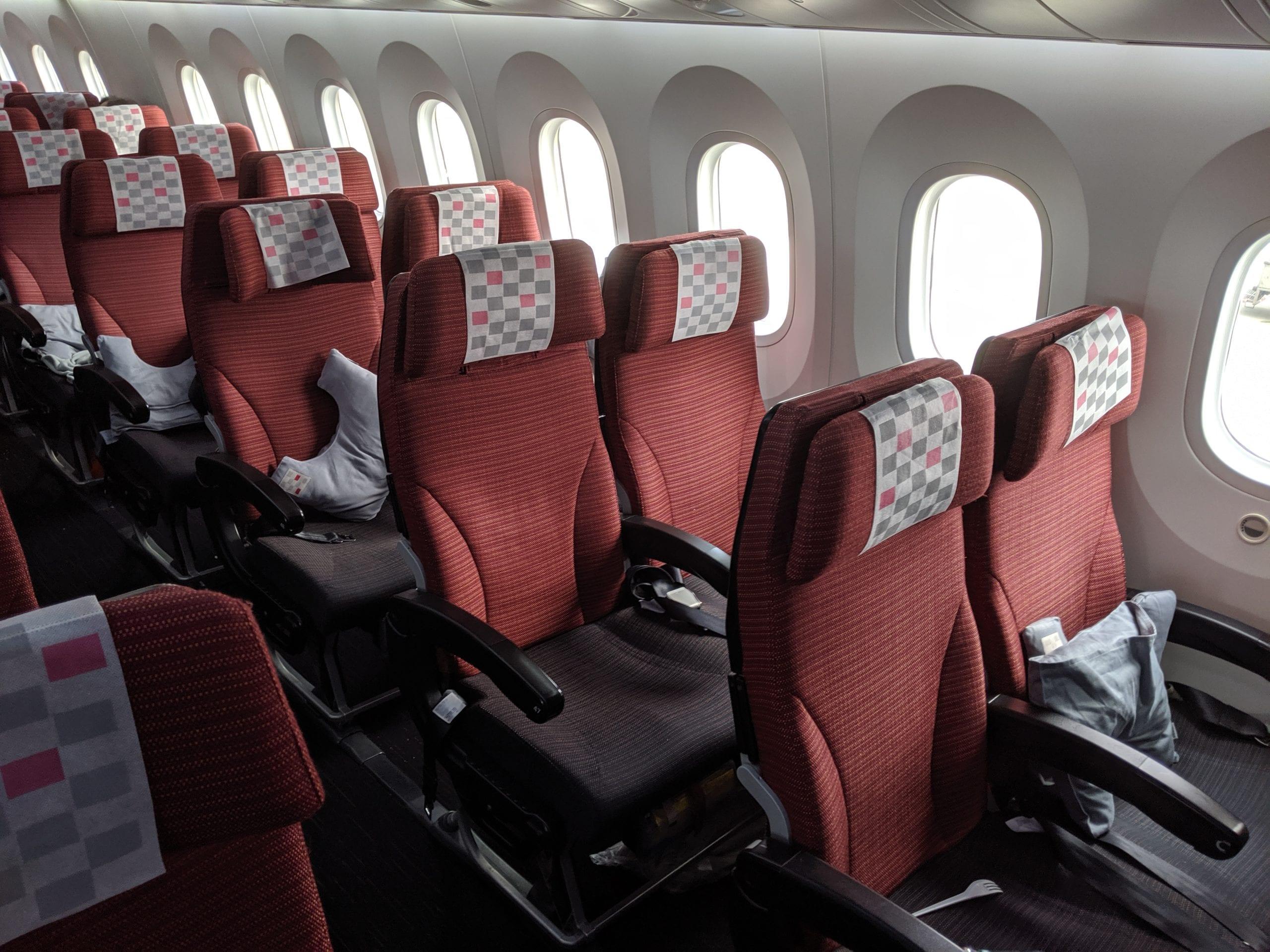 And you can have all sorts of points and miles to take advantage of these deals, too. Below, we'll show you examples of flights bookable with Delta SkyMiles, American Express Membership Rewards, Chase Ultimate Rewards, Bilt Rewards points, AAdvantage Miles, United MileagePlus Miles, Capital One Venture Miles and Virgin Atlantic miles.
But maybe the best thing about booking economy award tickets is that award availability is simply much easier to find than it is for business and first class flights. That's especially true if you are looking to travel with two or more people.
Interested in Flying Up Front? Check out the Best Business Class Award Deals We've Found This Year
The only thing in common with all of these deals is that they were sent to our Thrifty Traveler Premium+ subscribers. Premium+ members get every points and miles deal we send from their home airports, with an option to also get every premium cabin deal we send – regardless of which airport it departs out of.
Delta SkyMiles Economy Flash Sales
When it comes to flying economy, you'll be hard-pressed to find a better value than Delta SkyMiles. Delta's points currency tends to fall short (waaaay short) on premium cabin bookings, but its economy award fares can be the most competitive in the business.
That's because Delta doesn't publish an award chart and employs a dynamic pricing model for SkyMiles. That leads to four of our favorite words: Delta SkyMiles Flash Sales.
When Delta puts its economy award fares on sale, you get this: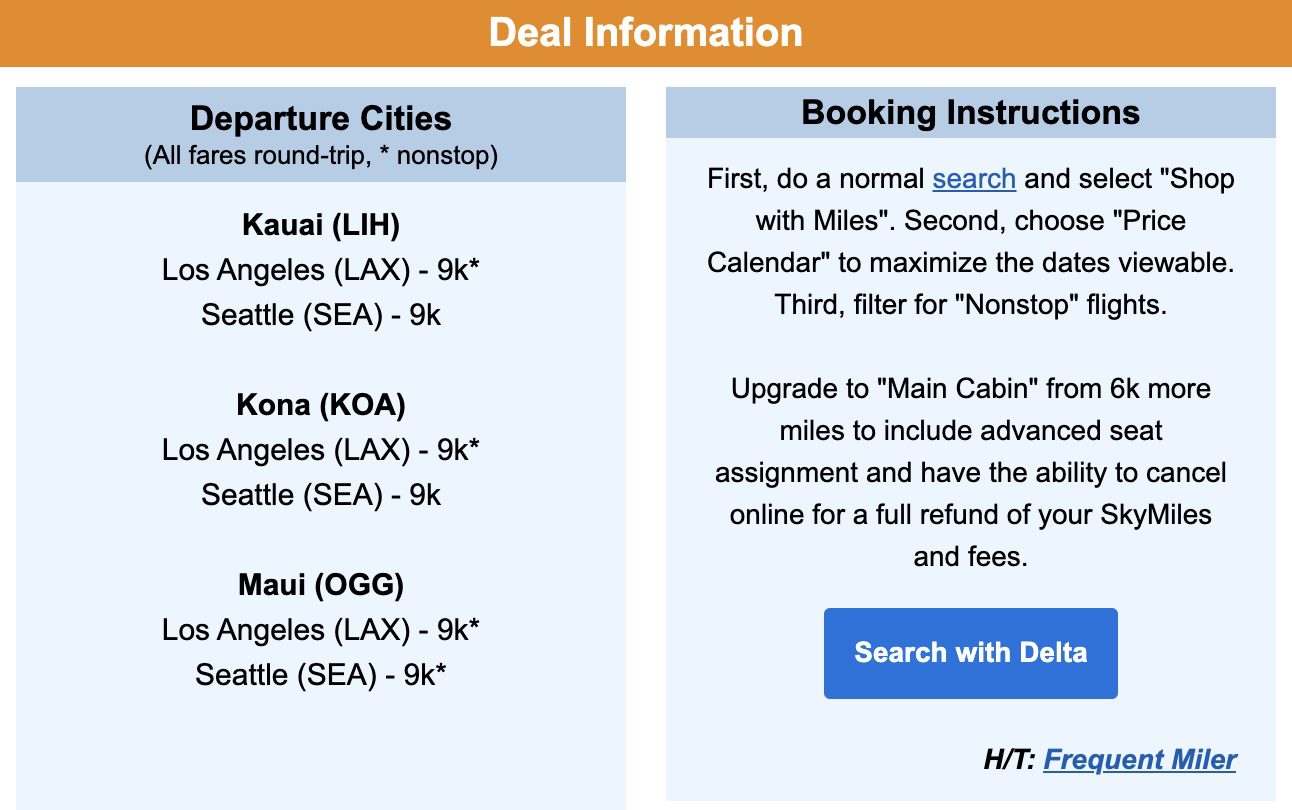 For just 9,000 SkyMiles roundtrip, you can fly to Hawaii and back from the West Coast. And if you knock those fares up to 15,000 roundtrip, you can get a fully refundable Main Cabin fare on the same flights!
This deal is no longer available. Join Thrifty Traveler Premium+ so you don't miss the next one!
But your SkyMiles can take you much, much further than just Hawaii. How about this flash sale with service to Rio De Janeiro (GIG) that we sent a few months ago? Starting at just 50,000 SkyMiles roundtrip, you could book a bucket list trip to Rio that included availability during the city's world-famous Carnival celebration.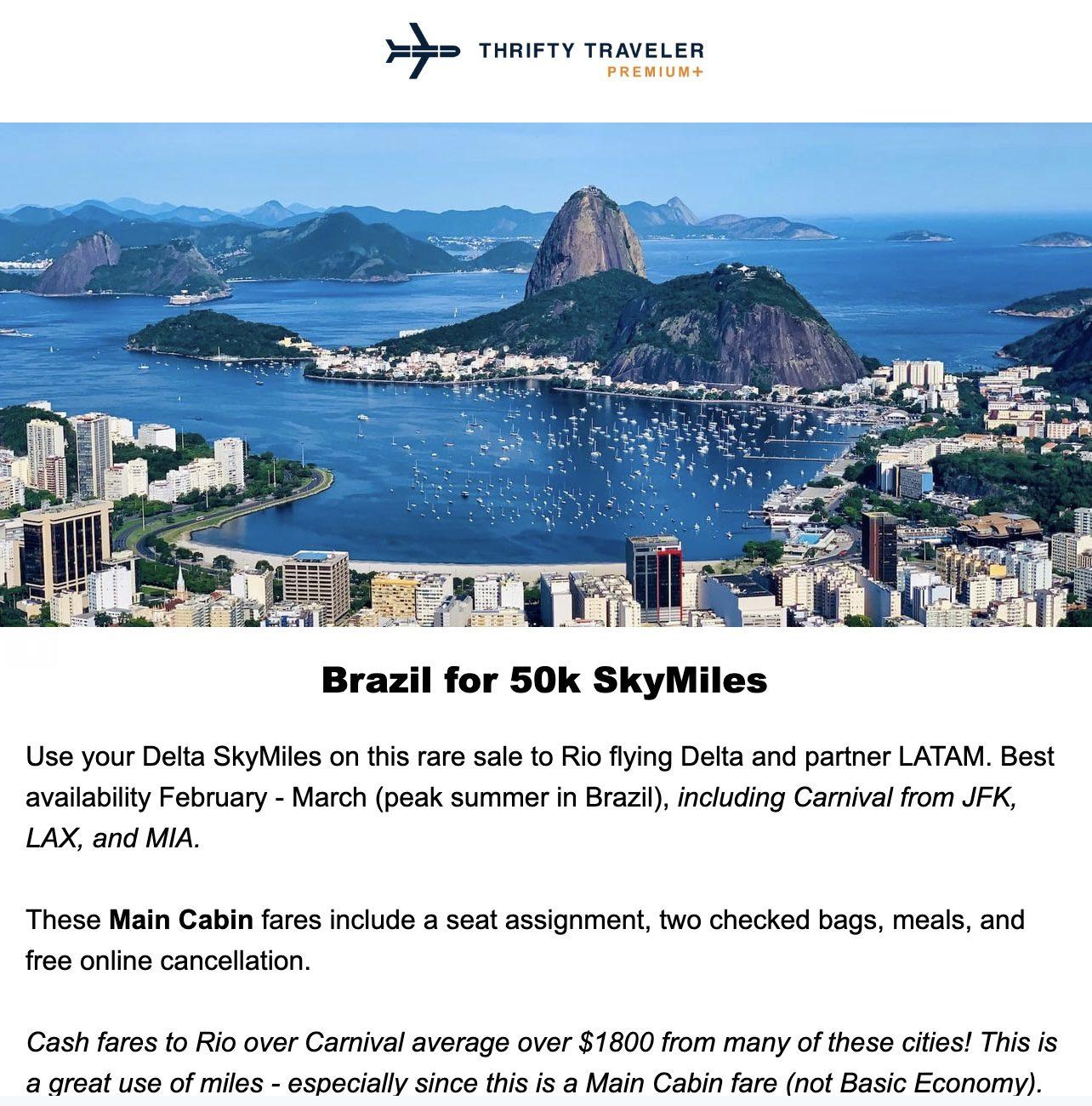 As we wrote at the bottom of that deal, the cash rates on those flights were close to $2,000 from many of the cities on the list….ouch.
The same goes for this SkyMiles deal to Buenos Aires (EZE) we published a few months later. These LATAM flights are bookable using SkyMiles and can get you right into the heart of South America while saving you your hard-earned cash in the process.
If you were to do a SkyMile-per-actual mile breakdown of this next deal, you'd probably find it to be the best economy SkyMiles deal we've ever sent. For just 50,000 SkyMiles roundtrip, you could book this dreamy honeymoon vacation.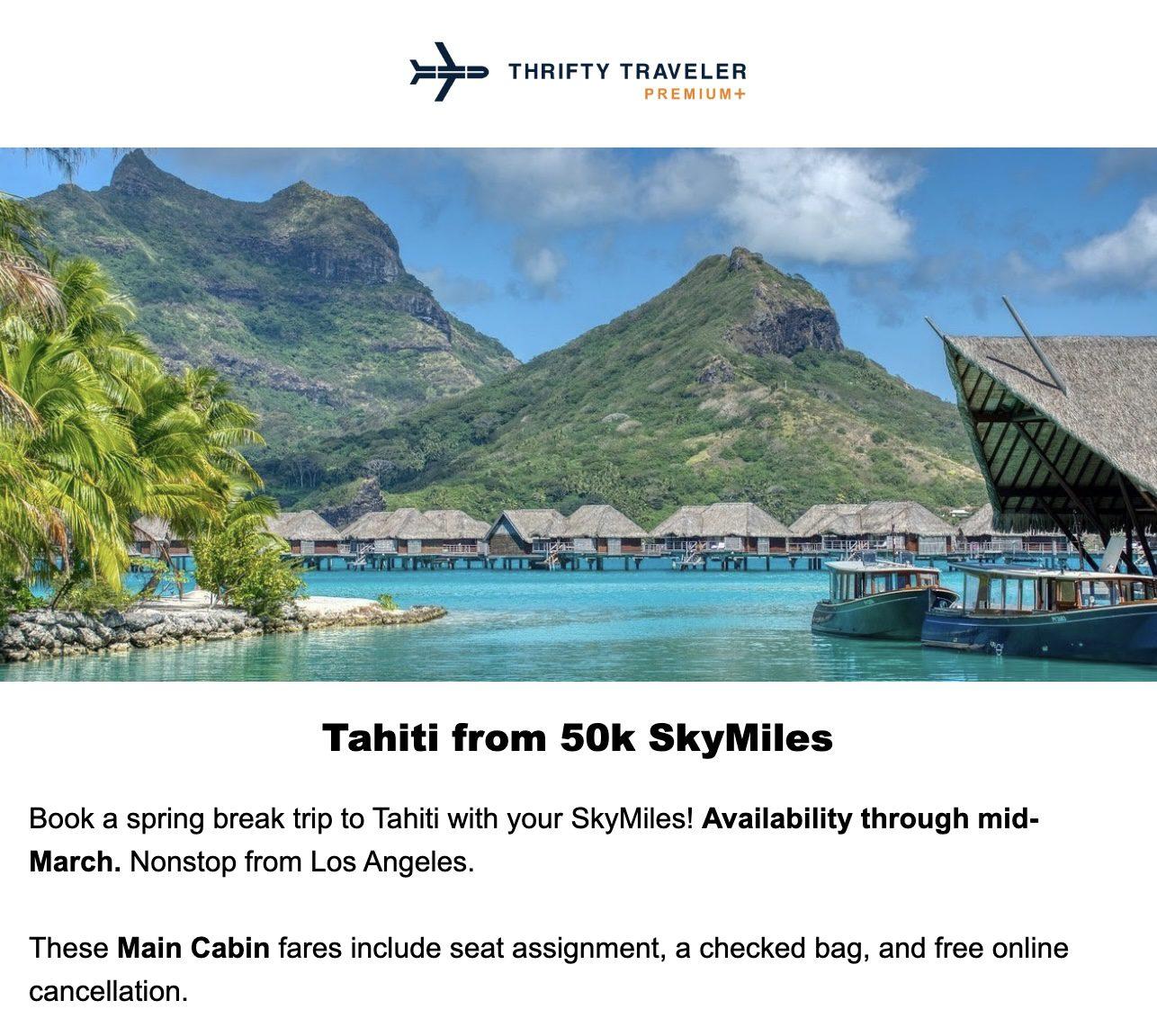 Further across the Pacific, you could have booked these 70,000-SkyMiles roundtrip fares to Tokyo (TYO), too. This deal, which we dug up right after Japan reopened to travelers, sent our subscribers spinning. There are probably Premium+ members in Tokyo right now having the trip of a lifetime as you read this.
SkyMiles can take you around the world and back again, but they can also fuel your domestic flights. Take a look at this SkyMiles fare from San Francisco (SFO) to Seattle (SEA) for just 6,000 and $11 roundtrip!
Or this one from Minneapolis (MSP) to Las Vegas (LAS) for just 9,000 SkyMiles and $11.
Whether you have 6,000 SkyMiles or 60,000, chances are you have enough SkyMiles to make a trip happen in 2023 or beyond. Just make sure you're signed up for Thrifty Traveler Premium+ so you get first crack at booking these sweet, sweet fares.
Not to mention, thanks to the new TakeOff 15 benefit for Delta SkyMiles credit cardholders, you can get an additional 15% off any SkyMiles award booking – as long as it is on a Delta-operated flight.
American, United, Virgin, and More: Economy Deals From All Kinds of Points and Miles
Not to be outdone, airlines the world over like to swing for the fences with some lovely little economy award sales of their own from time to time.
This one was especially memorable for our Thrifty Traveler Premium+ members. Sydney, Australia (SYD) for 70,000 American AAdvantage miles and $107 roundtrip!
This fare was part of a nationwide deal to Australia flying American Airlines that many Premium+ subscribers took advantage of. It's a pretty mind-blowing rate and the best points and miles roundtrip deal we've seen down under in a long, long time.
This flight deal to Chile was a sizzler, too. American Airlines saw Delta's fares to Argentina and Brazil and said, "Hold my beer."
The cash rates on those same flights were well into the four figures on those fares to Santiago (SCL). This is possibly the best use of 40,000 American miles that I could think of. A spectacular deal!
While United Airlines miles deals are very rare, they did run a unique promotion over Cyber Week after Thanksgiving in 2022, putting thousands of its flight itineraries on sale starting at just 30,000 United miles roundtrip.
This deal was so widespread that we didn't know where to start. In the end, it included almost every U.S. airport with United service and featured some of our favorite cities in Asia, Australia, and Europe when it was all said and done.
These next few deals might appear to be head-scratchers for some travelers. You might be saying, "Buddy, I'm not collecting Virgin Atlantic miles or Air France/KLM FlyingBlue points. Why would I want a deal bookable with those currencies?"
The answer to that question is flexible points currencies. If you earn points like American Express Membership Rewards Points, Chase Ultimate Rewards Points, Capital One Venture Miles, Citi ThankYou Points, or Bilt Rewards Points, you can transfer those points to many airline programs to take advantage of deals like these.
So, let's say you have a measly 17,000 points in your Capital One account. What could you possibly do with those?
Fly roundtrip to Cancún (CUN) and back, that's what.
By transferring those 17,000 points from your Capital One account to your Virgin Atlantic account, you could book these Delta flights straight to the beach all in a matter of minutes.
In fact, Chase, Capital One, Amex, Citi, and Bilt are all Virgin transfer partners, so you could even piecemeal those 17,000 points (or 34,000 for two!) together to make the booking.
Read Next: The Master List of Credit Card Transfer Partners
And for just a few more points than that, you could use Virgin to book a fare to Europe as well!
This isn't just a Virgin thing, either. Just this week, Flying Blue, the loyalty program for Air France and KLM, ran a huge sale on its economy awards to Europe, which resulted in nonstop rates to Amsterdam (AMS) and Paris (CDG) starting at just 23,000 Flying Blue miles roundtrip.
This was another boon for our subscribers with Chase, American Express, Capital One, Citi, or Bilt points, all of which transfer to Flying Blue.
Bottom Line
Whether you're looking for a weekend in Vegas or a bucket list excursion to Tahiti, the right economy trip booked with points and miles shouldn't break the bank.
While we love booking business and first-class award tickets, there's some enormous value in booking economy fares using your hard-earned points and miles, too. You just have to know where to look!
Our Thrifty Traveler Premium+ members know all about it and have been given the first crack at finding these sizzling award deals for travel in 2023.