"Kids are cheap" … said no one, ever. Traveling families know that all too well.
With a freshly minted two-year-old in my house, things just got a little more expensive for my family. Until kids turn two, you can add them to your reservation as a lap-infant and fly free domestically – or for a reasonable surcharge on international trips – whether you're paying cash or redeeming miles. But from the moment they turn two, they need their own full-priced seat, just like any adult.
That's where one airline program comes in with substantial savings. While searching for new ways to save on flights – hello, low-cost carriers? – I was reminded of an excellent family policy on Air France/KLM's Flying Blue program: A 25% discount on award tickets for kids under 12 years old when they're traveling with an adult.
It only works for award tickets booked using Flying Blue miles – and the flights must be on Air France or KLM, not a partner airline. But for a transatlantic trip or flights within Europe, the savings can add up fast.
Plus, Flying Blue miles are some of the easiest to earn thanks to transfer partnerships with all the major banks. So if you're earning points on some of the top travel credit cards like the *csp*, *venture x*, or the *amex gold*, you already have the points you need to book these discounted flights. And if you time it right with a transfer bonus like this recent 20% boost from Capital One, you can stretch your miles even further for your family.

Read on for everything you need to know about finding and booking these discounted awards.
Related reading: The Best Ways to Use KLM/Air France Flying Blue Miles

How to Book Flying Blue Awards
In order to find and book these discounted awards, you'll need to create a free account and log in to search with either Air France or KLM. You can use either airline's website to search for these awards.
Once you've created your account and logged in, just enter your departure and arrival cities, choose your cabin, and number of passengers … but be sure to leave the departure date blank. This will allow you to see availability and prices for the whole month, making it easier to find the best deal.
When entering the number of passengers, you'll have the option to select an adult or child (2-11 years). Make sure to enter your kiddo as a child aged 2-11 as one of the passengers.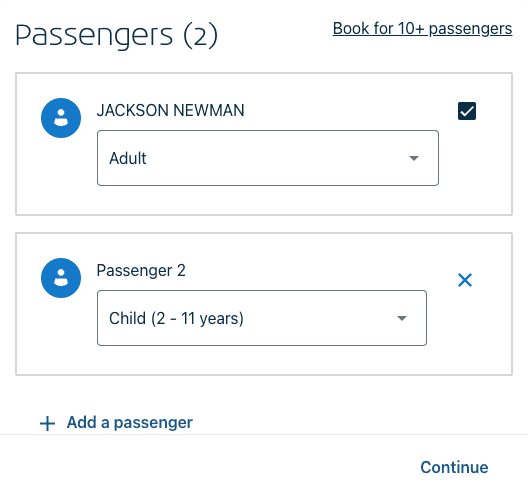 Tip: If you're traveling with a child under two years old but want to book them their own seat, you can (and should) select this option as well. Otherwise, they automatically qualify as a lap infant and won't get their own seat.
It's easiest to find availability for one-way flights separately and then combine them into a roundtrip, booking if necessary.

Once you've begun your search and narrowed in on a date that will work for your travel plans, you'll see the specific flight details and total price in miles (and taxes) for all passengers. The price you see displayed here is actually higher than what you'll end up paying because it hasn't yet factored in the 25% discount.


When you select the flight you want, you'll see that the child's flight is discounted correctly and the total amount for all passengers drops accordingly.

While you'll get hit with some slightly higher cash fees on top of your miles when using Flying Blue miles, the ease of finding availability and the low rates you'll pay more than makes up for it – especially for business class flights across the pond.
You won't see this discount applied to Flying Blue's monthly promo rewards – when Flying Blue puts select routes on sale for up to 50% fewer miles. These deals don't stack: The monthly promo rates aren't eligible for the additional 25% savings on children's tickets.

Like most foreign loyalty programs, Flying Blue isn't without its quirks: Its website can be buggy and searching sometimes just … stops working. But the issues are relatively minor and worth a little extra hassle for the value you can get, especially when booking seats for your little one for fewer miles.
Flying Blue Family Account
In addition to offering a 25% discount on children's award tickets, Flying Blue also gives members the option of creating a "Flying Blue Family" account and pool points among all members of the family.
Here's how it works:
Flying Blue members over 18 years old can create a Flying Blue Family and invite other family members to join, including younger children. At most, there can be two adults and six children in a single Flying Blue Family account.
By creating a Flying Blue Family, you become the Flying Blue Family leader and can then transfer your family members' miles to your own Flying Blue account.
By creating a Flying Blue Family account, you'll be able to pool miles together and redeem for a free flight sooner. Being a part of a Flying Blue Family also keeps kid's miles from expiring until they turn 18. Without activity, Flying Blue Miles typically expire after 24 months.
If your family is earning Flying Blue Miles by flying, this family account can be especially useful. For those that are getting their Flying Blue Miles by transferring bank points, being able to pool them together won't matter as much.
Other Loyalty Programs with Discounts for Kids
Flying Blue is easily the best for discounted tickets for kids, but a few others could come in handy.
While the miles aren't as easy to earn and don't go as far, TAP Air Portugal's Miles & Go loyalty program is another that offers discounts to their youngest passengers. Similar to Flying Blue, award tickets booked for children under 12 will receive a 25% discount when booked using TAP Miles & Go Miles. You won't find this discount explicitly spelled out like it is with the Flying Blue program, but it exists.
In looking at one-way flights from New York (EWR) to Lisbon (LIS), you'll see that the award cost for two adults is 84,000 Miles & Go Miles and just over $60 in taxes and fees.


But if you instead change your search to one adult and one child, you'll see the price drops to 73,500 Miles & Go Miles and the same taxes and fees. At 42,000 miles one-way across the pond, that difference of 10,500 miles reflects the 25% savings with the child discount factored in.

If you don't already have a stash of Miles & Go Miles sitting around, you can transfer them directly from Capital One at a 1:1 ratio. This means that if you're currently using a credit card like the *Capital One Venture Rewards* for your daily spending, you might already have access to enough of the miles needed to book one of these discounted awards.
Thrifty Tip: Fly to Lisbon in comfort by booking TAP business class on the A330-900neo.
Another airline award program to be aware of when booking award tickets for even younger children is Virgin Atlantic Flying Club. While Virgin doesn't offer a discount on award tickets like Flying Blue or TAP, they offer one of the most reasonable rates for adding a lap infant to award tickets. 
With many loyalty programs, you'll be stuck paying 10% of the cash price – plus additional taxes and fees – to add a lap-infant to an international award ticket. That adds up fast if you're flying across the pond – especially for business or first class, when cash prices are regularly north of $5,000.
But Virgin instead charges a flat fee for adding lap-infants on to award tickets. Just how much you'll pay varies depending on the airline that you'll be flying, but it's usually 2,000 miles or less for an economy ticket and 10,000 or less for business class awards. You'll find the cheapest price for lap-infants on Virgin's SkyTeam partners Delta, KLM, and Air France, where lap-infants cost just 1,000 miles for one-way economy tickets and an additional 5,000 miles for business class in each direction.

For example, this KLM flight from Minneapolis-St. Paul (MSP) to Amsterdam (AMS) in the fall typically costs just 15,000 Virgin miles for one adult. But after adding an infant, that price jumps to just 16,000 miles total – plus twice the taxes and fees you'd normally pay for a single passenger.
Related reading:Save Your Sky Miles, Book Delta Flights Through Virgin Atlantic
Bottom Line
Whether you're paying cash or using your points and miles, taking the whole family on a vacation can get expensive in a hurry – especially if you're heading overseas. Air France and KLM's Flying Blue loyalty program offers families a way to save on airfare by offering a 25% discount on award bookings for children under 12 years old.
You won't find this discount on Flying Blue's cheapest monthly promo rewards, but it's available on all other KLM and Air France awards. Depending on where you're going and the cabin you're flying in, the savings can add up fast.