The weather is turning across the country, and we know you'd like to trade in your boots for flip flops. But you don't have to leave U.S. soil to find some of the finest beaches in the world. Better yet, recently we've been seeing a surge of some crazy low fares to get you oceanside as soon as possible!
From this fall to the next, our Thrifty Traveler Premium flight deal analysts have found great flight deals to beaches in the U.S. or its territories; no passport required. We've rounded up some of the best fares to get to the warmth and sandy shores in the U.S. If you're looking for your own escape, be sure to consult our guide on how to find flights, including the best ways to use tools like Google Flights.
But let us guide you in finding your way to the beach so you can sip a cool drink in the hot sun this winter.
Cheap Flights to Hawaii
It may be a six-plus-hour flight away, but Americans are still blessed to have one of the world's best beach destinations at their disposal: Hawaii.
After calling on mainlanders to stay away from the islands during a surge in COVID-19 cases, trips to Hawaii are back on after the governor gave travelers the all-clear to return last week. And the cheap flights to get there are back, too.
We recently sent Thrifty Traveler Premium members an alert with fares as $161 roundtrip to Honolulu (HNL). Los Angeles (LAX) is just one of many cities involved.

These dirt-cheap fares to Hawaii didn't last long! Get the next hot deal sent straight to you with Thrifty Traveler Premium for just $7.99 a month!
If you're looking to save your cash and burn some points, you're in luck. We also uncovered this deal to use Southwest Rapids Rewards points to fly to the Hawaiian islands … with availability all the way through March! All you'd need is just 12,000 Southwest points or a bit more to make it happen – or just transfer those points from Chase to your Southwest account.

Cheap Flights to Florida
You can head to the beach even closer to home.
Florida has tons of great beach options, but few are better than Key West. Whether you're looking for a week laying in the sun or some scuba or snorkeling adventure, Key West (EYW) can deliver anything you want from a beach getaway this winter.
While getting down to Key West is typically more expensive than other destinations in Florida, Premium subscribers have received a few different notifications of low, low fares down to these outermost islands.

But South Beach in Miami is probably the image that comes to mind when you think of Florida.

This legendary spot paired with the nearby nightlife makes Miami a dynamic beach destination. If you're looking for a little hustle and bustle with your beach trip, look no further than Miami. Plus, with fares like this, it's hard not to look!

This region is also a great option for travelers because it features two major airports in Fort Lauderdale (FLL) and Miami (MIA). The competition of two airports within driving distance – both flush with budget carriers – helps drive down fares, getting you to the beach for less!
A little further up the Atlantic Coast from Miami and Fort Lauderdale is West Palm Beach (PBI), which offers its own beach vibe and some world-class golfing, if you want to mix it up this winter.

This month, we sent out this great deal to Palm Beach, linking people from dozens of American cities with the warm weather and sunshine.
Cheap Flights to South Carolina, Too
Everyone knows about Florida's beaches, but don't sleep on Myrtle Beach, South Carolina (MYR).
This classic Atlantic beach city has a lot to offer beach-goers who are looking for an inexpensive retreat. Recently, Thrifty Traveler Premium members received this deal with fares starting at just $116!

Whether you have the whole family or just your golf clubs, you'll find something you like in Myrtle Beach. Or you can fly into both Savannah (SAV) and nearby Hilton Head Island (HHH) for a perfect domestic beach getaway. And with prices like these, why not?

Savannah's southern charm has plenty to offer, but from there, you can make a quick drive to Hilton Head Island, or just fly there directly.

Hilton Head Island is known as a beach town, but also for its golf scene. It's also easier to get there than you think with nonstops from Atlanta (ATL), Newark (EWR), and Washington, D.C. – both DCA and IAD.
Cheap Flights to California
The beach is just one of hundreds of attractions in the city of Angels, but Los Angeles (LAX) cannot be overlooked!
These urban, Pacific Coast beaches like Venice Beach and Hermosa Beach are big, expansive, sunny spots where you can spend a day relaxing or playing in the surf. Plus, the people watching at these spots is second to none!

Whether it's for the beach or just to eat your heart out, a visit to L.A. is always worth it. Plus, if you can dial in a low fare or an award redemption to get there for next to nothing, it's even better!
This Delta SkyMiles flash sale featured some of the lowest fares we've ever seen to LA, with roundtrip flights starting at just 5,000 SkyMiles … roundtrip! Even transcontinental flights like New York (JFK) to Los Angeles (LAX) came in at just 10,000 SkyMiles roundtrip. These flights normally cost 20,000 SkyMiles or more!

LA not laid back enough for you? Head into deeper into southern California with some low fares to San Diego (SAN).
Whether it's a visit to the San Diego Zoo, an afternoon on Coronado Island or spending a day at the beach alongside some San Diego seals (and I'm not talking about the professional lacrosse team), you'll find something to make a trip there worthwhile.
Earlier this month, Thrifty Traveler Premium subscribers received this deal featuring tons of nonstop flights to San Diego under $200 roundtrip – and some under $100!

Cheap Flights to U.S. Islands
It's not on the mainland of the United States, but the U.S. territory of Puerto Rico and its capital of San Juan (SJU) offers some great beaches at low, low fares.
Over the last year, we've seen fares to Puerto Rico tumble to record lows. Plus, you don't need a passport to get there or a COVID-19 test to return home.

These incredibly low fares are gone now, but many Thrifty Traveler Premium members were able to book a trip to the beaches of Puerto Rico for less than the cost of a nice dinner in Minneapolis earlier this year!
Or how about the U.S. Virgin Islands? St. John's Trunk Bay Beach in the U.S. Virgin Islands is a spectacular spot. That image alone should get you looking for a way down to the Virgin Islands.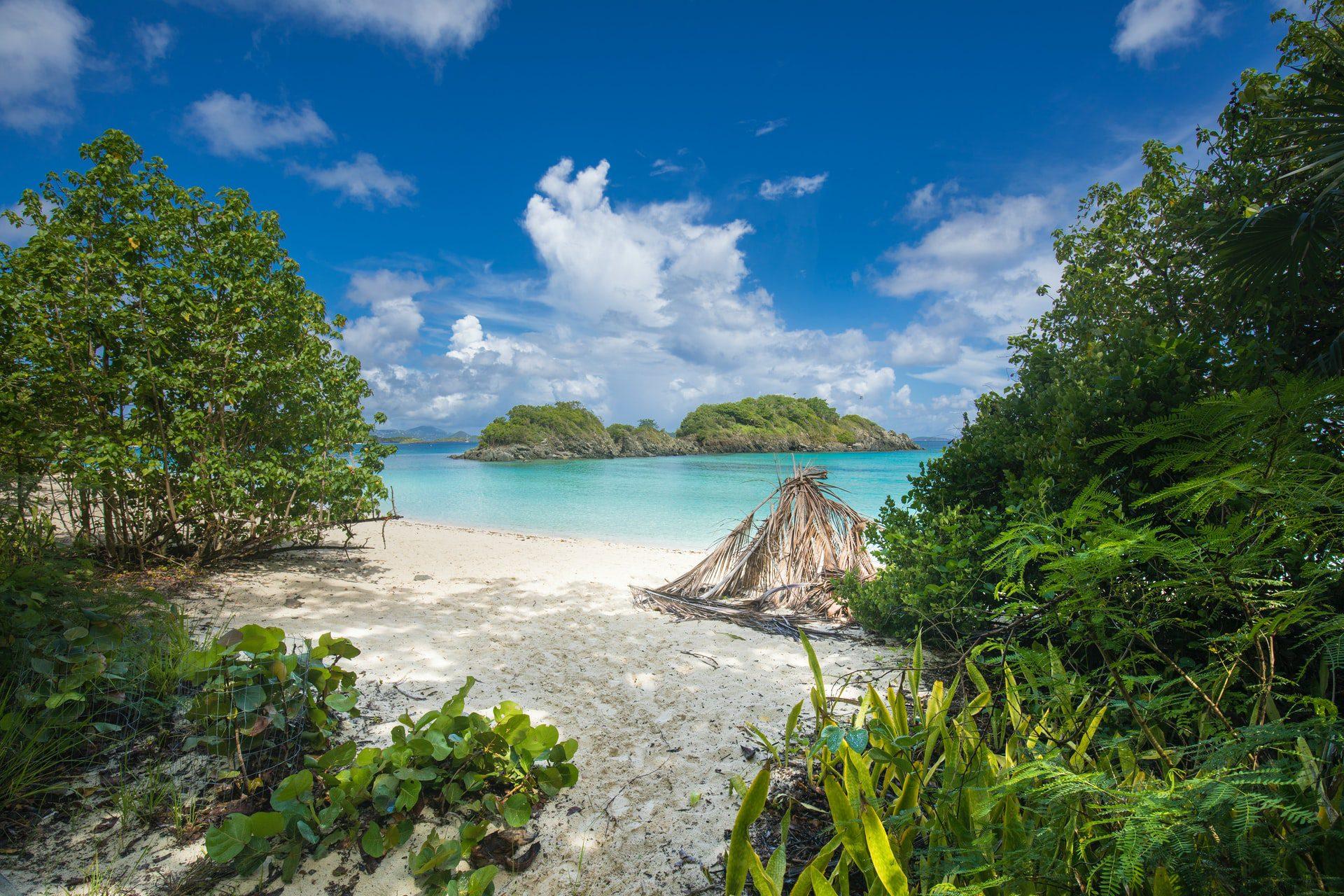 If that's not enough, take a look at this: Flights all the way down to the USVI and back for less than $100 next year?

These fares are long gone! Get the next great deal with Thrifty Traveler Premium!
Bottom Line
If you need a beach getaway but don't want to go through the hassle of crossing international borders, you have plenty of options in the good ol' U.S. of A.
Thrifty Traveler Premium members get the best deals sent to their inboxes from their home airports right when we find them. That's the best time to book so you can save hundreds of dollars. With those savings, you can splurge for beachside drinks, fancier accommodations, or a night on the town.