I did something last month that I've never done before on an international flight: I boarded the plane … and turned left to take my seat in business class.
The travel blogosphere is full of first-person accounts of business class flights and flyers who refuse to fly anywhere but upfront. But even as a fairly experienced traveler, I'd never before sprung for the comfy seats up front.
That changed last month, when I boarded a TAP Air Portugal flight from New York City (JFK) to Lisbon (LIS) and made my way for the airline's "Executive" cabin – its business class seats. I had read my coworkers rave about the experience flying the likes of Air France business class, Qatar Airways Qsuites, or Delta One Suites, of course. But still, I wasn't quite sure what to expect from my first time flying business class.
My conclusion? Yes, flying business class on a long-haul really is that nice. Let me take you through my experience and show why I think it's worth it.
Want to fly up front but not sure where to start? Read our guide on the best ways to book business class flights!
Lie-Flat Seats are a Gamechanger
I've nodded off a few times and surely rested my eyes for a few minutes here and there. But I'm not sure if I've actually, fully slept on an airplane before.
That changed in a big way on this TAP business class flight.. The itinerary was only 6 1/2 hours gate-to-gate, and I took my time enjoying the dining and luxuries of business class. But eventually, I was able to recline my seat all the way to a flat-bed surface, lie down and sleep comfortably for a full four hours.
That allowed me to arrive in Portugal without feeling jet-lagged – or at least less jet-lagged. It was a major factor. And the reason I was able to sleep so well was the comfortability of this seat on TAP's Airbus A330-900neo.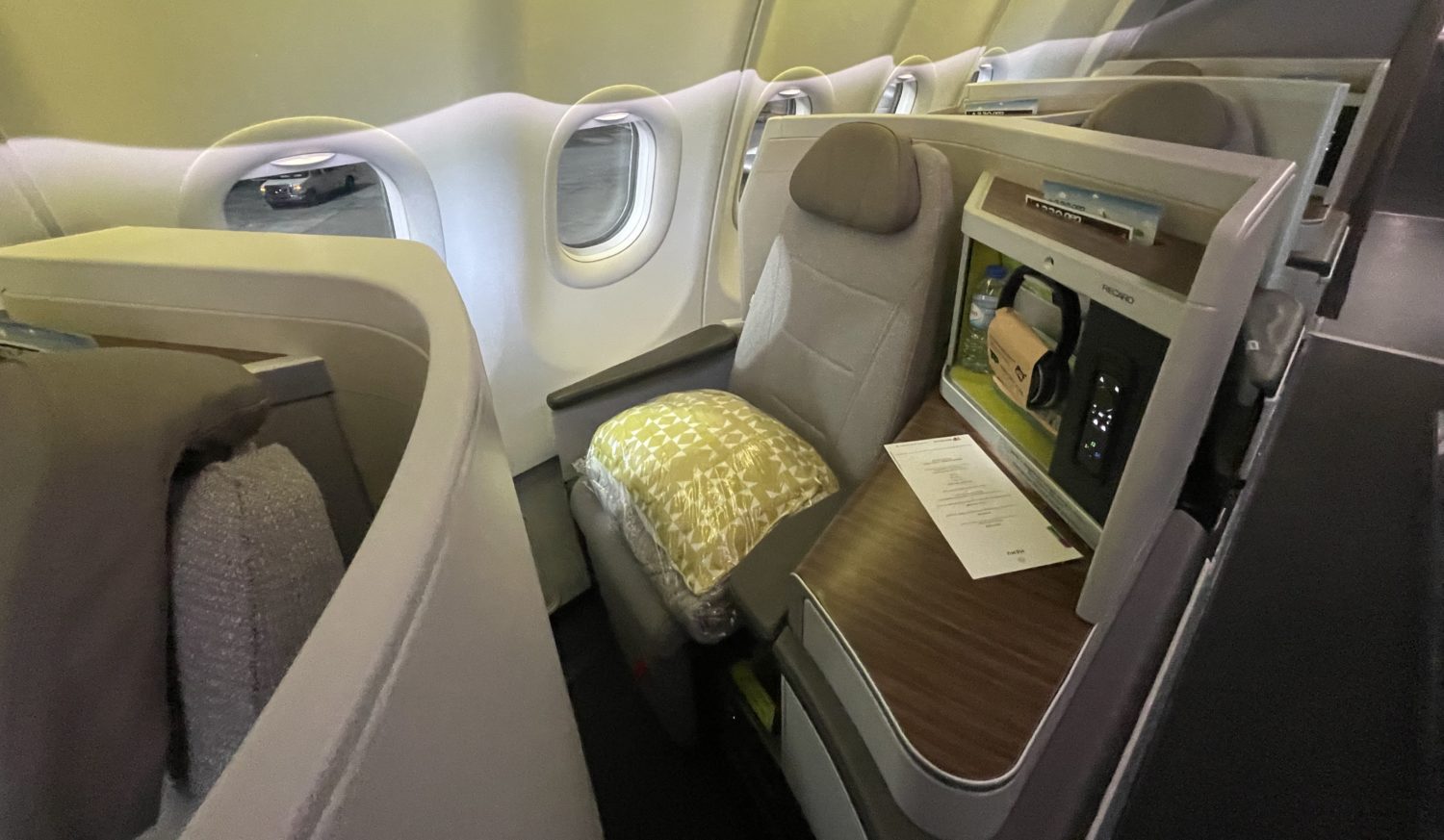 The seat came with a control panel that let me adjust my seat to almost any set of specifications, from takeoff and landing upright, all the way down to bed mode. A spacious footwell in front of the seat allowed me to stretch out while dining, watching movies, and yes, while sleeping.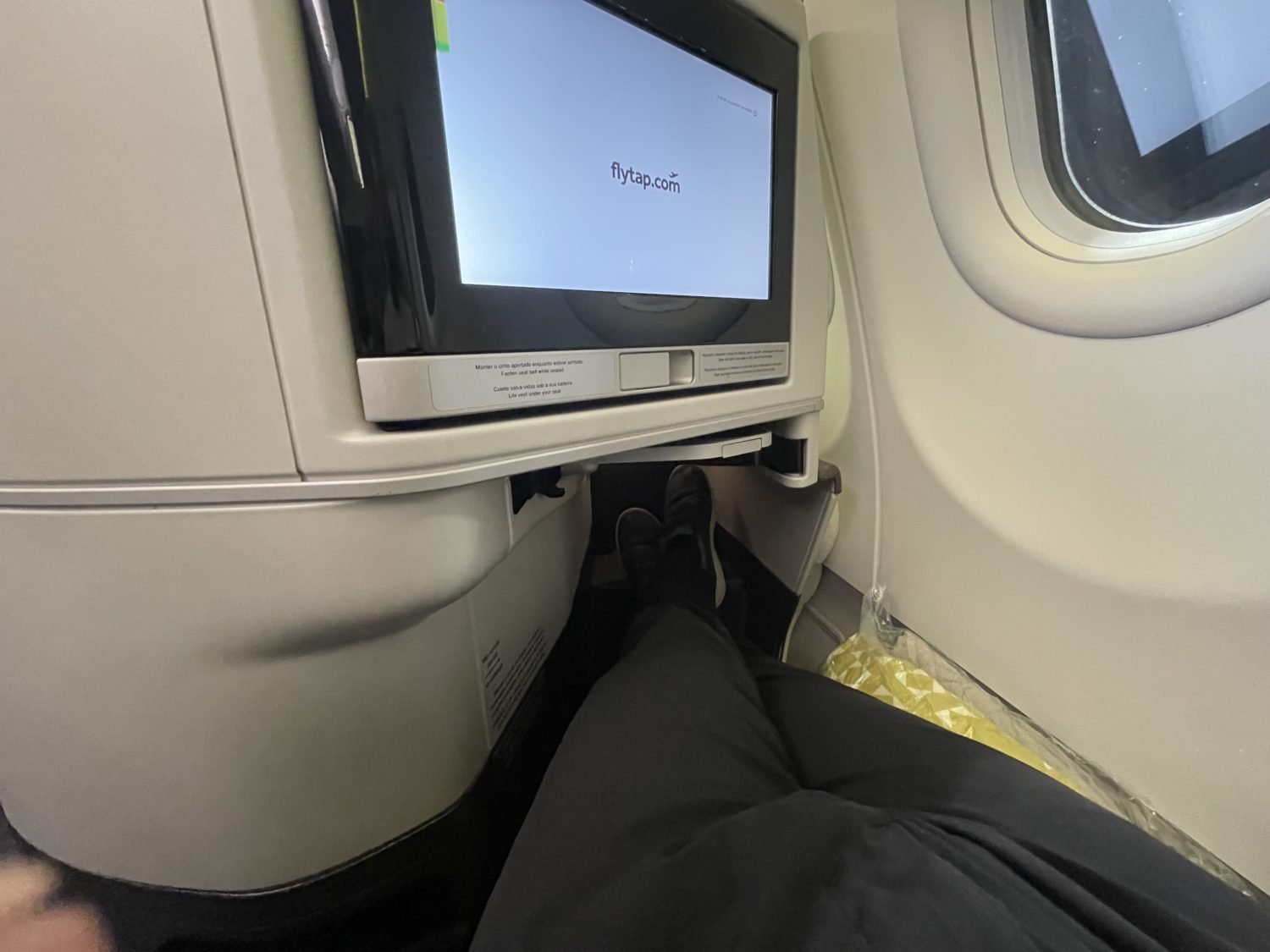 When I arrived, my pillow and blanket were ready for me on the seat, which I put to the side until I was ready for lie-flat mode. After dinner, I set the bed up, laid completely flat and outstretched, and almost instantly fell asleep.

My seat was situated along the windows, giving me extra privacy away from the aisle. It was a perfectly comfortable nook.
In fact, it was the most comfortable I've ever been on any airplane. Go figure, right? But that was my biggest takeaway from my first business class flight.
2 Great Meals Onboard
About an hour after takeoff, I was inundated with food and drink options the likes of which I've never experienced before on an airplane.
The flight attendant came through and set up a white tablecloth over my tray table (another first for me), and proceeded to take my food and drink orders … pretty much until I just couldn't consume another thing.
First came the nuts and champagne, then the tray table full of delicious eats. My main course was a cod with Thai Mushroom Sauce, with a bevy of assorted, healthy, and delicious foods. I also added a red wine to my order to accompany the meal.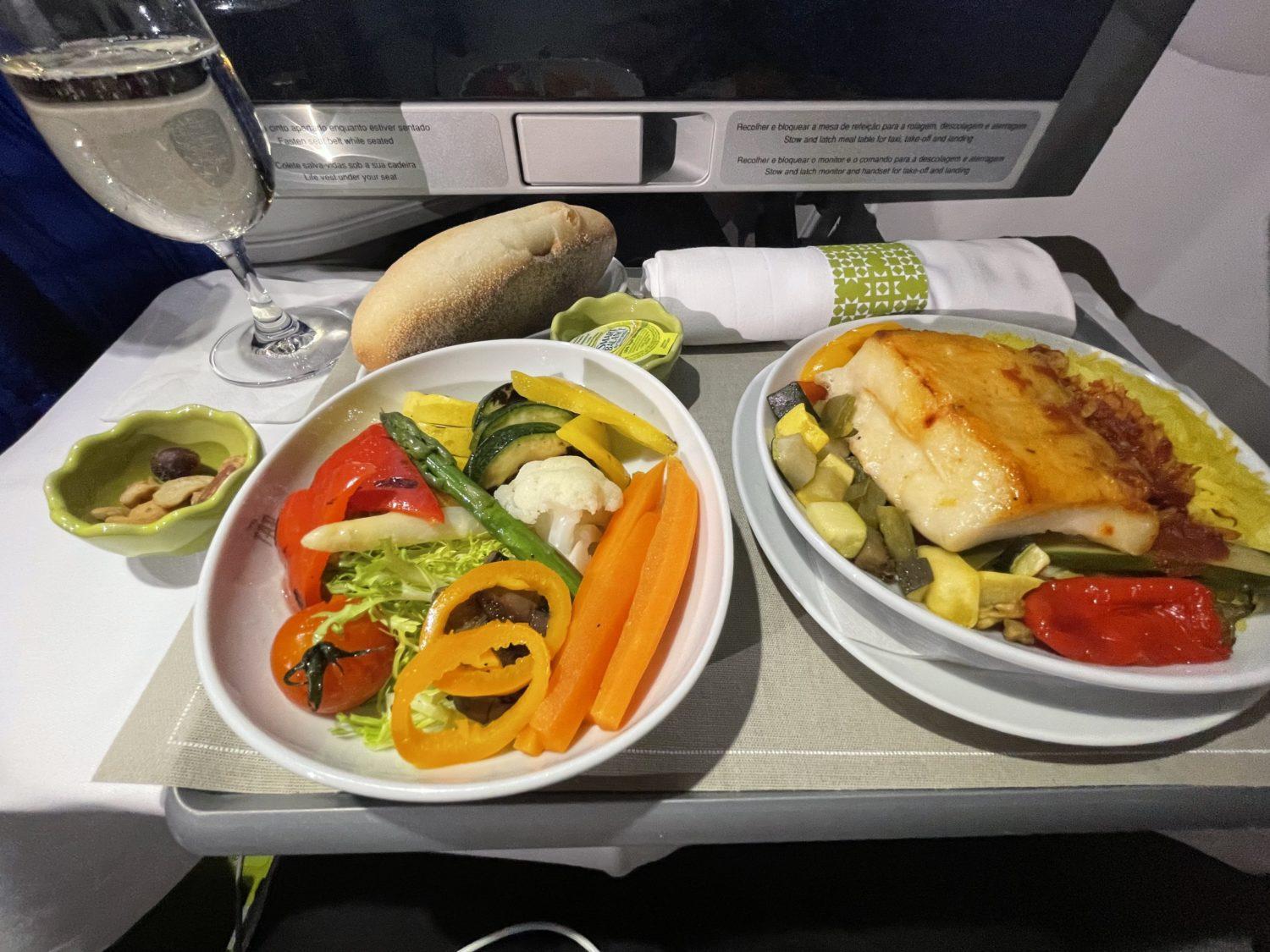 Tragically, while reserving my seat, I accidentally checked the box for a low-fat meal, meaning I missed out on some sweet corn flan and ice cream for dessert. But in all, the quality of the food was better than anything I've prepared at home for quite some time – let alone had on a plane.

My dessert was full of fresh fruit and a glass of port, which served as a perfect nightcap.
Before sleeping, the flight attendant asked if I wanted to be woken up for breakfast. I, of course, did, because I wasn't going to miss a second of this business class experience. Breakfast delivered.

Sipping my coffee watching the sunrise over the east Atlantic was superb, especially after a few hours of real sleep. Plus, the breakfast spread, while somewhat simple, was excellent.
The Little Things (Like Socks!) Add Up
On of the funnest parts about flying business class for the first time were the little surprises.
I expected to be able to fully recline my seat, grab an hour or two of sleep, and get some higher-end dinner service – and I got all that and more. But the first thing I told my Thrifty Traveler coworkers about was … the socks.

Yes, socks! A fresh pair of thin socks for my journey were included in this cute amenity kit full of other helpful goodies. The rest of the kit contained a bookmark, a sleep mask, a toothbrush and toothpaste, a hair comb, a pen, some lip balm, some moisturizer, and a fragrance sheet for you luggage – all nice touches for travelers that mean you can keep your own stuff packed away.
It's such a small thing, changing into a fresh pair of socks on an overnight flight made me happier than I could have imagined it would.
Another unexpected perk of sitting up front? A hook. A simple hook for my jacket inside my seat. Again, this is something I would never have thought about, but it made all the difference being able to keep my valuables in my pockets and not having to cram my jacket into an overhead bin or at my feet.
Finally, getting to deplane first proved very helpful as well as we entered the customs line to enter Portugal. The business class passengers boarded our own bus from the tarmac and were whisked away to the customs line ahead of the rest of the plane, so we were all able to enter Portugal without standing in a line of other travelers onboard the flight from the states.
And For That Price…
Sitting up front can have a scary price tag on it, especially if you are going to pay cash. Unless an unbelievable mistake fare comes around, I would never pay cash for a business class seat.
This is Thrifty Traveler, after all, and we're not paying $2,000 or more for a one-way flight no matter how nice it is.


Luckily, that is not what I paid. Here's what I did to book this seat.
I booked that exact same seat from New York to Lisbon using just 35,000 Avianca LifeMiles. Below is an example from another date that we recently featured in a Thrifty Traveler Premium deal.

Don't have any Avianca LifeMiles? Neither did I!
I transferred the 35,000 miles I needed from my balance of Amex Membership Rewards points – thanks to a bonus on the Platinum Card® from American Express – to a LifeMiles account I had set up just minutes before. The entire transfer took five minutes and I was booked! All I had to do was pay the $24.70 in fees (which I did have) and I was off.
While Avianca isn't our favorite airline to work with due to a somewhat clumsy website and some less-than-stellar customer service, its LifeMiles program offers some of the least expensive ways to book any Star Alliance tickets, including TAP. You can also transfer points to LifeMiles from both Citi ThankYou points and Capital One Venture Miles.
Read Next: Our Master Guide to Credit Card Transfer Partners
This one-way flight from JFK to Lisbon is a serious sweet spot: It costs just 5,000 miles more than a seat back in economy. It's easily one of the best ways to book a business class seat.
Bottom Line
Sleeping on the plane, the expedited and thorough service, and the priority check-in, boarding, and deplaning were all awesome … but expected. What really sets the business class experience apart for me were  the little things.
As someone unjaded by years of flying up front, I found my first lie-flat experience on TAP Air Portugal to be fantastic, and even better than I expected.