Earning a big points bonus from a credit card typically requires opening a brand new account and spending a few thousand dollars. Here's an easy way to add to your stash – with some help.
American Express has unleashed a new offer allowing cardholders of the Platinum Card® from American Express to earn 20,000 bonus Membership Rewards points after your new user spends $2,000 within six months. This is a targeted offer, and it appears it's only available to select cardholders with the Platinum Card – not other popular Amex cards like the American Express® Gold Card. But that could change.
To check if you're eligible, simply sign in to your Amex account and see if you get a popup or just follow this link and sign in to your Amex account when prompted. You can only earn this bonus once, so there's no additional benefit for adding several users.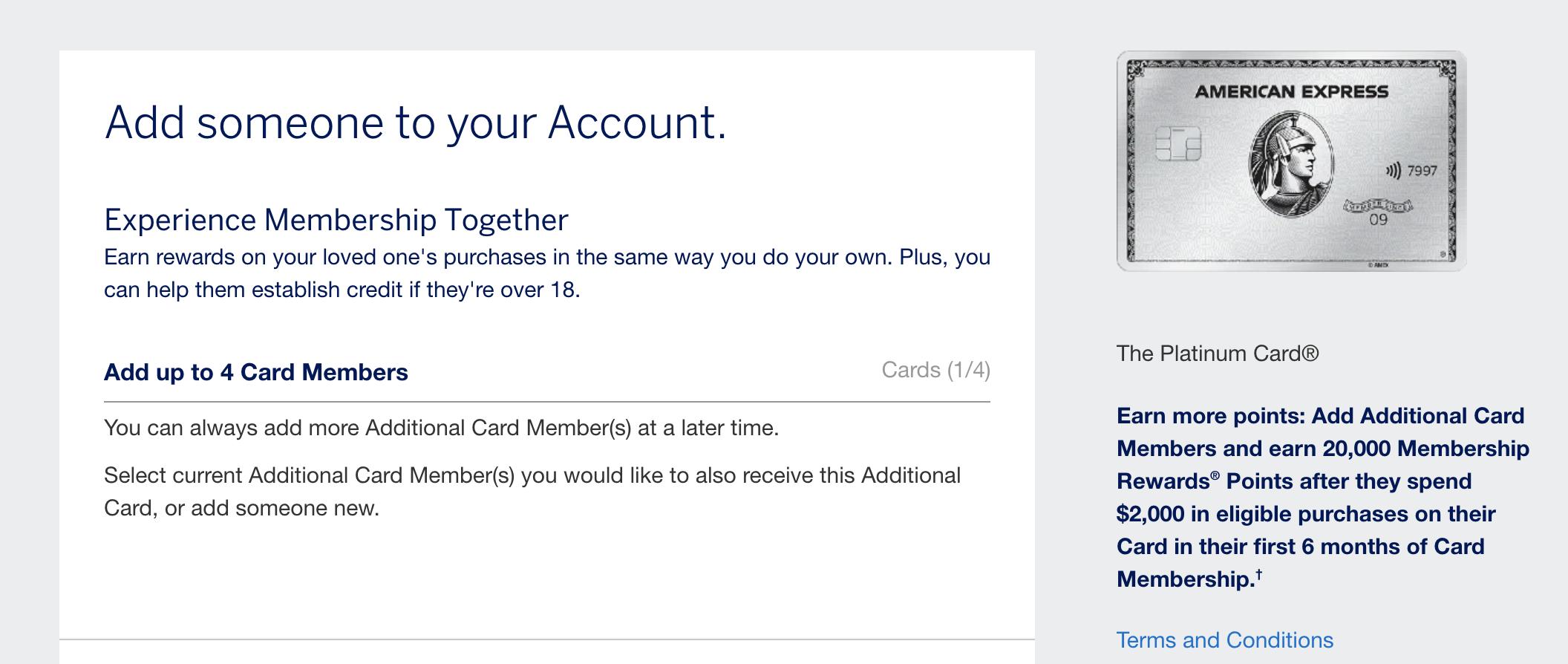 That 20,000-point bonus may pale in comparison to the current 80,000-point welcome offer to new Platinum Card applicants who spend $6,000 within the first three months – or 150,000 points if you're targeted for an even bigger offer via CardMatch.
But this is a potentially easy 20,000 points, requiring just $2,000 in spend spread over six months. It's also one of the most generous bonuses we've ever seen for authorized users.
How it Works
You've got two card options to earn this 20,000-point bonus if you're targeted.
You could give a friend or family member their own Platinum Card, which gets them a ton of travel perks like unbeatable airport lounge access, a credit of up to $100 for Global Entry or TSA PreCheck, instant status with Hilton and Marriot, and more. Adding authorized users as Platinum Card members costs $175 a year total for up to three users, which is steep – but it can easily make sense. 
Or you could give them a Gold Card on your account, which comes at no additional cost. Meeting the $2,000 spending requirement will unlock that same 20,000-point bonus, but your buddy won't get any additional benefits – nor will that authorized Gold Card earn 4x points at restaurants or U.S. supermarkets.
Which option is better is entirely up to you. Do you want to earn those bonus points at the lowest cost possible and dole out a Gold Card? Or would you rather share the wealth of travel benefits and pay a bit more, earning 20,000 points in the process?
Considerations for Adding Authorized Users
Adding authorized users can be a confusing topic in the world of credit cards. Let's set a few things straight.
First, and most importantly: You're responsible for paying off any charges your authorized user makes to your account. That means you should only add someone you trust – and preferably someone with a big expense coming up that they can immediately pay off (or make a charge on your behalf).
Read more: Everything You Need to Know About Credit Card Authorized Users
Beyond that, it's a good news, bad news situation:
Being an authorized user does not make you ineligible to open that card outright to earn a bonus later on. That means you could add a friend or spouse as an authorized user with a Gold Card, and they could still open their own Gold Card and earn a 60,000-point bonus after spending $4,000 within six months.
This could make it harder for your buddy to open a Chase card. That's because being an authorized user does count toward your Chase 5/24 rule status, which means you won't get approved for any Chase card if you've opened five or more credit cards (from any bank, not just Chase) in the last 24 months. You may be able to get Chase to overlook that if being authorized user is what's pushing you over the edge, but that's not a slam dunk.
Bottom Line
This is one of the most lucrative bonuses for adding an authorized user to your Amex card we've ever seen. If you've got a spouse, family member, or trustworthy friend, 20,000 points await you.