Bose QuietComfort 35 noise-canceling headphones are some of the best travel headphones, period. They're wireless, have unbeatable noise-cancellation technology, and are plenty comfortable for long-haul flights (or long stretches of work-from-home).
You can buy them for $199 during Amazon Prime Day – a $150 discount. But we'll do you one better.
Dell is also currently selling these wireless Bose QuietComfort 35 II headphones for $199. If you've got the Platinum Card from American Express, you could knock that down to just $100 (plus tax). Got the Business Platinum Card from American Express? You may be able to snag these headphones for nearly free, paying just $14 or so in taxes.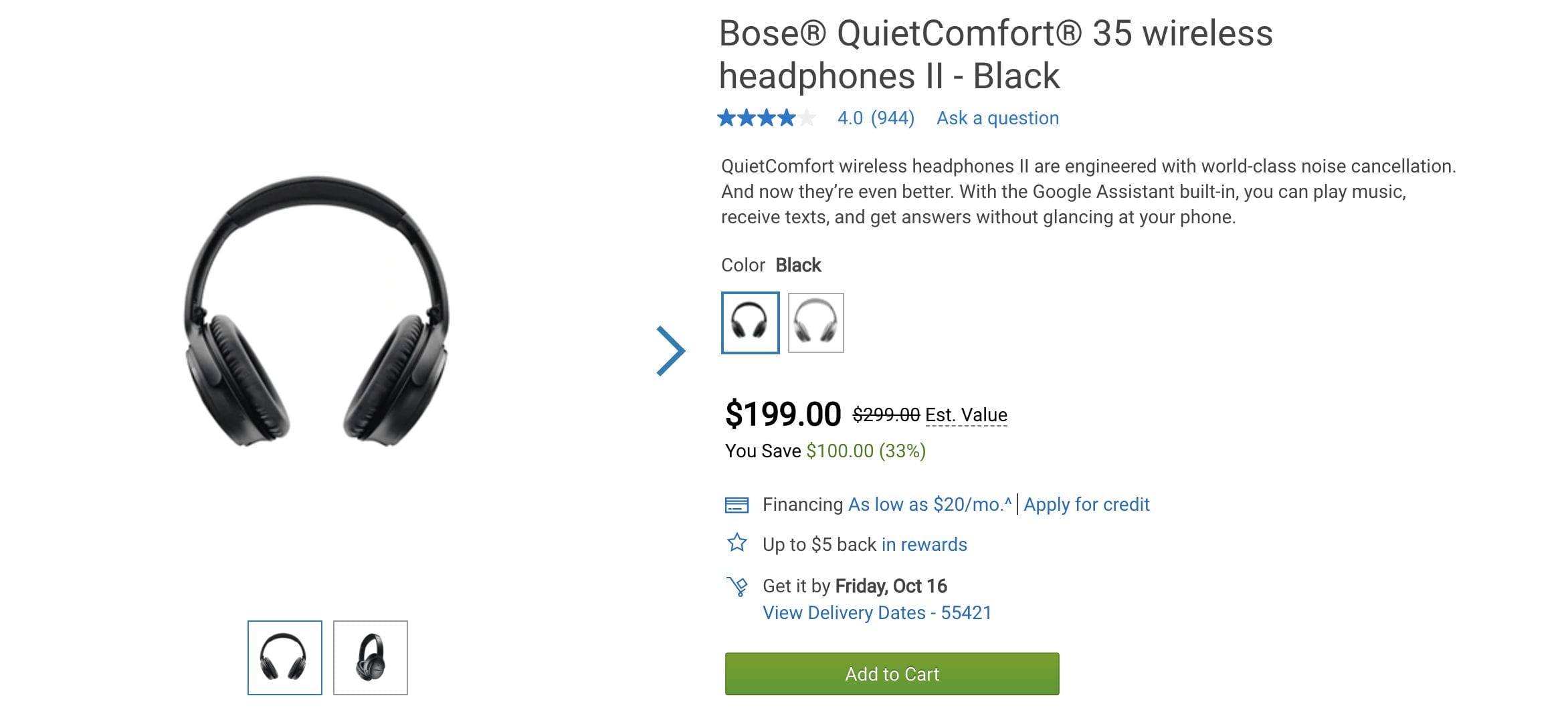 How to Get a Deal on Bose QuietComfort 35s
On the Personal Platinum card, American Express recently added a new Amex Offer for $100 off any Dell purchase of $100. If you haven't already, log into your account and add this offer to your card. Then just put charge the Bose headphones to your Platinum card and voila – the $100 statement credit should kick in automatically, bringing your price down to $100.
It gets even better on the Business Platinum card. In normal times, the Business Platinum card gets $200 each year in Dell shopping credits: $100 for January through June, and another $100 for July through December. But American Express doubled those credits during the pandemic.
So if you haven't used those statement credits yet, you've got $200 to use on Dell purchases. Put these deeply discounted Bose on your Business Platinum card, and you'll wind up paying just the taxes for a $350 pair of noise-canceling headphones. It doesn't get much better than that.
Thrifty Tip: Make your purchase through Rakuten, which is currently offering 2% cashback (or 2x Amex points) on Dell to make it an even better deal!
Bottom Line
We've seen some great deals on noise-canceling headphones this week, but this one takes the cake.
Stack a great sale with the Dell Amex Offer on your Amex Platinum card, and you can score these top-notch wireless Bose noise-canceling headphones for just $100 plus tax. Or take it even farther with the Business Platinum card and pick them up for next to nothing.

Lead photo courtesy of Amazon