In a matter of months, almost everything about travel and flying has changed. But just what you'll find when you return to the skies will depend on which airline you fly.
Between the major U.S. airlines and even the smaller budget carriers, each airline has taken drastically different strategies to respond to coronavirus and try to convince travelers to come back. In many ways, American Airlines and Delta Air Lines are at opposite ends of that spectrum.
So when I took my first work trip in months a few weeks ago, I flew American Airlines out to Washington, D.C.-Reagan (DCA) and Delta Air Lines back home to Minneapolis-St. Paul (MSP) to compare them. Needless to say, there were some massive differences between flying these two competing airlines.
From booking to boarding to seating and in-flight service, here's what I discovered.
Booking and Pre-Flight
The differences between Delta and American start long before you step foot on a plane. Odds are, you'll notice it when you pull out your wallet to pay.
In good times and bad, airlines are always fighting over fares to try to win over more cost-conscious travelers and get an edge over the competition. And while all airlines have cut fares during as the nation continues battling coronavirus, few have taken those price drops farther than American Airlines.
That wasn't the case for my particular flights, but it's unmistakable that American is trying to lure travelers back faster with even cheaper fares than their competition. Check out your options flying from New York City-LaGuardia (LGA) down to Atlanta (ATL) in September, for example: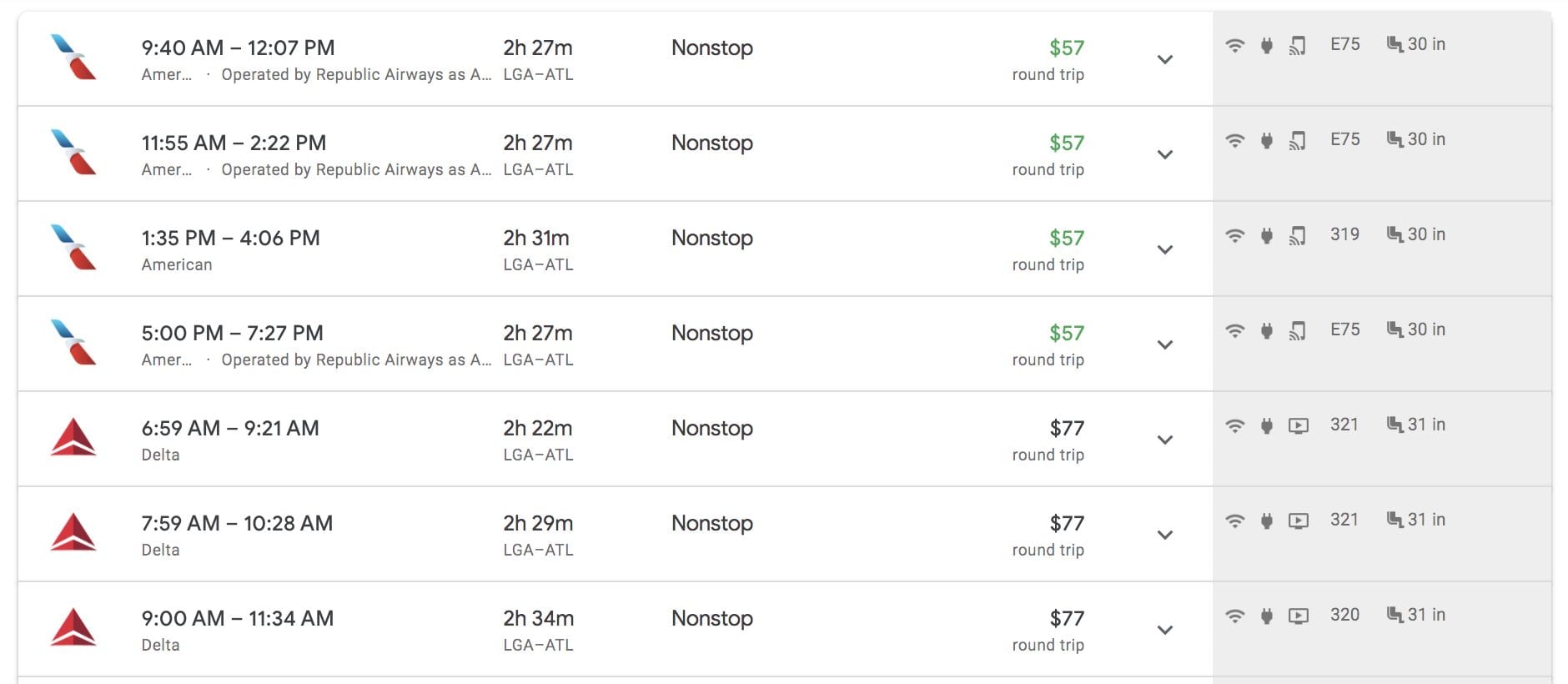 Or from Chicago-O'Hare (ORD) down to Miami (MIA).
It won't always be true, but there's a definite pattern: Flying American is cheaper than Delta and United – at least for now.
That difference in price underscores the heart of how American and Delta's coronavirus gameplans differ. While most airlines across the country have cut down to a fraction of their normal flying, American is operating more flights than its competitors (and selling more seats on each of them) so it can offer cheaper fares.
As Ethan Klapper eloquently put it in his Bluer Skies newsletter earlier this month: "(American) wants to offer you a cheaper seat on an aircraft that might be more full. (Delta) wants to charge you more money for a seat on an aircraft that has far fewer passengers."
After booking, both airlines did a fine job of warning me about some of the changes on board via email and on their mobile apps. That included repeated warnings about new requirements to wear a face mask on the flight.
But there's no denying Delta took that even farther. Two days before my flight, I got a dedicated email from Delta entitled: "Ways We're Keeping You Safe On Your Upcoming Trip." It covered everything from face mask requirements to spelling out their onboard cleaning procedures to air cabin filtration systems and more.
As of June 30, American says it will require all travelers to certify they haven't experienced any COVID-19 symptoms in the past two weeks. I traveled on the day that policy went live so perhaps there was a snafu, but I was never asked to certify I was symptom-free. 
Boarding
Let's get this out of the way: When it comes time to board the plane, little has changed with American Airlines.
At the gate for my Tuesday morning flight, passengers struggled with social distancing. There were no markers on the floor to keep travelers six feet apart, nor did I hear a gate agent remind us to do so during boarding announcements.
While other carriers have changed up their boarding procedures to limit passenger contact, American is still boarding the plane in nine groups – with basic economy passengers boarding last.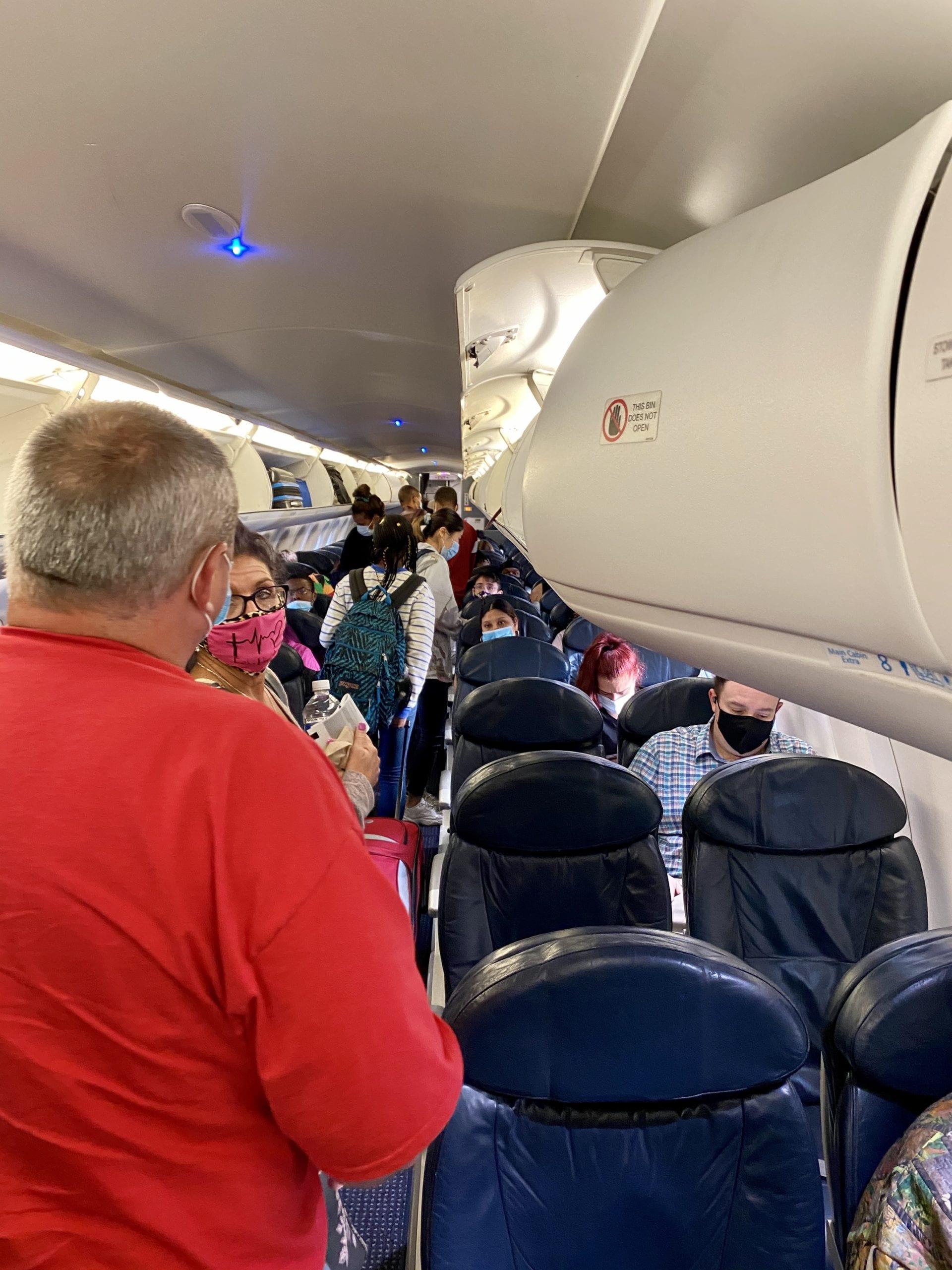 The boarding experience was much different on my flight home with Delta. For starters, there were posts and signs throughout the gate area reminding travelers to give each other space – with hand sanitizer pumps, too.
Delta also had space markers on the ground in the boarding queue. That doesn't solve human behavior, of course, so the gate agent came over the P.A. as boarding began to remind travelers to stay at least six feet apart.
And Delta has also changed up the boarding process itself. Rather than boarding in groups with basic economy at the rear, Delta is now boarding planes from back-to-front, staggering by about five rows at a time. A handful of first class passengers and others who need extra time can board beforehand, but it limits how many people you pass while getting on the plane.
Seating and Cabin
With safety top of mind, some airlines have gone to great lengths to make travelers feel more comfortable by blocking middle seats (or aisle seats on smaller regional jets) to give flyers more space.
American Airlines isn't one of them. Along with United, American is now selling flights to 100% capacity. That doesn't mean every American Airlines flight will be completely full – it just makes that prospect much more likely.
As my American Airlines flight approached, I watched as more seats throughout the cabin started to fill up.
Sure enough, the standard economy seats on my plane filled up, and someone was eventually assigned to the seat next to me. To avoid the prospect of sitting next to a stranger, I paid another $35 for a larger seat in the relatively empty Main Cabin Extra section.
Luckily, the seat next to mine was never taken. As I looked throughout the rest of the 80% flight, I was grateful for that extra space – and couldn't imagine sitting right next to someone.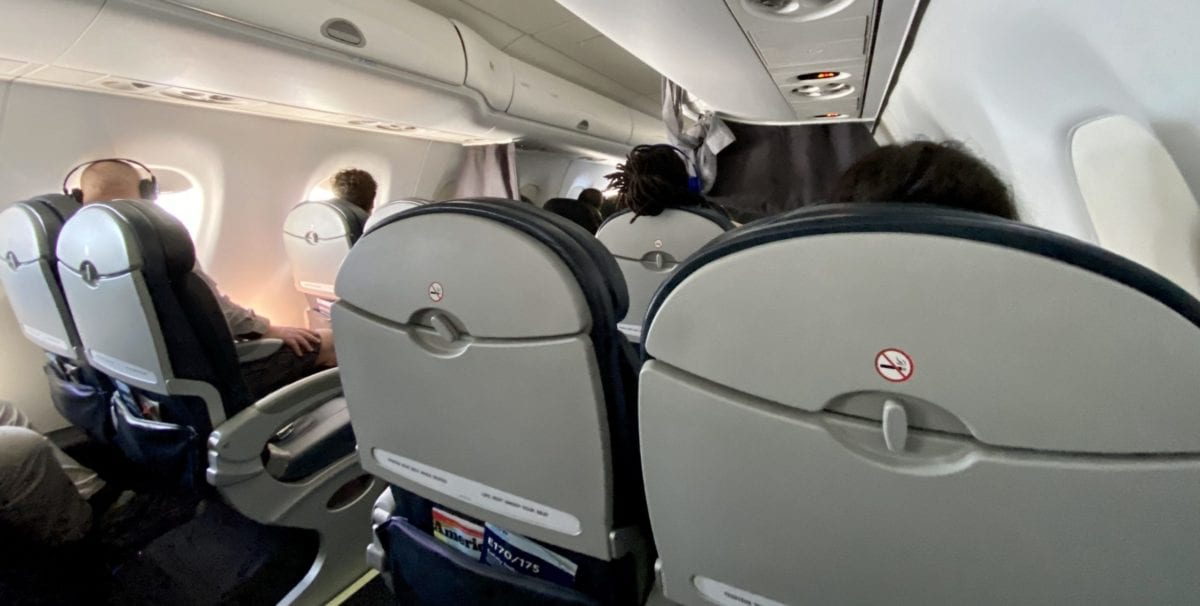 American recently found itself in hot water for refusing to allow passengers to move around to empty seats in order to spread out, according to a New York Times report. That wasn't my experience: After boarding finished, flight attendants ushered a handful of passengers up into empty Main Cabin Extra rows.
The seats on my American Airlines flight were clean. But I couldn't say the same for the lavatory, which obviously wasn't being cleaned between visits.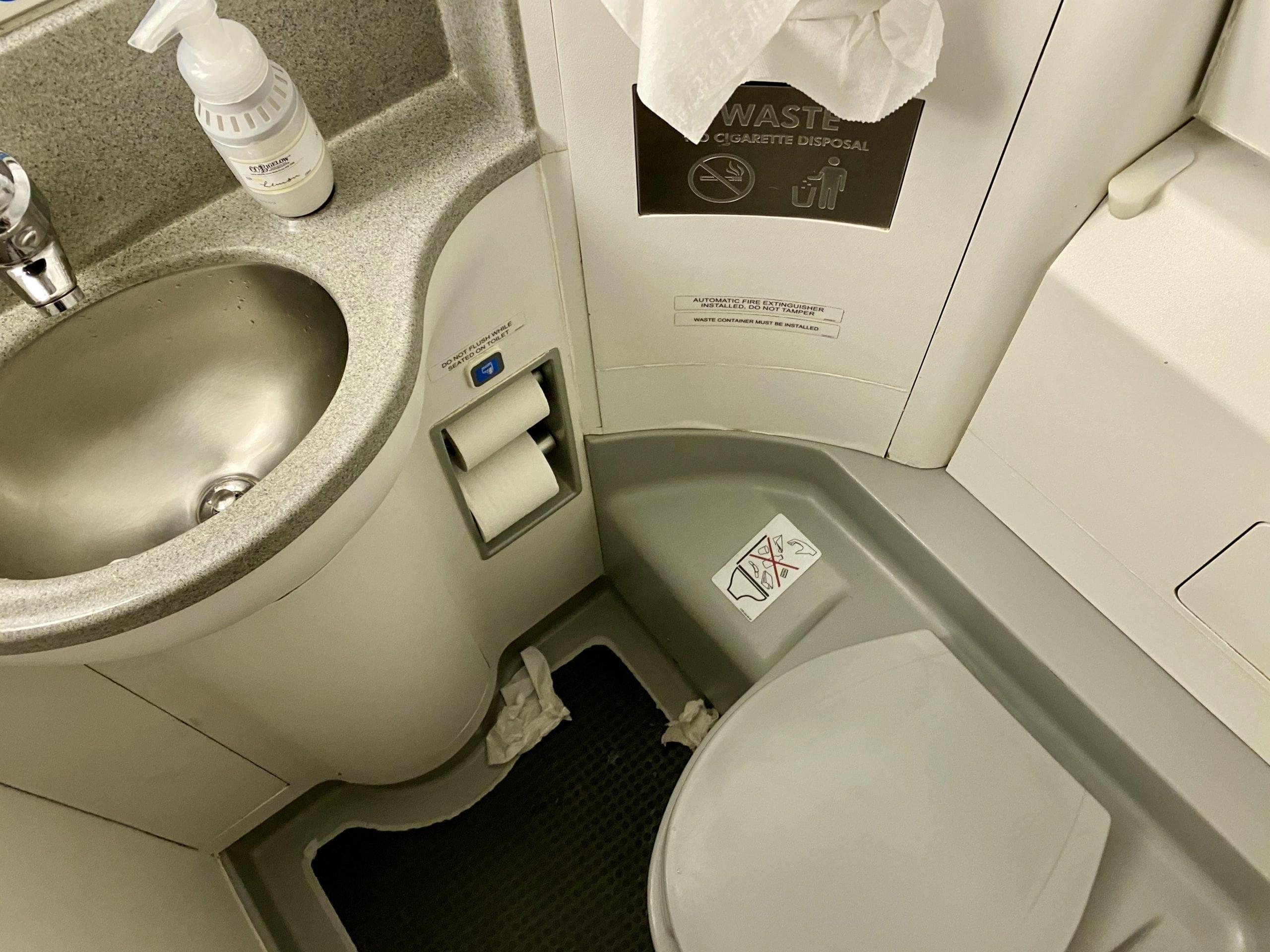 Once again, the experience was much different on Delta. Looking at the seatmap for my flight, it was clear that Delta was honoring its commitment to keeping middle seats empty (except for families and loved ones traveling together). Delta has said it will block middle seats through Sept. 30, and CEO Ed Bastian has hinted it may even extend that policy.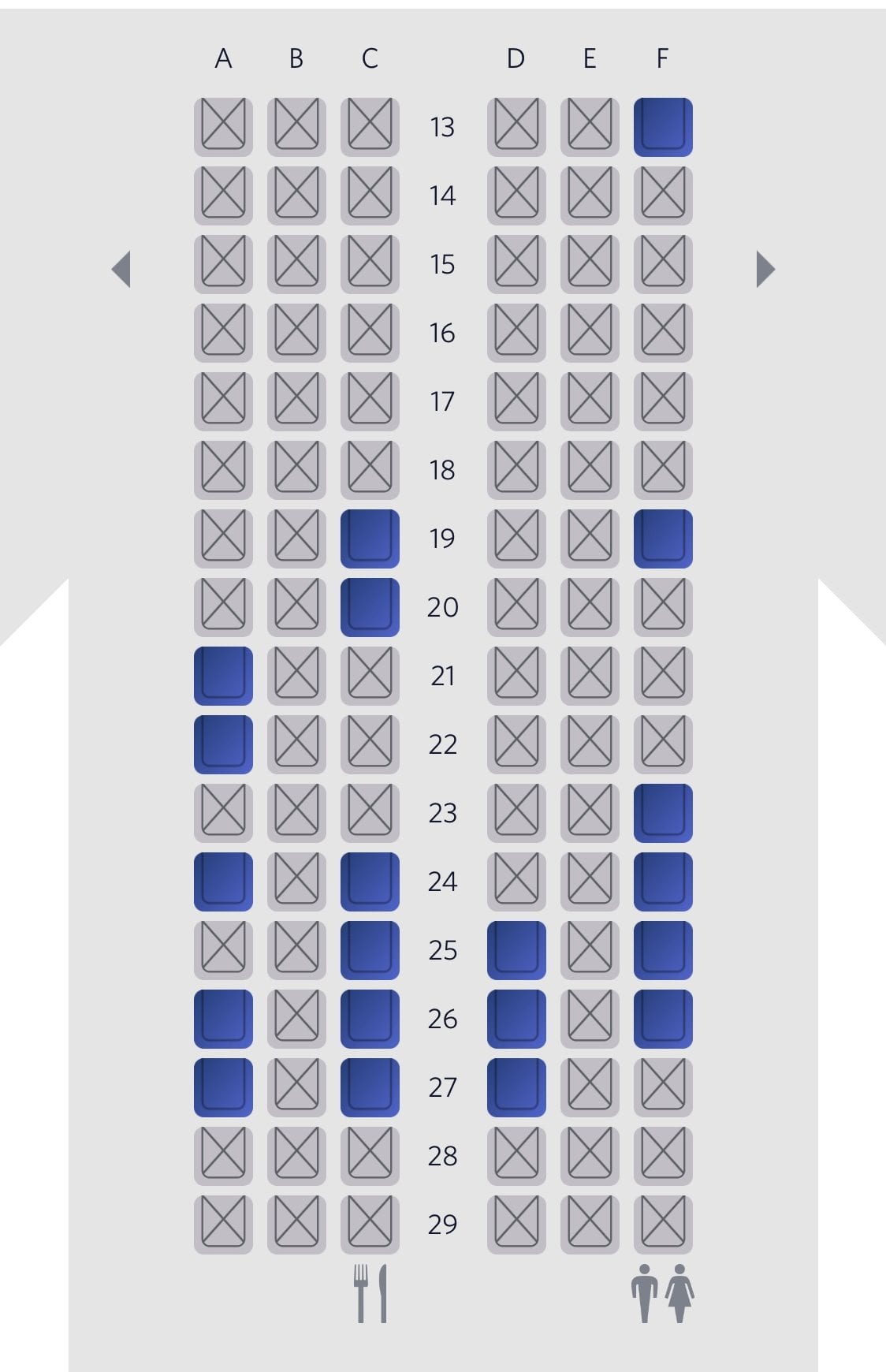 After boarding, it was clear that the flight was technically "sold-out." But with middle seats blocked and ticket sales capped on each flight, that left the economy cabin less just two-thirds full. As promised, there was an empty middle seat next to me.

It may seem small, and it is. That gives you just 18 to 20 inches of space between your nearest neighbor – nowhere near the required 6 feet for social distancing.
But that empty seat made all the difference in making me feel safer. After months of avoiding contact with even family members and loved ones, let alone strangers, the thought of bumping elbows with a fellow traveler is terrifying.
I'm no expert on cleaning aircraft, but Delta's Airbus A319 certainly seemed spotless to me. And while the bathrooms weren't perfect, they had obviously been looked at and cleaned up between visits.
Service
The typical snack-and-drink service in the sky is gone. Airlines have drastically scaled back in-flight service to limit flight attendants' interaction with passengers (and also to trim costs).
Again, the difference between the two airlines was striking.
My American flight was operated by Republic Airways, a regional carrier. And because it was a relatively short flight at just two hours, there was absolutely no service. No water, no prepackaged bags of snacks or cleaning supplies, nothing. Water may be available on request.
That is typical for short regional carrier flights with American (operating under the banner of American Eagle), though you'll get more during a mainline American Airlines flight.
I saw flight attendants just a few times throughout the journey: At the boarding door while getting on the plane, once to pick up garbage midway through the flight, and once again to pick up garbage shortly before landing. Throughout most of the flight, the flight attendants sat at the back of the plane watching videos on their phones.
Let's be clear: That's absolutely fine. On a short two-hour flight, I don't need anything. You can and should bring your own water and snacks onboard – and you should prepare for a much different flying experience, regardless.
But still, it stood in stark contrast to my in-flight experience with Delta.
As I boarded my Delta flight home, a Delta flight attendant handed each passenger a Purell wipe. And shortly after takeoff, a flight attendant came through the aisle with prepackaged plastic bags for the flight.

Each bag had a small water bottle, a bag of almonds, a pita brittle snack, Purell hand sanitizer, a napkin, and a card.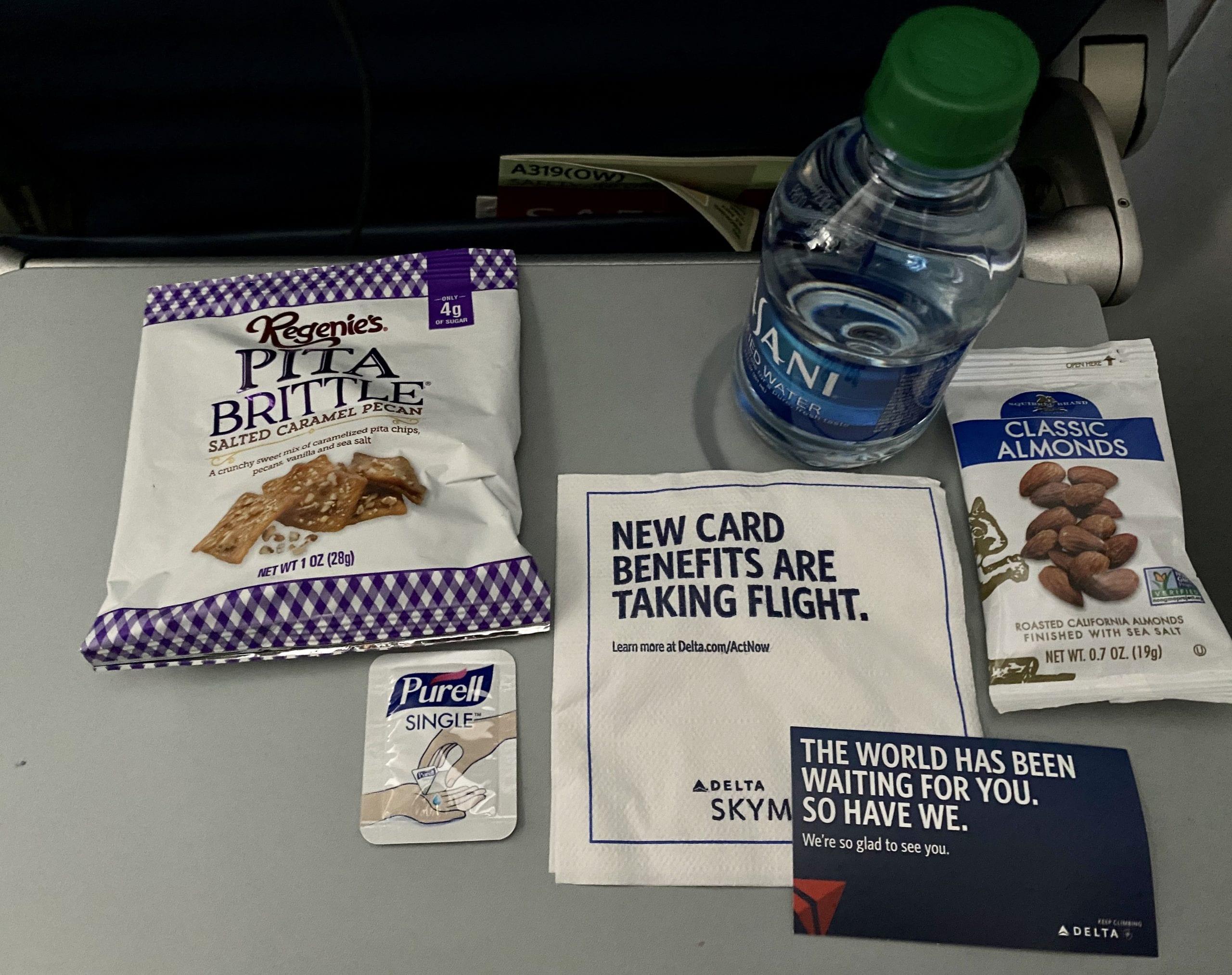 It's not a lot, but Delta has found a way to give passengers something to eat and drink on each and every flight.
Bottom Line
On paper, Delta is emphasizing safety and passenger comfort more than perhaps any other airline – and certainly more than American.
After flying both carriers back-to-back, I was shocked to the extent that proved true. Looking back, there's not one facet of the strange new flying experience during coronavirus where I felt American handled better than Delta. 
And without the assurance of an empty seat next to me, I'm not sure I would fly American again anytime soon.