Being in Jordan can feel like being on another planet. It's not far off.
There's the spectacular Wadi Rum desert, where scenes of both The Martian and Rogue One: A Star Wars Story were filmed. The otherworldly shots of Indie searching for the Holy Grail in Indiana Jones and the Last Crusade at a temple carved into a cliff are real – it's the Treasury, the 2,000-year-old hallmark at Petra that draws thousands of visitors daily.
You can float in the Dead Sea, not far from the capital city of Amman, or head south and go snorkeling in the Red Sea.
If the photos of these spectacles of Jordan aren't enough to entice you, keep reading and Jordan will vault to the top of your list.
Is It Safe?
"You traveled to Jordan? Wow, you're brave!"
We heard it nonstop.
Jordan is located in a volatile region of the world, bordering Israel and Syria – it's easy to lump it in with the news coming from that region. But that's an unfair assumption.
Jordan has little to do with the current conflicts in the Middle East. Without substantial natural resources of their own (no oil here!), Jordan is increasingly encouraging and even relying on tourism. The country is doing everything in its power to not just make it easy for people to travel throughout Jordan, but safe, too.
And it shows. We never felt unsafe and found everyone to be extremely welcoming, helpful, and friendly. There was never a moment we felt any of the locals or guides were trying to rip us off or take advantage. Even closer to home, that's not always the case.
Thrifty Tip: Do your research! Learning about history, politics, and culture of a place will give you an insight into a country. Learning just a little bit about Jordan and its relationship with the neighboring countries allowed us to feel like it was a safe place before we got there. If you still feel a little uncomfortable follow these tips to stay safe and be prepared no matter where you're traveling.
That said, there's more to keep in mind for women who travel to Jordan. Like its neighbors, it's a predominately Muslim country, though there is a small percentage of Christians and the constitution specifically allows freedom of religion. Strict Muslim law (Shari'a Law) only applies to Muslim citizens. And there's a push for more gender equality in Jordan, with increased job availability and political representation.
So what does that mean for female travelers? Travelers aren't held to strict dress codes except when visiting religious sites, but you may feel more comfortable dressing modestly. Avoid wearing short shorts, tank tops, and low-cut tops. It could help make you feel more comfortable in public settings, but also means you're ready to visit the many Muslim and Christian sites throughout Jordan.
Getting There … and Getting In
There are only two airports in Jordan. The primary international airport is in Amman (AMM), with another, much smaller airport in the southern Jordan city of Aqaba (AQJ).
The easiest way to get there by far is by flying into Amman. There are a few direct flights on Royal Jordanian from the U.S., including Chicago-O'Hare (ORD), New York City (JFK), and Detroit (DTW). Otherwise, any of the other Middle Eastern carriers like Emirates, Qatar Airways, and Etihad will get you to Jordan there with just a stop or two.
If visiting Jordan is on your list, you should be earning some American AAdvantage miles, as you can use them to book flights from the U.S. to Jordan on either Royal Jordanian or Qatar Airways.
Once your flights are booked, you'll need a visa to enter Jordan. With a U.S. passport, it's simple – just get your visa upon arrival at the airport. Head for the clearly marked lane before Passport Control to buy one – it was 40 Jordanian Dinar (about $56.50) per person for a single-entry visa, at the time of publication.
But if you're sightseeing your way around Jordan, consider buying The Jordan Pass. Starting at 70 Dinar ($99), the Jordan Pass includes your visa as well as free entrance to 40 different sites around Jordan, including Petra, the Wadi Rum, Jerash, and the Amman Citadel. Considering a one-day ticket to Petra costs 50 Dinar ($70), you can easily save money by getting the Jordan Pass.
You can pick a package one, two, or three-day entrances to Petra. We recommend going to Petra for at least two days – it's huge! Just purchase your tickets and either have them sent to your phone or print them out. Printing a paper backup may be a good option in case your phone doesn't work.
By the time you make it to Passport Control in Amman, just scan the QR code on your pass, get your passport stamped, and make your way into Jordan!
How to Cover all of Jordan
If you want to see all the major sites in Jordan, you'll have to cover a lot of ground, from north to south – or vice versa.
Start or end your trip in Amman. We started by flying from Amman to Aqaba, then drove north to the Wadi Rum and Petra and hopped out to the Dead Sea before heading back for Amman. You can book tours starting from Amman, ranging from day trips to multiple days that take you to all the major sites. But these tours can be pricey, especially if you want to see it all.

Take it from us: Rent a car. Four days with gas cost us $200, allowing us to see all the major sites for a fraction of a tour cost. The roads throughout Jordan are well-maintained with little traffic (except for a few dozen sheep and camels) until you reach Amman. You'll find all the major car rental companies – including Avis which, conveniently, has a drop-off site at the Intercontinental Amman hotel.
Head South for Aqaba
Tucked away in southern Jordan on the Gulf of Aqaba on the Red Sea, Aqaba is Jordan's sole coastal city. And it's a great beach destination.
The short coastline offers great diving and snorkeling, with over two dozen sites including shipwrecks, canyons, and shallow coral reefs, to explore. It's also a great place to relax before or after you hit all the major sites.
Just like the rest of Jordan, accommodations in Aqaba are getting better and better as the country tries to pull in more tourists.
Thrifty Tip: Stay at the brand new Al Manara Luxury Collection Hotel, starting at $130 per night. If you have Marriott status, cross your fingers for an upgrade to one of the pool villas.
Crossing Through the Wadi Rum
Skipping the Wadi Rum would be skipping a place with deep historical and religious importance.
Pronounced wah-dee rhum (like the drink), Moses is said to have lead the Israelites through this desert. Hundreds of years later, it was made famous by Lawrence of Arabia as he helped lead the Arab Revolt in the 1910s – later becoming the subject of the Oscar-winning 1962 movie Lawrence of Arabia.
Without knowing it, you've likely already seen the jawdropping beauty of the Wadi Rum. Scenes from Mars in The Martian were filmed here, as were parts of Rogue One: A Star Wars Story.

Stay at least one night in the desert. There are dozens of glamping sites, along with the more rustic Bedouin tents to rent. The Bedouin are the local nomadic people that live in the desert.
You can find places to stay on Airbnb and most hotel booking sites. Rooms range from $20 a night up to $350, with a wide array of amenities. The more expensive sites include a bathroom in an enclosed room as well as dinner and breakfast, and more comfortable amenities like air conditioning and heating.
The cheaper sites are pretty rudimentary with shared bathrooms. Make sure to check the weather during the day and night hours before you book. Depending on the time of year, temperatures can be very high or even drop below 30 degrees at night. It may be worth splurging a bit just to have air or heat.
Thrifty Tip: Have the Chase Saphire Preferred Card or the Chase Sapphire Reserve? Search for Wadi Rum hotels and book using Ultimate Rewards. Our stay at the UFO Luxhotel was close to $300/night but only 15,000 Chase Ultimate Rewards points!
Your accommodation may offer you tours in the desert by local bedouins, with prices that vary based on the length of the tour. We chose a three-hour tour for 60 Dinar ($85 USD) for a private jeep tour, and it was well worth it.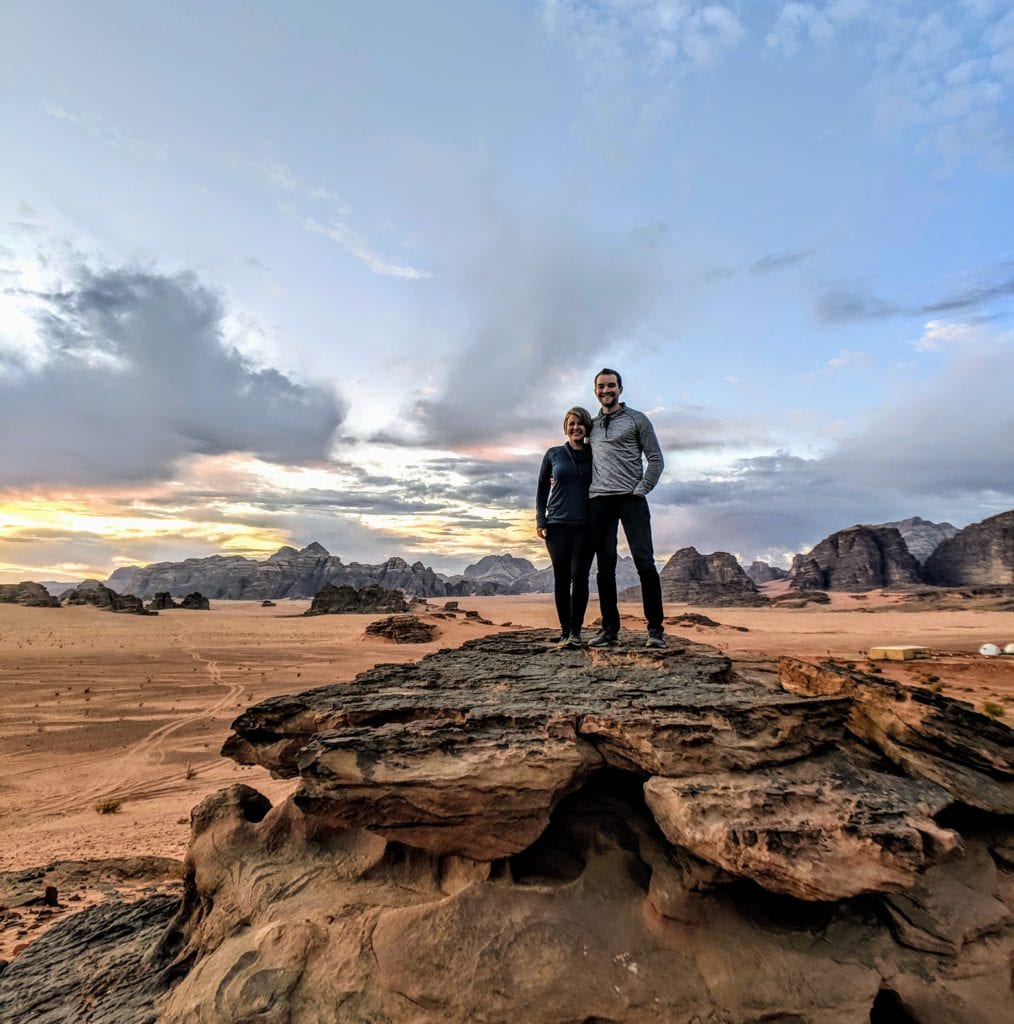 Thrifty Tip: Get up early! Go on a sunrise tour of the desert. The colors and light are amazing early in the morning – and you may have it all to yourself!
Petra is Perfect
Words cannot do Petra justice. Not even photos can truly capture it.

Petra is a massive complex of awe-inspiring temples, caves, theaters, and more carved right into the side of massive cliffs. Set aside at least two days to explore Petra thoroughly.
It's nearly a 2-mile walk from the entrance to get to the Treasury. From there, it will take you at least an hour and a half or more to get to the other main site, the Monastery. And that's if you don't stop along the way, which is nearly impossible to do with sights like this.
Plan your trip so you can arrive at Petra when it opens at 6 a.m. at least one day. Walking through the siq (gorge) and seeing The Treasury with no other tourists and maybe just a camel or two is incredible.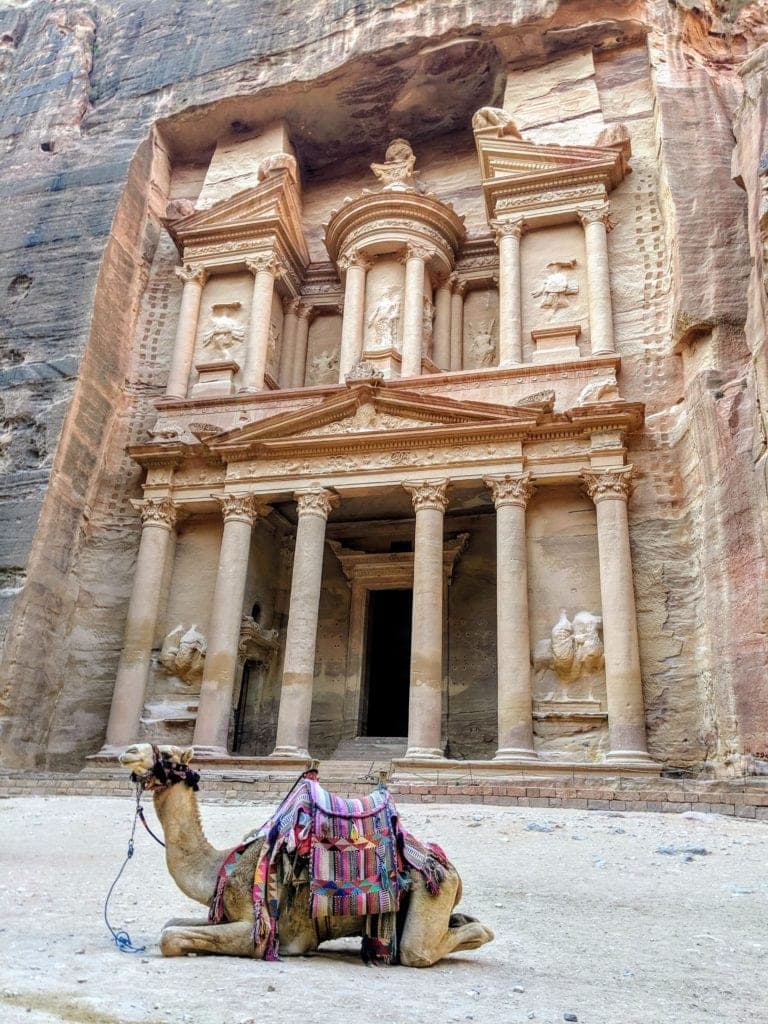 Wear comfortable walking shoes and layer up while exploring Petra, as the temperature can change drastically. And bring water bottles – there are a few small shops where you can purchase drinks and snacks, but they are far and few between.
Even with the Jordan Pass, you'll still need to get in the ticket line to have your pass scanned and get your one-day, two-day, or three-day tickets for Petra. Prepare to be asked at the entrance if you want a horse ride. It's included with your ticket, but these animals aren't treated the best, so it's your call. Be aware that there will also be  a lot of young children offering donkey and camel rides throughout Petra for a fee.
Thrifty Tip: Buy a Petra or Jordan guidebook and bring it with to read up on all of the sites. There are guides that will offer their services at the entrance but they charge 50 Dinar ($70 USD) or more for just an hour. The Rough Guide to Jordan is a great source for Petra and for travel throughout the country.
Float in The Dead Sea
The Dead Sea is just that: dead.
At the lowest point on earth, this sea contains three times as much salt as the ocean, ensuring that nothing beyond microscopic fungi and bacteria can survive. But this body of water still beckons tourists, chock full of salt and minerals that supposedly have healing powers.
It's also just pretty cool to float in the Dead Sea – with all the salt, you don't have a choice. Get a picture of yourself holding a book or newspaper.
You'll also find luxury spas around the Dead Sea. Your hotel will likely have free Dead Sea mud ready to be lathered, dried, then rinsed off.
Less than 30 minutes from most hotels along the Dead Sea is the Baptism Site at "Bethany Beyond the Jordan," where John the Baptist is said to have baptized Jesus. It costs 12 Dinar ($17 USD), or 8 Dinar ($11) pre-paid if you included it in your Jordan Pass. Touring the site takes about an hour and a half – and you can't go off on your own. Israel and its tightly controlled border are just across the river.
But you can request to get baptized in the River Jordan by the church on site.
If you like hiking, the Wadi al Mujib national park is only a few minutes from the Dead Sea. There are a handful of trails, though some require a guide from the visitor center to access. Most of these trails are closed in the wintertime, so double check before you go.
Thrifty Tip: Looking to relax? Staying one night at the Dead Sea will still be enough for most people. Because of the organic fertilizer used in the agricultural region nearby, there are hundreds of black flies. Stay a little longer in Aqaba for more beach and pool time.
Last Stop in Amman
Amman (ah-mohn) is the capital of Jordan and its largest city, with just over 4 million people.
With winding and confusing roads that aren't quite walkable, it can be a difficult city to get around. There are public buses but no timetables, and they only leave once full. Uber is available in Amman, as are taxis. Just make sure to confirm the price before your ride – and ensure it's total, not per person.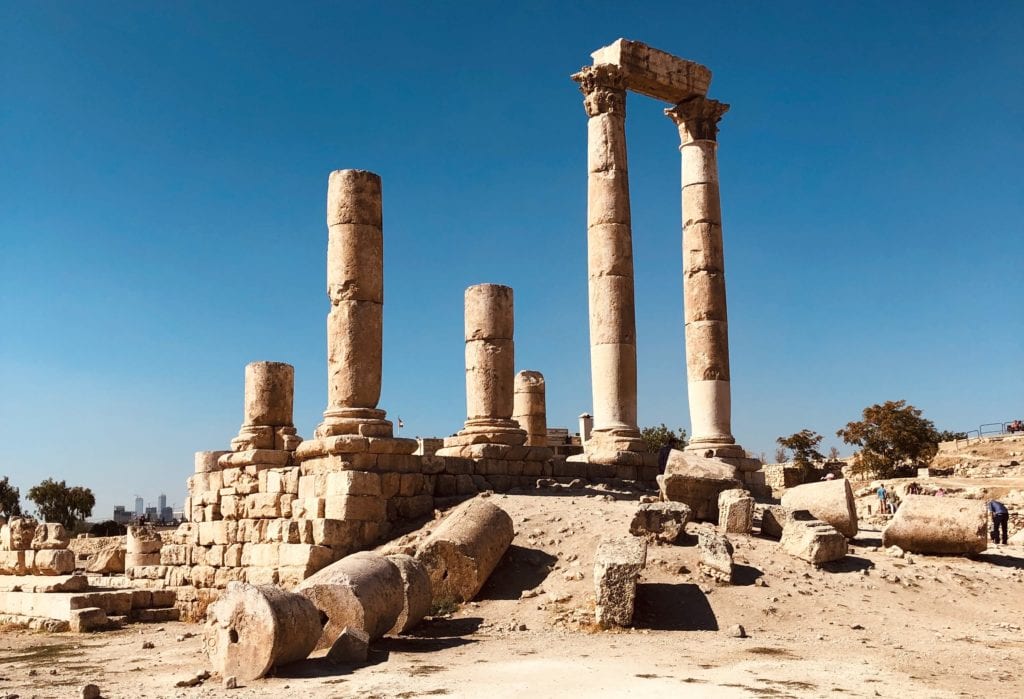 Head to the Amman Citadel, whose entrance fee is included in the Jordan Pass, for Roman ruins right in the middle of the city.
There are a handful of other ruin sites within the city and over a dozen museums featuring art, archeology, history, and more. For a day trip head to Jerash. Just 45 minutes outside of the city, Jerash is a large Greco-Roman archeology site. The entrance fee to the site is also included in the Jordan Pass.
What to Eat and Drink in Jordan
Jordanian food features many dishes made with chickpeas like falafel, deep-fried balls, and hummus served alongside nuts, olives, tabouleh (parsley & tomato), and eggplant dip, with a generous helping of Arabic bread.
Many of the main dishes center around a type of grilled meat served with all kinds of accompaniments. Try chicken, lamb, or beef shawarma, a wrap like sandwich similar to a gyro.
Most meals are relatively cheap, at about 7-10 Dinar ($10-14 USD), unless you're at a high-end restaurant. Note that many appetizers (like hummus) are large portions that are meant to be shared.
To drink? Unlike many neighboring countries, alcohol is readily available in Jordan. There are even a few local beers like Petra, Carakale, and Amstel that are brewed in Jordan. There is also Jordanian wine, all of which – white, rose, and red – tend to be on the sweeter side. You can also find cocktails but they will be fairly basic unless you head to one of the few cocktail bars in Amman.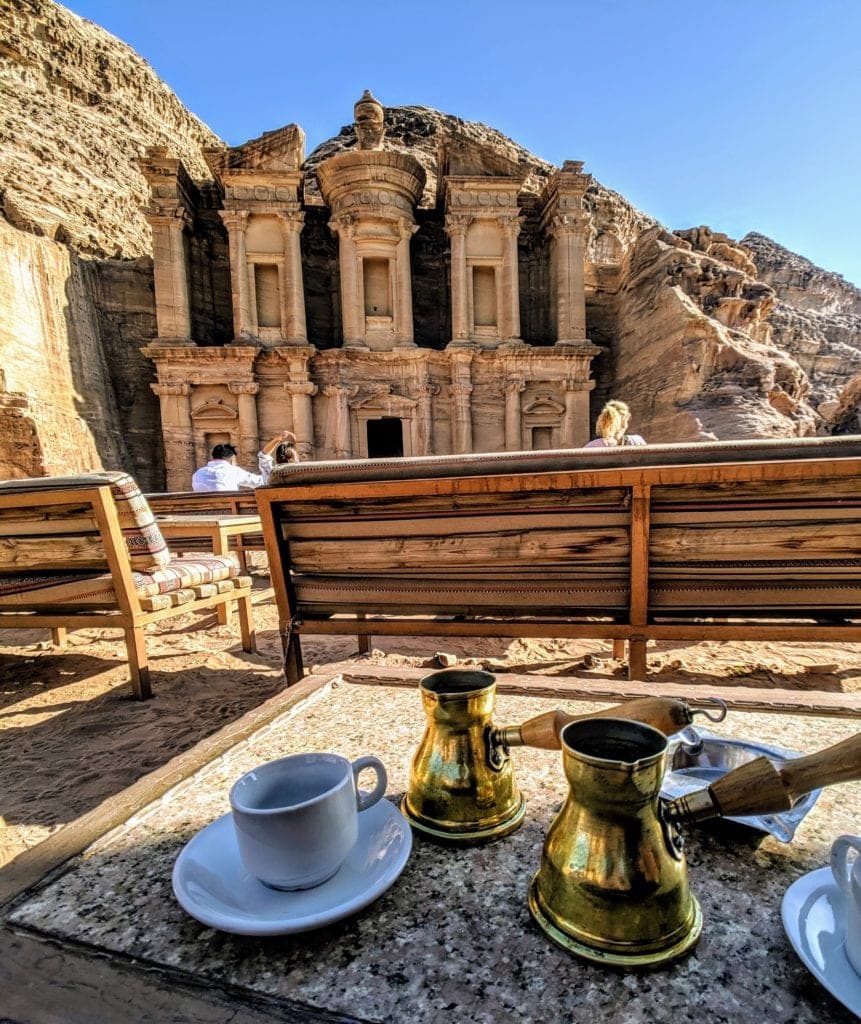 Fresh juices are prevalent and popular throughout Jordan, especially pomegranate juice. Make sure to give Arabic coffee a try. It's spiced with cardamom, usually served in a small metal pitcher with about two cups worth. Order it both sweet and regular to mix things up.
Bottom Line
With all its rich history, amazing sites, friendly people, and delicious food, it begs the question: Why haven't you been to Jordan yet?