Booking any trip using points and miles is like putting together a jigsaw puzzle. Between using the right points, finding award availability, and securing positioning flights, there are lots of frustrating factors to consider to pull it off.
But a trip around the world? It's like a 10,000-piece jigsaw puzzle … flipped upside down. Thrifty Traveler Premium flight deal analyst Jon and I just pulled it off, flying on some of the world's best airlines all around the globe over the course of just six days.
The final tally? Nine flights each, six days, three hotels, and a combined total of 46,692 miles. It's far from the world record – the current Guinness World Record holder flew around the world in just over two days (!!!) – but it was still a whirlwind trip.
Over the coming weeks, you'll see lots of reviews, stories, and features from this trip. But we wanted to lay the groundwork for this trip, including what we set out to do and how we booked it.
Flying the World's Best Business Class
The trip started with the best of the best: Qatar Airways Qsuites business class.
These fully enclosed suites on the world's reigning #1 airline have won accolades left and right – and rightly so. They walk the line perfectly between being spacious and comfortable while giving passengers unparalleled privacy. The suites are nearly flawless, with a perfect design and elegant finishes.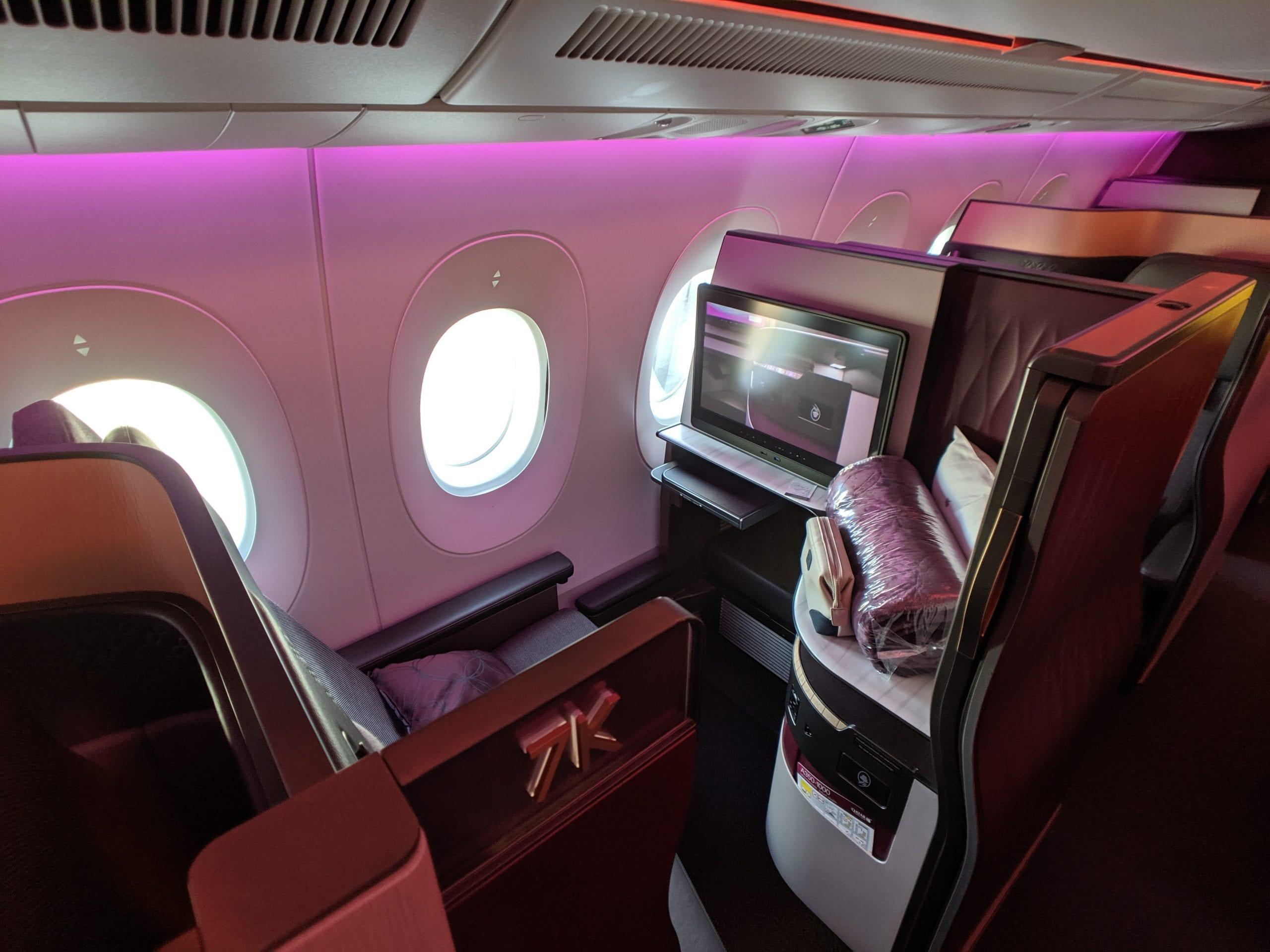 We started our journey at home in Minneapolis-St. Paul, flying down to Dallas-Fort Worth (DFW) on American Airlines before hitching a ride on a sparkly new Airbus A350-1000 across the Atlantic Ocean and over to Doha (DOH). You know a flight was good when 14 hours felt more like four hours.
We booked these flights for 70,000 AAdvantage miles each. And considering they typically cost at least $4,000, we'd say that's 70,000 AAdvantage miles well spent. Read how to book Qatar Airways flights with AA miles.
Exploring Oman
When you're covering this much ground in under a week, you don't spend much time on the ground. But we carved out a couple nights to explore in the Middle East.
We could have stayed in Doha, the home of Qatar Airways. Instead, we headed onward for Oman, a relatively small and often overlooked country on the southeastern tip of the Arabian Peninsula.
And there's a bonus. Because of American Airlines' region-based award chart, we could fly elsewhere within the Middle East for free. Whether you're flying nonstop to Doha, or adding a connecting flight to Oman, Bahrain, or Jordan, American's award chart treats it just the same.
So instead of flying just from Dallas-Fort Worth (DFW) to Doha (DOH), we added the short segment to Muscat (MCT) – still paying the same 70,000 AAdvantage miles, flying business class the whole way.
And Oman's capital city of Muscat delivered. It's full of beautiful architecture, delicious food, and friendly people – all set in an incredible landscape, with a rugged coastline along the Arabian Sea flanked by a mountain range.
Between visiting the beautiful mosques throughout the city, the souks (markets) at night, we got a great taste of Muscat and a wonderful introduction to the Middle East.
Saying Goodbye to the Airbus A380
Slowly but surely, the Airbus A380 will disappear from the sky. And Qatar Airways' A380s will be among the first to go.
The airline has just a handful in its fleet, and its CEO has said they'll start to retire them within the next five years. Flying out of Doha, you have a few options to get on one of these double-decker Whale Jets, including ultra-long-haul flights to Australia.
But one choice stands above the rest: Guangzhou (CAN). American Airlines' award chart for booking partner airlines like Qatar shines once again. While a six-hour flight in first class to London-Heathrow (LHR) or Paris-Charles de Gaulle (CDG) costs 62,500 miles, you can book the eight-hour journey for just 50,000 AAdvantage miles – or 40,000 miles in business class.
And you want to be in first class for this flight.
Because we were flying first class out of Doha, we got to spend seven amazing hours in Qatar Airways' incomparable Al Safwa Lounge. It's massive, gorgeous, and almost always empty, with amenities that will make your head spin: Free jacuzzi, amazing a la carte dining, bottles of top-shelf champagne, a dedicated duty free store, sleeping suites for long layovers, and much more.
But the A380 was the main event. While less flashy or private than some of its competitors, Qatar Airways' first class is understated, airy, and all-around excellent. The seats are massive, reclining into one of the largest and most comfortable beds on a plane. Dinner service starts with a glass of vintage Krug champagne and an amazing caviar course.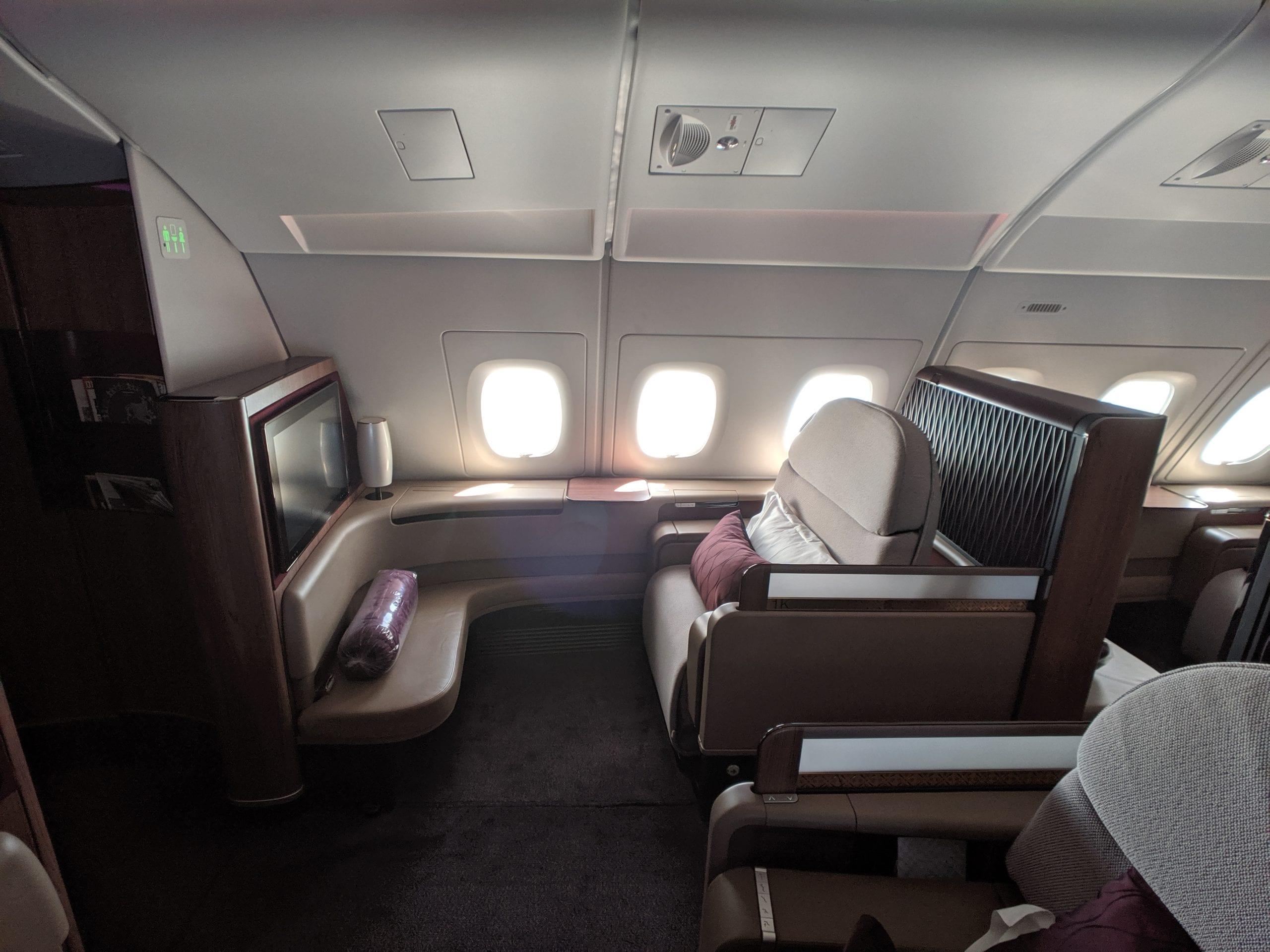 But there's a better reason to book a flight: The absolute best bar you'll find at 39,000 feet. Drinks and snacks are free. You can find lounges and bars, but they just don't stack up to Qatar's onboard bar.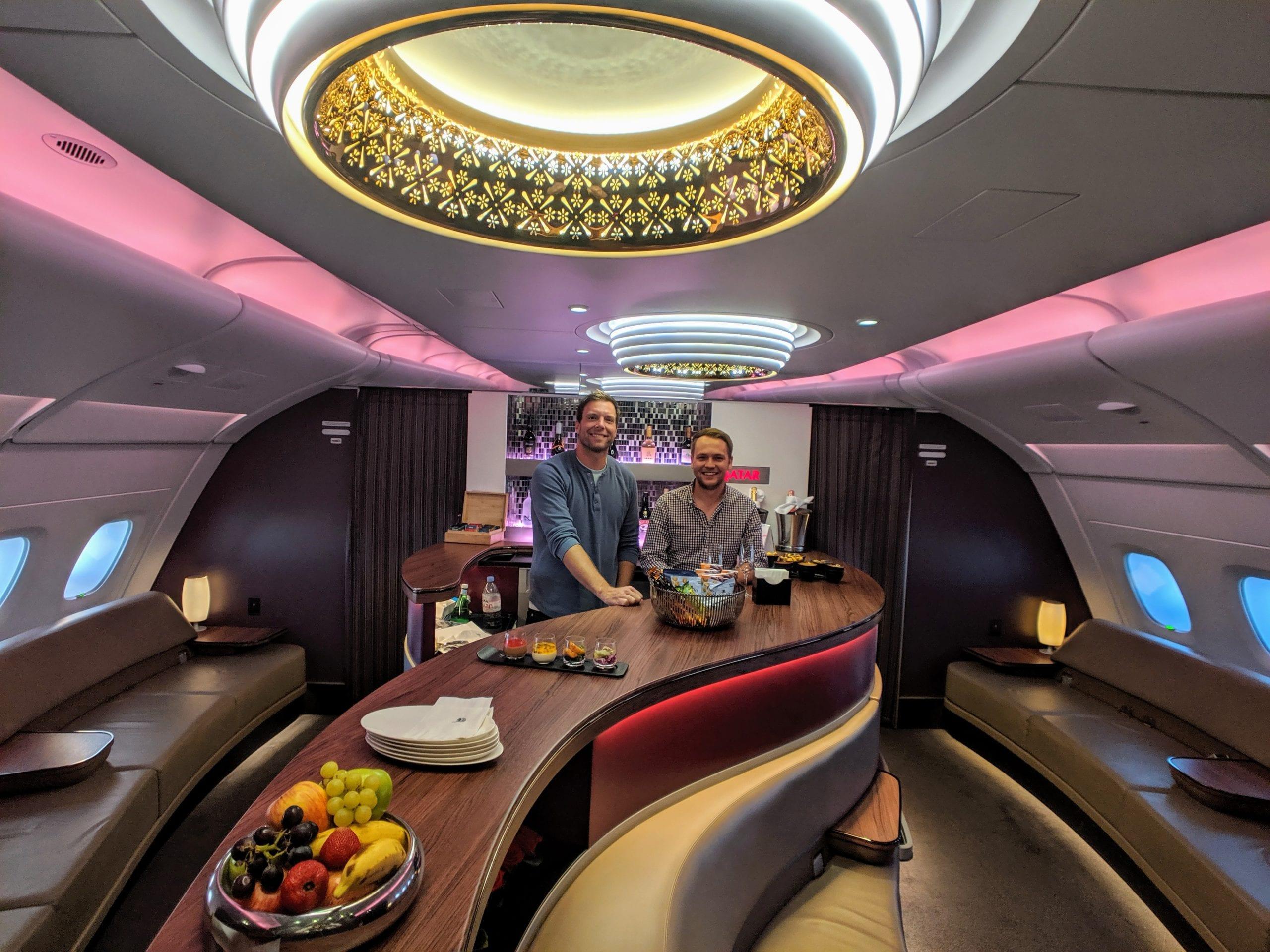 After a nightcap (or three) at the incredible bar in the sky, paying 50,000 AAdvantage miles each, Jon and I split up to continue our journeys home separately.
Getting into China and Exploring Singapore
China's visa process is notoriously difficult. I found out firsthand.
Visiting China typically requires a costly visa, though it lasts for 10 whole years. But travelers who are just passing through may be eligible for visa-free transit, which allow you to spend as long as six days in the city without getting a visa.
In this case, I was looking to spend just one night in Guangzhou so I qualified for a 24-hour transit without visa entry to China. After providing proof of onward departure from Guangzhou, information on where I'd be staying, and a thorough, 20-minute grilling from a Chinese immigration agent, I was finally allowed into the country.
Meanwhile, Jon took a much tastier route – flying south to spend a few nights in Singapore. He hopped on a fairly cheap and short flight from Guangzhou to Singapore (SIN).
There, he found a beautiful and modern city, as if it were carved into a jungle in Southeast Asia. Everywhere you look, there's tasty and affordable food (including the world's cheapest Michelin-starred restaurant), tons of entertainment, and breathtaking architecture. All that and the help of friendly locals made less than 36 hours in Singapore the highlight of Jon's journey across the world.
Flying Japan Airlines First Class
Booking this one was a challenge – it came down to the wire. It was made slightly easier when American Airlines made Japan Airlines (JAL) flights bookable online with AA miles.
But still, availability was scarce. There were no flights available when I needed them to fly in Japan Airlines first class from Tokyo back to the U.S.
But then I noticed a trend: Every evening at about 6 p.m. CST, JAL made a handful of first class awards bookable through AA exactly 14 days before departure. So just over a week before we left for our first flight, I was able to book a seat in Japan Airlines first class from Tokyo-Narita (NRT) to Chicago-O'Hare (ORD) and home to Minneapolis-St. Paul (MSP) for 80,000 AAdvantage miles.
Then there was the matter of getting to Tokyo to hop on the flight home. There were no awards available on direct flights from Guangzhou to Tokyo, and cash prices were more than $1,200 in economy.
So we used a combination of British Airways Avios and Cathay Pacific Asia miles to book two separate flights on Cathay Pacific – from Guangzhou to Hong Kong (HKG), and Hong Kong to Tokyo-Narita (NRT). Both of these airlines use distance-based award charts, which shine in situations like these where you need to book relatively short flights.
It highlights the flexibility, creativity, and patience you often need to pull off a trip like this, especially when flying in first or business class. And trust me, it was worth the extra work.
After flying Japan Airlines business class earlier this year and now its first class, I can confidently say it's one of the top five airlines in the world. While somewhat outdated, the seats were massive and comfortable, while still offering a ton of privacy. Service was outstanding from the moment I stepped on board, as all three flight attendants working the eight-seat cabin went an extra 20 miles to help.
…And Japan Airlines Economy
You might say Jon drew the short straw, flying economy across the Pacific Ocean. But if you ask him, it was still an amazing flight. And that's because Japan Airlines offers one of the best ways to fly to Asia in economy.
We booked flights from Singapore (SIN) to Tokyo-Narita (NRT) to Seattle (SEA) to Minneapolis-St. Paul (MSP) – all for just 37,500 AAdvantage miles. That's a lot of mileage for not many miles.
On the long-haul flight across the Pacific Ocean, Jon was on one of Japan Airlines' Boeing 787 Dreamliners. JAL arranges economy in an unrivaled 2-4-2 configuration, with plenty of legroom. That gives passengers more personal space than you'll find on almost any jet flying between the U.S. and Asia.
Add in the delicious Japanese meals and great service, and this should be the top choice for any traveler.
Putting Our Money Where Our Mouth Is
We just put on a whole lot of miles flying around the world. And while travel is important, there's no denying that flying has an environmental cost.
That's why we offset our carbon footprint for every single flight our employees take. And even with nearly 50,000 miles in one week, that commitment isn't changing.
These flights around the world released a total of 15.34 metric tons of carbon dioxide. So we'll be donating $169.74 to the National Forest Foundation, with whom we are a Small Business Partner. Read more on how we offset our carbon footprint as a company, and how you can, too.
Bottom Line
Stay tuned – there's much more to come from this whirlwind trip around the globe.