What would you do with 100,000 Chase Ultimate Rewards points? That's the question millions of small business owners should be asking themselves now that Chase has made it much easier to earn a huge bonus on the *chase ink preferred*.
Back in June, Chase improved the sign-up bonus on its flagship business card by nearly cutting the spending requirement in half – dropping from the old $15,000 threshold to just $8,000 in spending over three months. This means that you now need to spend less than ever before to get that big bonus: Earn 100,000 Chase Ultimate Rewards after spending just $8,000 on purchases in the first three months of account opening.
And while the reduced spending requirement made headlines at the time, this isn't your typical limited-time bonus. Chase has informed us that this is the new, standard spending requirement for the welcome bonus offer going forward. That's great news for any small business owners or travelers with a side hustle who have been eyeing the card.
Don't think you are eligible for a business credit card? You might be surprised at the answer.
Beyond a stellar welcome bonus, the *chase ink preferred* is one of the best out there. It offers a solid ongoing return on spending and strong travel benefits for small business owners. Best of all, the card has a low annual fee of just $95, making it worth a spot in your wallet for the long run.
Just remember: Credit cards are serious business. You should never apply for a credit card if you're already in debt, and never charge more to a credit card than you can afford to pay off immediately. That's especially true when looking at business credit cards, as the spending required to earn a big bonus is often much higher than what you will find on the consumer card side of things.
Read on for full details on the Chase Ink Business Preferred and this exciting new offer.
Check out our full review of the Chase Ink Business Preferred Card for more info on all the card has to offer!
Learn More about the *chase ink preferred*
Chase Ink Preferred Overview
The Chase Ink Preferred had long been one of the best business cards for big spenders, but its mouth-watering welcome bonus offer required a huge chunk of spending – putting it out of reach for many small business owners. Well, you can kiss those days goodbye, now that Chase opened the door for businesses big and small to apply for the Ink Preferred and earn a juicy welcome offer to boot.
So what makes this card so special? Think of it as the business version of the longtime-favorite *csp*.
First off, the card is a good one for racking up Chase Ultimate Rewards points well beyond the initial welcome offer. It earns bonus points in several key business categories such as travel, shipping expenses, phone & internet bills, and online advertising. 
On top of that, it offers some rock-solid travel benefits and other protections for your business. And when it comes time to reap your rewards, the Ink Preferred allows you to redeem Chase Ultimate Rewards in a variety of ways.
You can use them to book travel at 1.25 cents per point in the Chase Travel Portal, or they can be transferred at a 1:1 ratio to any of Chase's travel partners. That means if you use them towards travel, this huge 100,000-point offer is worth a minimum of $1,250.
But if travel isn't your goal, Ultimate Rewards can also be cashed at a rate of one cent per point, applied to your bill as a statement credit, or even used for gift cards.
With so many options to choose from, the value you can get from this welcome offer is quite high.
Here's a quick overview of all the card has to offer:
bonus_miles_full

 

Earn 3x Chase Ultimate Rewards for every dollar spent on travel, shipping, phone, internet, cable, and online advertising with social media sites and search engines, up to $150,000 in combined purchases per year.
Earn 1x Chase Ultimate Rewards for every dollar spent on all other purchases.
Travel Protections: With the card's trip cancellation and interruption insurance, you can be reimbursed up to $5,000 per person ($10,000 per trip) for pre-paid non refundable travel expenses if your trip is cancelled or cut short due to a covered event.
Rental Car Insurance: Get primary rental car coverage when you're renting for business purposes and pay for your rental with the Chase Ink Preferred.
Purchase Protection: Cover your new purchases for 120 days against damage or theft up to $10,000 per claim and $50,000 per account.
Cell Phone Insurance: Get up to $1,000 per claim in cell phone protection against covered theft or damage for you and your employees listed on your monthly cell phone bill when you pay for it with your Chase Ink Business Preferred credit card.
Foreign Transaction Fees: None
Annual Fee: $95
Learn More about the *chase ink preferred*
How Good is This Offer?
If you're eligible for business cards – and odds are, your small business qualifies – this is an amazing offer.
100,000 Chase Ultimate Rewards points can be quite valuable – at the very least they're worth $1,250 in travel, booked through the Chase Travel Portal. If you're hoping to squeeze even more value out of your points, you can likely get a better return by transferring them to one of Chase's travel partners and using them to book an award flight or free hotel stay.
Take one of our favorite airlines, Delta, for example: You can transfer Chase Ultimate Rewards to Virgin Atlantic to book Delta's snazzy Delta One business class seat to Europe for just 50,000 points one-way. With this sign-up bonus, you'd have enough Ultimate Rewards to fly roundtrip to Europe for just the cost of taxes and fees. Considering these flights regularly go for $5,000 or more, I'd say that's pretty valuable.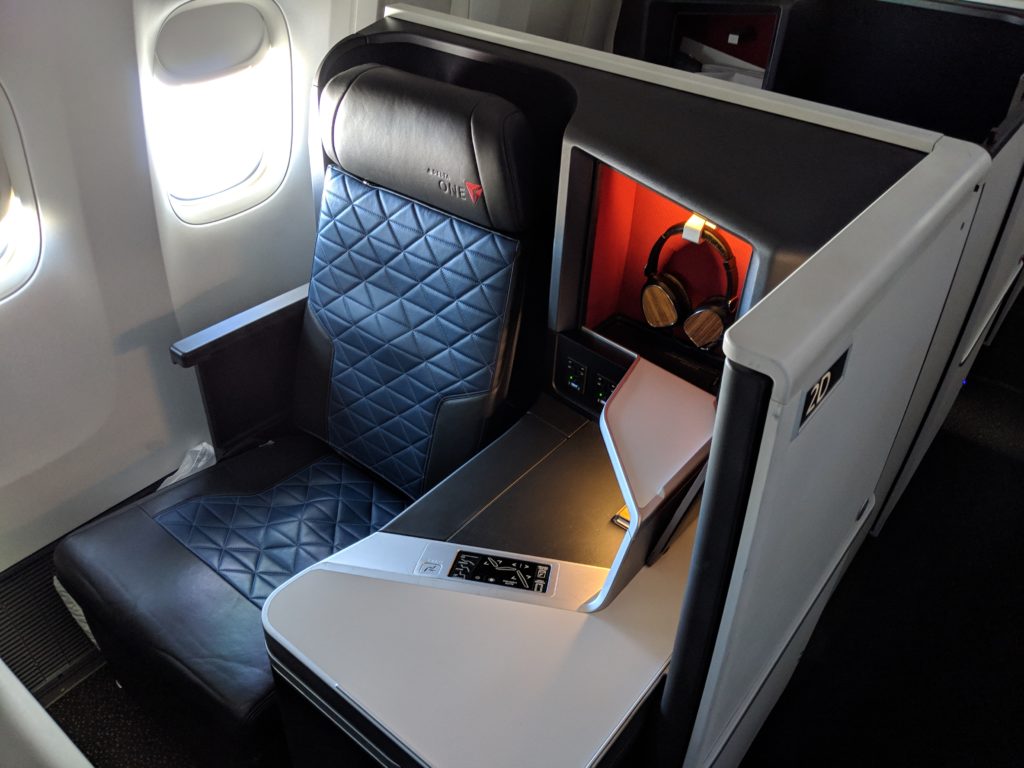 Read our Delta One Suites review and whether they live up to the hype!
And if you time it right, you might even be able to do it for less. Chase routinely offers transfer bonuses of up to 30% when moving points to Virgin Atlantic – meaning you could book this roundtrip business class flight for less than 77,000 Chase Ultimate Rewards. That's a steal!
Thrifty Tip: Stay up to date on all the banks' transfer bonuses with our Current Transfer Bonuses page.
If business class to Europe isn't what you're after, you could also transfer these points to Hyatt to book some pretty aspirational properties.
We previously uncovered some unprecedented award availability at the all-inclusive Calala Island in Nicaragua. Rooms here go for a pricey 40,000 points per night so after meeting the minimum spending requirement you'd have nearly enough points for a three-night stay at this unbelievable property.
While 40,000 points per night might seem high, this isn't your typical all-inclusive mega-resort. This a private island off the coast of Nicaragua, with just four private beach villas and nothing to do but relax. Rooms here typically cost $3,000 or more per night – making the sign-up bonus from the Ink Preferred worth nearly $10,000 if you used the points to book a three-night stay at this private oasis.
We haven't personally stayed at Calala Island, but it gets rave reviews from the relatively few travelers who have been able to make it there. Everything from the meals to the service sound absolutely impeccable. You can fish, snorkel, paddle board, island hop, and even do private rum tastings to your heart's content – and it's all included.
Related reading: 10 Great Ways to Use a Big Chase Ultimate Rewards Bonus
Our Analysis
The card's current welcome offer is really exciting and should be much more attainable for many small businesses, now that you'll earn the same 100,000-point bonus for almost half of the required amount of spending.
While the card has always been a good one to have, the high spending requirement with the previous offer led many to shy away from it. Now, more business owners will be able to earn Ultimate Rewards in some of their most utilized spending categories and take advantage of the card's travel benefits and many other features.
Given the flexibility that Chase Ultimate Rewards provide, this is a card that any business owner should want to have in their wallet.
Want to learn about other Ultimate Rewards earning business cards? Check out our comparison of the Ink Cash and Ink Unlimited Cards! 
Bottom Line
The Chase Ink Business Preferred Credit Card is the perfect fit for many small business owners. It comes with a welcome offer of 100,000 Chase Ultimate Rewards when spending $8,000 in the first three months of account opening and the card's strong bonus earning and travel protections make it a keeper for the long term.
If you'd been eyeing this card but previously got scared off by the high spending requirement, nows the time to apply.
Learn More about the *chase ink preferred*