It's no secret that Chase offers some of the best travel rewards credit cards on the market. And with such a wide-ranging portfolio of cards, it's quite common to have both a personal and business relationship with the bank.
Some banks like American Express and Capital One automatically combine your business and personal accounts when you open a new credit card. Not Chase, though. It's admittedly a "first-world problem," but having to log in to multiple accounts to keep track of all your balances or transfer Chase Ultimate Rewards points between cards is a huge pain.
For years, the only way to combine both your personal and business accounts was by picking up the phone and calling Chase to have them manually combine accounts on your behalf. No more: Now, you can combine your Chase personal and business accounts into one profile online in just a few simple steps. No phone call to Chase needed.
So whether you've been juggling separate logins for years or you just opened a new account like the Chase Ink Business Unlimited® Credit Card or the Chase Ink Business Preferred® Credit Card, let's take a look at how to quickly combine your profiles and simplify your life a little in the process.
Not sure if you're eligible for business credit cards? You might be surprised by what the banks consider a small business. 
Combining Accounts Online
One thing to note before you get started: Once you combine your Chase business and personal accounts, your business account will be the one you use to view all your cards going forward. There's no way to make your personal Chase account the main profile at this time.
To combine your personal and business online, you first need to log in to your business profile as you'll initiate the process from that end. Once you get logged into your account, click on the "Menu" button in the top left corner of your screen and then navigate to "Profile & settings." Alternatively, you can click the little silhouette in the top right corner which will also take you to the same page.

Once you're in your profile, click on "Account settings" and then choose "Manage linked accounts" from the drop-down menu.

After choosing "Manage linked accounts" you should see a new page open up that shows you your "Existing linked relationships" – these will be your business accounts since that's the profile you're logged in under. It will also show you your "available relationships", which will be your unlinked personal accounts.

Under "Available relationships," click the hyperlink that reads "Link relationship. This will combine your available personal accounts with your existing business accounts. If you don't see any accounts listed under "available relationships", despite having a personal account and a separate login, you'll need to call Chase and ask them to manually link your profiles for you.
You can reach Chase Customer Service by phone at: 1-800-242-7338
After clicking on "Link relationship," you'll get a pop-up asking you to review your request and confirm that you plan to link your personal accounts to your business account. If everything looks correct and you wish to proceed, confirm your request by clicking "Link relationship" one last time in the bottom right corner of the pop-up window.

Lastly, you should receive a confirmation page that confirms your accounts were successfully linked and you can now go back to the account overview page to see both your personal and business accounts listed.
And that's it! You can now use one login to access both your Chase business and personal accounts and credit card information. Again, you'll only see all your accounts when you log in to your business profile. You can continue to use your personal account login in, but it will still show only your personal accounts as there isn't a way to add business accounts under that login at this time.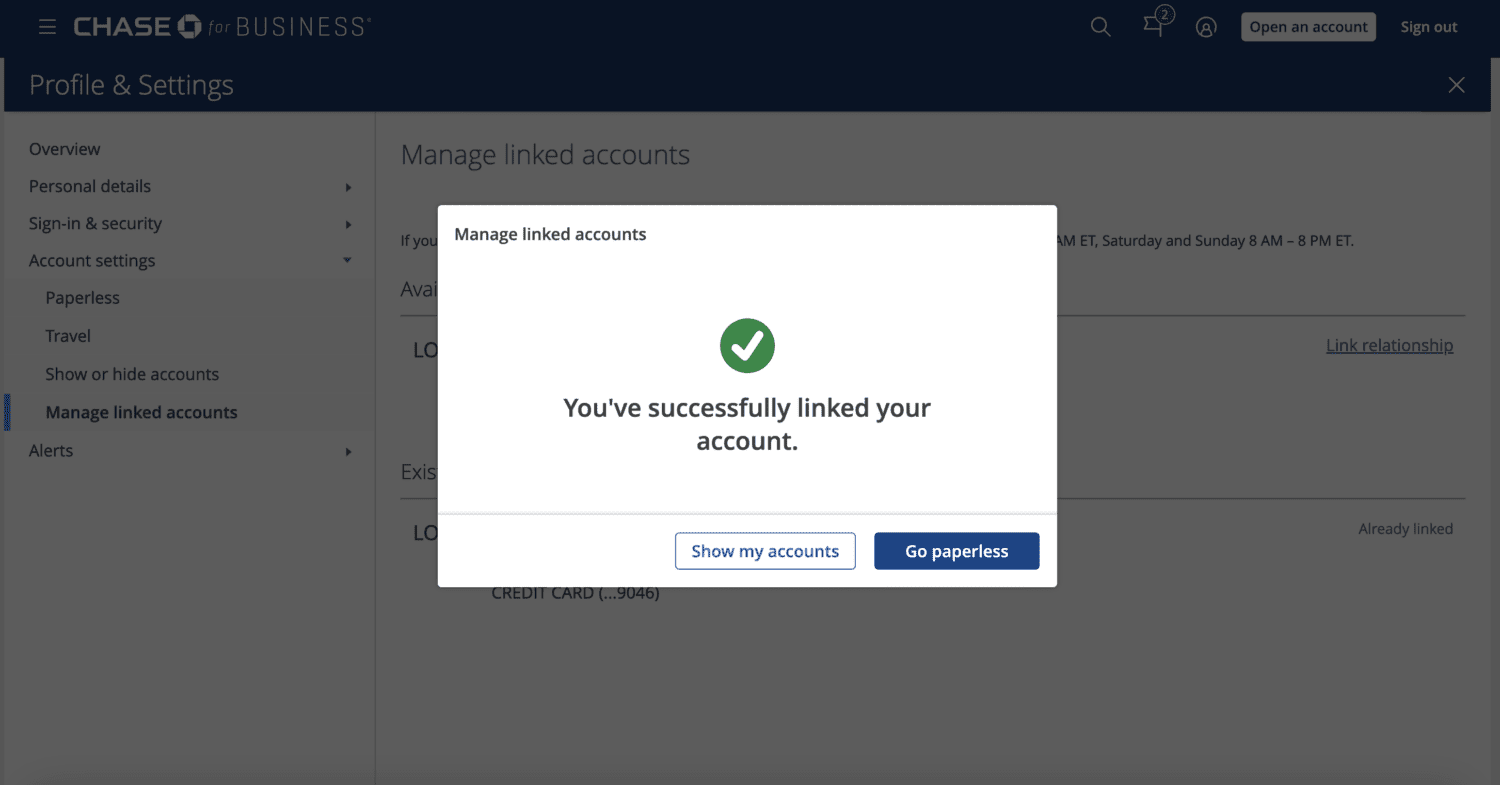 On the account overview page, you can also see all of your available rewards and easily navigate to the Ultimate Rewards homepage to transfer points between your cards.
You'll also be able to view available Chase offers for all of your Chase cards on this page. This is important because if you have the same offer on multiple cards, it may be beneficial to add it to a card that also earns additional points for a particular spending category, like the 3x points on dining with the Chase Sapphire Preferred® Card or 5x points at office supply stores with the Chase Ink Business Cash® Credit Card.
Thrifty Tip: If you're still having trouble combining your business and personal accounts, check out Chase's video tutorial for more information!
Bottom Line
Combining your Chase personal and business accounts online is simple enough if you know how to do it.
Being able to view all your Chase accounts and credit cards under one login makes it easier to see outstanding balances, combine Chase points between accounts, and check your available Chase offers.