The proliferation of Basic Economy fares on U.S. airlines has been confusing for travelers, to say the least. It's not always easy to tell what fare you're booking and whether it will include baggage and seat selection until it's too late.
Today, Chase's Ultimate Rewards booking portal rolled out a great new feature that allows you to see the price for both a basic economy and main cabin fare. It also provides a quick breakdown of what is and is not included in the cheaper fare.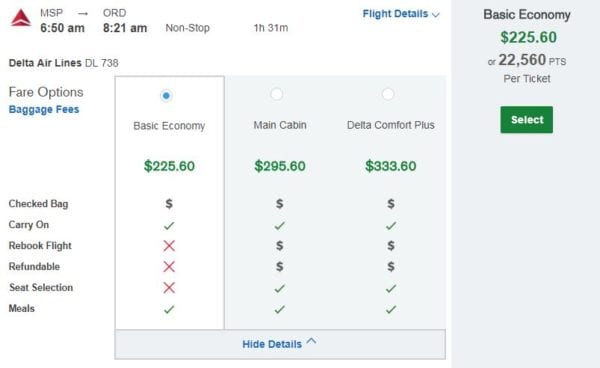 It may seem like a small development, but this is great for consumers. After all, no one likes snagging a cheap flight only to find you're seated away from a companion and paying out the nose for baggage. Seeing the price for a full fare upfront is the perfect remedy. As a reminder, basic economy fares don't allow seat selection or upgrades, and they can't be changed. Delta allows free carry-ons with their Basic Economy product while United and American do not.
Thrifty Tip #1: You can beat Delta basic economy fares by carrying a co-branded Delta SkyMiles card.
As these bare-bones fares have spread from ultra-low-cost carriers like Spirit to every major domestic airline, the airlines have slowly provided more information to warn travelers about the limits of their basic economy ticket. Google Flights is our favorite travel search engine, but even Google doesn't provide this much information up front when selecting your flight. Chase already allowed travelers to exclude basic economy fares from a search, but this provides another layer of integral information.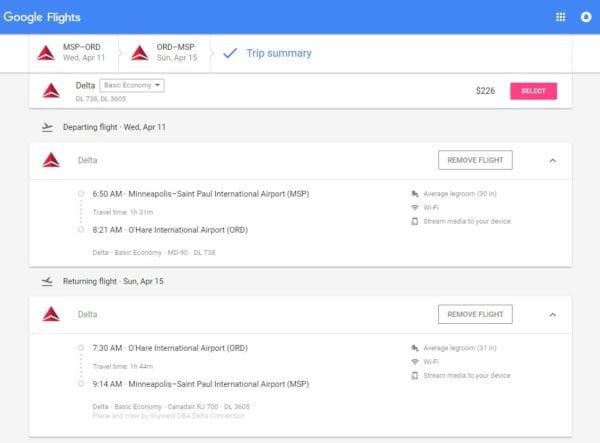 Chase Ultimate Rewards is one of the most flexible points currencies out there. It's easy to build up a solid stash of Ultimate Rewards points with cards like the Chase Sapphire Preferred or the Chase Sapphire Reserve.
Thrifty Tip #2: Not sure which Sapphire card is right for you? See our guide on the Chase Sapphire Preferred vs. Reserve.
Bottom Line
One of our favorite uses of Chase points is booking the flight deals you see on here or at Thrifty Traveler Premium through the Chase travel portal. This newest Chase feature makes this even better. However small it may seem, giving travelers more information on their options as they're booking is a great development. Kudos, Chase!