You won't find Southwest Airlines fares on Google Flights, Expedia, or any third-party site where you can book flights .. and that's by design: The airline wants you coming straight to its own website. But now there's an exception.
This week, an astute Reddit user highlighted the fact that Southwest fares are now bookable through the Chase Ultimate Rewards Travel portal, opening a new avenue to book Southwest flights using points. With a card like the *chase sapphire preferred*, you can now book Southwest flights at a rate of 1.25 – and an even better rate of 1.5 cents apiece with the *chase sapphire reserve*. 
Travelers have been booking these flights with Chase points for years by transferring points straight to Southwest, so this may seem like a fruitless development. But this comes as Southwest is preparing to make its points less valuable in the New Year, which could make this new option to book through the Chase travel portal a tempting alternative to get more bang for your buck.
There are some obvious pros and a few cons to weigh, so let's look closer at what this means for travelers with a Chase Sapphire card and Southwest in their travel plans.
Using Chase Points to Book Southwest in the Travel Portal
Before we get into the mechanics of using Chase points to book Southwest Flights, let's back up.
Just what value you get from your Chase points depends on which Chase card you have. Certain Chase credit card points are worth even more when redeemed through the Chase Ultimate Rewards Travel Portal.
If you hold the *chase sapphire preferred, each point you earn will be worth 1.25 cents when you redeem them through the Chase Ultimate Rewards portal.
Small business owners with a *chase ink preferred* also get 1.25 cents apiece when redeeming through the Chase portal.
With the *chase sapphire reserve*, each point you earn will be worth 1.5 cents when booking travel through the Chase rewards portal.
Let's do a quick example with a $500 Southwest fare. With the Preferred Card, that works out to 40,000 Chase points. If you've got a Reserve, you can book the same flight for just 33,333 Chase points.
If you've got any other Chase Ultimate Rewards earning card, like the *freedom unlimited*, you'll still be able to book Southwest flights through the portal, but you'll only be getting 1 cent per point in value – the same as if you cashed out your points and booked direct.
Finding these Southwest flights in the Chase Ultimate Rewards Travel portal is as simple as searching on Southwest.com – and in our experience, the prices were almost always the same (or even cheaper!) through Chase compared to what you find booking direct with the airline, with just a few exceptions.
Start by entering your departure, destination, and dates, then let the portal pull up the available options.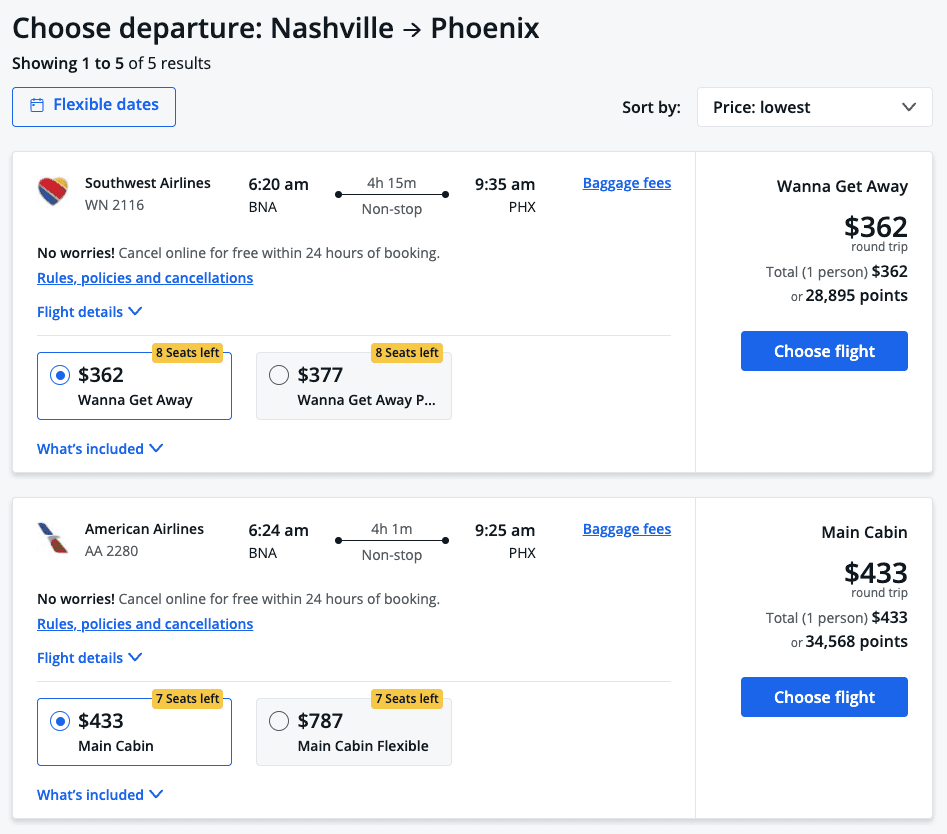 In this example, Chase pulled up both a "Wanna Get Away" and a slightly pricier "Wanna Get Away Plus" fare. Once you choose the flight that works, you'll also have the option to upgrade to other Southwest fare types like "Anytime" and "Business Select."
Once you pick a flight and a fare, you can continue to book with either points or cash.

Because I have the Chase Sapphire Preferred Card, my Ultimate Rewards are worth 1.25 cents each towards the cash cost of this ticket. For this $362 fare, I could book for just under 29,000 Chase points.
It's even better with the Chase Sapphire Reserve, which gets 1.5 cents per point in the portal. That brings the cost down to about 24,000 points.
Is This a Good Deal?
Make no mistake, it's great to have the option to book these Southwest flights through the Chase Travel portal. But it won't always be your best option – at least not yet.
If you instead transferred your Chase points from a Sapphire Preferred Card to Southwest Rapid Rewards and booked an award ticket, you could currently book the exact same flight between Nashville and Phoenix for just over 26,000 points and $11.20 in taxes and fees.


For travelers with the Chase Sapphire Preferred, you're getting a better deal by transferring to Southwest. But since points from the Sapphire Reserve are worth even more when booking via Chase, Reserve cardholders can get better value booking through the Chase portal.
But that math will change in the New Year … tilting further toward the Chase travel portal.
Starting Jan. 1, 2024, each Southwest Rapid Rewards point will get you just 1.15 cents toward the base airfare – down from the current 1.2-cent rate. Once that happens, you'd need to transfer even more points to Southwest to book these flights.
Pros & Cons of Booking with Chase
The beauty of booking through Chase is its simplicity, and that extends to these Southwest flights. You might even get a better deal booking through the Chase travel portal, especially once 2024 rolls around.
But there are a few other considerations to keep in mind with this new development. Let's start with the positives of booking through Chase.
Unlike when you transfer points to Southwest for an award booking, you'll still earn Rapid Rewards points when you book a flight through the Chase travel portal, just as if you were booking the flight with cash straight through Southwest. In the case of that $362 fare to Phoenix, you'd earn nearly 2,200 Rapid Rewards points after completing the trip. That could tilt the math toward booking through the Chase travel portal even further.
Read more: Yes, You Still Earn Miles When You Book With Credit Card Points
There's no question that there are ways to squeeze much more value out of your Chase points by using other Chase transfer partners. Still, this is a valuable and simple option. If you're not looking to dive deep into the weeds of maximizing airline programs, it doesn't get much easier than this.
But then there's the bad part: The headache of changing a flight booked through a travel portal like Chase. 
Long before other airlines did away with change and cancellation fees, Southwest has allowed free change and cancellation on almost any flight – including award flights booked with Rapid Rewards points. Plans change? Just cancel your ticket and get your Rapid Rewards points back instantly.
That's flexibility you simply won't enjoy booking through the Chase travel portal. Like booking through many other third-party sites, canceling a flight and getting your Chase points back can be a hassle. In some cases, you may wind up just geting a travel credit with Southwest rather than your points back.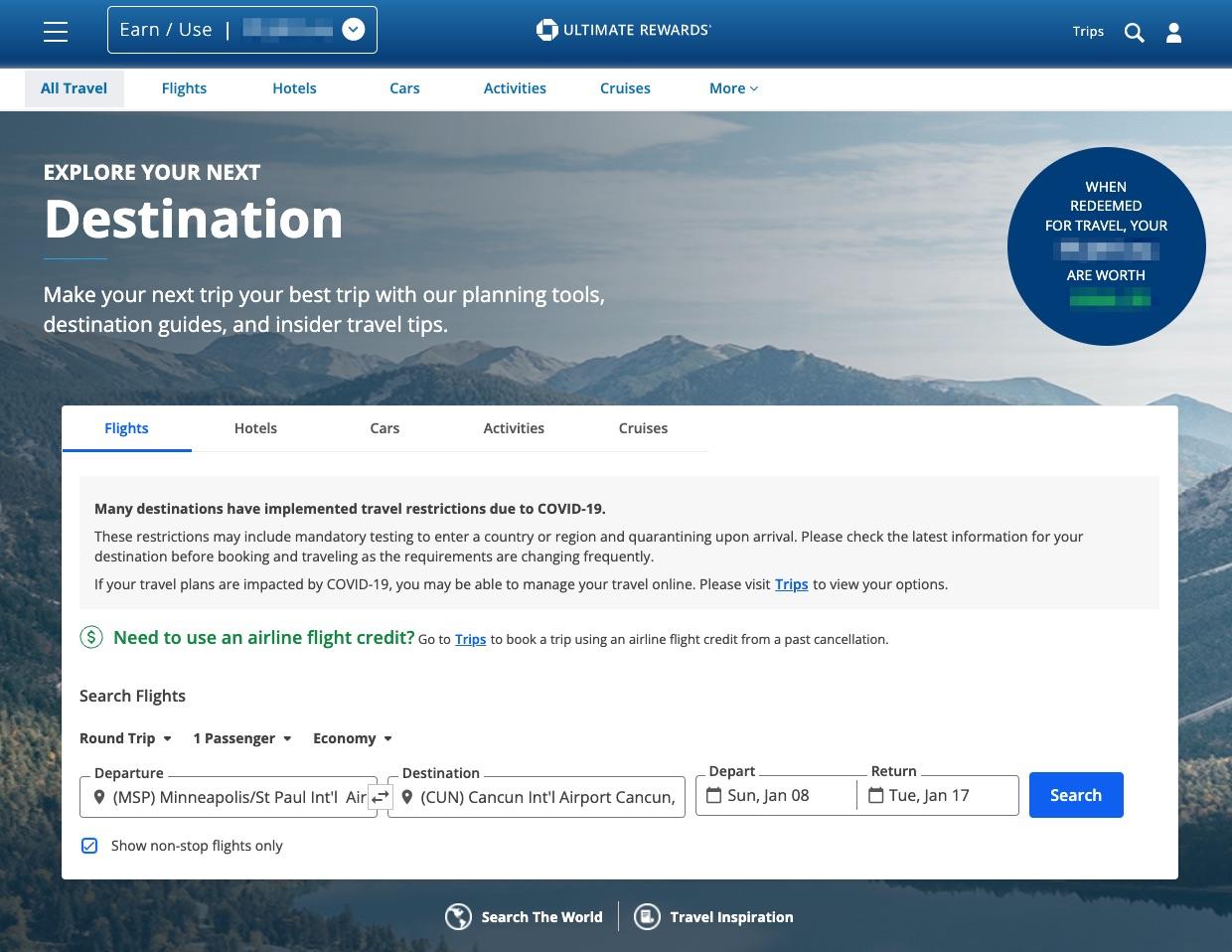 And the advantage of that flexibility extends beyond when you need to cancel.
Southwest regularly runs big sales with 30% off fares or more … and no airline makes it easier to rebook your flights and save even more. If prices drop on a fare you booked with Southwest points, you can rebook your ticket and pocket the difference in points with just a few clicks.
That's just not an option with Chase – or if it is, it's not worth the trouble. That flexibility alone might be worth considering using some more points upfront by transferring to Southwest.
Read more: How to Rebook Your Flights & Save When Prices Drop!
Bottom Line
Chase quietly added the ability to book Southwest flights online through the Chase Travel Portal.
Travelers with the Chase Sapphire Preferred, Ink Preferred, and the Sapphire Reserve now have a new way to use their points for Southwest flights, skipping the confusing process of transferring points to the airline. It won't always be the best deal to book this way … in fact, it might never be.
But in some cases, it can save you a lot of points. And above all, this is a big surprise: Until now, the only way to book Southwest flights, period, was direct through Southwest.