This might not be the biggest devaluation we've seen from Delta SkyMiles, but it's leaving a sour taste in our mouths.
For years, using SkyMiles to buy a bottle of champagne or a top-shelf drink in the Delta Sky Club has been a rock-solid redemption. Every SkyMile was worth 2 cents towards alcohol, which meant you could get an excellent bottle of champagne that would cost $90 using just 4,500 SkyMiles. Even a $200 bottle of Dom Perignon was just 10,000 SkyMiles.
But that has taken a hit: Delta has recently updated its bar menu in Sky Clubs nationwide and downgraded the value of SkyMiles toward champagne and other premium drinks. Do the math, and each SkyMile is now worth just 1.5 cents toward bubbly or other booze.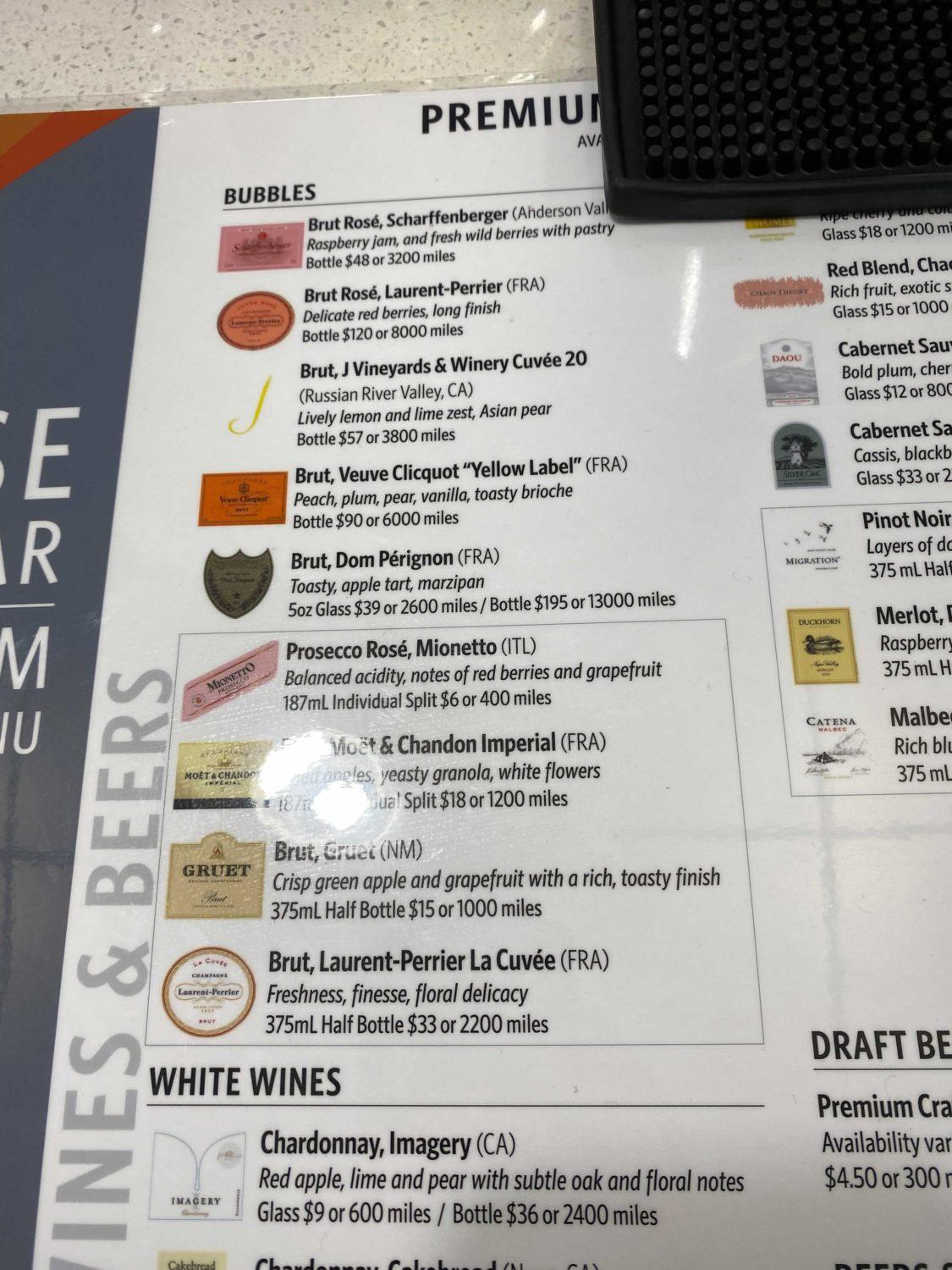 You'll see these new, higher rates at Sky Clubs with premium bar service nationwide – you can see the updated menu on Delta's site. Whether you're getting a bottle of champagne or a glass of Johnnie Walker Blue on the rocks, each SkyMile now only gets you 1.5 cents.
It gets worse, as it seems Delta has also increased cash prices for many champagnes to drive the cost in SkyMiles even higher. For example, Delta previously charged $78 for a bottle of Veuve Clicquot in the Sky Club – or 3,900 SkyMiles. That same bottle now costs $90 – and coupled with this devaluation, it's shot up to 6,000 SkyMiles. 
That's a 54% increase when using SkyMiles, and that doesn't go down smooth. For a bottle of Laurent-Perrier Rose – our personal favorite on Delta's menu – it's a whopping 77% increase, from 4,500 SkyMiles up to 8,000 SkyMiles. Cheers to our pal Spencer from Straight to the Points, who flagged this disappointing change for us.

Let's be honest: This isn't for everyone to begin with. Most travelers would (rightly) rather save their SkyMiles for an excellent Delta SkyMiles flash sale, the deeply discounted award flights like just 10,000 SkyMiles to Hawaii and back or a nationwide flash sale to Europe starting at just 32,000 SkyMiles.
But this still hurts. Buying a bottle of bubbly with SkyMiles is a great way to kick off a trip in style in the Sky Club. Plus … it's just fun. You won't find this option on other airlines.
Plus, this fits a pattern with Delta. Twice in the last year, Delta has raised partner award rates to fly carriers like Air France, Virgin Atlantic, Korean Air, and others. A one-way transatlantic business class flight on KLM or Air France jumped from 75,000 SkyMiles to 120,000 SkyMiles. Delta significantly raised economy award rates on these partner airlines, too.
Delta seems intent on driving down the value of SkyMiles as close to a penny apiece as it can. And in the process, one of the best ways to use Delta SkyMiles just took a hit.
Bottom Line
There are first world problems, and then there's this. But still, this change stings.
For years, buying a bottle of champagne or a premium cocktail in the Sky Club was a great way to use those SkyMiles. It was a shockingly good value … but perhaps more importantly, it was a fun, novel option.
But now your SkyMiles won't get you as far at the bar in the Sky Club.