Delta is upping its Sky Club game with brand new lounges in Phoenix (PHX), New Orleans (MSY), and Austin (AUS), each with its own unique design and feel. And if the Delta Sky Club Austin is any indication, this new approach is working.
The Austin Sky Club starts with a unique location, adds in a classy, high-end bar, and is finished with plenty of local flourishes and touches. Opened just in May 2019, it feels like Austin, and it's definitely a step above most Sky Clubs.
Read on to see why.
Getting into the Delta Sky Austin
The new Sky Club is located at the end of the terminal, near Gate 1. As you pass through security, take a left and walk all the way down to the end. The Sky Club is located on the second floor above a restaurant.

Go around the back of the restaurant and you'll find the elevator and a staircase to get to the lounge.

Just as with all Delta Sky Clubs, there are a few ways to get into the Delta Sky Club Austin. But easiest way by far is with the Platinum Card from American Express – not the co-branded Delta version.
This card opens more lounge doors than any premium credit card on the market. So long as you're flying Delta that day, you can just show your Platinum card, boarding pass, and get in. You can bring two guests, but it will cost you: After a hike in February 2023, each guest costs $50.
The perks go beyond lounge access, too. You'll get $200 in annual credits for airline fees and Uber rides, a $100 application credit for Global Entry or TSA PreCheck, and the ability to transfer points to your SkyMiles account, it's one of the best cards for frequent Delta flyers. The $695 annual fee certainly won't make sense for everyone, but these benefits can be worth it.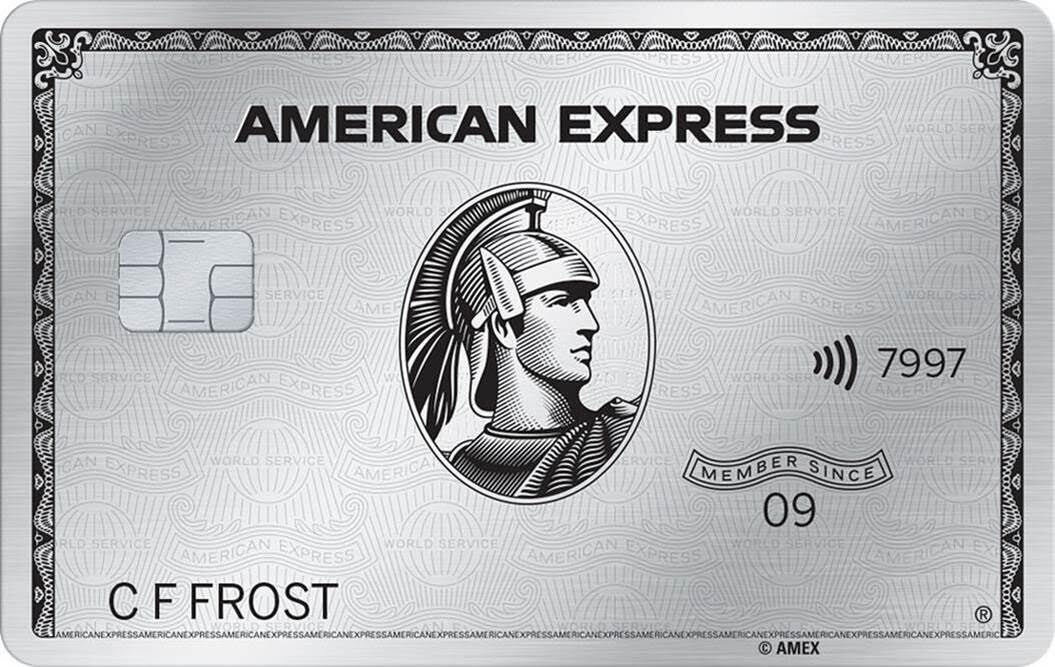 Click Here to learn more about the American Express Platinum Card. 

You can also get into the Delta Sky Club San Francisco if you've got Delta's top co-branded credit card, the Delta SkyMiles Reserve American Express Card. Much like the Platinum card, you can enter any Sky Club for free so long as you're flying Delta that day. You also get two free guest passes each year – after that, guests cost $50 apiece.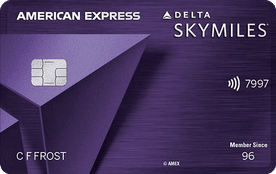 Click Here to learn more about the Delta SkyMiles Reserve American Express Card. 

And even cardholders with one of Delta's lesser co-branded cards can get in – for an additional fee. If you've got the Delta SkyMiles Platinum American Express Card, you can enter any Delta Sky Club when you're flying Delta that day by paying $39.
Read our full guide on how to access the Delta Sky Club.
When you walk in, just show an attendant your credit card and boarding pass. And prepare for a great lounge.
The Lounge, Food & Drink
After spending a few hours in this Sky Club, I was truly impressed. The finishes are new and great. And it's got a classy feel while retaining some of Austin's quirky vibes.
But above all, it's laid out extremely well. Rather than one massive room, there are a series of different, secluded areas, all flowing around the bar in the center. There's even an outdoor deck. It helps make the lounge feel less crowded and more private.
As you enter the Sky club, you'll find the dining area to your left and the bar and business center on your right. You can't go wrong either way.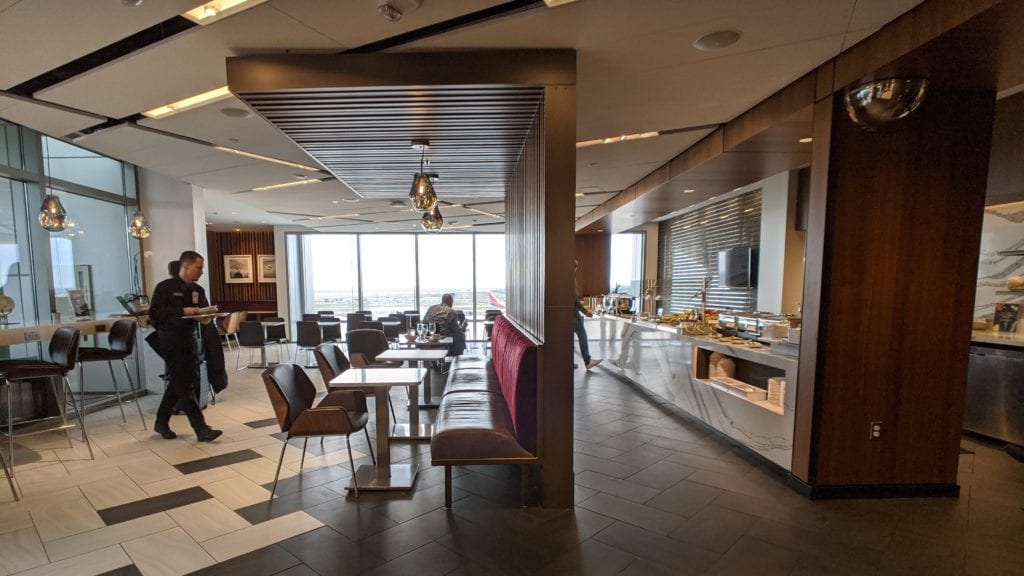 But let's get right to the important part: the food.
The dining area takes up much of one side of the lounge. At lunch and dinner, there was a good and wide selection of snacks plus hot and cold foods, including Spanish-style chicken and rice and two different kinds of soup. While not quite upscale dining, it all seemed a step above the typical Sky Club fare.

Just off the dining area is an outdoor space called the Sky Deck, a perfect spot to enjoy the Austin weather with a drink or meal. Though small, it's a nice spot.

The bar, located to the right of the entrance, has all the usual basic complimentary beer, wine, and rail cocktails. They also had a flight of Old Forester Bourbon available for purchase.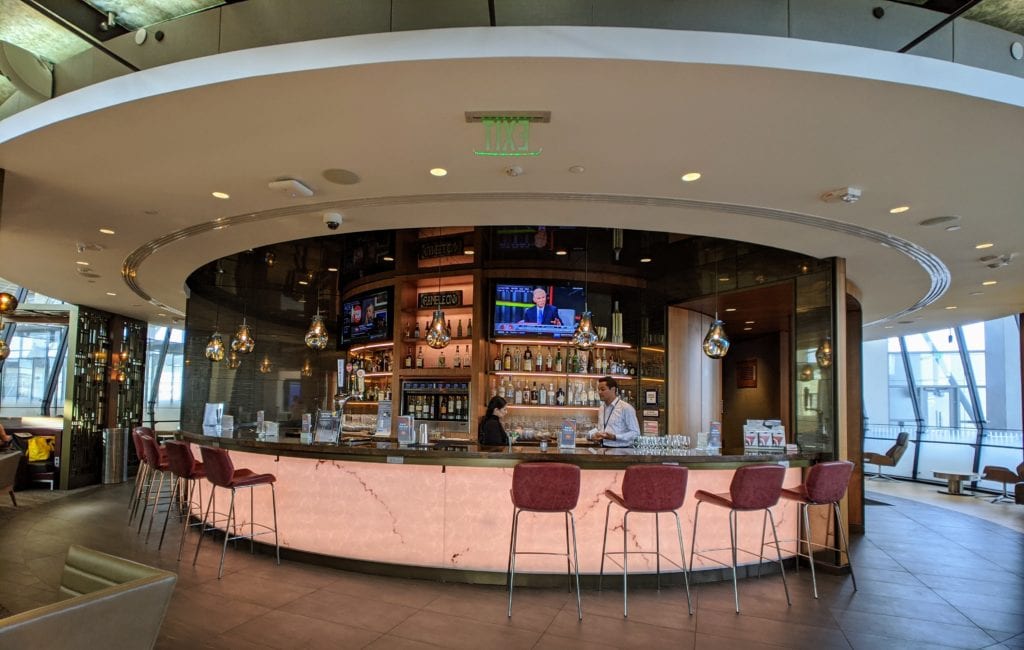 Surrounding the bar, there are multiple seating areas and a beautiful wine rack, along with some slightly-too-loud music that made it feel like an upscale bar experience.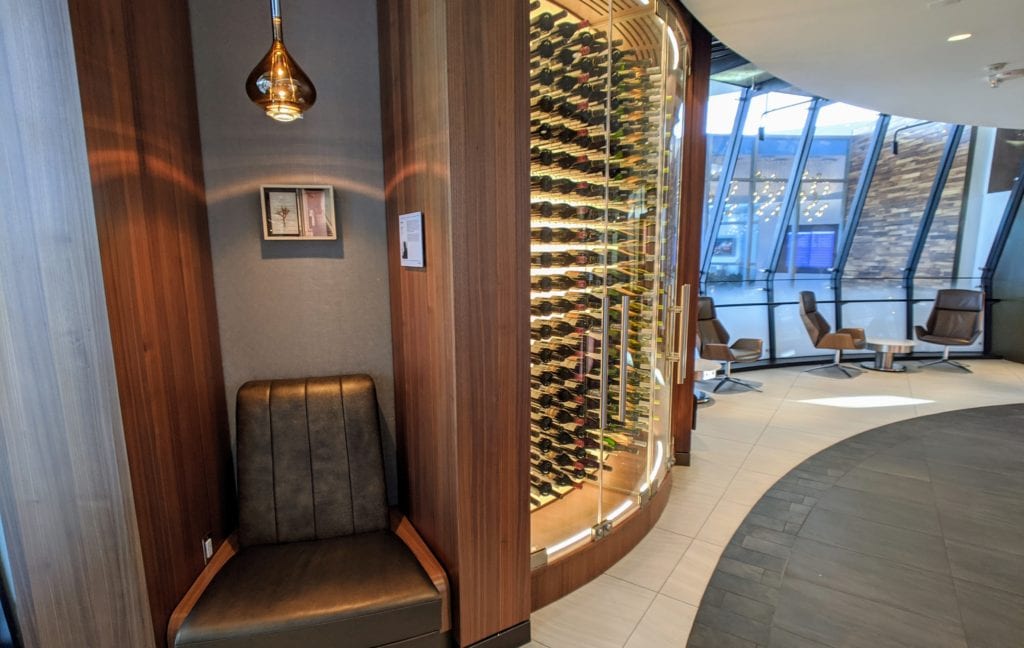 The lounge has local touches including sculptures, paintings, and more scattered throughout the lounge.

On the opposite side of the bar is the drink station with brewed coffee, an espresso and latte machine, tea, water, and a soda fountain.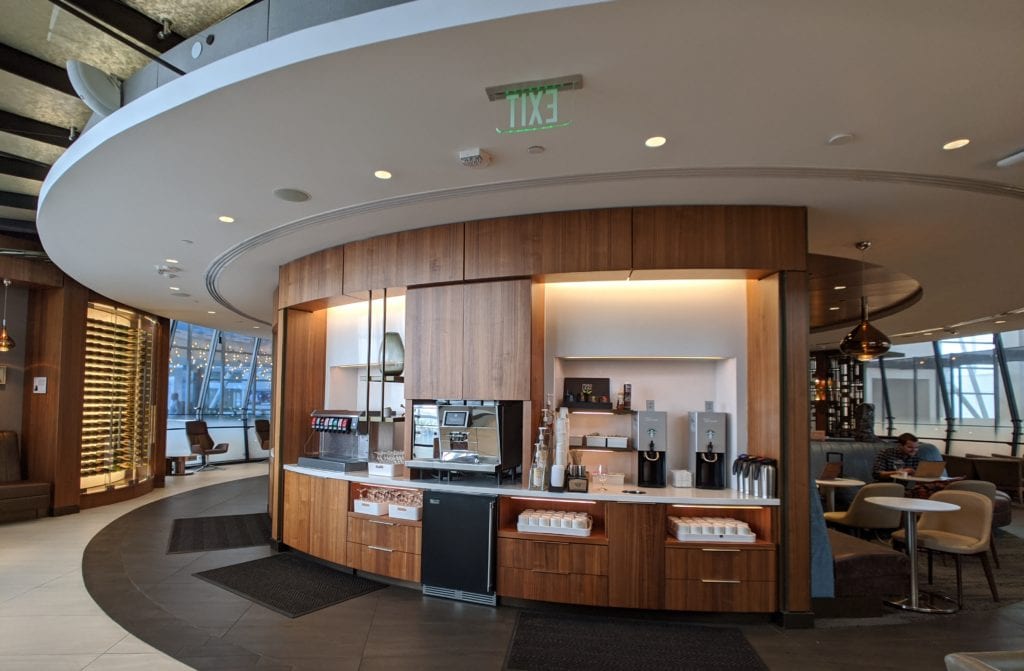 The business center is located at the far end of the lounge, along with the bathrooms. The party music of the bar feels far away – it's plenty quiet here.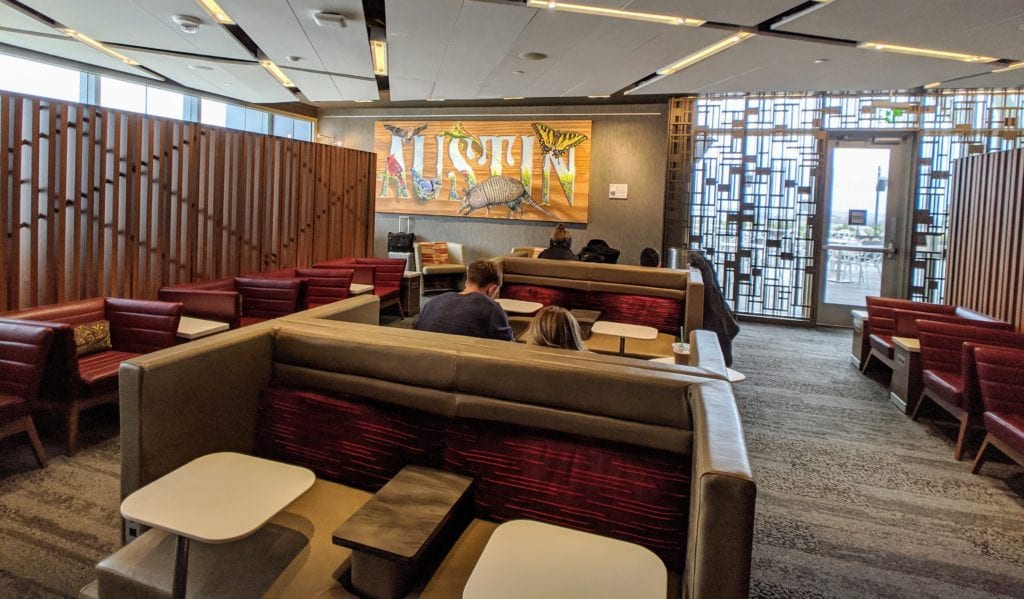 There is one large conference table and then a more formal seating area, plus a long desk up against the window partitioned off for single-use workspaces.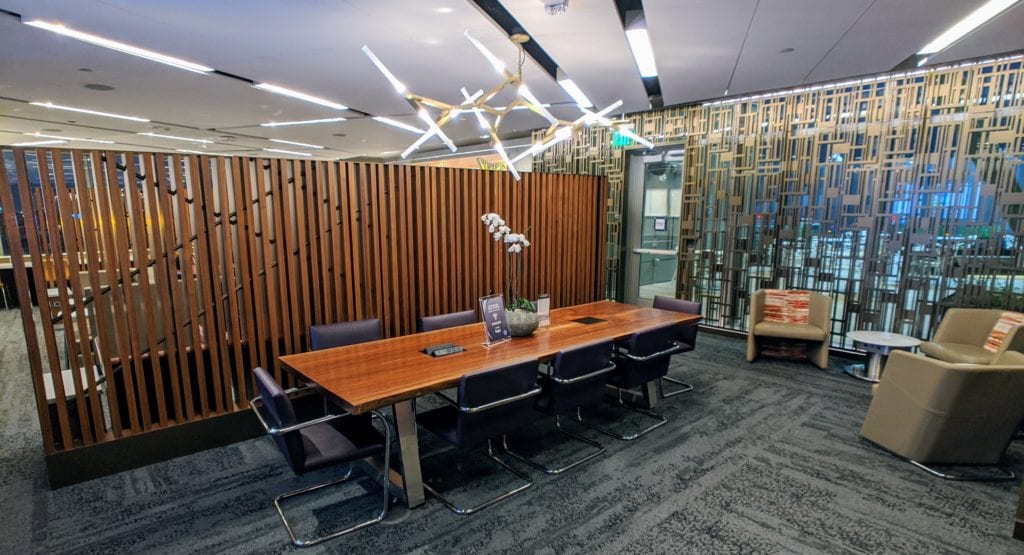 The "Keep Austin Weird" sign leads you to the bathrooms.

There's nothing quite like a brand new lounge bathroom, and these bathrooms were stellar – much better than you'll find in most Delta Sky Clubs.

Bottom Line
The photos tell the story.
Delta's new Austin (AUS) Sky Club is a winner and an excellent addition to an already great airport. The cozy layout, great finishes, beautiful space, and local touches make it one of the best Sky Clubs in the country, if you ask me.