Some airport lounges are better than others. Heck, even some Delta Sky Clubs are far better than other Delta Sky Clubs. And the Delta Sky Club Seattle (SEA) proves that.
Delta has what we could crown its best Sky Club in Seattle Tacoma International Airport – and it's not particularly close. This Sky Club Club is positively massive, a two-story behemoth with huge ceilings and windows that stretch down to the floor. There seems to be seating for days, with power outlets accessible from almost anywhere. It's equipped with shower suites, a full-service bar, and, in our experience, better food than your standard Sky Club fare.
Keep reading for why we think the Seattle Sky Club is among the best in Delta's network.
Getting into the Delta Sky Club Seattle
Delta's flagship Sky Club at Seattle (SEA) is located between Concourses A and B, closest to gate A1. That should make it fairly easy to get to before or after any Delta flight.
The entrance is pretty hard to miss as you make your way through the concourse. This Sky Club is open from 4:45 a.m. until 10:30 p.m. daily.
Like all Delta Sky Clubs, there are a few ways to get lounge access here.
The easiest way is with the Platinum Card from American Express – not the co-branded Delta version. This card opens more lounge doors than any premium credit card on the market. So long as you're flying Delta that day, you can just show your Platinum card, boarding pass, and get in. You can bring additional guests, but it will cost you. After a hike in February 2023, each guest costs $50.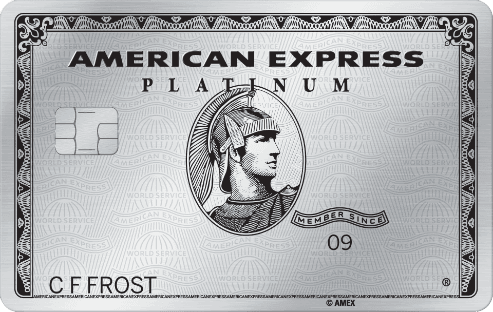 Click Here to learn more about the Platinum Card from American Express.
You can also get into the Sky Club for free if you've got Delta's top co-branded credit card, the Delta SkyMiles Platinum American Express Card. Much like the Platinum card, you can enter any Sky Club for free so long as you're flying Delta that day. Reserve cardholders also get two, one-time guest passes to use each year – otherwise, you'll have to pay $50 per guest.
And even cardholders with one of Delta's lesser co-branded cards can get in – for a fee. As of Jan. 30, 2020, Delta SkyMiles Platinum American Express cardholders have to pay $50 for a day pass. Unfortunately, Gold cardholders can no longer pay to get into Sky Clubs. No matter which card you have, you need to be flying Delta that day to get in. 
Read our guide to getting into Delta Sky Clubs.
When you walk in, just show an attendant your credit card and boarding pass.
Thrifty Tip: If you've added your American Express Platinum Card or Delta SkyMiles Reserve card to your SkyMiles account, you can just scan your boarding pass via the Delta app to get in.
The Lounge
The scope of the Delta Sky Club Seattle hits you from the moment you walk in. This isn't your typical, undersized airline club.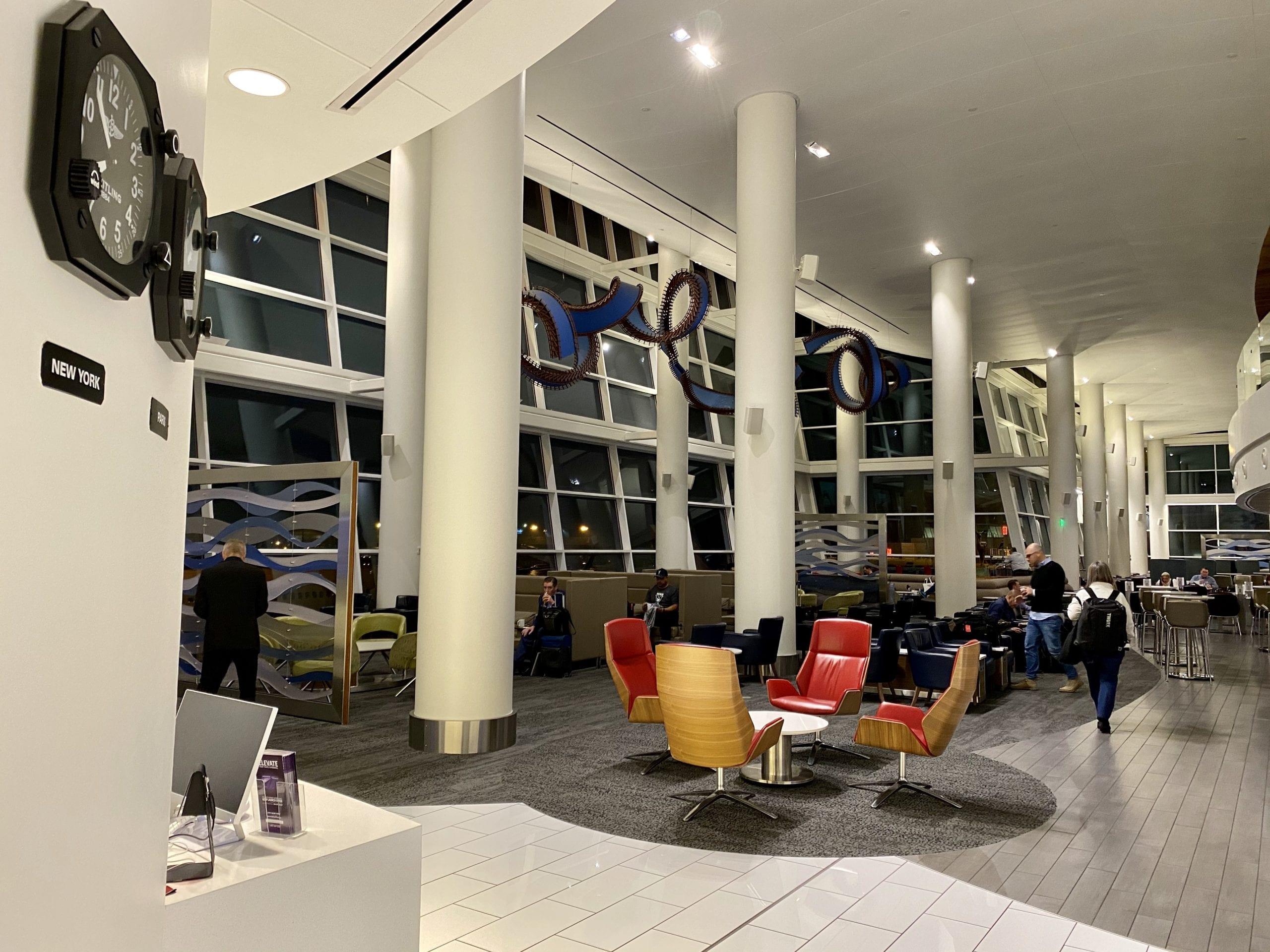 In all, the Seattle Sky Club is 21,000 square feet. That puts all but Delta's biggest lounges – in Atlanta (ATL) and New York City (JFK) to shame. You know it's not a typical Sky Club when there's a second level, staircase and all.
Climb up for a true appreciation big and well-designed this Sky Club is, between the ultra-high ceilings, art installations, varied seating areas, and large windows with a view of the tarmac.
There's plenty of seating on this smaller second level, with armchairs, quasi-loveseats, small dining tables, and high-backed chairs. The variety is great, and most seats have easily accessible power outlets.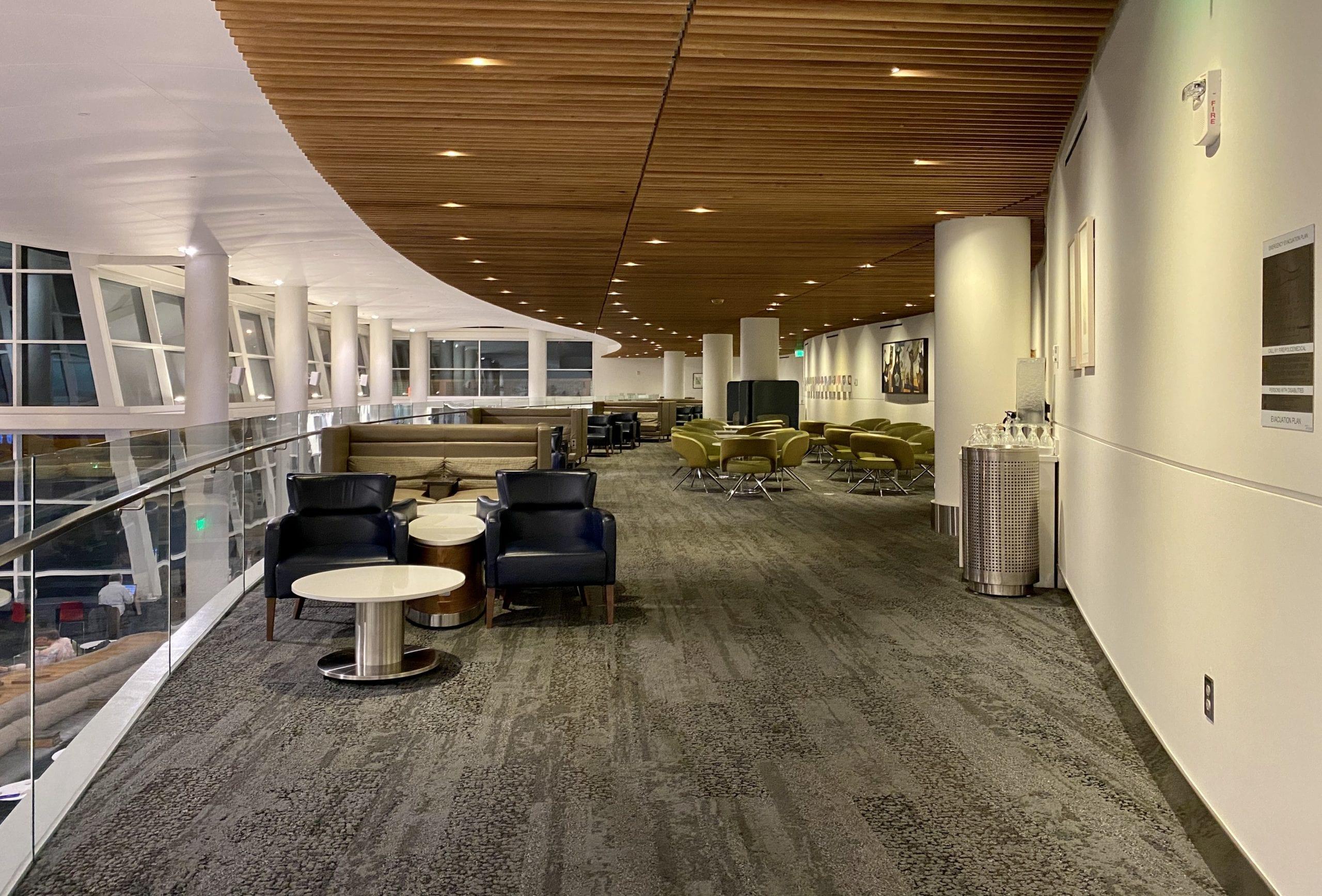 Although there are a lot of seats throughout the lounge, the one potential problem is that there's really nowhere to grab a nap. If this lounge could use one thing with the space it has, a nap room may be in order.
There's also a small coffee and drink station with water and coffee up on this second level – but most of the action is downstairs.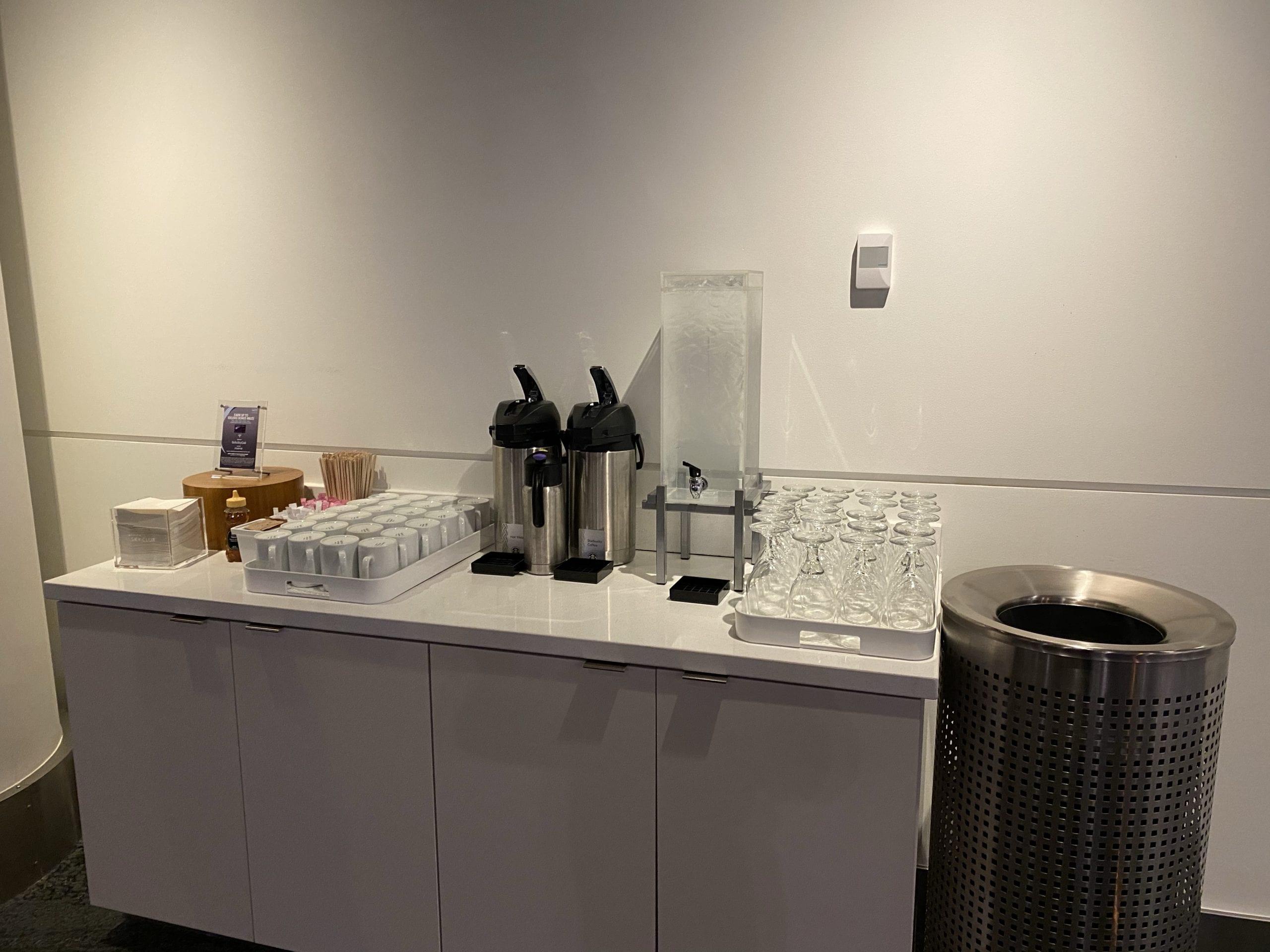 Back downstairs, there's a nice literature stand and a conference table soon after you walk in.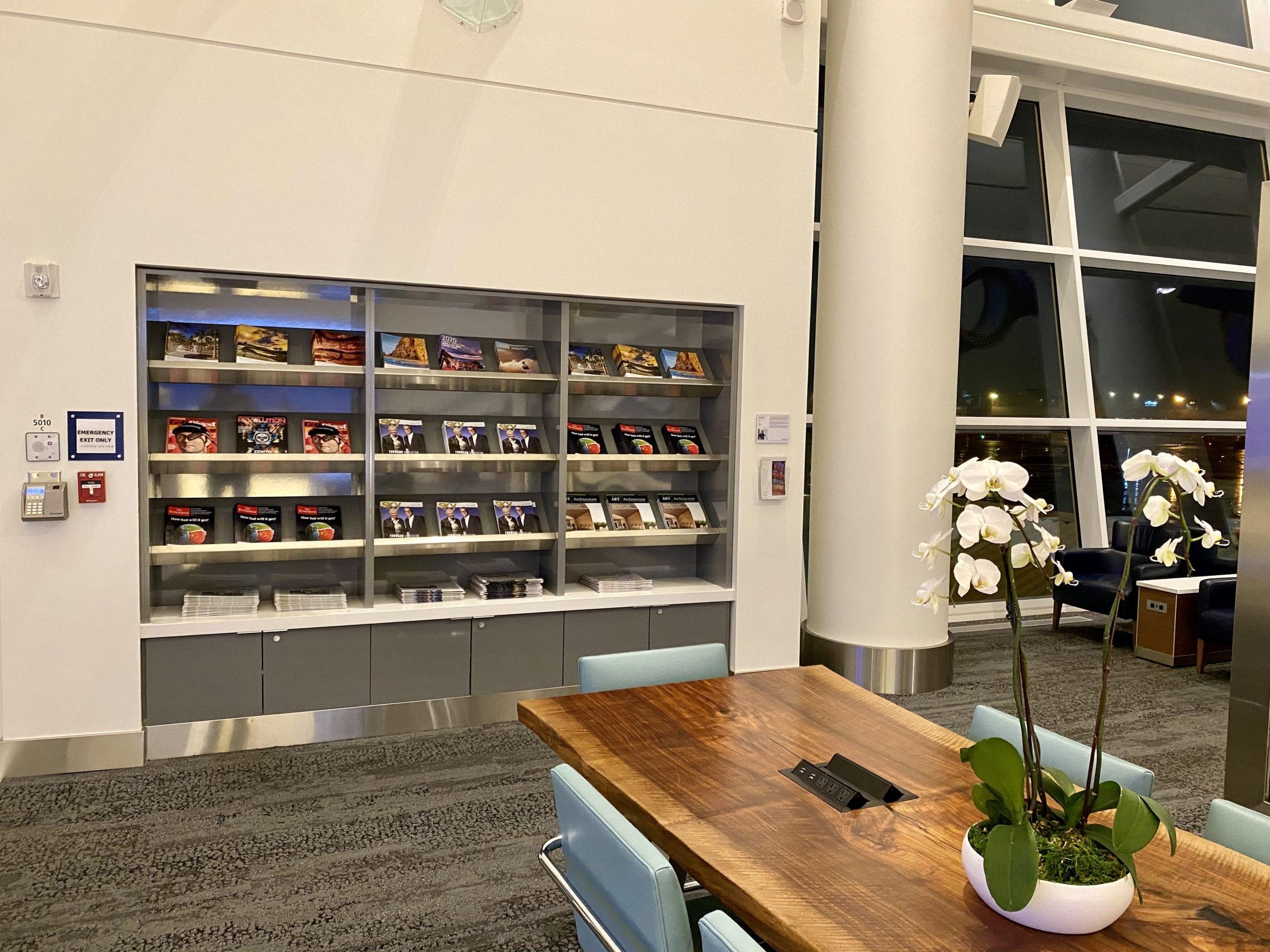 I think this Sky Club did a great job of putting lots of seating into this lounge without making it feel overcrowded. Although our visit was during the early morning, plenty of travelers started to filter in – yet it still felt fairly private. Nice high-backed chairs like these help – they're great place to enjoy a bite to eat.
If you want to soak in views of planes pulling in and out, there's row after row of armchairs along the windows.
The space is also divided up well with these cool glass art features. Too many lounges are either one open room that exposes you to everyone in the lounge or are too walled off and dark. The Delta Sky Club Seattle finds a nice balance.
If you're looking to get some work done, head for the back of the lounge. That's where you'll find a cluster of desks and workstations.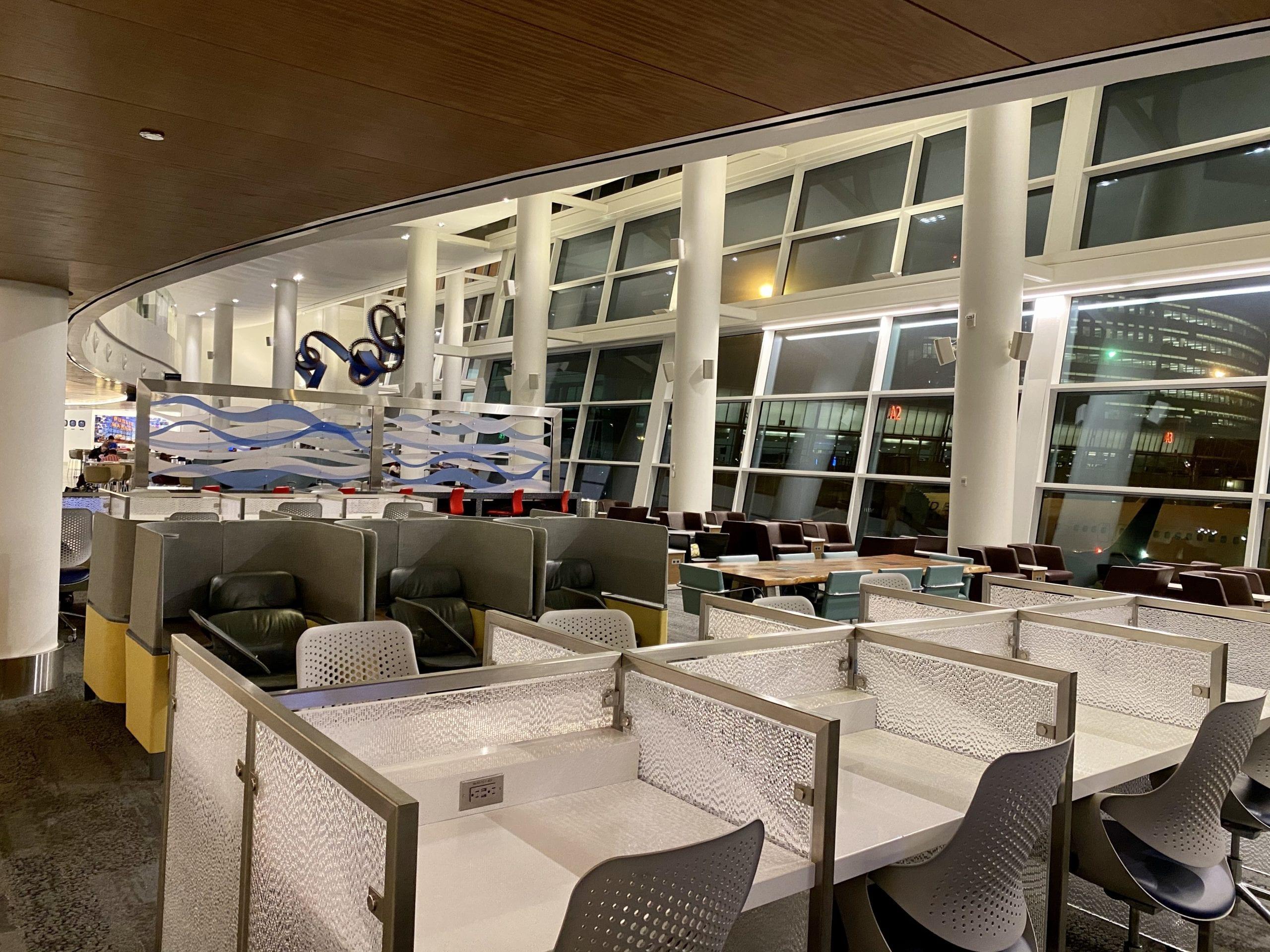 That includes these cubicle-esque desks with fold-down tables. They're a tad goofy but certainly practical and comfortable. You can also walk upstairs from the back of the lounge.
The bathrooms are also located toward the back of the lounge. While the red might be a bit much, they were spacious and fairly clean.
This lounge also has six shower suites, although I didn't have a chance to check them out. Once upon a time, this Sky Club even had a full-service spa, although that has since closed and is just home for spaces to shower. There was no attendant here during my early morning visit, though I would imagine you can reserve shower space at the check-in desk.
Food and Drink
U.S. airport lounges aren't renowned for their food, and Sky Clubs are generally no different. Breakfast is typically a pretty sad affair at a lounge.
The dining area at the Delta Sky Club Seattle is right in the center of the lounge, beneath the overhang of the second level. A lounge this large could use a second spot to grab food, but it was rarely busy during our visit.
While far from restaurant quality, the food during breakfast at the Seattle Sky Club was much better than I've seen at other Delta Sky Clubs nationwide. It started with a choice of cereal as well as oatmeal with plenty of fixings like craisins, nuts, shaved coconut, and brown sugar.
For hot food, you could fill up with a roasted sweet potato, kale and quinoa hash as well as some tasty sliced polish sausage. Delta also had what it called "scrambled egg chilaquiles." It fell far short of what you might consider chilaquiles, but the eggs weren't rubbery or dry, and you could dress them up as you saw fit.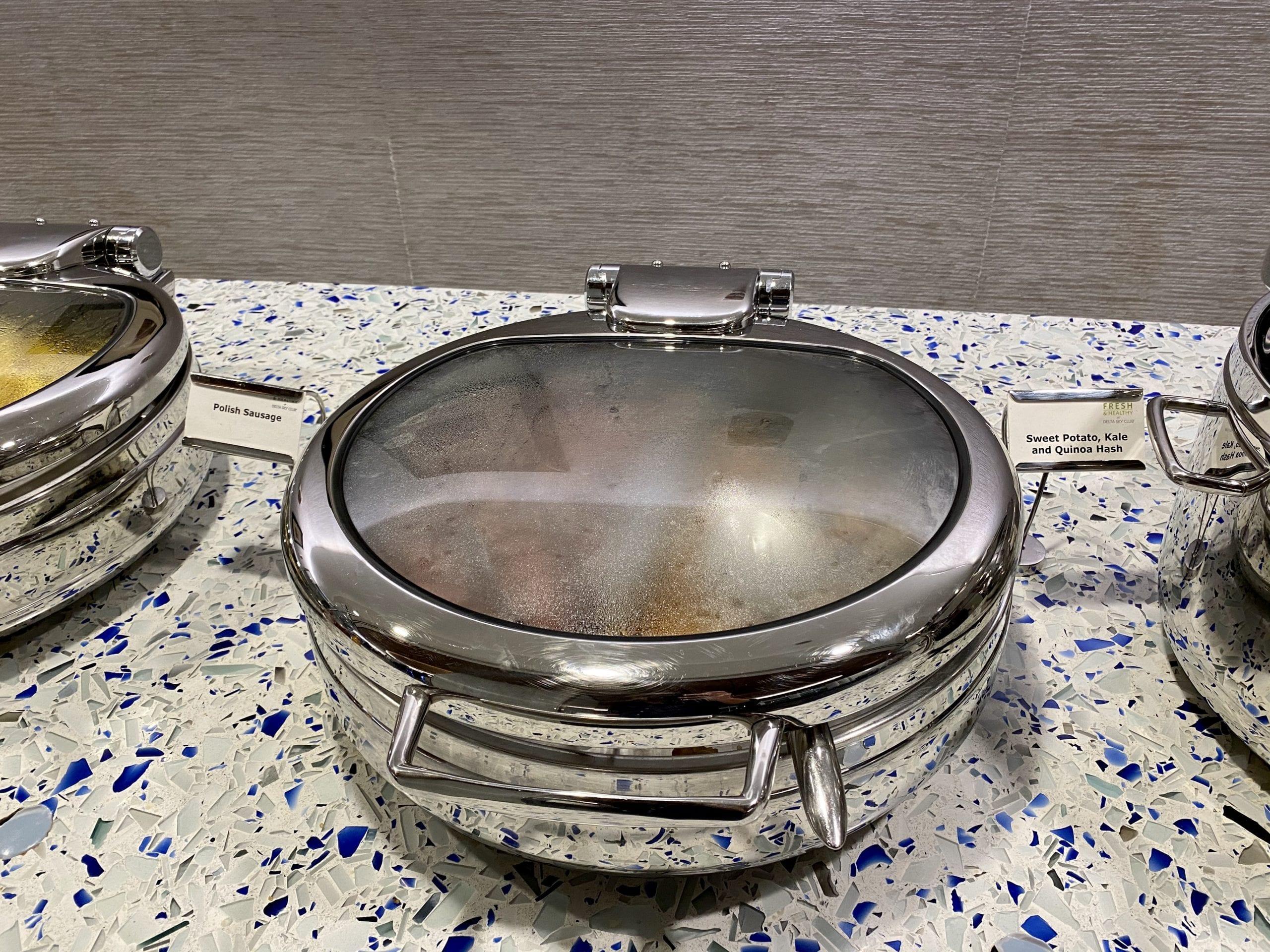 There was also a large spread of pastries, bagels, bread, and fruit to pick from, along with some yogurts and other fresh salads.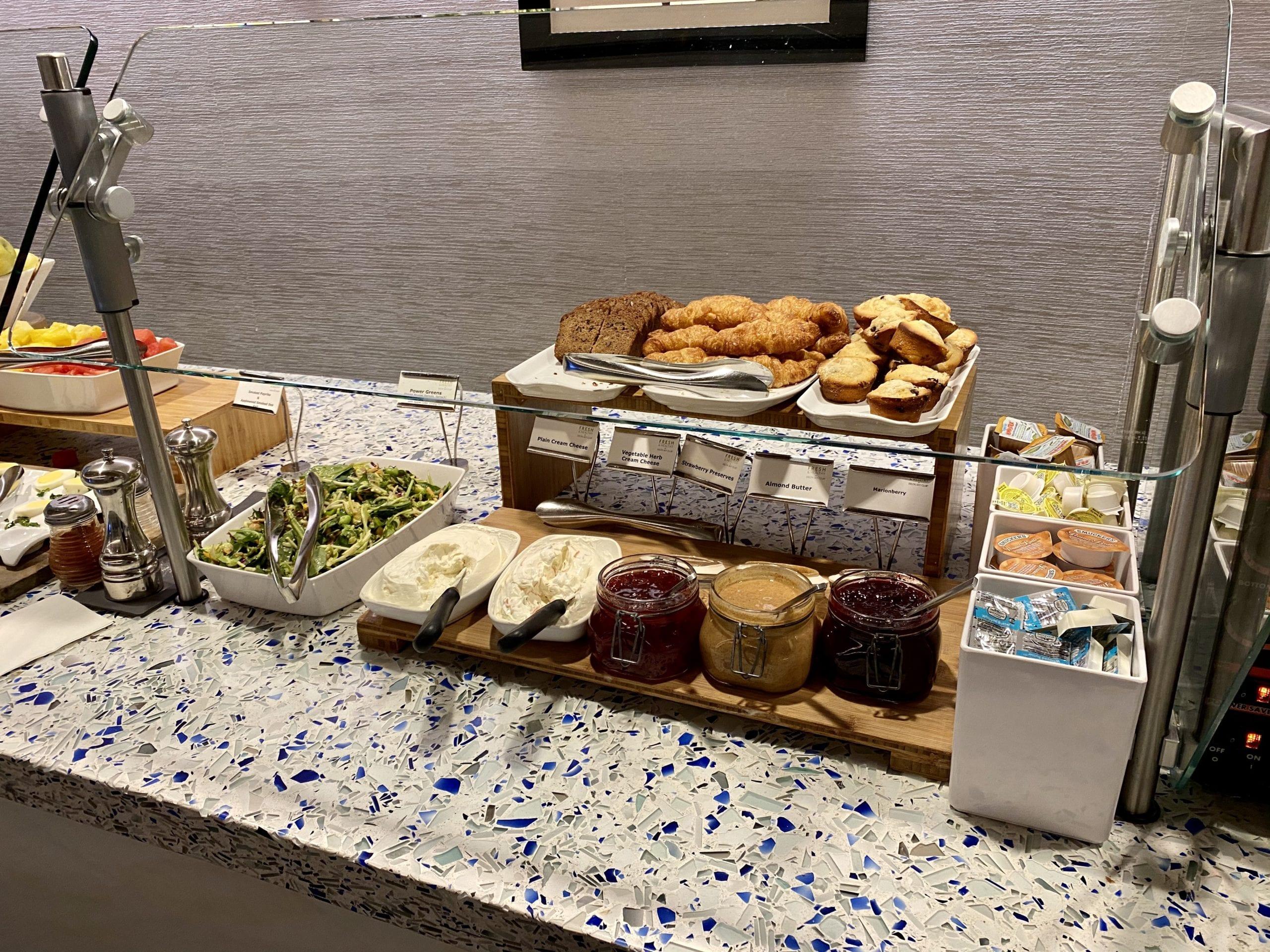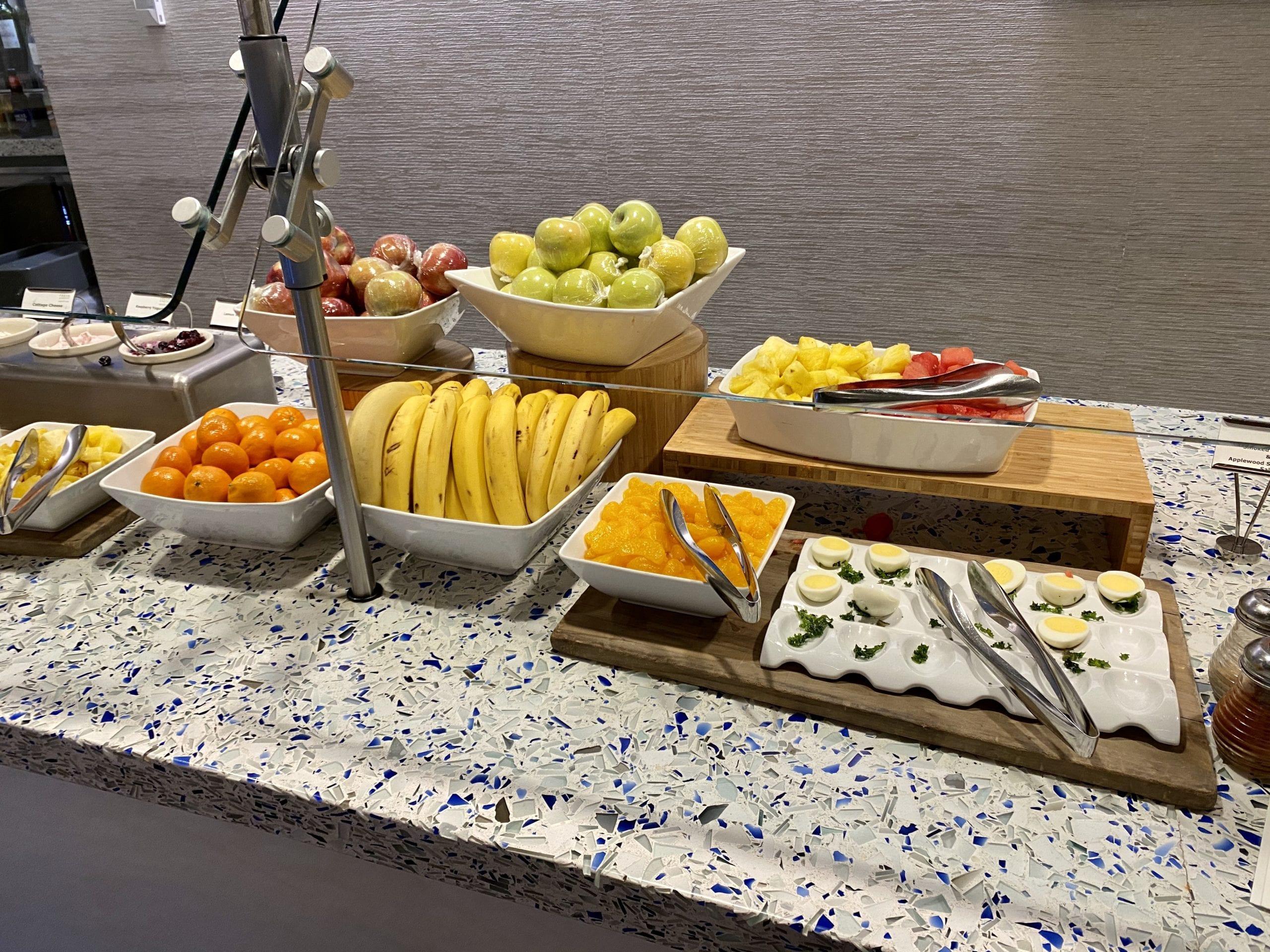 On either end of the dining area you can find Starbucks coffee machines, capable of whipping up lattes, espresso, Americanos, or whatever you're after. One machine was broken during our visit.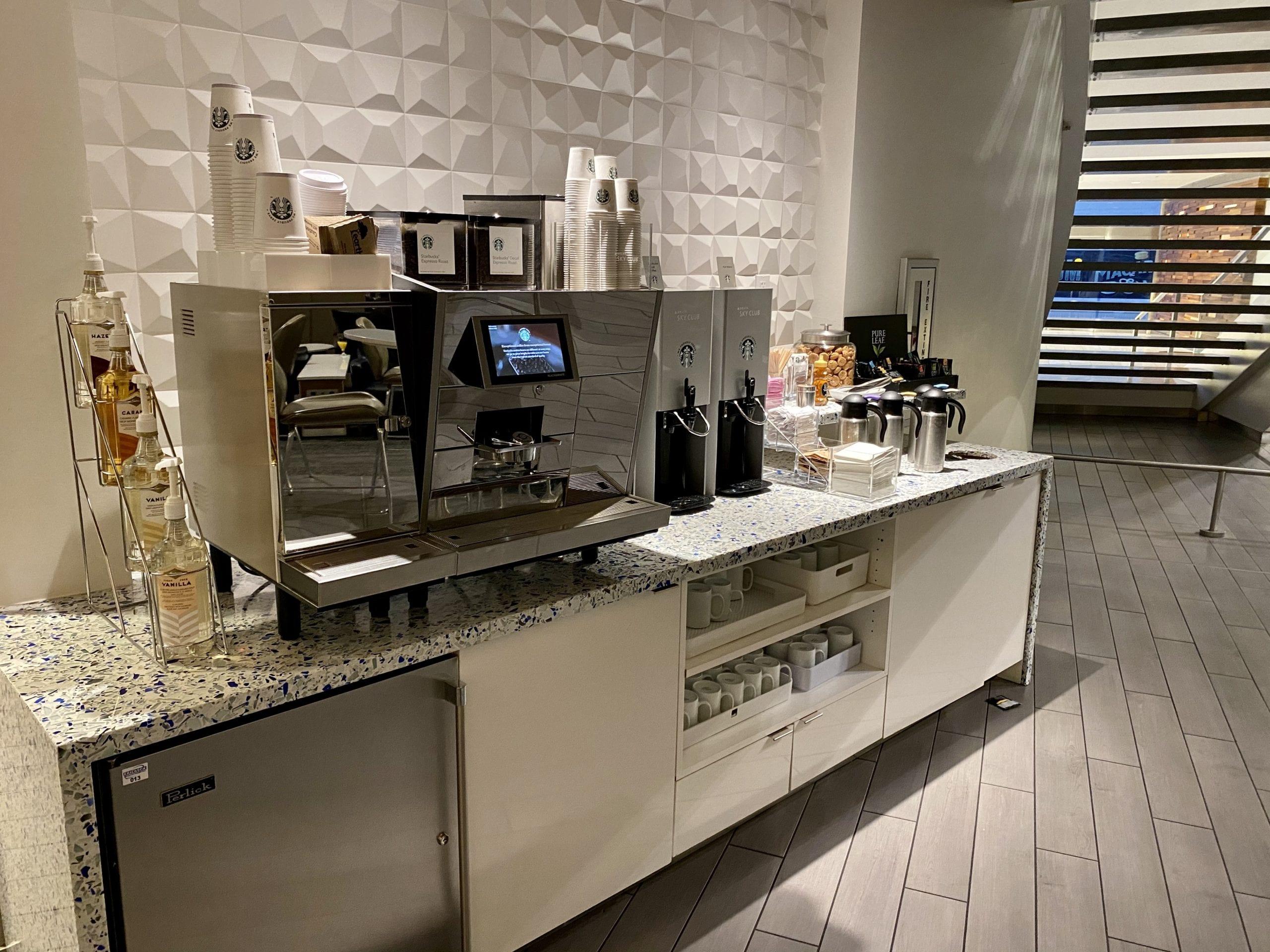 And then there's the centerpiece of the area, the bar. And it's not just any bar – it's THE BAR.
Confused? Not every Delta Sky Club has these dedicated bars where you can order a premium cocktail or top-notch champagne by the glass or bottle – and pay with either cash or SkyMiles. There are also plenty of cocktails, spirits, wine, and beer available for free, too.
Here's a peek at the champagne list, which can be a great way to use your Delta SkyMiles to jumpstart a vacation. At 4,750 SkyMiles per bottle, the Laurent Perrier Rose is a great option. Read our guide to using SkyMiles to buy champagne (and why you should!)
This Sky Club also had a special mezcal tasting menu. While mezcal doesn't exactly scream "Pacific Northwest," it's a cool option!
Bottom Line
As far as I'm concerned, it's the Delta Sky Club Seattle … and then the rest.
There are some great new additions in Phoenix (PHX), New Orleans (MSY), and Austin (AUS). New clubs are on the way to Minneapolis-St. Paul (MSP) and Los Angeles (LAX), too.
But the combination of space, views, finishes, and amenities makes the Seattle Sky Club stand out.