What are you looking for in an airport lounge? A spot to sit? Check. Not too crowded? Double check. Something decent to eat? Check. A good drink before your flight? Check, and then some.
While most Delta Sky Clubs won't win many awards or accolades, they get the job done. And then there's the Delta Sky Club San Francisco (SFO), a city where Delta has a relatively tiny presence. So how can it hope to stack up?
Spoiler alert: It puts some of Delta's bigger, flagship lounges at hub locations to shame.

Getting into the Delta Sky Club San Francisco
Delta's sole Sky Club at San Francisco is located in Terminal 1, right next to Gate 41. And it's the perfect spot.
Delta doesn't have many daily flights in and out of SFO, so they're all in this small stretch of the terminal from gates 40 through 48. That means you'll typically only have to walk a few minutes from the lounge to your gate for boarding.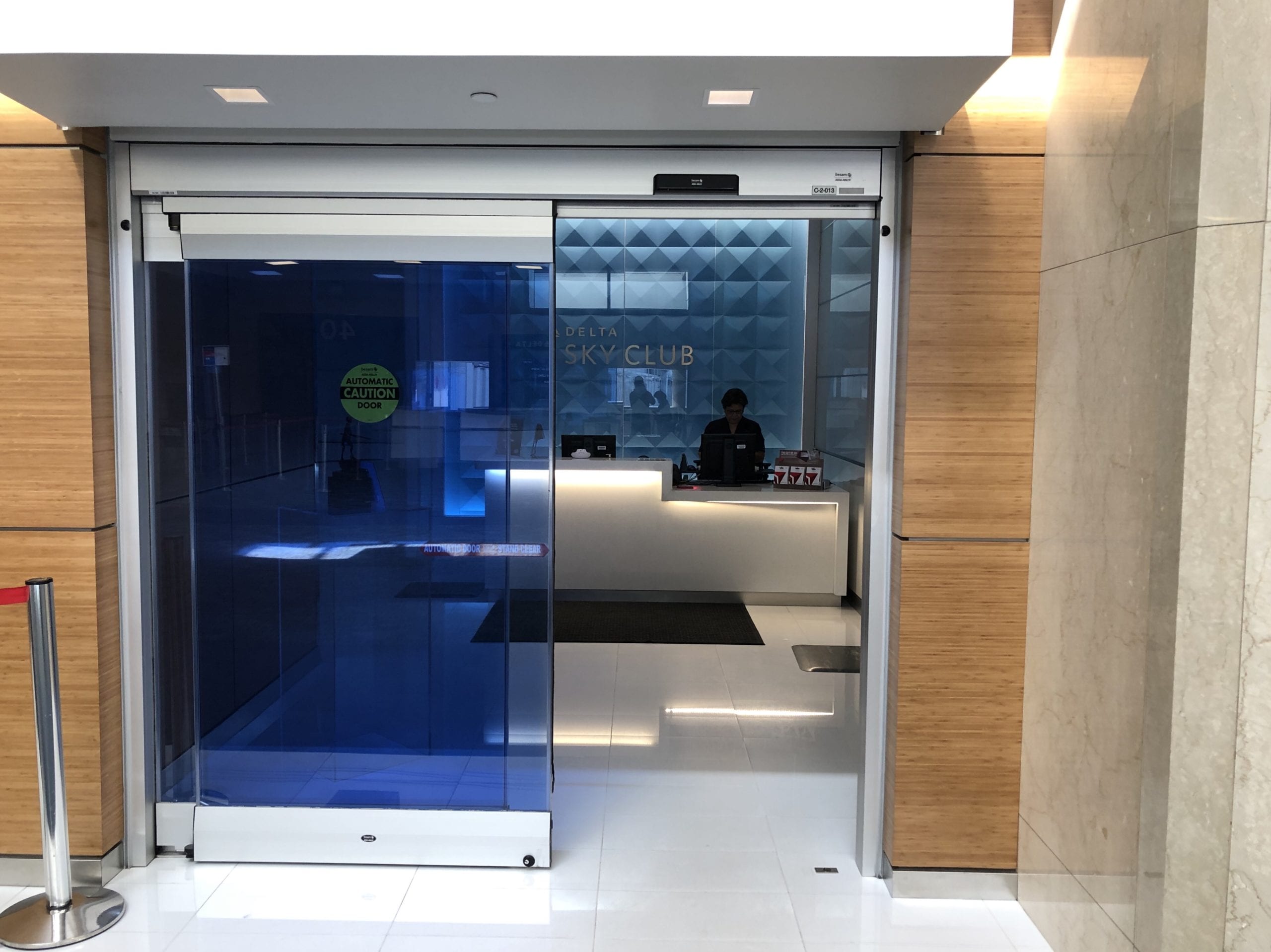 One note: SFO's Terminal 1 isn't connected airside to other airport terminals, which means you'd need to reclear security if making your way here from another terminal. But seeing as you generally need to be flying Delta that day in order to get into the Sky Club, that shouldn't be an issue.
Just like all Delta Sky Clubs, there are a few ways to get into the San Francisco Delta Sky Club.
The easiest way is with the Platinum Card from American Express – not the co-branded Delta version. This card opens more lounge doors than any premium credit card on the market. So long as you're flying Delta that day, you can just show your Platinum card, boarding pass, and get in. You can bring up to two guests, but it will cost you: After a February 2023 hike, guests now cost $50 apiece.
Add in the other perks like $200 in annual credits for airline fees and Uber rides, a $100 application credit for Global Entry or TSA PreCheck, and the ability to transfer points to your SkyMiles account, it's one of the best cards for frequent Delta flyers.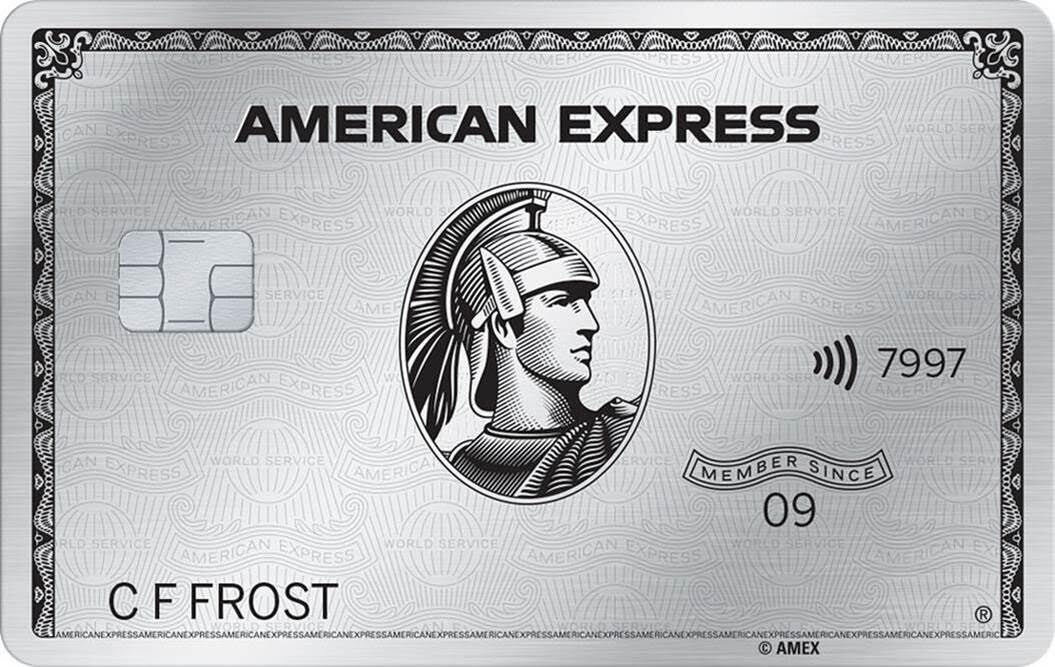 Click Here to learn more about the American Express Platinum Card. 

You can also get into the Delta Sky Club San Francisco if you've got Delta's top co-branded credit card, the Delta SkyMiles Reserve American Express Card. Much like the Platinum card, you can enter any Sky Club for free so long as you're flying Delta that day. You get two free guest passes to bring visitors each year – though after that, you'll also pay $50 per guest.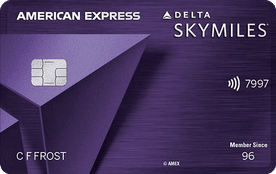 Click Here to learn more about the Delta SkyMiles Reserve American Express Card. 

And even cardholders with one of Delta's lesser co-branded cards can get in – for a fee. If you've got the Delta SkyMiles Platinum American Express Card, you can enter any Delta Sky Club when you're flying Delta that day by paying $39. Unfortunately, flyers with the Delta SkyMiles Gold American Express Card can no longer buy their way into the Sky Club.
Not sure which version is right for you? Read our guide to help you decide! 
There are a few other, less cost-effective ways to get in – including holding Delta's top-tier Diamond Medallion status. Read our full guide on how to access the Delta Sky Club.
When you walk in, just show an attendant your credit card and boarding pass. Then head up the stairs or hop in the elevator, as the lounge itself is up one level.
The Lounge & Amenities
For a lounge at an airport where Delta doesn't have much of a presence, the San Francisco Sky Club is impressive.
Scratch that – it's just impressive, period.

As you exit the elevator or climb the stairs, you're greeted with a bright, airy, and spacious lounge. The ceilings are high, the decor is chic, and the whole space just works well. Check out those feature divider walls – a nice touch that helps break out the lounge without making it feel closed in.
The entire back wall of the lounge is floor-to-ceiling windows, which lets in a ton of natural light. And it makes for some great planespotting, including a landing and taxiing Emirates A380.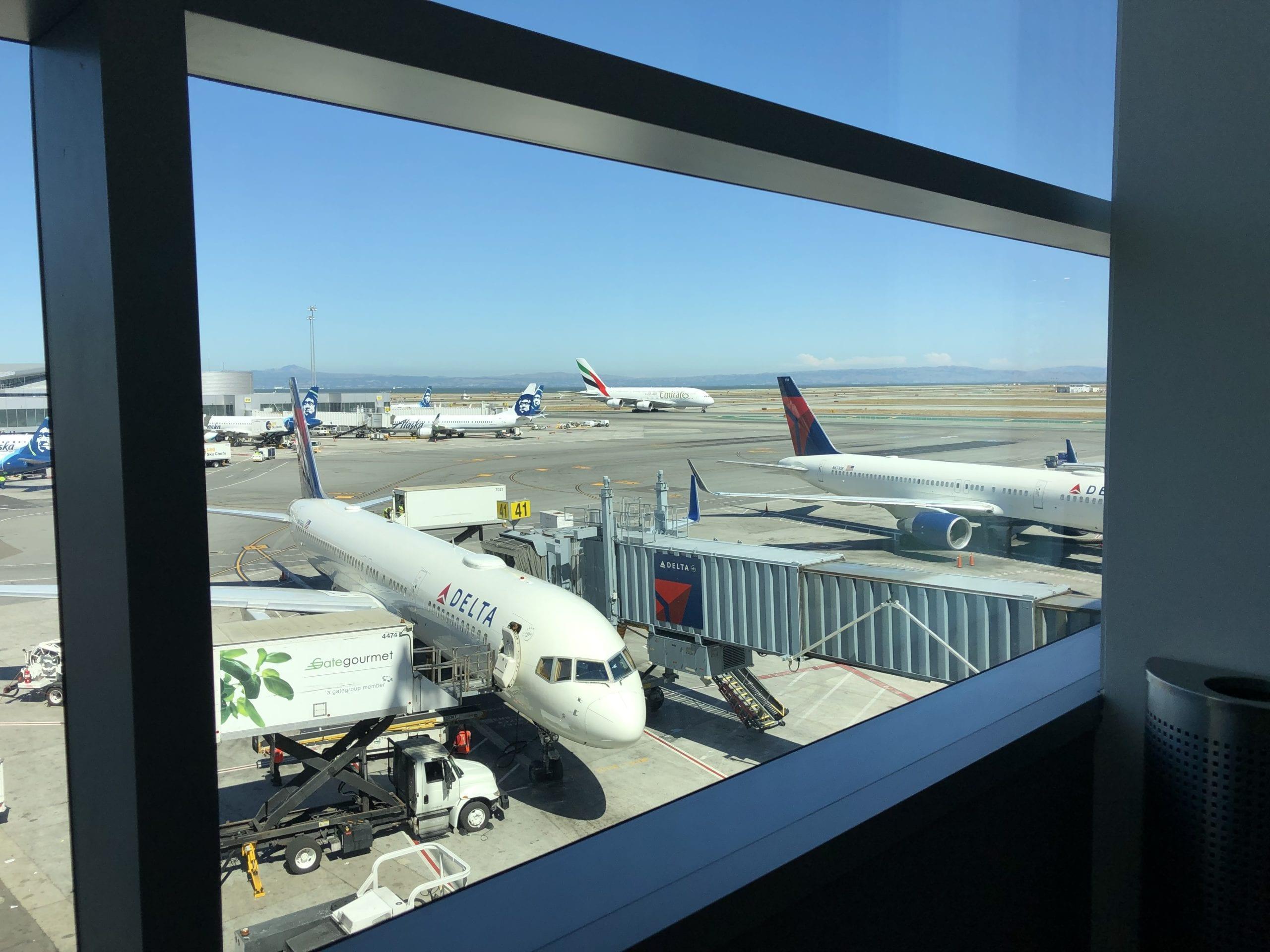 As you walk into the San Francisco Sky Club, the first major feature is a well-stocked bar. It's called … THE BAR. Look for more on this below – it's special.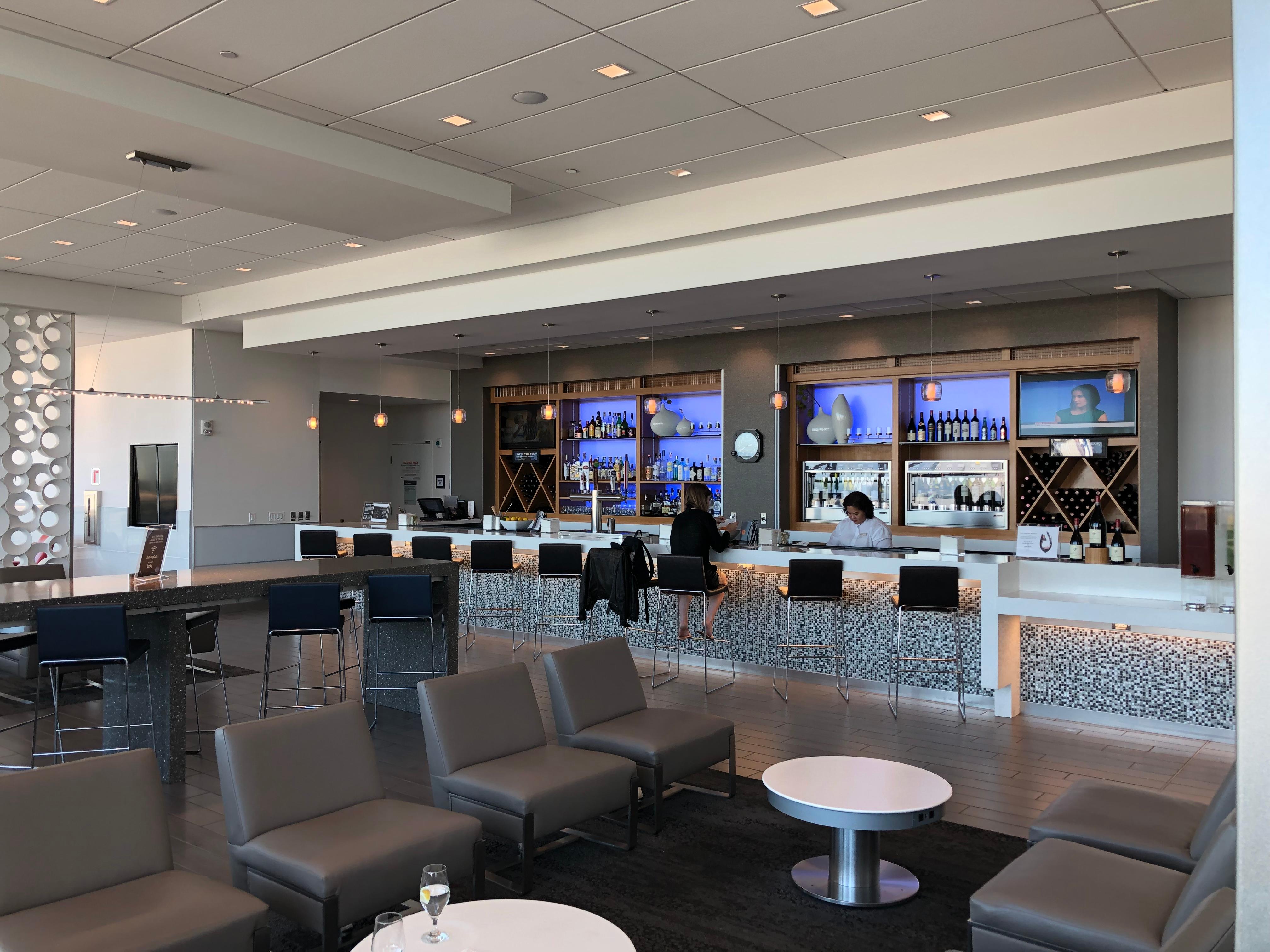 From back to front, there is a ton of seating scattered throughout the lounge. And because this isn't a Delta hub, this lounge is rarely busy. There were dozens of seats to choose from even on a busy travel day after Labor Day. That's rarely the case at busier hubs like Minneapolis-St. Paul (MSP).
And there's a good variety of seats, from highback recliners to lower armchairs to hightop workstations and chairs at small tables for dining. In general, most chairs throughout the lounge will have access to both USB charging and traditional power ports.

As you get to the back of the lounge, there's an even larger collection seating, including some restaurant-style booth and chairs with tables. And it's all set in front of a cool mural of the Golden Gate Bridge.

Behind that seating area you'll find something resembling a dedicated work area, with a massive hightop table and some office tables and roller chairs.

Follow the hallway down to the bathrooms and see what's in store – some seriously quirky but cool restrooms. They were kept clean throughout our stay, and stocked with Malin + Goetz soap and hand lotion.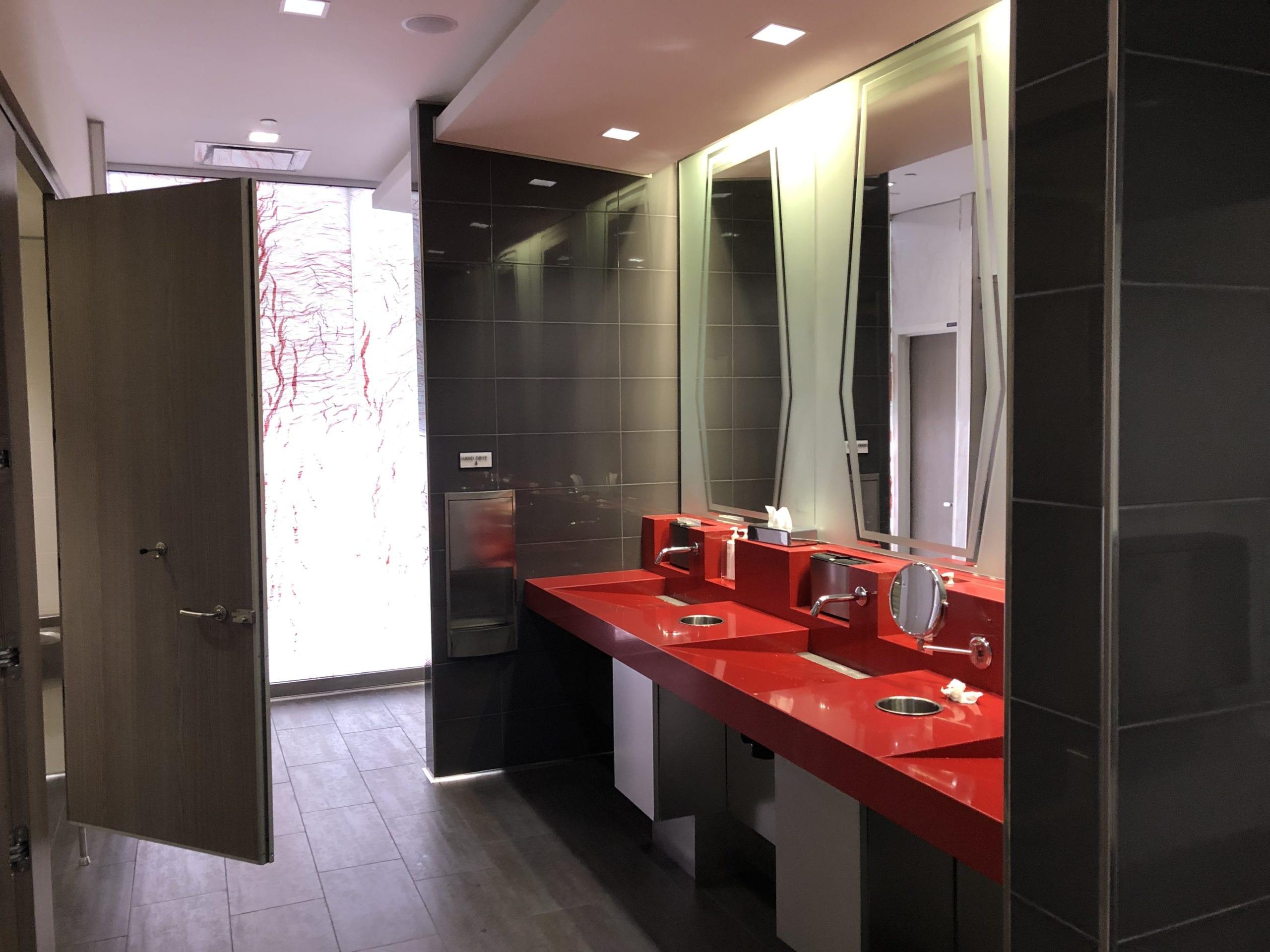 Delta also has two dedicated shower rooms, which you can book at the front desk. I didn't get a chance to peek in, unfortunately.
>Food & Drink
We visited during a late-lunch, early-dinner period, and the Sky Club had plenty of food laid out.
To start, there was a build-your-own-taco bar with simple fixings, some cold salads, two soups, and prepared sandwiches like an open-face caprese with pesto and fresh mozzarella. There was also a build-your-own noodle bowl, complete with chicken, shrimp, and some tasty (though not piping hot) vegan Thai broth.

Later on, lounge attendants swapped out the taco bar with a decent-looking charcuterie spread.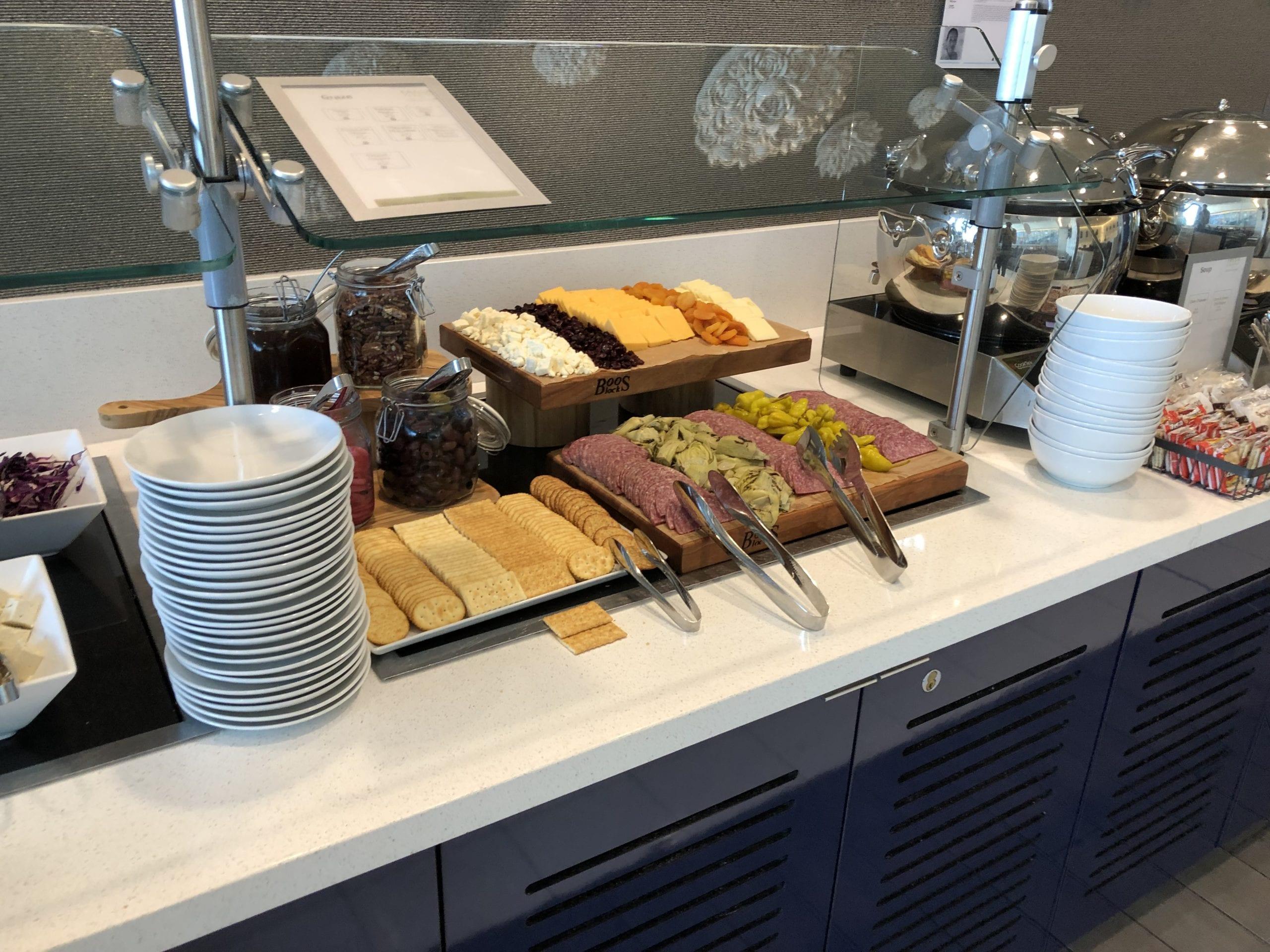 It was pretty good for standard lounge fare, though not quite outstanding – and far behind what you can get in a typical Amex Centurion Lounge. But the lounge attendants were impressively attentive, constantly circling through to grab any empty drinks or finished plates.
The San Francisco Sky Club also a dedicated coffee and tea bar, where you can grab a quick cup of coffee or make your own latte or cappuccino.

And then there's THE BAR. Not every Delta Sky Club has these dedicated bars where you can buy champagne with SkyMiles – along with other premium drinks like wine and cocktails. Here's the champagne menu from our visit, for instance: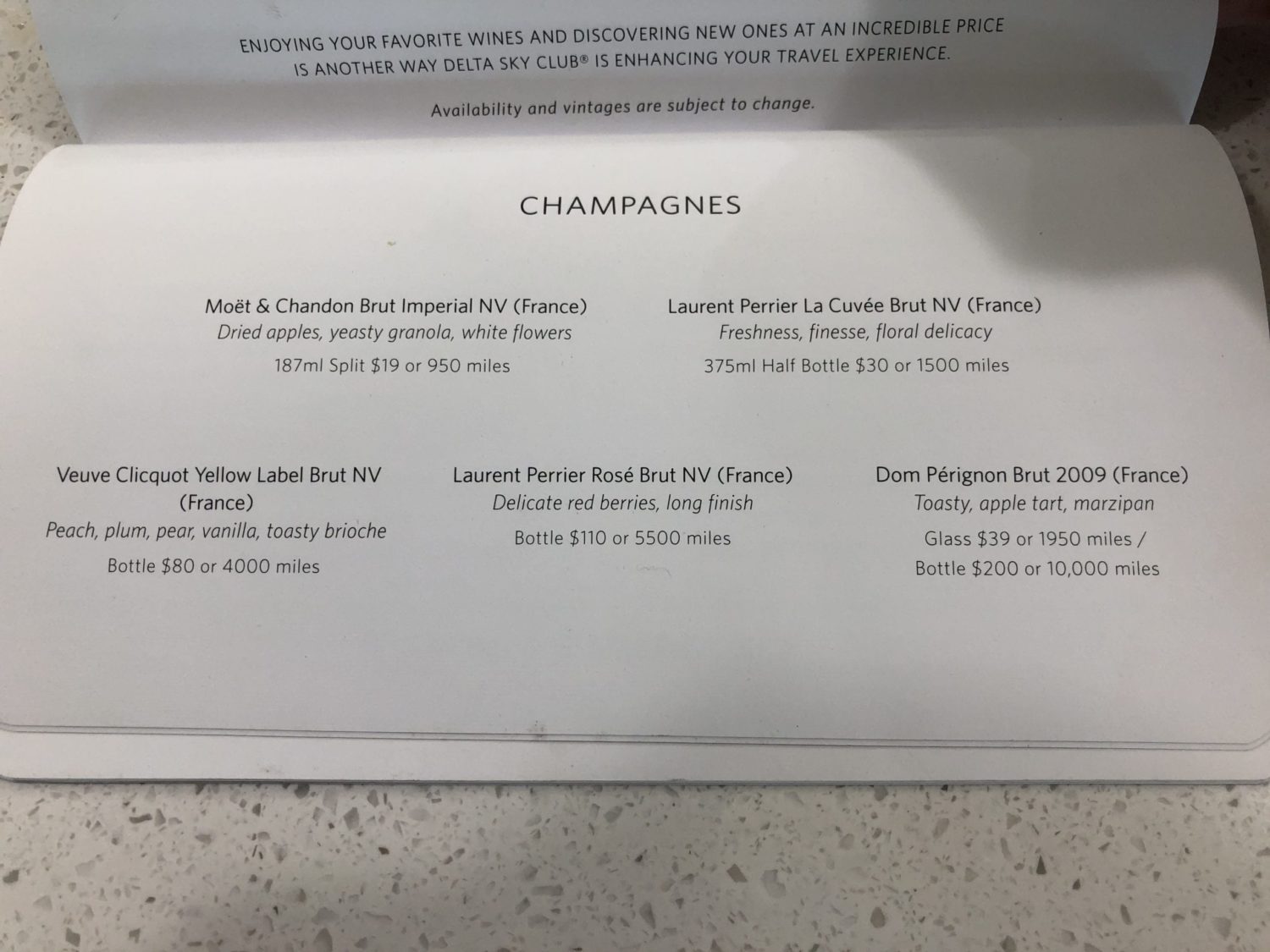 Delta also has some free beers on tap, and the bartenders will happily pour a glass of wine, sparkling, or a cocktail for free, too. Delta was also serving a Gin Tonic Thyme as its featured cocktail during our visit.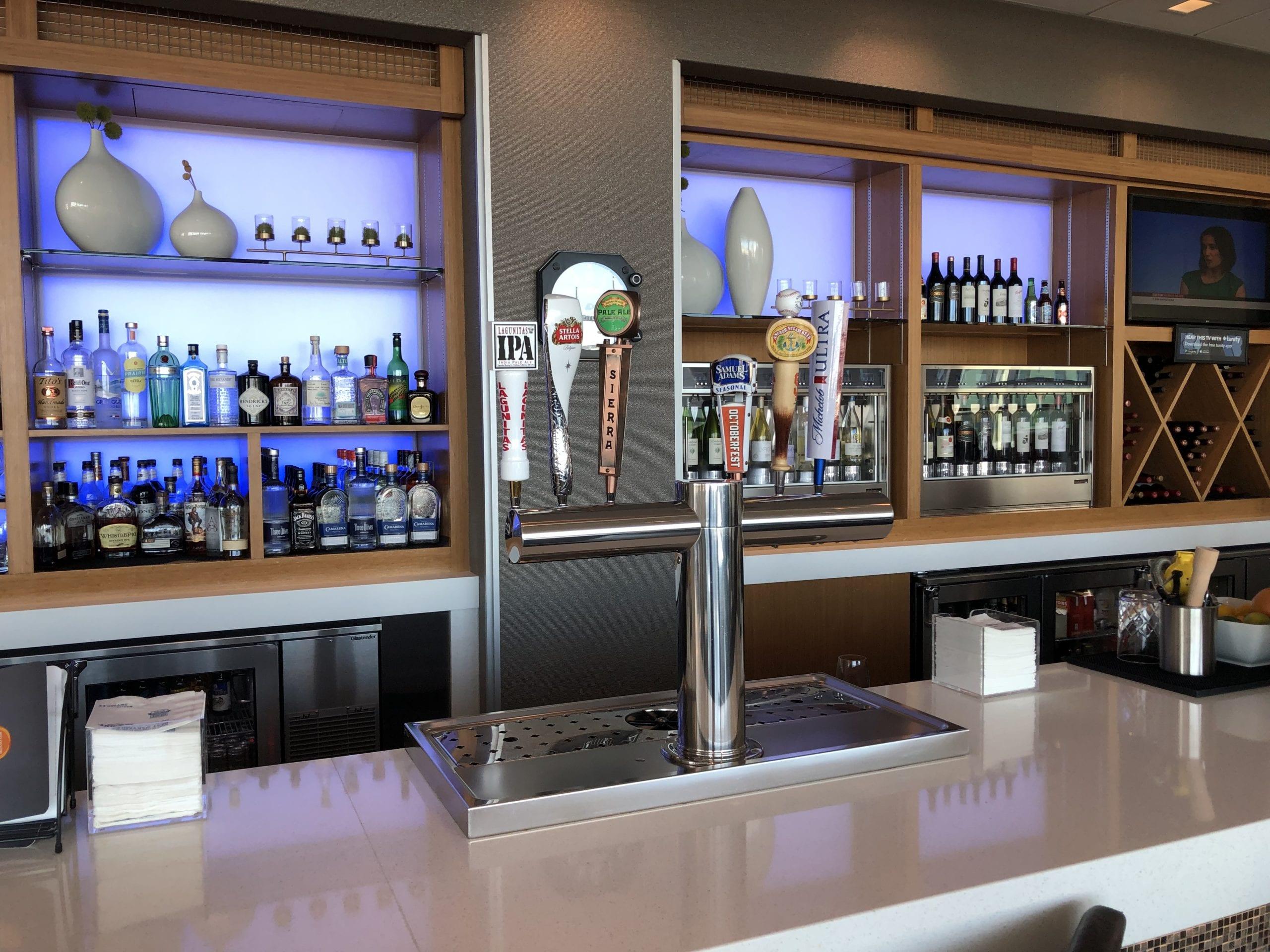 Bottom Line
This is one of Delta's more impressive Sky Clubs, if you ask me. While I take pains to avoid the overcrowded and uninspiring Minneapolis-St. Paul (MSP) lounge, the San Francisco Sky Club hits all the right notes – and looks great while doing it.