It's no massive flagship lounge like you'll find at Delta's hubs in Atlanta (ATL) or New York City (JFK) – but it doesn't need to be. Tucked inside Washington, D.C.-Reagan (DCA), you'll find the Delta Sky Club DCA. And trust me: It's worth the stop.
It's a great, quiet spot – and I mean really quiet! –  to relax with a beverage and snack in hand before your flight. Like the soaring concourse at the airport itself, this isn't a dimly lit lounge – you're surrounded by windows on all sides, with views of the tarmac and planes heading to their gates.
While simple, food options were fresh and bright, and the bar was pretty quiet at noon on a Tuesday – but the infused iced tea and "Sakura water" stole the show anyway. Spring had sprung in the Delta Sky Club DCA.
Keep reading to see what I mean.
Getting into the Delta Sky Club DCA
Delta's Sky Club at Washington, D.C. – Reagan (DCA) is located in Concourse B, which is where you'll need to head for any Delta flight departing from the nation's capital.
Immediately after clearing security, you'll see two elevators with the Sky Club branding. Hop in and head up to the second floor. Delta's website erroneously says it's above Gate 15, so don't make the mistake I did and go wandering around Gate 15 looking for stairs or an elevator there.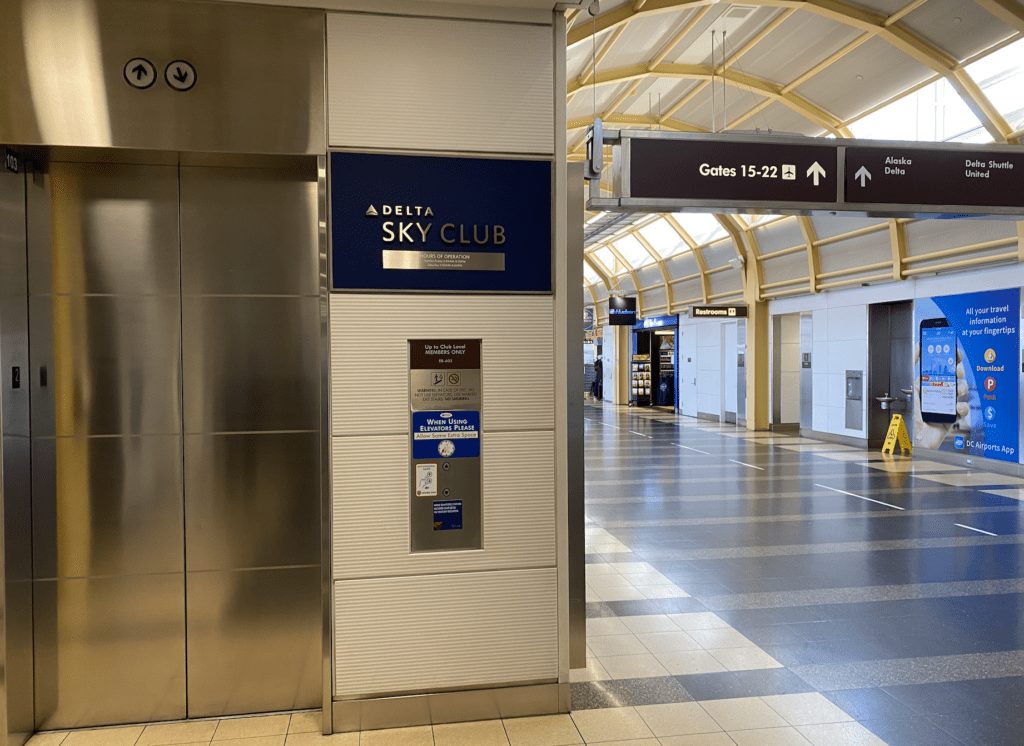 Like all Delta Sky Clubs, there are a few ways to get into the lounge.
The easiest way is with the Platinum Card® from American Express – not the co-branded Delta version. This card opens more lounge doors than any premium credit card on the market. So long as you're flying Delta that day, you can just show your Platinum card, boarding pass, and get in. You can bring additional guests, but it will cost you: After a hike in February 2023, each guest costs $50..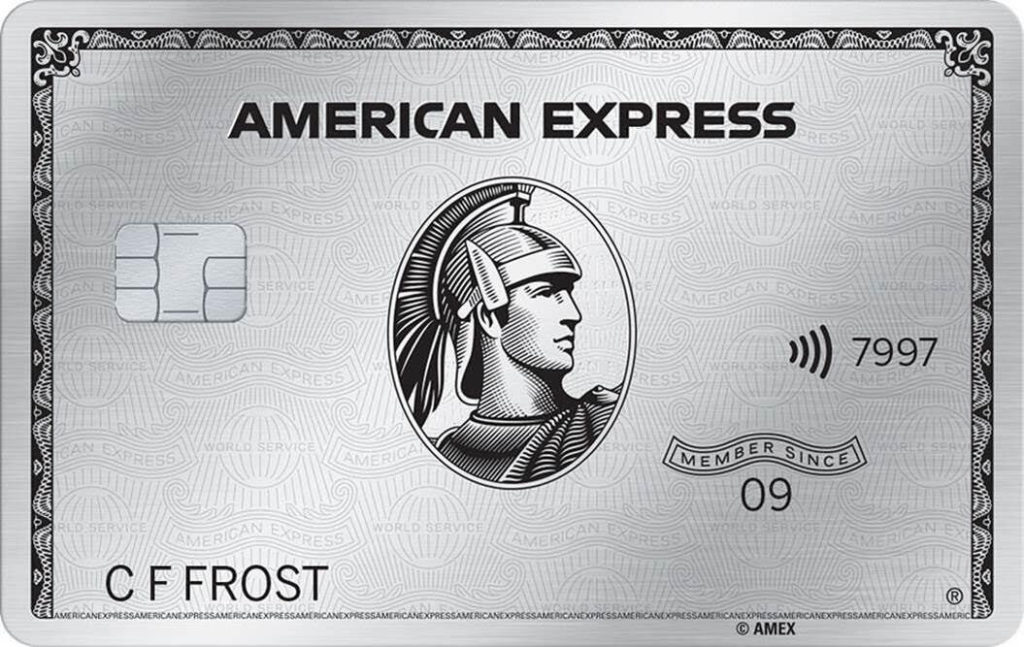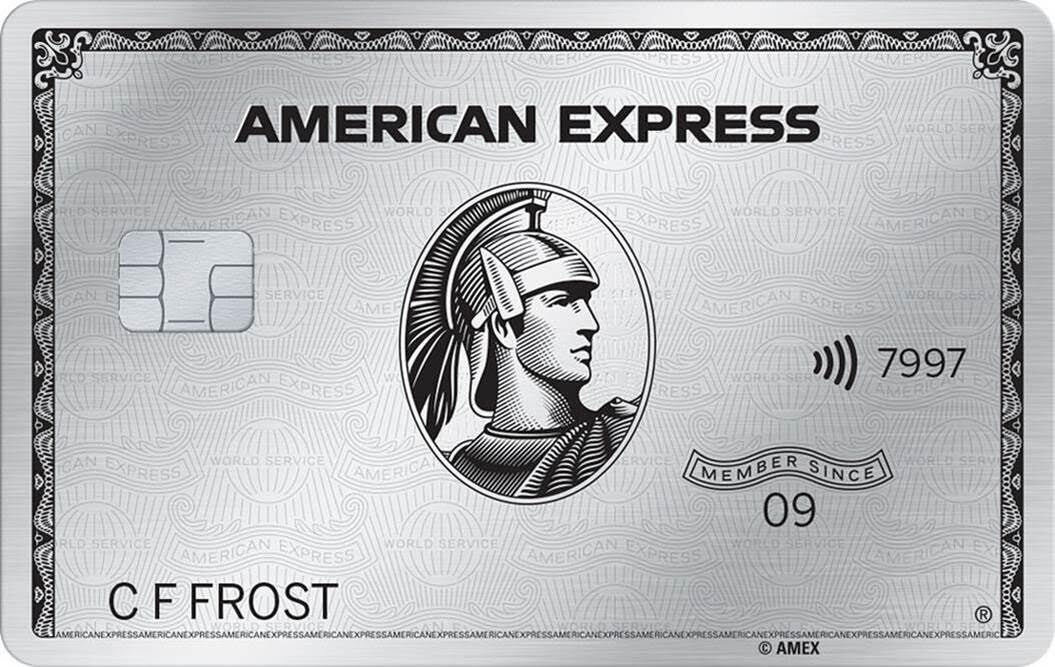 Click Here to learn more about the Platinum Card from American Express.
You can also get into the Sky Club for free if you've got Delta's top co-branded credit card, the Delta SkyMiles® Reserve American Express Card (terms apply). Much like the Platinum card, you can enter any Sky Club for free so long as you're flying Delta that day. Reserve cardholders also get two, one-time guest passes each year – after that, you'll have to pay $50 per guest.
And even cardholders with one of Delta's lesser co-branded cards can get in – for a fee. If you've got the Delta SkyMiles® Platinum American Express Card, you can enter any Delta Sky Club when you're flying Delta that day by paying $50 (terms apply). Unfortunately, flyers with the Delta SkyMiles® Gold American Express Card can no longer buy their way into the Sky Club. No matter which card you have, you need to be flying Delta that day to get in. 
Read our guide to getting into Delta Sky Clubs.
When you get off the elevator, just show an attendant your credit card and boarding pass before the blue doors.
Thrifty Tip: If you've added your American Express Platinum Card or Delta SkyMiles Reserve card to your SkyMiles account, you can just scan your boarding pass via the Delta app to get in.
The Lounge
I arrived around noon on a Tuesday, and the place was packed! Just kidding: I was literally the only guest. An hour or so later, a few other travelers trickled in. Otherwise, it was a very quiet visit to the DCA Sky Club.
Delta refreshed this space back in 2018, and it shows. From the entryway to the seating areas to the bar and everywhere in between, it has refined design that you won't find in older Delta Sky Clubs. At 9,000 square feet, it's a good size – especially for a lounge at one of Delta's smaller airports that doesn't get much foot traffic.
The main area is full of seating options: comfy chairs, sofas, high-top tables and chairs. And the whole area is flooded with natural light thanks to the floor-to-ceiling windows that surround the space. Two windows look out to the tarmac and gates, while another is overlooking the terminal and travelers walking below.
Almost every seat had access to an outlet or two, making it was easy to charge a few electronics at once.
The massive bar is situated toward the front of the lounge, facing out towards the seating and windows. There's plenty of seating winding around the half-circle shape.
On the side of the bar, you can find more restaurant-style seating, with outlets situated on the tables. These chairs weren't as comfortable but a perfect spot to grab a quick bite or drink.

Back towards the entrance, there's another sunny nook with a large table – great for larger parties – and a few high-backed comfy chairs. There's no need for harsh overhead lighting here, since the windows provide plenty of light.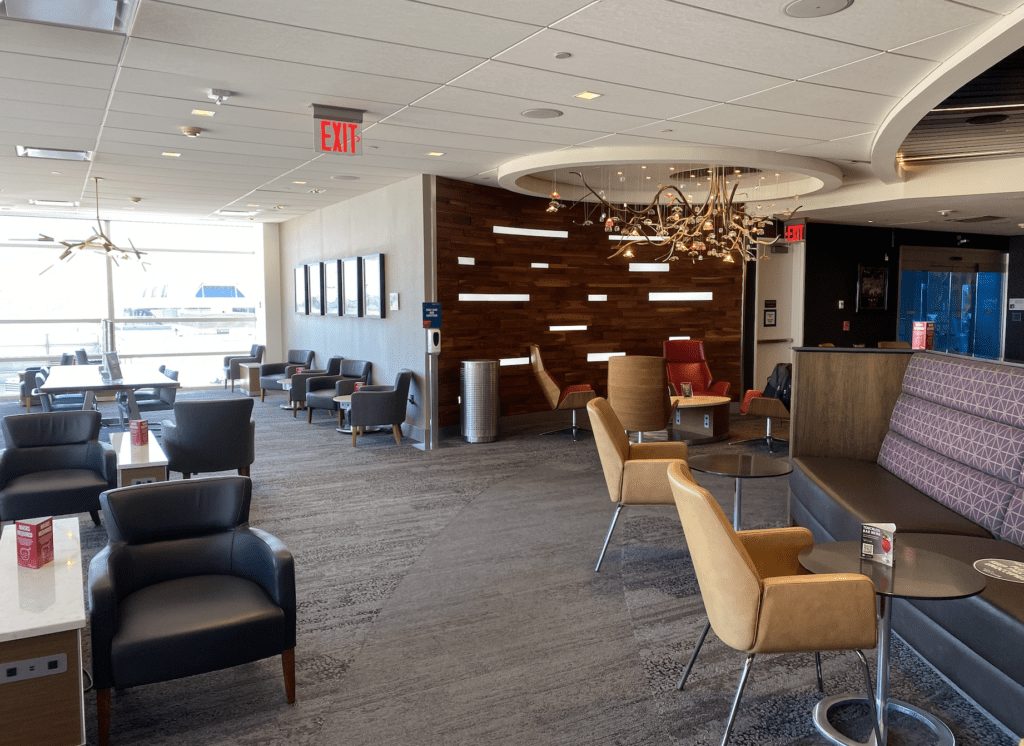 Even closer to the entrance is this smaller, private space with some soft benches and tables.

The far end of the space hosts a high-top table and chairs, and a longer with office-style chairs directly facing outwards. There is a printer available for use here as well.
The inner side of the space looks down on the lower level, where passengers are walking out of security and past shops to get to their gates. The unique gold beams of Reagan and greenery past the windows makes this a great view, too.
There were hand sanitizing stations positioned throughout the space, as well as markers on some seats to denote social distancing. Delta has said some of these markers will disappear as travelers return to the skies – and Sky Clubs.
I set up shop near the windows, facing the bar. It was a sunny, bright spot to hang out and watch the planes go by.

Back along the right side of the bar and down the hall a bit, you'll find the restrooms. They were stylish and spotlessly clean.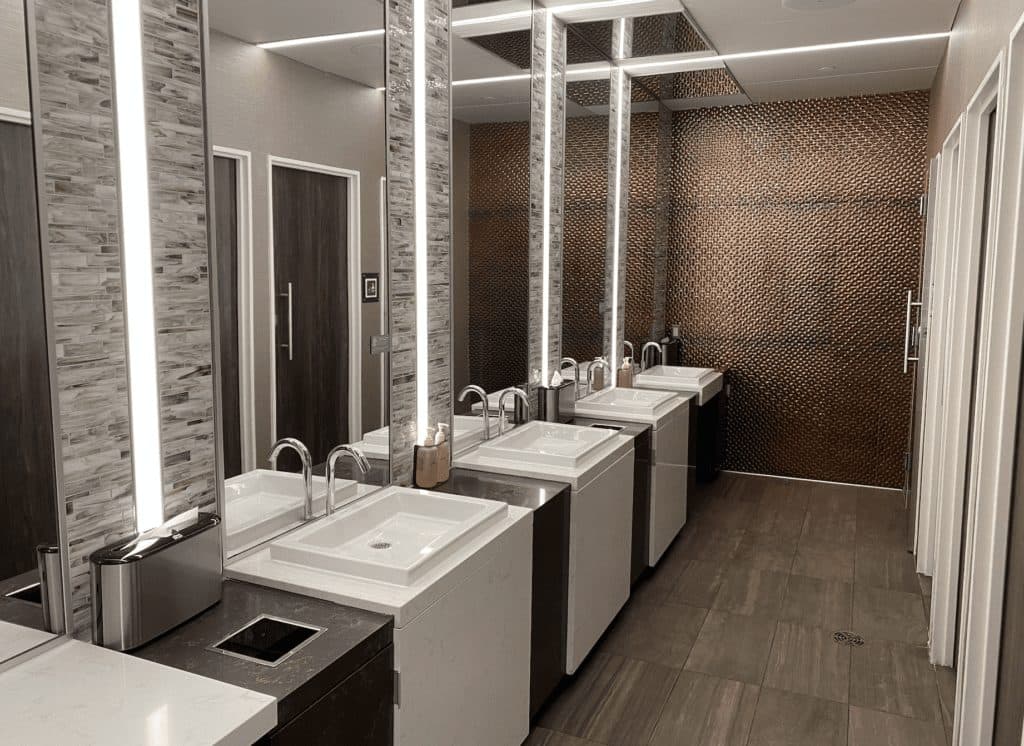 Food and Drink
I arrived at the Sky Club around lunchtime, and the staff were just finishing up setting lunch out. The chef was hanging out near the food display, and the other staff were joking with him and telling me he does an awesome job with the menu.
Earlier in the pandemic, Delta massively scaled back its food options inside Sky Clubs. By the time I visited, it had returned to normal – or something closer to normal, with more food options in preportioned and covered plates.
Let's take a look at the options.
For snacks, there were dishes of hummus, veggies, cheese squares, edamame, and chips and salsa. Dressings were served on the side. These all screamed springtime in D.C. to me. But a few options were missing from the listed menus: Cheese with dried apricots, and plain edamame (rather than Caesar style with chicory).
All items were served in ceramicware and wrapped with plastic wrap.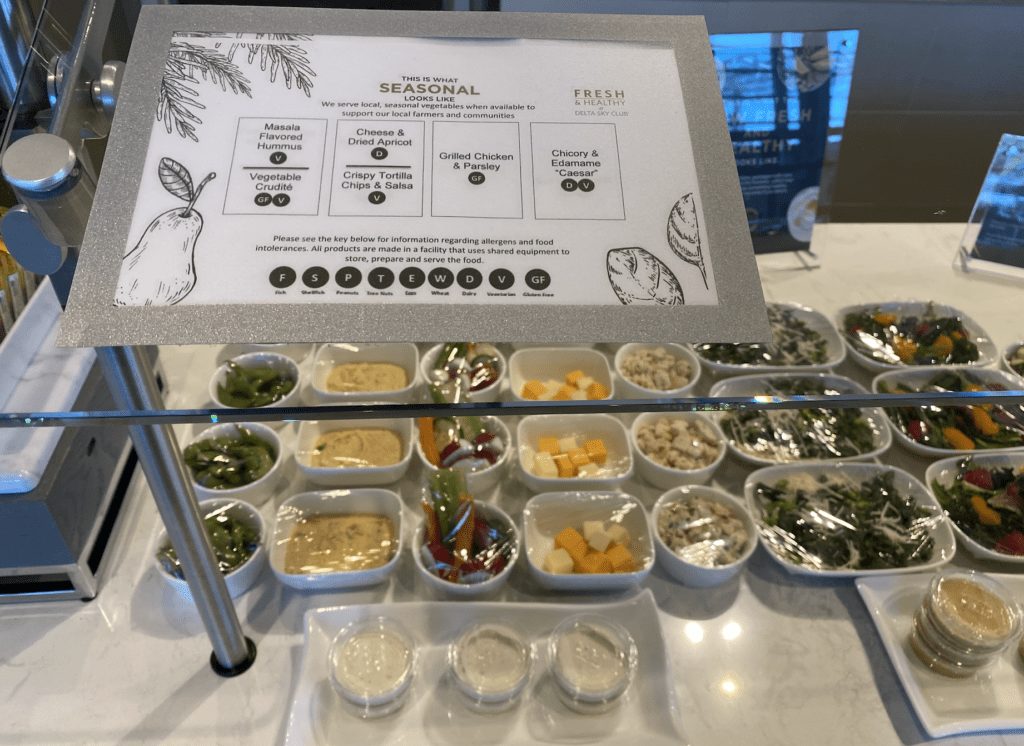 For larger bites, there was a smattering of additional cold items: a garden salad, cucumber salad, Asian noodle salad, turkey sandwich, and caprese wrap. Once again, everything was pre-plated and covered in plastic wrap.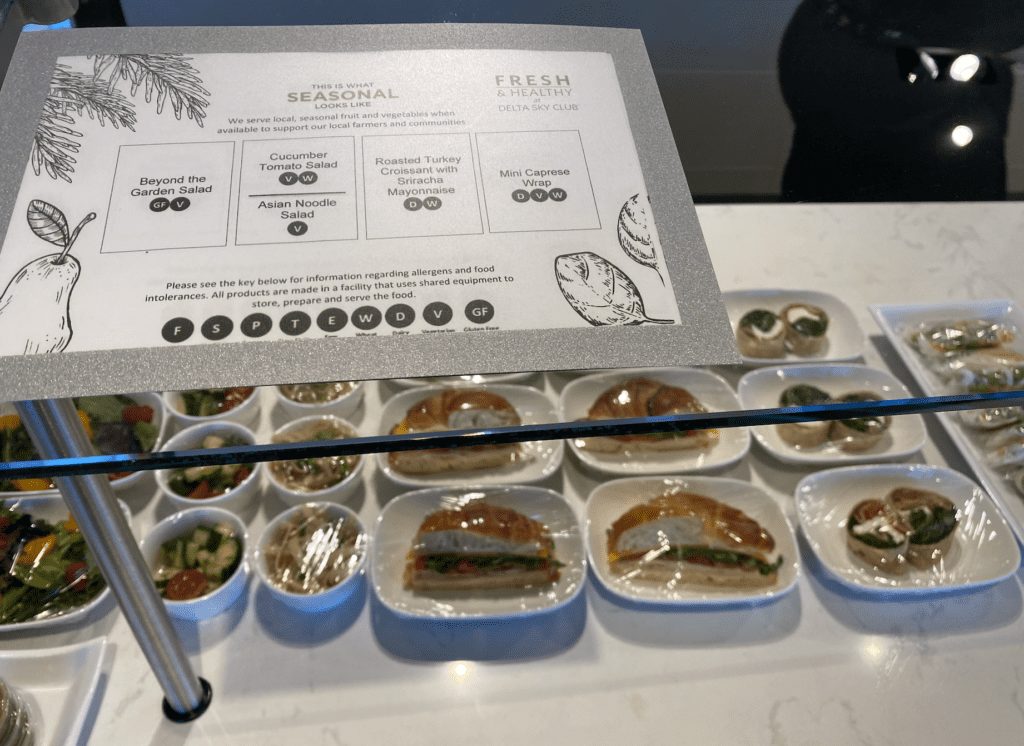 Delta has slowly reintroduced hot food options to its Sky Clubs. The only choice during my visit was a do-it-yourself noodle soup, with packages of veggies, edamame pods, and thick rice noodles with chicken broth and seasonings.
Mix and enjoy! The edamame were unseasoned and a bit disappointing, but I enjoyed this DIY fresh noodle soup.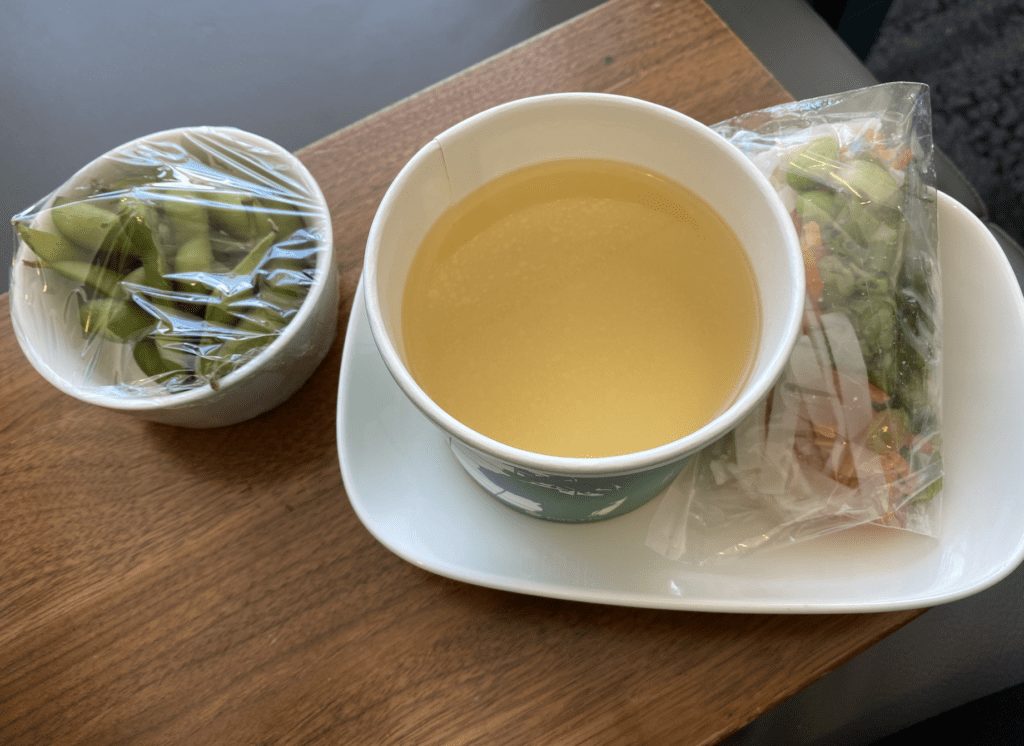 I also enjoyed chips and salsa and hummus with veggies. In all, it made for a filling lunch. On-the-go snack options included sweet potato chips and fruit.
Options for sweets were quite limited, including Fig Newtons, Rice Krispie treats, and packaged brownies. The brownies were small, but rich and fudgy.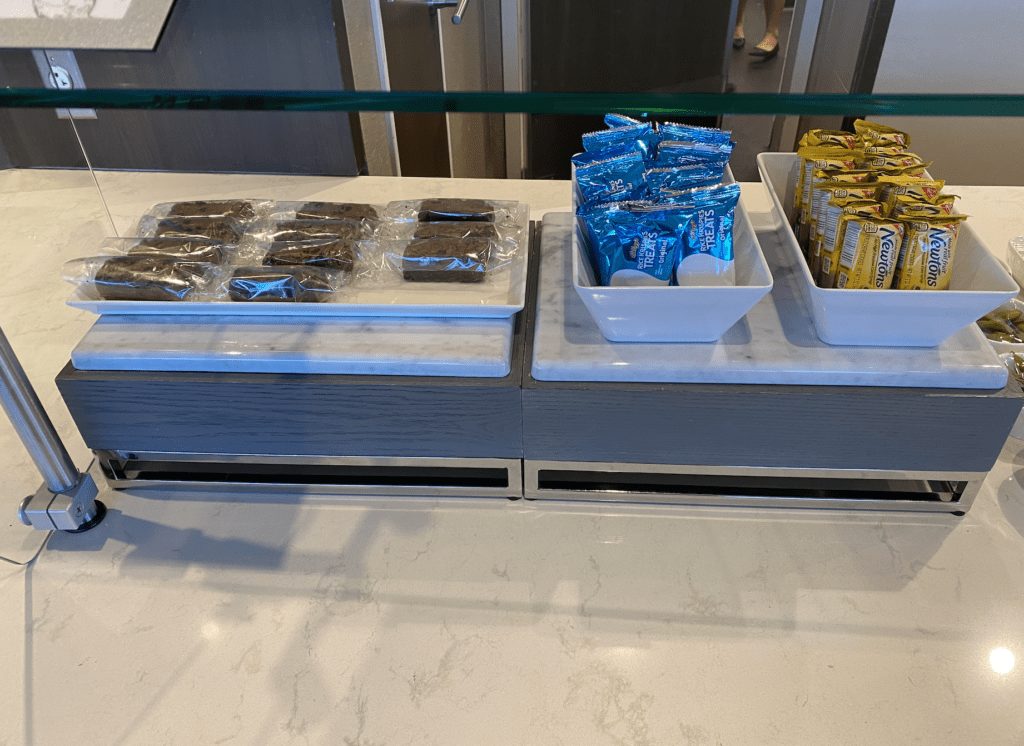 The staff were extremely friendly as they were setting out lunch and cleaning up around the space. They cleared my dishes once I'd finished, and asked if there was anything else they could get for me.
Now to the bar! Browse the Sky Club menu from the QR code at your table or at the bar entrance: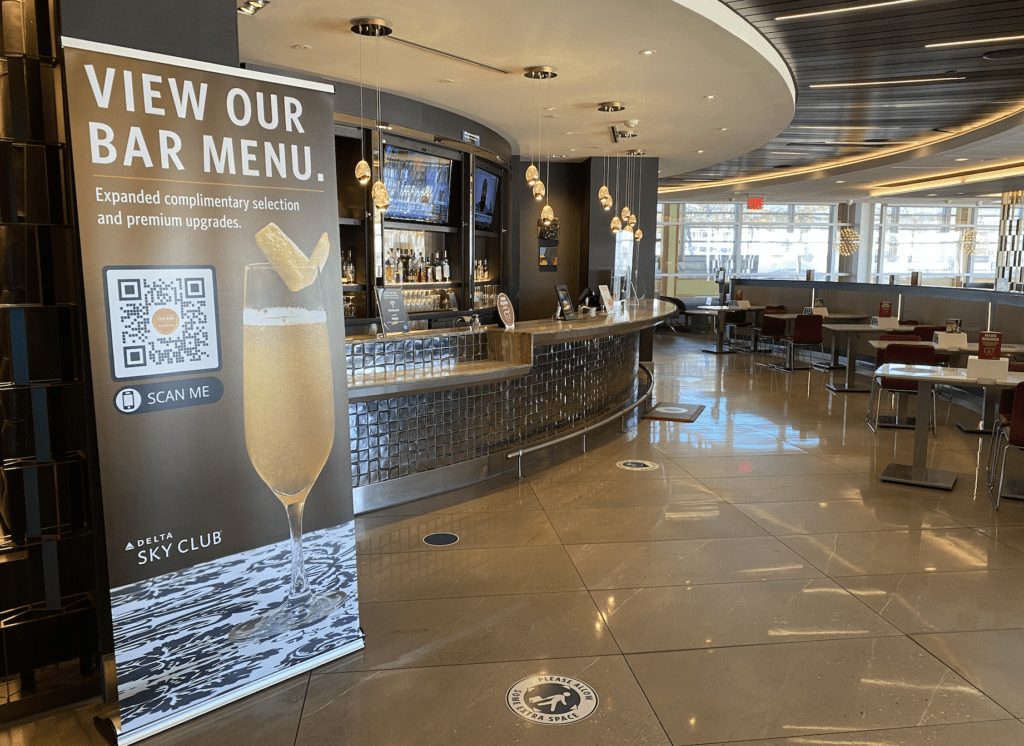 You can also step up to the plastic partition for a menu. Like all Sky Clubs, there are several complimentary cocktails, spirits, wine, and beer available for free – but don't forget to tip! But the Delta Sky Club DCA is one of a growing number of lounges where you can buy premium selections – including bottles of champagne – using cash or your SkyMiles!
Read more: How to Buy Champagne using SkyMiles in the Sky Club (Yes, Really)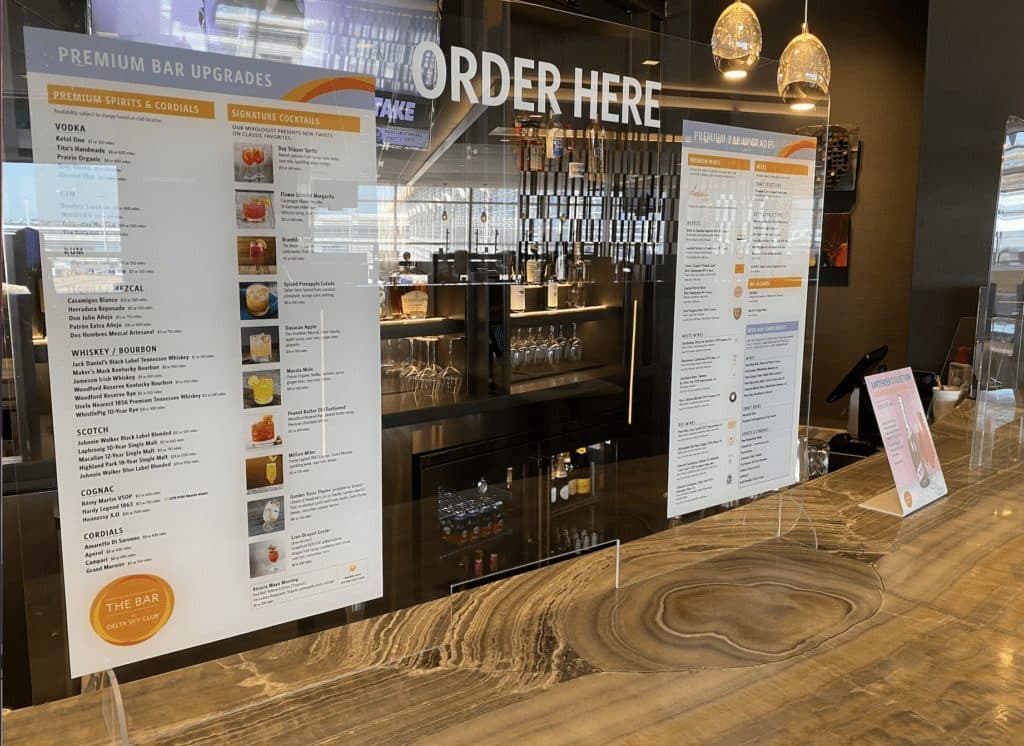 Because it was very quiet when I visited, there wasn't a bartender manning the bar at all times. But an attendant came out right away as I was browsing options.
If you're going for a non-alcoholic drink, head to this drink station to the right of the bar. Here, you'll find an espresso machine, coffee, and a soda fountain with several options.
Around the corner heading towards the food, you'll find a water station with still and sparkling, as well as a container with utensils.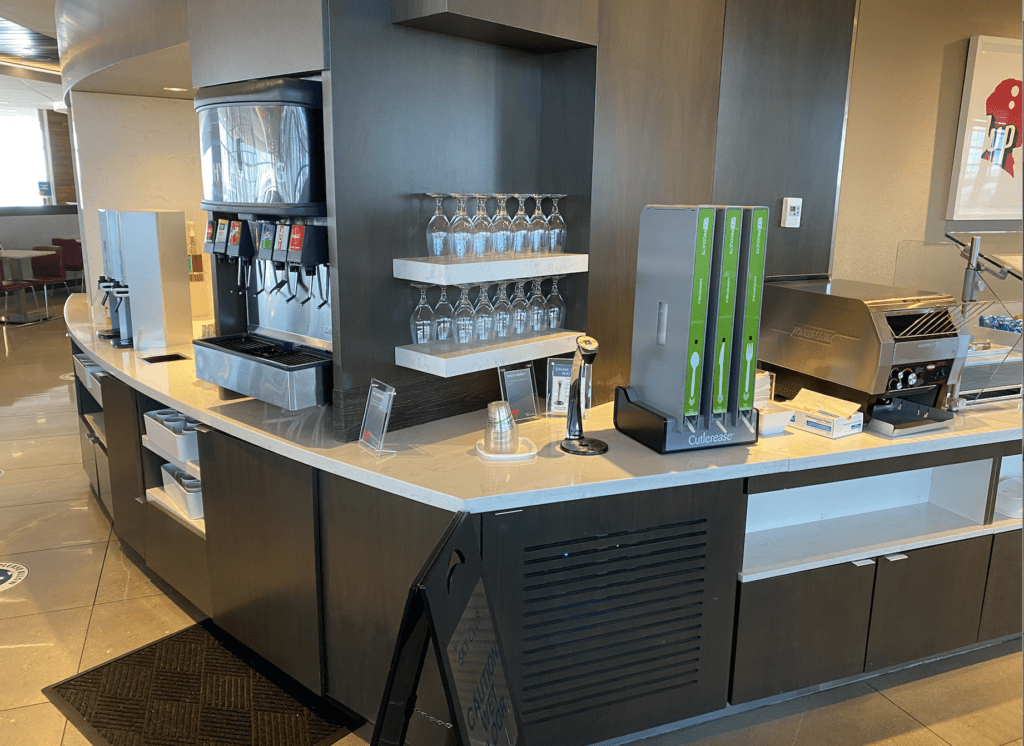 And finally, there was an infused water station. The options were iced green tea with orange blossom water and "Sakura water" with grenadine, raspberries, and rose water. Both were refreshing!
The space was tidy and quiet, even as a few more travelers trickled in. The staff were friendly and helpful. While the food didn't knock my socks off, I enjoyed the straightforward items they had and pieced together a filling lunch. I drank my fill of the iced tea and Sakura water before heading to catch my flight.
Bottom Line
If you're flying Delta out of Washington, D.C., the Delta Sky Club DCA is a quiet and relaxing space to spend a few hours. Delta's relatively small presence at the airport means it's rarely busy. And it's designed well, with tons of natural light and comfortable seating.
Recharge your devices, grab a snack (or make a meal), sip an infused water or cocktail, and enjoy the views from all angles.