You found that great flight deal through Google Flights or in your inbox from Thrifty Traveler Premium – or maybe even forked over some airline miles to book an award ticket. You just clicked "confirm" on the airline's website. The flight is booked.
So now what? Well, we're hoping you followed the Flight First Rule and booked your flight before anything else … even requesting time off of work.
Either way, it's time to start piecing together the rest of your trip. But there are also a few simple steps you should take right away to ensure your trip goes smoothly – and maybe even save yourself some more money in the long run.
Make Sure You Can Make the Trip Work
Many travelers might not know it, but you have 24 hours from when you booked your flight to cancel it and get a full refund.
It's called the 24-hour rule, and it's a little known federal law that allows you to book a flight now and figure out the logistics later. With a few exceptions, it applies to almost any flight that touches U.S. soil, whether it's operated by an American carrier or a foreign airline.
It means you can book a cheap flight deal right away when you see it – even if you aren't 100% sure whether or not you can take the trip right at that moment.

After booking your flight, use the next 24 hours to request time off work, find travel companions, or just generally figure out if you can make the trip work. If you can't, simply cancel the reservation and the airline will give you a full refund: No harm, no foul.
There's one thing you shouldn't do right away, however: Book any nonrefundable hotels, tours, or other travel expenses. Wait at least 24 hours, so you don't lose out on any money if you end up canceling your flight.
Set a Google Flights Price Alert
Just because you've booked your flight doesn't mean you should stop keeping tabs on your airline.
Go back to Google Flights and set a Google Flights price alert for the flight you just booked – and some alternatives, too, while you're at it. Google will send you an email notifying you if prices change substantially, up or down.
If the price drops after you've already bought your flight, you can rebook at the lower fare and pocket the difference – so long as you booked a main cabin fare or above. With most airlines, you can't change or cancel basic economy tickets – the lowest, no-frills fare airlines sell – for free, or at all. While you won't get your money back, you will get a voucher or credit for the difference.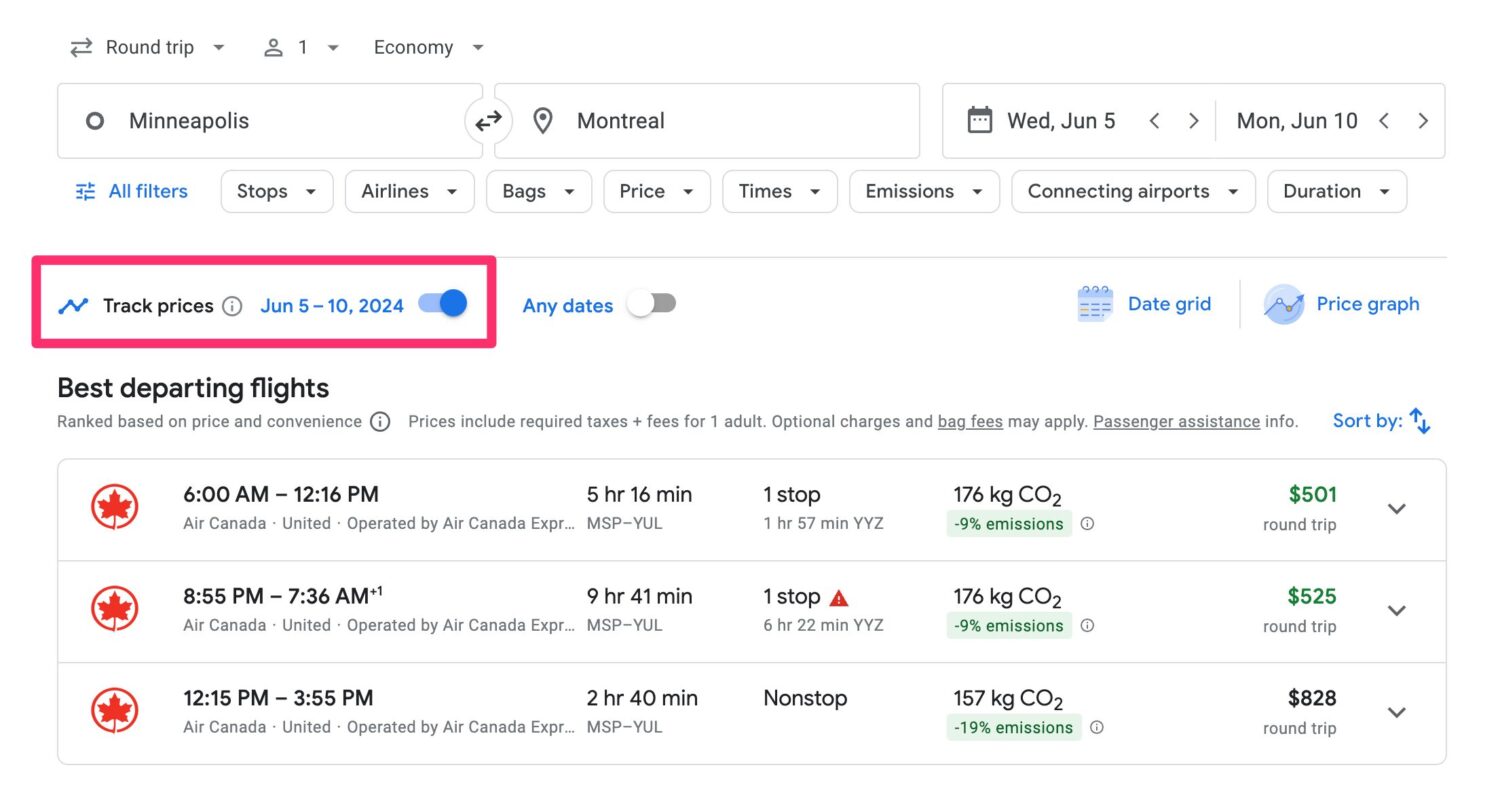 Setting a Google Flights price alert was the first thing I did after booking these ridiculously expensive flights to Portland earlier this year. Lo and behold, the price dropped by $150 just a few weeks later!

I immediately canceled my original flight and rebooked it at this lower fare – and now I've got a Delta eCredit to put toward a future trip!
Add Your Flights to Your Travel Apps
Now, it's time to get organized.
Open your favorite travel app on your phone and add your flight information. This ensures all your trip details are in one convenient place, and taking time to do it immediately after booking your flights is going to save you some stress down the line.
TriptIt is one of our go-to travel apps. It's a free travel planning tool that compiles all your reservations – from flights to hotels to restaurants – into a slick timeline. Once you've created an account and linked your email, all you have to do is forward your flight confirmation email to [email protected] – sometimes TripIt will even pull in the details for you.
For example, here's the itinerary for my upcoming trip to Santiago, Chile.
No more digging through emails: Simply open TripIt whenever you need to check on your schedule or pull up a confirmation number.
You'll also want to download your airline's app if they have one. That way, you can easily check in for your flight on your phone when the time comes and pull up your boarding pass, saving you time when you get to the airport. It's one less thing to worry about later.
But there's another travel app that might be even better for tracking the status of your upcoming flight, and that's Flighty. Much like TripIt, Flighty also compiles all of your flights together in a timeline – you can even link your TripIt account with Flighty and automatically pull in all your upcoming flights.
From there, you'll get instant push alerts about any schedule changes, delays, or cancellations to any flights in your queue.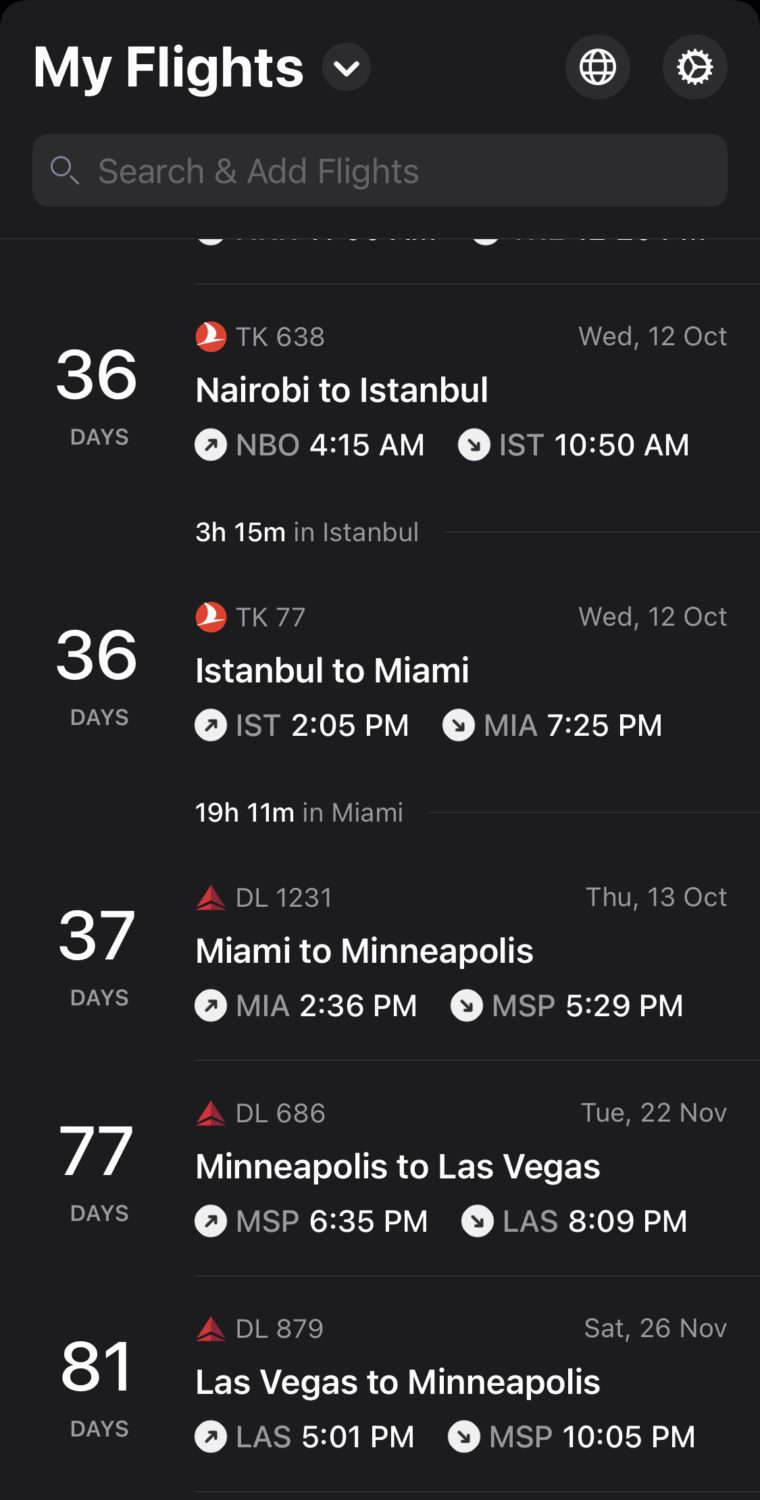 Our team has lost track of how many times we've gotten alerts from Flighty about a schedule change or cancellation 30 minutes, if not hours, before getting the heads up from the airline … if the carrier even notified us at all. It's the most powerful tool we've found to keep tabs on your flights, period.
Read more: The 7 Apps to Download Before Heading to the Airport
Add Frequent Flyer & TSA PreCheck Numbers to Your Booking
There's nothing worse than getting to the airport only to realize you can't use the TSA PreCheck line because that little logo isn't on your boarding pass. And yes, I'm speaking from experience here.
Check your booking right away and make sure all the relevant information is there: From your Known Traveler Number – the key to getting TSA PreCheck – to your passport information if you're traveling internationally. And once you check in, remember to double check that your boarding pass shows you're approved for TSA PreCheck.
It's worth taking the extra time now rather than scrambling to do so when you're heading to your flight. If you went through all the effort to sign up for TSA PreCheck, you don't want to get stuck in the longer general security line – and have to take off your shoes – simply because you weren't thorough.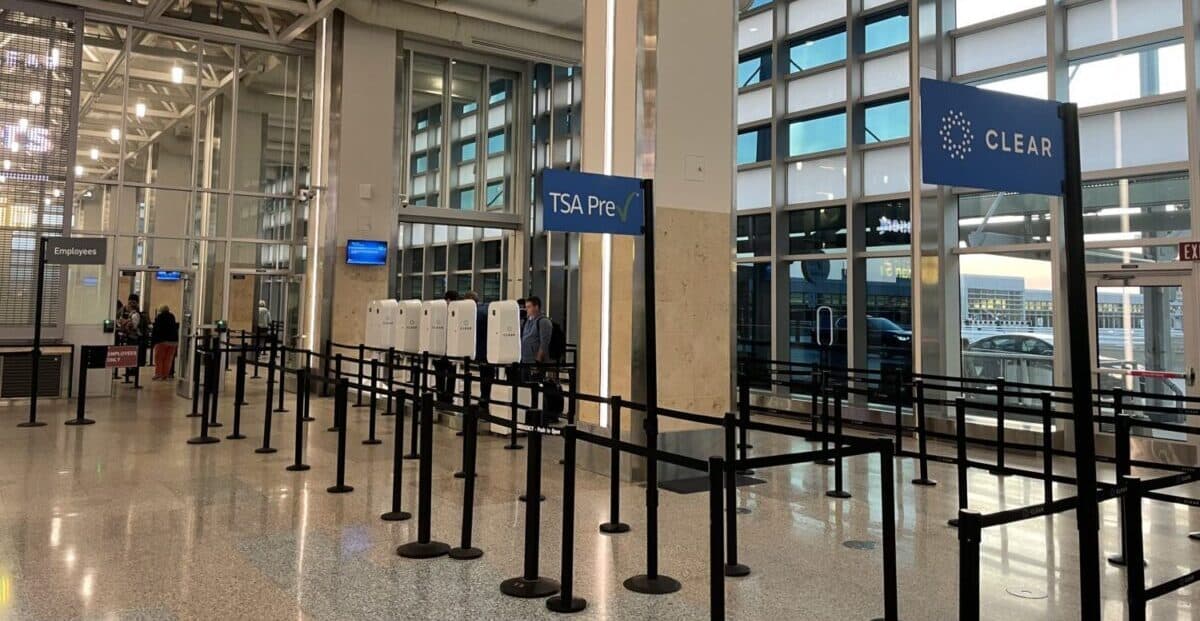 Read more: Everything You Need to Know to Get & Use TSA PreCheck 
And don't forget to enter your frequent flyer number, either. This is especially important if you booked flights through a partner airline, like booking Delta flights through Virgin Atlantic. You can add your Delta SkyMiles number to your booking and earn SkyMiles on your flight or get free checked bags if you've got the right co-branded Delta credit card. Don't leave points on the table!
Set Reminders to Manually Check Your Flights
Just because you've already booked your flights doesn't mean those have to be the ones you're stuck with. Remember the Google Flights price alert you set? It's great for tracking the cash price of your flight, but what if you booked with points and miles – or you're still hoping to fly first or business class?
Set up reminders on your phone, Google Calendar, or even your physical planner to manually go through all of your upcoming flights to see if the price has dropped – especially if you booked those flights with points and miles. Our travel reporter and flight deal analyst Gunnar does this every month when he has a trip coming up. This summer, he rebooked some long-haul flights to Europe to save about 40,000 points and even rebooked some positioning flights into first class.
This manual process is critical for award bookings, as award availability comes and goes – especially for premium cabin redemptions that can pop up just a month or less before departure. If you find a better deal elsewhere, you can cancel your existing booking and get those points and miles back into your airline account. And while you might have to stomach a fee to get those to make the switch, it can be worth it.
Take this award alert we sent to our Thrifty Traveler Premium+ members for lie-flat seats to Paris earlier this summer.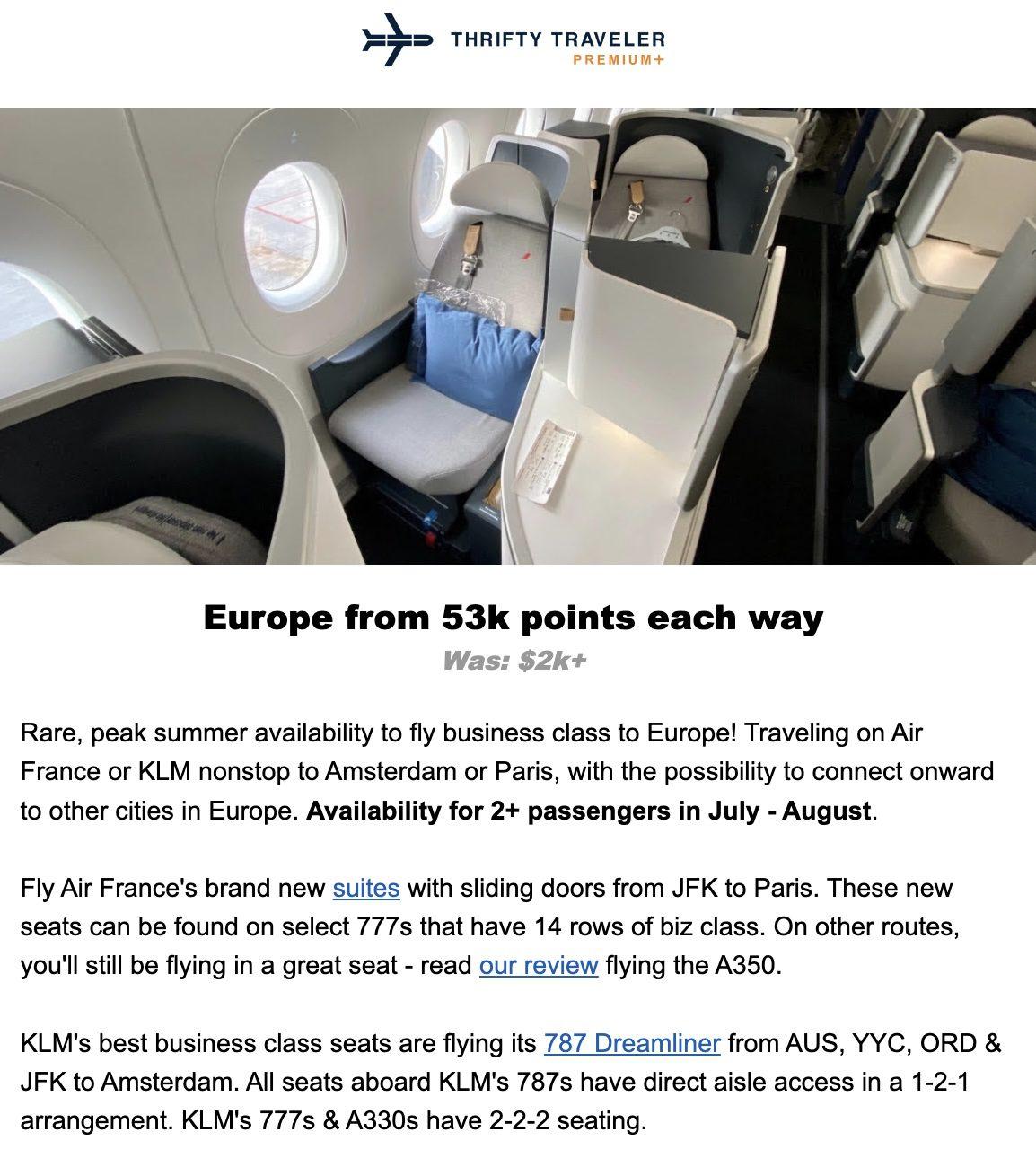 Book these fares for far more points months ago? Or maybe you booked economy initially because that's what was available. Cancel and rebook for fewer miles: Air France/KLM Flying Blue charges a reasonable $50 redeposit fee.

Now, you're flying in a comfy lie-flat seat across the ocean to the City of Light.
Bottom Line
Flights should always be the first thing you book for a trip. But once you've settled on where you're going and when, what comes next?
These are the five things we do immediately after booking flights to help plan the rest of your trip – and potentially save you even more time and money down the line.