The Hawaiian Island of Maui, the second-largest island of the state, is incredibly diverse in its topography and offers something for every traveler. Maui boasts beautiful beaches, desert Volcanic landscapes, lush coast dotted with waterfalls, and diverse wildlife. The island has so much to offer it's hard to know what to prioritize on your trip. Here are the 7 must-dos to get the most out of your trip to this real-life island paradise.
Rent a Convertible
To really get the feel of Maui and see all of the sites, you're going to be spending a lot of time in the car. Why not make it a convertible? You will be able to enjoy all of the views on the Road to Hana (yes it can be done in a convertible!),  along the coast, up to Haleakala that much more.
If you have a credit card like the Chase Sapphire Reserve or the Platinum Card from American Express, you'll get National Rental Car's free Executive Status. This allows you to book a midsized car and then grab any available vehicle in the executive aisle. The process is quick and easy and more often than not, you will get a much nicer car than you booked. In our case, a Chevrolet Camero.
Additionally, any American Express credit card will get you FREE National Executive Elite Status which gives you guaranteed upgrades.
If you plan on getting a convertible pack a carry-on! There is very little trunk space.
Road to Hana
Maui is known for the Road to Hana, a mostly single lane road winding along the coast and through the lush and wet jungle of the island full of waterfalls and hiking trails.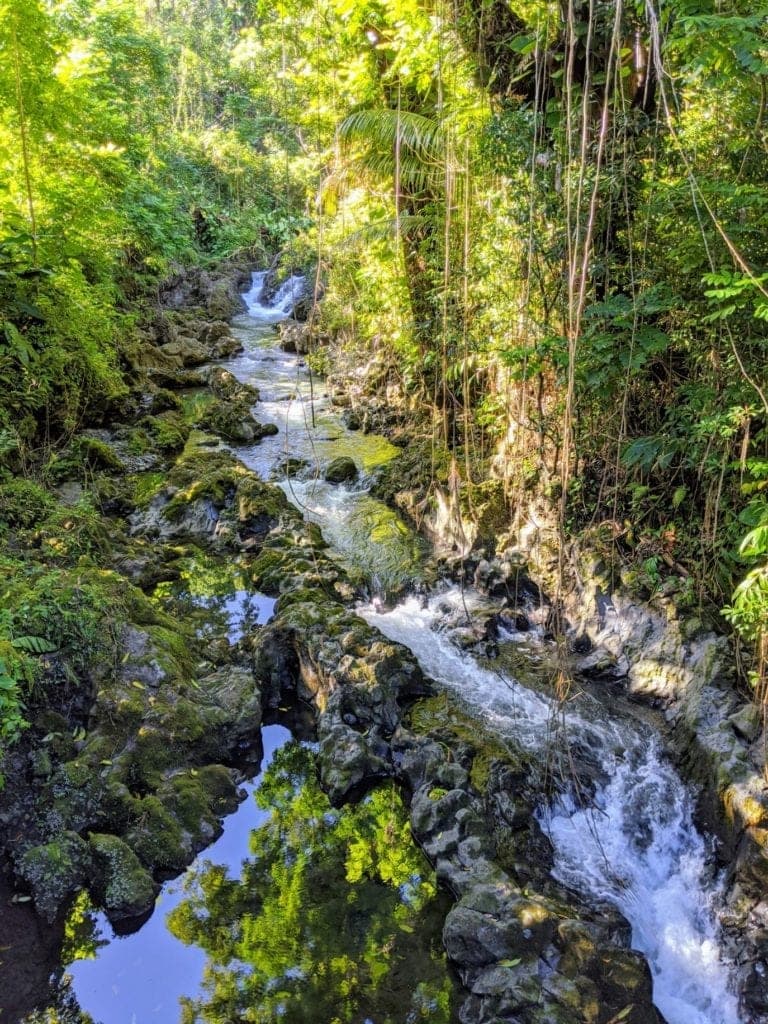 Most people drive to Hana and come back the same way. If you don't stop at all, and you will as that's the point, one way will take two hours. Budget for at least six hours for the trip, and if you plan on stopping more, add a few hours on. If you want more time to explore consider staying overnight in Hana.
Why stop at Hana? You can drive all the way around the Haleakala National Park.
The roads on the other side of Hana are rougher and have lots of potholes, some stretches of just gravel, and some steep cliffs adjacent to the road. You do not need a four-wheel drive to navigate these roads but you may feel more comfortable with a bigger vehicle. We made it without too much trouble in a Camero.
If you decide to continue on past Hana make sure your gas tank is full and you have water and snacks. About thirty minutes past Hana there aren't any stores or roadside stands.
Haleakalā National Park
Drive up to the summit of the Haleakala national park for a great view of the Volcano crater. It costs $30 per vehicle to get into the national park and that pass is good for three days. Depending on where you start your drive it will take you over an hour to get to the summit.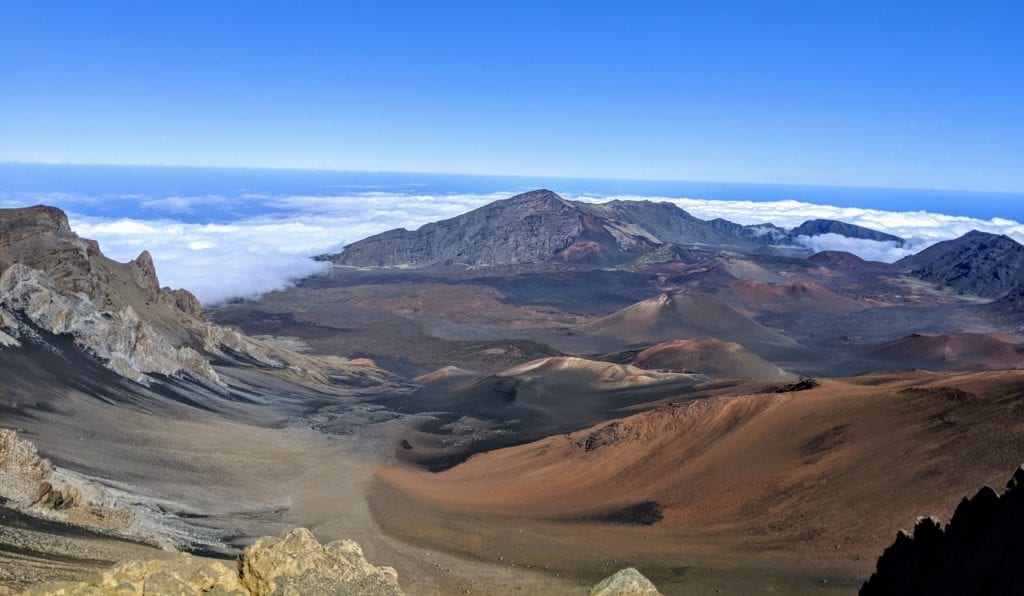 Thrifty Tip: Go at sunrise! You need to have a reservation to get into the park between 3 am -7 am. Reserve your spot up to 60 days in advance. Spots go quickly! If they sell out, more tickets will be released at 7 am exactly 48 hours in advance of your chosen date.
Whale Watching (Dec-May)
Whale watching is a must if you're in Maui during whale season. We went on a two-hour sunset cruise with the Pacific Whale Foundation. All of the profits from their tours go towards research to protect the whales and the ocean.
We saw at least a half dozen whales including babies breaching. If you're lucky you will also see some playful dolphins interacting with the whales.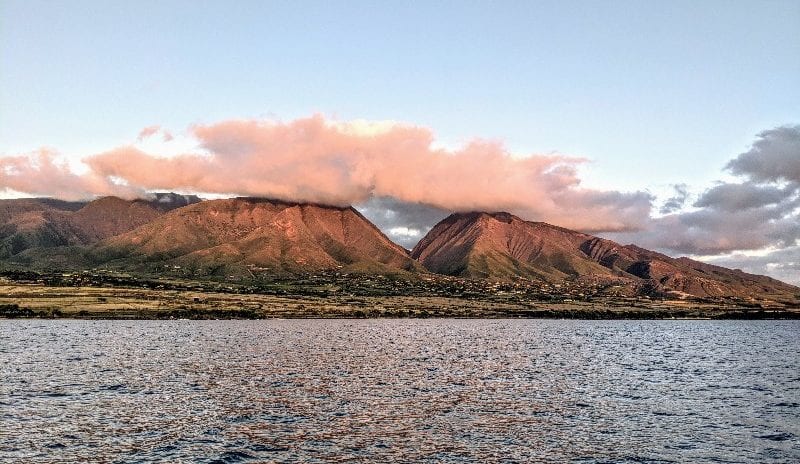 It's also great just to be on the water with the beautiful view of the coast and other islands nearby.
Not headed to Maui during whale season? There is plenty of wildlife to see year-round including sea turtles and tons of ocean life. Go paddleboarding, snorkeling, or scuba diving instead!
Visit the Banyan Tree in Lahaina 
Banyan trees can be found everywhere in Hawaii. This tree, in the middle of a bustling downtown, is one of the largest that spans a whole block. Go to check out the tree and stay to shop and eat right on the water. Lahaina is the only city in Maui that has a true downtown and it's worth exploring.
For great sunset views over the water grab an outdoor spot at Fleetwood's, Kimo's, or really anywhere on Front St on the water. At night, go to Down the Hatch for live music, seafood, and great cocktails.
 Kaanapali Beach
If you find yourself north of Lahaina in West Maui take a few hours to enjoy the clear blue waters at Kaanapali beach, once named America's best beach.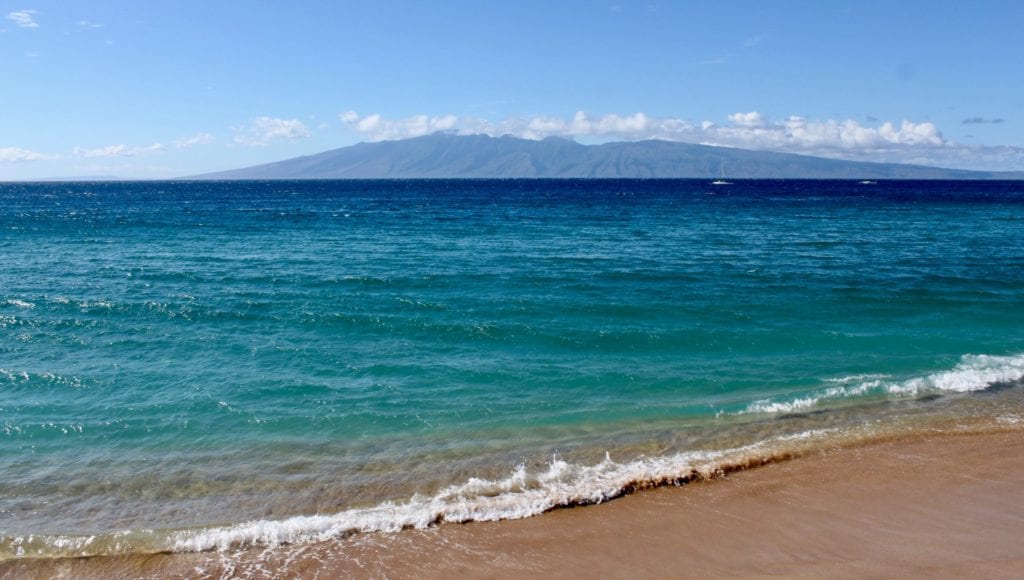 Stick around when the sun sets and you will be treated to a local cliff diving ceremony that happens daily. A cliff diver lights torches at the top of Puu Kekaa, or Black Rock cliff, and reenacts a cliff dive in the honor of Maui's King Kahekili.
Go to all of the Happy Hours
Maui is expensive. It just is, and there isn't a lot you can do about it. Sure, grocery shopping might save you some money but even the groceries are more expensive.
So how can you save a little money? Happy hours are the key! Almost every restaurant has a happy hour where you can save a ton of money on food and drinks. Make a list of some restaurants you want to try and check out the happy hour time for a late lunch or early dinner.
One of our favorites was at The Mill House. Besides the beautiful location, the happy hour is a killer. From 2 pm-5 pm a handful of their food items were $4 off and drinks were up to $6 off! Enjoy the view and the savings and then check out the beautiful grounds, the shop, and get some ice cream afterward.
Bottom Line
Maui has it all. All you need is a cheap flight deal and a few days to explore this beautiful and diverse island.