Looking for a cheap flight to Mexico? Have you considered flying to Mexico … from Mexico?
Hear me out. For residents of Southern California like me (and even others!), crossing the border to fly out of Tijuana (TIJ) should be on your radar. While it might seem like a headache, it's both safe and simple thanks to the Cross Border Xpress (CBX) pedestrian bridge connecting San Diego straight to the Tijuana airport terminal. You won't even set foot in the city streets.
Trust me: I've skipped my home airport of San Diego (SAN) and headed across the border for Tijuana several times, and I'll do it again and again. Why? It can be much, much cheaper. Just last month, I saved hundreds of dollars heading down to Isla Mujeres by flying out of Tijuana instead of San Diego – and flew on a better schedule, as well.
Here's what it's like crossing the border to fly out of Tijuana and why this seemingly off-the-wall travel hack isn't nearly as strange as you might think.
Why You Should Fly Out of Tijuana
Money. What else?
The main reason you'd want to fly from Tijuana is that it could save you a ton. It's a no-brainer for San Diegans looking for a flight down to Mexico, while it may hit or miss for those living in the Los Angeles area.
For the rest of you living elsewhere across the U.S., it's probably only worth flying out of Tijuana if you're planning to visit Southern California before making your way down to Mexico – or if you've got a way to string together a cheap flight to San Diego with an even cheaper flight south of the border. More on that later.
But the reasons for flying out of Tijuana add up quickly:
Cheap flights: Simply put, you won't find cheaper flights to Mexico than departures from Tijuana. Thanks to plenty of competition and low-cost carriers, you can regularly find roundtrip flights for around $100 (or less) just about anywhere in Mexico. You'll also sometimes find that connecting flights to the Caribbean, Central America, or South America are cheaper than flying from California.
Fewer taxes: Another big part of why flights are cheaper: Unlike flying out of LA or San Diego, you won't be paying high international taxes if you're flying domestically within Mexico. Depending on how long you stay, you may not even have to pay the tourist tax.
More nonstop flights: You'll be able to pick from 20-plus daily flights to Mexico City (MEX), plus nonstop flights all across Mexico, including well-known beach resorts like Cancun (CUN), Los Cabos (SJD), and Puerto Vallarta (PVR). But you can also quickly get to lesser-known destinations such as La Paz (LAP), Oaxaca (OAX), Puerto Escondido (PXM), Queretaro (QRO), and more. In total, airlines fly nonstop to nearly 40 destinations from Tijuana.
VIP lounge: The lounge at Tijuana Airport knocks any lounge in San Diego out of the park. It's spacious and modern with comfortable seating, free food, drinks, and access to showers. Best of all, you'll get to use a private security screening that leads directly into the lounge – and it's all free with Priority Pass access.
It's close and easy: Just like New Yorkers have Newark (EWR), San Diego has Tijuana – think of it as San Diego's alternate airport. You can walk over an enclosed pedestrian bridge from the U.S. directly into the terminal.
Savings in Action
Don't believe me that it can be substantially cheaper? Here are some quick examples.
If you're looking for a cheap flight to Cancun, you're practically guaranteed to save by flying out of Tijuana. Check out this Google Flights search for flights from San Diego (SAN) to Cancun (CUN) in March – all three major U.S. airlines are charging around $500 roundtrip for 1-stop flights.
Or, you can fly from Tijuana to Cancun on the same dates for $107 roundtrip with one stop on Aeromexico – or nonstop on Volaris for $130 roundtrip.

The savings can go far, far beyond Mexico. Looking to use your Delta SkyMiles for a lie-flat business class seat down to South America? If you search from San Diego, you'll often find ridiculous rates north of 700,000 SkyMiles roundtrip, like this example to Santiago, Chile (SCL).

But you can often find flights from Tijuana to Santiago for just 155,000 SkyMiles roundtrip, flying lie-flat in Aeromexico business class with one quick stop in Mexico City.

Those are just two quick examples of a trend that plays out again and again and again. The savings are undeniable.
How to Get to Tijuana Airport
Few U.S. airports are more convenient than San Diego (SAN), a short drive away from downtown. But Tijuana might be a close second.
The airport sits directly on the the U.S.-Mexico border, just 20 miles from downtown San Diego. That makes it quick and easy to get to from the city.
If you're coming from further away, it's about 75 miles from San Clemente in Orange County or roughly 140 miles from Los Angeles. The drive from L.A. may not be worth it for solo travelers … but if you're traveling in a group, the savings multiply and could make flying from Tijuana worth the drive.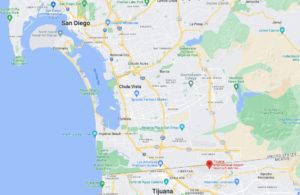 Use the Cross Border Xpress (CBX)
There's no need to navigate the streets of Tijuana to get to or from the airport.
Instead, the best way to get there is to use the Cross Border Xpress (CBX) pedestrian bridge. Zooming in on the map, you'll see this border crossing connects the U.S. side of the border directly with the airport terminal. It couldn't be any easier.
The CBX can only be used by ticketed airline passengers within 24 hours of departure or within two hours of landing in Tijuana when you are returning to the U.S. The 390-foot pedestrian bridge opened in 2015 and has been saving travelers countless hours and stress when flying out of Tijuana.
If you're driving, be sure to put the Cross Border Xpress (not the Tijuana Airport) into your GPS so you don't end up driving into Mexico. It's about a 20-minute drive from downtown San Diego. Driving times from the L.A. area will depend on traffic, but plan on it taking at least three hours.
Parking at the Cross Border Xpress Bridge
Driving yourself down to Tijuana means you'll need a place to park. Don't worry.
Street parking near the CBX starts at $15 per day. There are also lots on-site starting from $18 a day or cheaper off-site lots that will shuttle you to the CBX bridge. If you're taking a short trip, there is free street parking along Siempre Viva Road. Just keep in mind that California law requires you to move your car every 72 hours – and I would guess they keep a close eye here.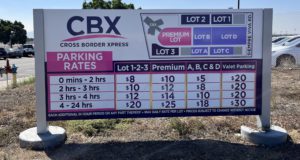 Uber/Lyft & Transit Options
Don't want to leave a car? You've got options, too.
An Uber or Lyft from the San Diego area should cost around $30 to $50 each way – a little more than what it costs to get to the centrally located San Diego Airport. You can connect to San Diego's trolley with a shuttle to either San Ysidro or Santa Fe Depot for $8, but it only seems to run five times per day. You can find schedules and pricing on the Los Limousines website at eplalimo.com.
There are also long-distance shuttle buses with stops in several cities throughout California, including Anaheim, Huntington Park, Los Angeles, Santa Ana, and more. The network reaches as far as Sacramento or El Paso, Texas, but that would be a bit of a hike. A one-way ticket from Los Angeles seems to run around $30 at the time of publication.
How to Use CBX to Fly from Tijuana
When you arrive at the CBX, it will feel very much like you've arrived at an airport terminal in the U.S. In essence, that's exactly what it is.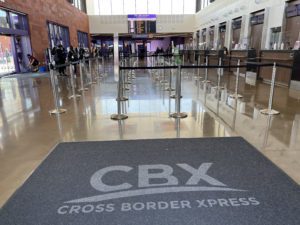 Buy a Ticket
You'll need an additional ticket in order to use the Cross Border Xpress.
You can buy a ticket in advance online on the CBX website. Prices range from $18 to $26 one-way or $35 to $46 roundtrip depending on the season, with discounts for families traveling together. Some airlines will sell you a CBX ticket included with your airfare if you choose that option when booking your flight. You can also purchase a CBX ticket from a kiosk on the spot.
Check-In for Your Flight & Fill Out an Immigration Form
You'll need a boarding pass in order to use the CBX.
Check-in for your flight online or at a kiosk or check-in desk inside the CBX terminal on the U.S. side of the border. You'll still have to bring your checked bags across the border with you but there are free luggage carts you can use.
You'll also need to fill out an immigration form before you cross the border.
You can do this beforehand online but it's quick and easy to do at the CBX facility. There are several computers set up and agents to help you fill out the form.

Scan Your CBX Ticket & Boarding Pass, Then Walk Across!
A quick scan of both your CBX ticket and your boarding pass is all it takes to open the gates to the pedestrian bridge. There's a duty-free shop if you care to buy anything before you cross the border.
It's a quick, five-minute walk across the pedestrian bridge to the airport terminal building on the Mexican side of the border.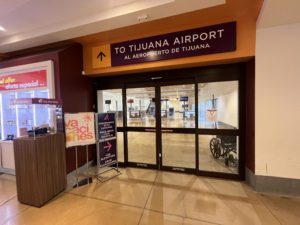 It will feel just like you're walking to another side of a terminal at any old airport around the world – only this time you'll be crossing an international border in the process.

Go through Mexican Customs & Immigration & Check Your Bags
Once you reach the terminal, you'll go through Mexican customs and immigration.
If you are staying seven days or more, you'll need to pay approximately $30 to cover the tourist tax. If you're staying six days or less, you don't need to pay it.
If you have bags to check, find your airline's check-in counter inside the Tijuana airport terminal to drop off your bags. If you don't have any checked luggage, just proceed directly to security screening.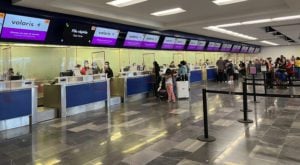 Head Through Security & To Your Gate
Once you've checked your bags, find the security screening and proceed to your gate. It's that simple.
Thrifty Tip: Follow the signs to the VIP Lounge. It has its own private security screening directly into the lounge on the secure side of the airport. You can continue directly to your gate after visiting the lounge. You can pay about $35 for a day pass or get in for free with Priority Pass.
What It's Like Flying From Tijuana Airport
Really, it's just like any other airport around the world.
Sure, the signs will be in Spanish (and English) and announcements will be made in Spanish before English. But you'll find the same types of restaurants and a clean and open terminal when flying from Tijuana. Chocolate lovers may want to stop here.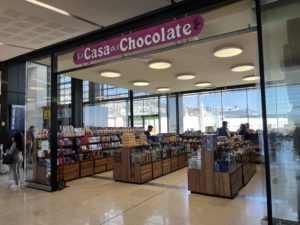 While masks were required to fly within Mexico on my most recent flight, as of Oct. 12, 2022, masks are no longer required which brings Mexico in line with U.S. rules regarding mask usage when flying – where the mandate was lifted back in April.
TSA PreCheck isn't available when flying from Tijuana, but you can get expedited security screening by visiting the VIP Lounge. It's well worth the cost for a day pass and it's free for Priority Pass members. The lounge was recently renovated and expanded into a wonderful space to enjoy complimentary drinks and a meal before your flight. You can even take a shower.
Which Airlines Fly from Tijuana?
You won't find flights on Delta, American, or any other U.S. airline when flying from Tijuana. Instead, you'll be flying Mexican airlines such as Delta's partner Aeromexico or low-cost carriers Volaris and VivaAerobus. There are a few other smaller carriers but those are the main airlines flying from Tijuana. And Volaris being the dominant carrier by a long shot.
Flights are usually incredibly cheap, but keep in mind that the initial price you see doesn't include much. As with any low-cost carrier, you'll need to be diligent when booking to make sure you add everything you'll need from bags to seat assignments during the booking process.
The good news is that these add-ons are relatively cheap when compared to what similar airlines in the U.S., like Spirit and Frontier, charge. I would recommend paying the small upcharge to get a seat with extra legroom and always book a "classic" or standard economy fare rather than a basic fare.
Using Tijuana Airport for Positioning Flights
Flying from Tijuana is great if you live in Southern California, but does this make any sense for travelers scattered across the rest of the country?
Depending on where you're trying to get to in Mexico (and when), you could potentially save money by first flying to San Diego, spending a few days enjoying the sunshine, and then continuing on from Tijuana to your destination in Mexico. Not only could you save money on your flight to Mexico, but you'll get the chance to visit America's Finest City on the way.
Say, for instance, you want to visit Tequila, a small town in the Mexican state of Jalisco known for producing one of the most popular spirits in the world. The closest city you can fly into is Guadalajara (GDL). If you're flying from Minneapolis-St. Paul (MSP), you'll often find prices over $700 roundtrip.

But Thrifty Traveler Premium members know we sometimes find nonstop flights from Minneapolis to San Diego (SAN) for closer to $200 roundtrip – even less from other cities.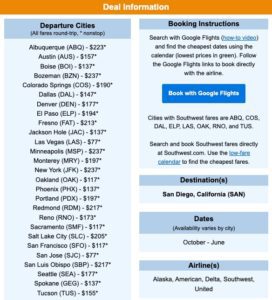 Combine that with a $68 roundtrip flight from Tijuana to Guadalajara and you'd wind up saving around $400 – per person!

It may not be for everyone, but there are cases where it could make sense to connect in San Diego, transfer to the CBX, and fly from Tijuana to your destination in Mexico.
But that's not all …
If you're looking to book an award ticket flying business class on a long-haul international flight, you may have a better chance finding the award space out of Mexico City (MEX). Residents of Southern California can book a cheap positioning flight from Tijuana to Mexico City and then fly lie-flat from Mexico to Europe or South America.
Emirates flies a fifth-freedom route with lie-flat business class nonstop between Mexico City and Barcelona (BCN). It's relatively easy to find the saver award space on this route, which costs just 100,000 Skywards miles roundtrip. If flying Emirates business class is on your bucket list and you want to check out Barcelona as well, flying from Tijuana to Mexico City to catch this flight could be a great strategy.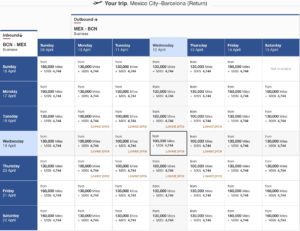 Lufthansa First Class is another high-value award that is easier to find availability departing from Mexico City. You'll need to be spontaneous because Lufthansa generally only releases First Class award space a few days ahead of time.

Luckily, last-minute tickets from Tijuana to Mexico City are relatively cheap as well.
Crossing the Border Back to the U.S. When Flying into Tijuana Airport
When it's time to return home, you'll be glad that you booked a ticket to use the Cross Border Xpress.
In my experience, it took no more than five to 10 minutes from baggage claim to curbside in the U.S. – and I never set foot outside the terminal buildings.
Of course, times may vary depending on how busy it is at U.S. Customs & Immigration, but it was pretty empty on my most recent flight. The process to cross back into the U.S. is very similar to when you crossed into Mexico. There are signs for the Cross Border Xpress as soon as you deplane. You can't miss the signage for the CBX at baggage claim.
Once you scan your ticket and boarding pass, keep following the signs to the USA.
There is a separate line for Global Entry which starts pretty far back. If it were busy, having Global Entry could save quite a bit of time here. On the day I traveled, there were no lines at all.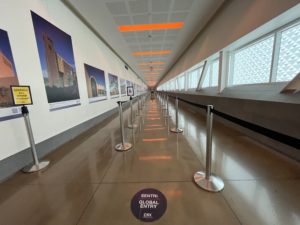 You'll have to put all of your bags through a scanner after passing through immigration. Once you're clear, you'll exit into a pretty impressive arrivals hall.

And just like that, you're back in the USA. Easy peasy. Take a shuttle, call an Uber or Lyft, or get picked up curbside outside the CBX facility in San Diego.

Bottom Line
Flying from Tijuana is safe and easy. The Cross Border Xpress pedestrian bridge connecting San Diego directly with the airport terminal makes it a breeze.
So if you're looking for a cheap flight to Mexico (or beyond), keep your options open and search for flights from Tijuana as well.