Over the Thanksgiving holiday, my wife and I took advantage of our Southwest Companion Pass and flew to Kansas City to be with family. We've both flown Southwest many times but this was our maiden voyage on the airline with our 1-year-old daughter. You other family travelers out there know it's no joke: There's a lot to be aware and keep track of.
Taking a trip with your infant soon? Read on to see what we learned to make your flight as smooth as possible.
Adding an Infant to Our Ticket
Until your child is two years old, they can fly free with you as a designated infant in arms. They will not be assigned a seat on the aircraft, but they will be able to sit on your lap for the duration of the flight.

Having previously flown Delta with my daughter, I quickly found some big differences in getting the ticket. When we flew with Delta, we contacted the airline before our flight to add our daughter to my wife's ticket as a designated infant in arms.
The agent was able to add her and noted that we would need to bring her birth certificate or some form of identification with us. Once at the airport for our Delta flight, we were not asked to present any identification for her at the check-in counter or at the gate. This was my only experience so far flying Delta with an infant, so I can't confirm if it's normal.
But the experience with Southwest was much different.
Southwest doesn't add the infant boarding verification document until you check in at the airport. The agent asked us to present identification for our daughter and once we did, he issued new boarding passes for us with our daughter's boarding document attached to my wife's ticket.
You should always have your child's identification when traveling but in my experience, you won't be able to board the aircraft if you don't have it on Southwest Airlines. So make sure you've got a birth certificate or other identification for your infant when flying Southwest. 
Baggage Drop
Let me just come out and say it: I love Southwest Airlines. They know exactly who they are and they are really good at it.
They are the only domestic airline offering two free checked bags to every ticketed passenger with no questions asked. It's more helpful than ever when traveling with a small child – and all the necessary extras that come with. We might be die-hard carry-on users, but that's next to impossible with an infant.
We brought her car seat and a suitcase with just her items which we were able to check for free. Because we were already checking bags, my wife and I decided to check our carry-on bags as well. Just like that, we got four free checked bags for no additional cost. Not having to carry additional luggage through the airport made it much easier to get around.
Because of the checked baggage allowance alone, Southwest is a fantastic option for family travel. You can even check golf clubs or other oversized items at no additional cost.
The Boarding Process
When you fly Southwest Airlines, you aren't assigned a seat. Instead, you are assigned a number when you check-in for your flight in either the A, B, or C group. A1 is the first to board while C60 would be the last. Once you're on board, it's open seating and you are free to choose any available seat you'd like.
So it goes without saying that the earlier you board, the better the seat you can get. If you board at the end of the B group or most positions in the C group, your chances of getting a middle seat are much higher. That means you always want to check-in for your flight as soon as check-in becomes available, as that is how the boarding order is assigned. You can learn more about Southwest's boarding process here, or watch the video below.
But there's a bonus when traveling with an infant: a designated family boarding time. After everybody in the A group (A1 through A60) has boarded, the gate agent will make a call for family boarding, before the B group boards. This takes the stress out of the check-in process for families. Even if you have a B or C group boarding position, you will be able to board during the designated family boarding time. You should have no issues finding seats together.
On Board
Once we boarded, there were still plenty of open seats and rows. We sat near the back of the plane so we could be closer to the lavatory – traveling with an infant means you never know when you'll need to change a diaper or deal with an emergency. Once seated, I took the aisle seat and my wife took the middle seat with our daughter on her lap. We left the window seat open for any brave soul that wanted to sit by a one-year-old on her second ever flight.
The flight attendant had made an announcement that there were only going to be five empty seats on our flight. Sure enough, the window seat in our row was one of them. Watching passengers in the B and C boarding groups walk up to our row thinking they were going to score a window seat and then seeing our daughter in the middle seat was priceless.
Although the flight was just a little over an hour, the extra space was amazing. Our daughter was able to crawl around a bit more than she would have been able to had somebody been in the window seat.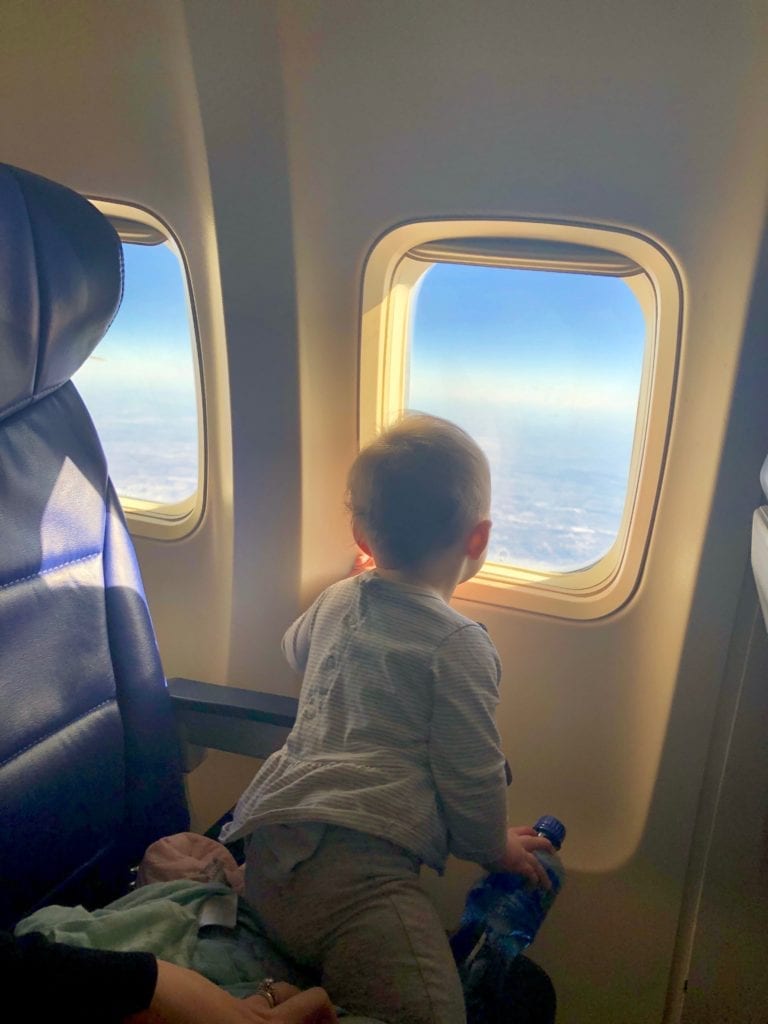 The flight attendants on board did a fantastic job as well. They made a conscious effort to stop by on a few different occasions to make sure we had everything we needed and to see if they could help. You don't notice that kind of service until you are traveling with kids of your own. Well done, Southwest.
Bottom Line
My first experience flying with an infant on Southwest was a great one and I would highly recommend it. Getting two checked bags per person eases the pain of all the extra gear you need. And the designated family boarding time takes away much of the stress that comes with Southwest's free-wheeling boarding system.
Just make sure you have your child's identification and your experience should be uneventful. For more information on traveling with an infant on Southwest Airlines, visit this link.