Vietnamese street food ruined me. In the best way possible.
As far as I'm concerned, there is Vietnamese food, and then all other food – and it's not particularly close. It's that good. Everywhere you turn, there is a small cart or shop selling some delicious noodle soup, sandwich, or spring roll. Whatever you get, it's packed with more vibrant flavors than you've tasted.
Here's a small taste of what to expect and what you can't miss on the streets of Vietnam.
Afraid of Street Food Vendors?
When you land in Hanoi or Ho Chi Minh or Da Nang and first start walking the chaotic streets, the street food stalls can be intimidating. Trust us: You have to power through.
To seek the comfort of sit-down restaurants and skip the street food vendors is to miss the heart of this country. There is no better way to see Vietnam for what it truly is than from the tiny plastic stools outside a vendor who has been perfecting a classic Vietnamese dish for years.
Just follow a simple rule: Follow the crowds. Locals know the best spots in town to grab a bowl of rice or noodles. And a lot of foot traffic at any food vendor ensures that they're constantly cooking up new batches rather than serving you something older.
Pho
We'll start with the basics, something comfortable. But just know, you've been saying it wrong. It's pronounced "fuh."
Pho is Vietnam's quintessential noodle soup, the country's most popular export. And while you've likely had it before, you haven't had pho this good in the States. I promise.
From the rich broth to the mound of fresh herbs to the authentic chiles that pack more of a wallop than the jalapenos you get in the U.S., it's not even a contest. And the best part is that while a bowl of good pho will run you $8 to $10 at home, you'll never pay more than $3 for the best bowl of pho of your life in Vietnam.
Thrifty Tip: Like much of Southeast Asia, cash is king in Vietnam. Some places may take credit card, but streetside food vendors are cash-only joints. Make sure you've got the Charles Schwab debit card in your wallet to take out cash and stop paying ATM fees.
Where to Get it: This is Vietnam. You can get an amazing bowl of pho anywhere.
Banh Mi
Maybe you've had had banh mi, too. But not this good.
The banh mi sandwich is a perfect fusion of Vietnam's past and present. You start with a baguette, a holdover from France's rule over Vietnam as a colony. But then it's stuffed with zesty meats and pickled vegetables, all bursting with Vietnamese flavors.
Even in Vietnam, not all banh mi are created equally. Done right, and the bread will have a perfect, crispy exterior that immediately gives way to a soft, wheaty inside. What goes inside is up to you: barbecued pork, pork cold cuts, meatballs, chicken, some vegetarian options, and much more. You can't go wrong. Just don't skip the pate spread – it adds a pop of flavor that ties the whole thing together.
A great banh mi will generally run you just 30,000 Vietnamese Dong – about $1.20!
Where to Get it: Vendors are cranking out high-quality banh mi everywhere throughout Vietnam, but the best I've had was in Hoi An.
Bun Bo Hue
We're going back to that noodle life for a staple of Vietnamese soups: Bun Bo Hue.
Like pho, bun bo hue is a broth and noodle concoction that you'll dress up with a plate of fresh herbs and chiles – maybe even a dash of pickled garlic, too. But the broth is deep and rich, porky and beefy. Done well, it packs the perfect amount of spice that doesn't crowd out the immense flavor.
It's served with beef shank as well as oxtail, though you may find some slices of pork depending on where you go. And while I'm starting to sound like a broken record, this is Vietnam: It's cheap. Expect to pay less than $2 for an incredible bowl of bun bo hue.
Where to Get it: As its name suggests, this dish originates from the city of Hue. But you can find it almost anywhere in Vietnam.
Com Ga
Move over, Singapore. Vietnam has chicken rice too.
No, really. The name com ga literally means "chicken rice." And though it's simple on the surface, the flavors are not. For starters, the rice gets finished off in some peppery chicken broth. And as you start to dress up your dish with pickled veggies, herbs, and spicy chili sauce, com ga really comes alive.
You'll only need 15,000 to 30,000 Vietnamese Dong to get a plateful of com ga. That's $1.30 USD or less.
Where to Get it: A dish this simple is available anywhere.
Cao Lau
This is Vietnam, and we're going back to noodles. But this dish is different.
Not quite a soup, cao lau is a pork and noodle dish with a little bit of broth for a lot of flavor. The noodles are unique, with an almost wheaty taste and texture. And the flavors of the pork and its broth are unlike anything I've ever tasted – in a good way. Mix in some lettuce and herbs, and you're set.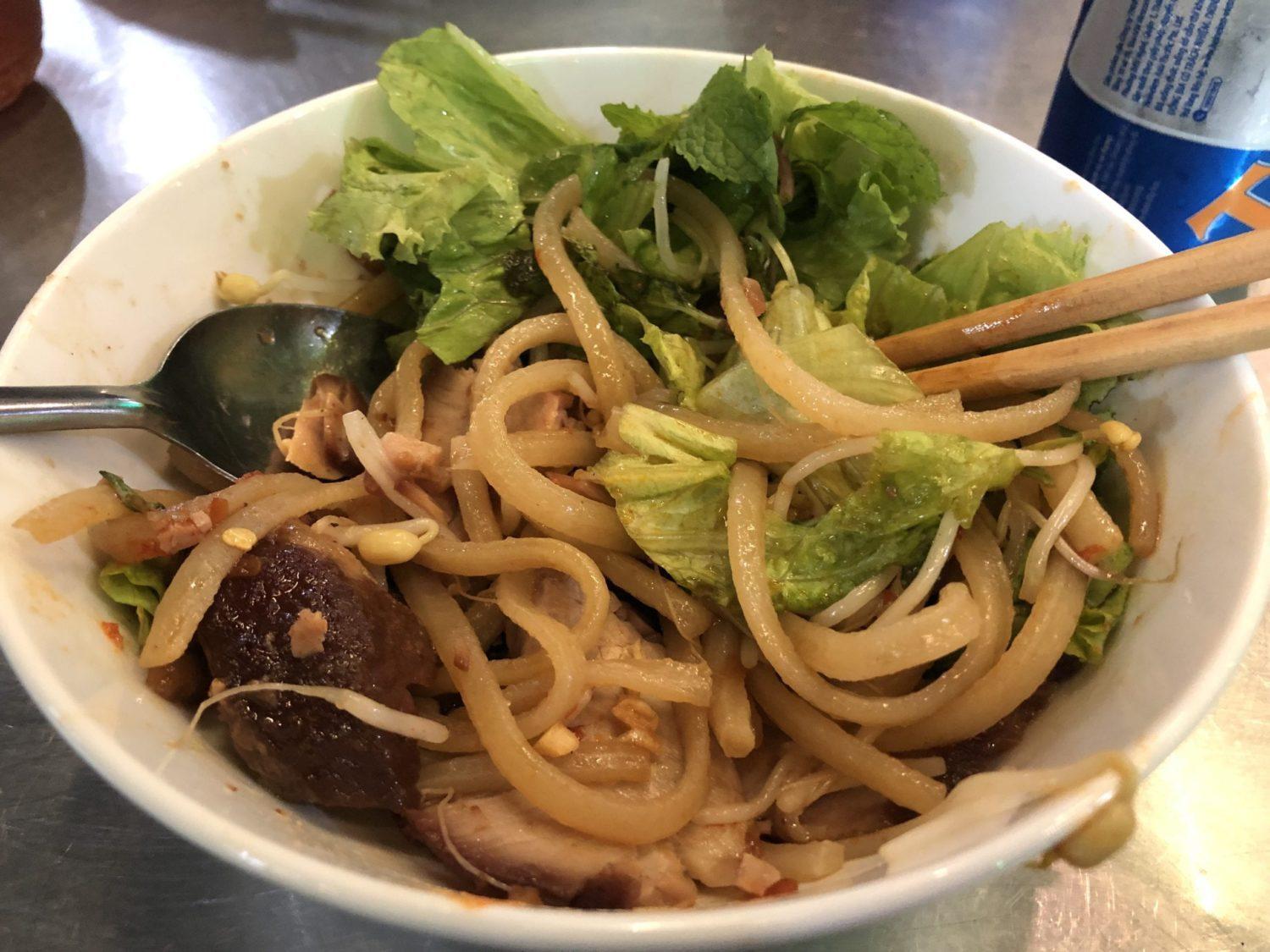 You get it by now: Vietnam is cheap. Again, roughly 30,000 dong ($1.30 USD) is all you need for this filling meal.
Where to Get it: Cao lau comes from the town of Hoi An, and that's where you should go.
Bun Cha
Noodles, grilled pork patties, pork belly, herbs, and a fish sauce broth. What more do you need?
The answer is nothing, because bun cha is an absolute feast. I take that back: You need to add an order of nem (fried spring rolls) to your order to round it all out. And maybe a beer to wash it all back.
I have dreams about bun cha, it's that good. Something about the combination of the grilled pork flavor with the broth and the noodles… there's nothing else like it. It was the first dish I had upon landing in Hanoi, and I was immediately hooked.
Lop off a hunk of noodles and throw them in the pork bowl, tossing in some herbs, chilis, and garlic, too. You'll never look back. Bun cha can run you as much as 50,000 dong. And if that sounds expensive, remember that it's just over $2.
Where to Get it: Bun Cha is a northern Vietnamese staple, so it's best to grab some in Hanoi.
Bun Rieu Cua
Bun rieu cua literally translates to crab noodle soup. In my mind, the correct translation is "delicious."
The broth is to die for, a deep and powerful tomato-base that's stewed with crab meat and shells. Add in some noodles, crab meat, tofu, tomatoes, and herbs, and you're in for a treat. A warning for the squeamish: Many bun rieu cua preparations also include a slice or two of congealed pig's blood – a staple in Vietnam that doesn't sit well with many Westerners' palettes. Just leave it in the bowl if you're not up for trying it.
You can find street stalls selling bun rieu cua for as little as 15,000 Vietnamese dong – just 63 cents!
Where to Get it: This dish is so popular, it's available almost anywhere in Vietnam.
Banh Tom
It's time for something completely different on your food tour. Banh tom is what you're looking for.
Banh tom are fritters with whole small shrimp fried inside a batter of sweet potato. It's more of a snack than a meal, but that doesn't make it any less delicious. They're served with some lettuce, papaya and pickled vegetables, along with some chilis and fish sauce. Crispy and tasty.
Where to Get it: From the Hanoi street vendor you see here, at the corner of an alleyway on Hang Chieu street.
Bun Thit Xa Xiu
Char siew pork with noodles is delicious. Need I say more?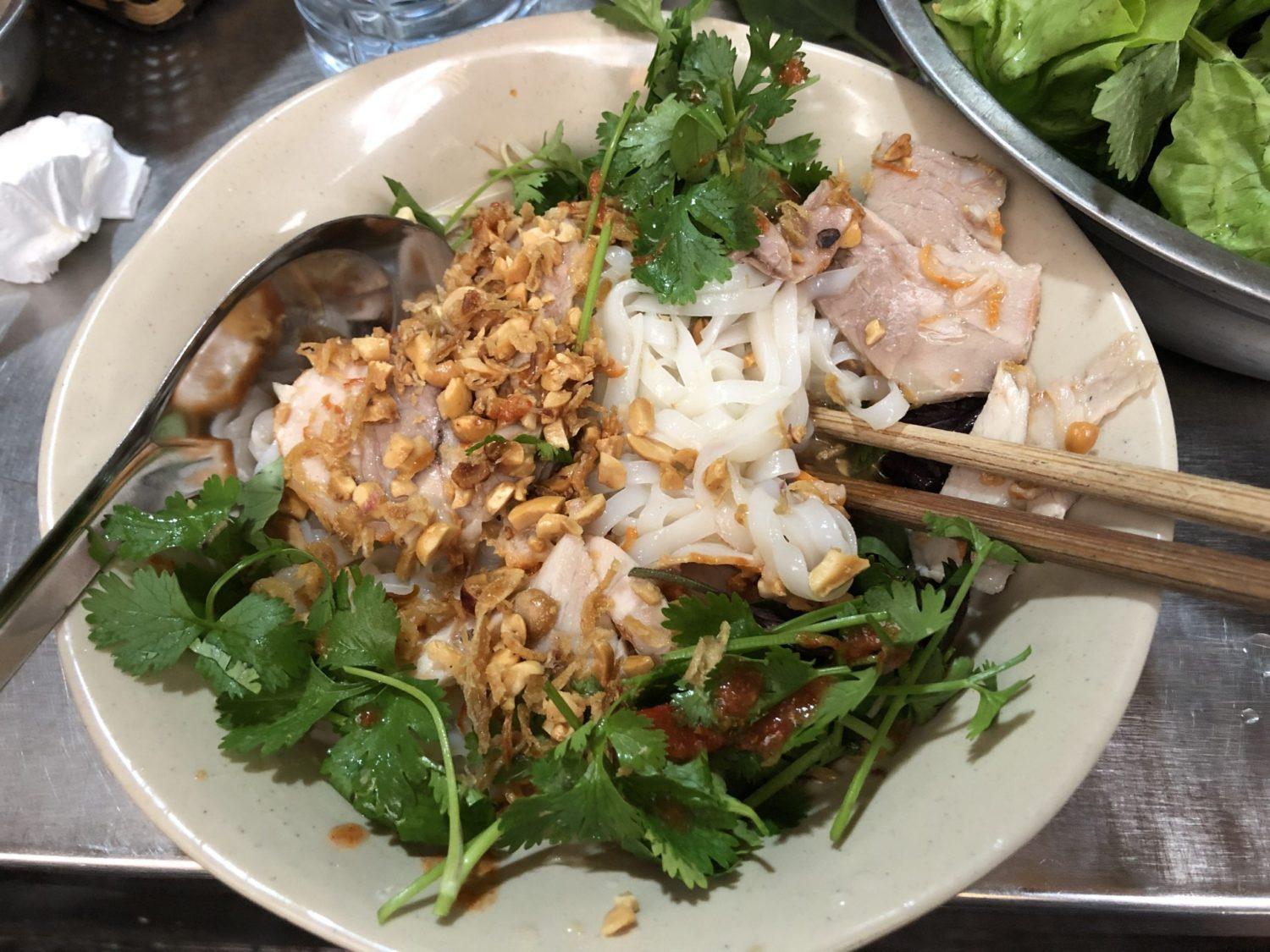 Topped with herbs, fried garlic, and some crushed peanuts, this noodle dish healed me. Mixed in some chili sauce and pour in some fish saucy broth, and it's flavorful but still relatively mild.
Where to Get it: Hanoi. You want to get this anywhere you can find it in Hanoi.
Bottom Line
This is just the tip of the iceberg. There are so many other fantastic dishes you need to try in Vietnam. There's banh xeo (50% omelette, 50% pancake, 100% delicious), banh cuon (a mixture of rice, pork, and mushroom wrapped inside a thin rice wrapper), and so much more. And I didn't even get to the amazing Vietnamese coffee.